Gear Guy
What's the Best Zipline Kit for My Backyard?
My kids have convinced me to rig up a zipline on our property, but I don't know where to start. Got any ideas?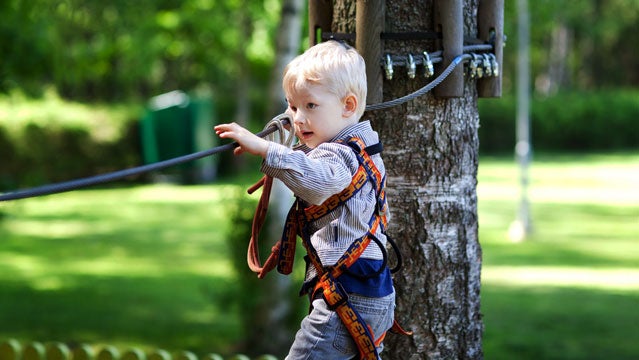 Alexei Potov(Photo)
Heading out the door? Read this article on the new Outside+ app available now on iOS devices for members! Download the app.
Ziplines are great fun for families, but the recent trend in lines is to make them fast and high, creating rides that challenge adults as well as kids.
"Everybody's trying to figure out how to go faster and longer. And to get speed, you need drop," says Aaron Roper, a staffer and blogger for Ziplinegear. That's why people are starting to build ziplines higher up in trees."
In order to stay safe in such conditions, advanced zipline users are moving away from kits with a seat and handlebars. "The safer way to ride the ziplines is to hook directly to the trolley using a carabiner, lanyard, and harness," says Roper. At the high end of the spectrum, commercial adventure parks are now using mechanisms that make it impossible to unhook from the anchor while up in the trees.
The following kit is a good example of the new breed of residential zipline systems. It stretches up to 500 feet and has a braking system that slowly brings you to a stop over the last 30 feet. We've also included two well-built zipline trolley devices that would make a great foundation for your own kit, especially if you already have a harness, carabiner, and other climbing gear on hand.
Ziplinegear Quicksilver Kit
C.A.M.P Wing Traveling Pulley
Petzl Tandem Speed Transport Pulley
Backyard Zipline Gear: Ziplinegear Quicksilver Kit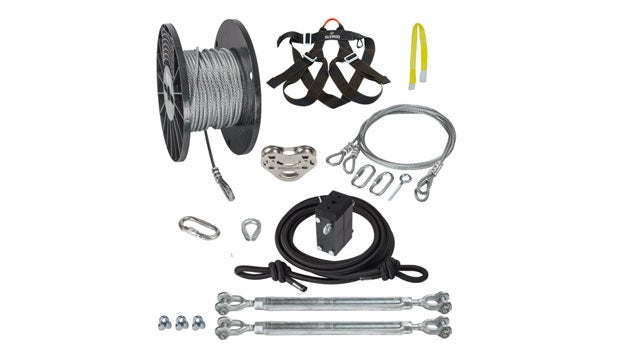 The Quicksilver kit hooks directly to the included harness for an intense and safe ride through the trees. The Quicksilver trolley itself is the heart of the system, with a blazing maximum speed of 120 miles per hour, sealed dual-bearing wheels, and a braking strength of 10,000 pounds. For the price, you get a spool of cable, the braking system, harness, and tree anchoring equipment. The only thing you need is a tensioning tool, which you can borrow from Ziplinegear and mail back. The kit is available in lengths between 150 and 500 feet, and it can hold up to 350 pounds.
PRICE: $460 (for 150-foot kit)
Backyard Zipline Gear: C.A.M.P. Wing Traveling Pulley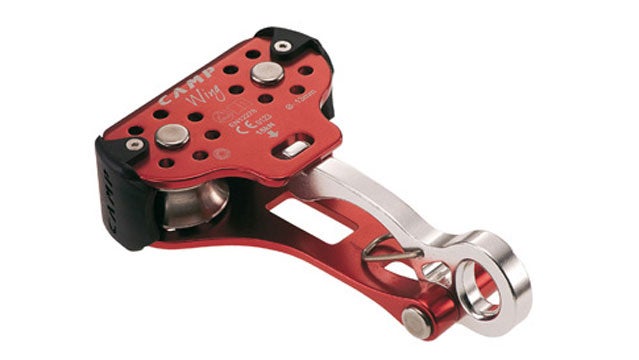 The Wing Traveling Pulley makes a great building block for your own homemade system. The Wing comes from longtime Italian climbing-gear manufacturer C.A.M.P., and boasts a cool quick-release mechanism. To attach it to the zipline, you pivot the arm out and snap it on. When you're in the air, it's impossible to detach from the zipline. The device has a maximum speed of 45 miles per hour, weighs 11.9 ounces, and can handle cables as thick as 15/16 of an inch.
PRICE: $120
Backyard Zipline Gear: Petzl Tandem Speed Transport Pulley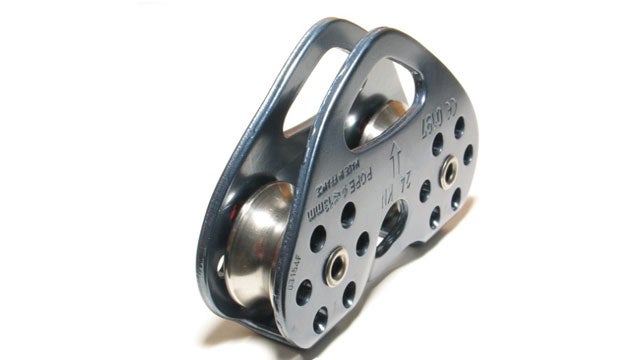 Made in France, Petzl's Tandem Speed works well as the main trolley for an advanced backyard zipline system. Like the C.A.M.P. Wing, the Speed accepts cables up to 15/16 inches in diameter and has a maximum speed of 45 miles per hour. But instead of using a locking mechanism, the Speed is a simpler device, allowing removal from the zipline only after you unclip your carabiner. It's also lighter, at just 9.5 ounces.
PRICE: $85
Lead Photo: Alexei Potov