Which tent will keep me dry when it's raining hard?
Oh Great One, ne for me several tents that keep out the weather. I'm not talking a drizzle, but an almighty downpour of hail, sleet, and snow. The best waterproof tent I have ever owned is a Cabela's Alaskan—you could use it as a boat—but it's 18 pounds and has some design issues I don't like. So, please give me a list of backpacking tents that float. Jeff Moscow, Idaho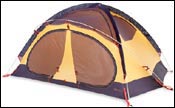 Heading out the door? Read this article on the new Outside+ app available now on iOS devices for members! Download the app.
I'm pretty sure there are tents out there that can meet your specifications, Jeff, but I do have this caveat: Tents aren't houses. Leave just about any tent out for several days in hard, hard rain, and you'll need to accept the fact that some water is going to get in one way or another. The exceptions are very heavy tents like the Cabela's one that you mention. Their heavier fabric and heavier coatings act to ensure more complete weatherproofing than the relatively light stuff that of course has to be used in a backpacking tent.

Swallow


Anyway, some things to look for in general include: Bathtub-style floor, meaning there are no seams across the floor; full-coverage fly that goes right down to the ground all the way around your tent; and excellent construction using good materials. Many outdoor stores have several tents set up on the show floor—just walk around them and give the fabric a rub between thumb and forefinger to get a quick idea of the different thickness levels. And, remember, lighter tents mean thinner materials (usually).
My shortlist, then, for really waterproof tents would include the Marmot Swallow ($359; www.marmot.com), a heavy-duty two-person backpacking tent that'll have you covered for some ugly winter weather. The really beefy fly and bathtub floor will ensure you stay dry in just about any conditions. Weight is nearly nine pounds, but the Swallow is a serious tent. Another good one is the Sierra Designs Omega ($289; www.sierradesigns.com). It's a little lighter than the Swallow at about seven pounds, and includes a full-coverage fly. The floor has a seam, but it's factory taped and I'd be surprised if it ever leaked. Otherwise, solid materials throughout. Finally, Mountain Hardwear's Hammerhead 2 ($245; www.mountainhardwear.com) is similar in weight and features to the Swallow with the advantage of a one-piece floor.
None of these will float, Jeff, but if you get real wet inside you've got more problems than just a rain shower!
Find out which tents made the cut in Outside's 2004 Buyer's Guide.
Trending on Outside Online