Gear Guy
What Crampons Should I Get for Mixed Climbing?
I do a lot of ice and mixed climbing in rocky areas of New England. What are the best crampons for me?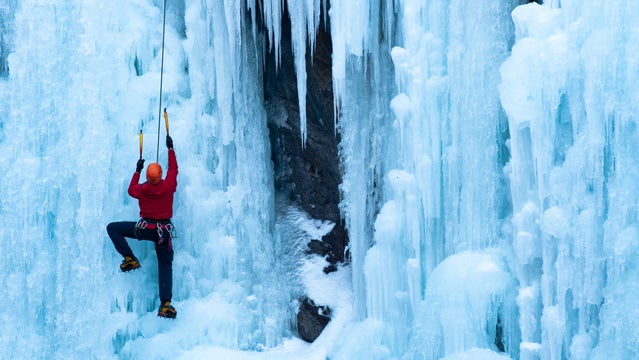 Heading out the door? Read this article on the new Outside+ app available now on iOS devices for members! Download the app.
Across the board, outdoor gear has been getting dramatically lighter, and crampons are no exception. That should make climbing up waterfalls and ice-covered rock features faster, more fluid, and more fun. But you can only take weight shedding so far.
"People sometimes come into the store and are like, 'Oooh, those are 14 ounces. Can I see them?'" says Nick Gulli, buyer for The Mountaineer, a climbing specialty store in upstate New York. "At that point, you have to sit them down and talk about durability."
Gulli says the lightest aluminum crampons are still reserved for high alpine climbing and ski mountaineering. "A lot of skiers will take aluminum crampons where they'll only be on big snow fields or glaciers," he says, adding that even in those conditions, aluminum has a limited life span. "You're going to save weight, but the crampons might be beat to heck when you're done with the expedition."
For longer life and for mixed climbing on rocks and hard-water ice, choose steel on all points—front, sides, and back. The best rugged steel crampons have gotten down to a mere 28 ounces as gear designers have found ways to lighten the frame and streamline the binding systems.
When shopping for new 'pons, look for products with replaceable front points, because they do wear out eventually. And bring your boots into the store, just in case: the latest universal bindings accommodate nearly every type of technical boot, though one should always test fit.
Following are three steel crampons that are rugged, tough, and a lot lighter than their predecessors.
Grivel G2O
Petzl Dart
Black Diamond Stinger
Grivel G20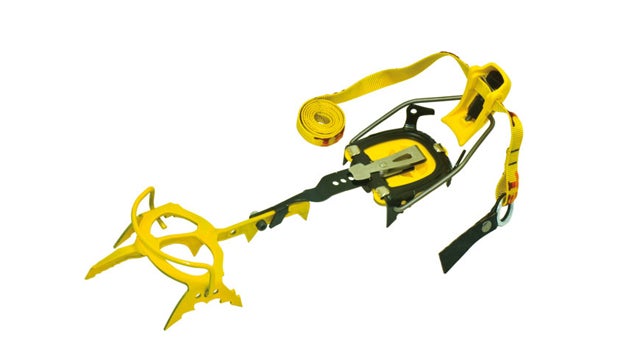 At 28 ounces, the $215 Grivel G20 crampon is probably the lightest you want to go for technical mixed and ice climbing. It has a compact, laser-cut monopoint in front for such terrain, and all 11 points are made from chromoly steel. To fit a variety of boot types, Grivel's Cramp-O-Matic binding is fully adjustable, and the anti-balling plate at the heel (a flexible plastic sheet that prevents snow buildup) keeps you safe even when approaching the climb.
Petzl Dart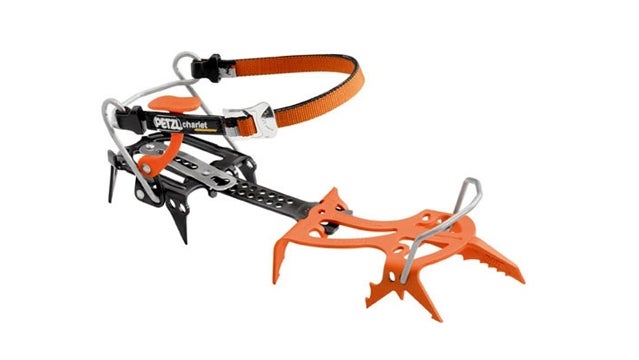 The 29-ounce Dart has a forged steel monopoint for precise placement while performing extreme mixed and ice climbing. The French-made crampon has 11 steel points just long enough to provide stability without having to high-step—two of the points are angled forward to give support to the monopoint, two on the side provide lateral grip while traversing, and four in back allow for stability when descending and facing downhill. The entire front section can be replaced if it wears out.
Black Diamond Stinger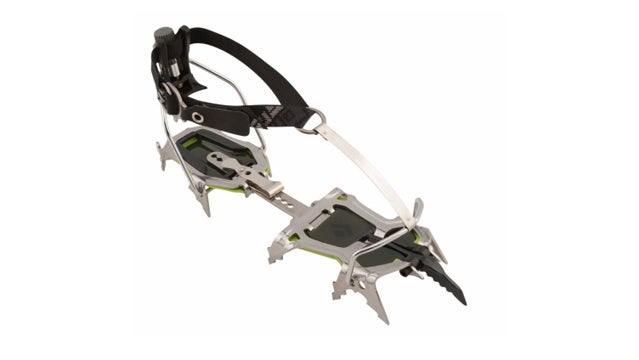 The $209.95 Stinger may be the heaviest crampon in this lineup at nearly 34 ounces, but it is definitely part of this new lightweight, durable class. All 11 points are made from stainless steel, for long-term, rust-free use, and the front monopoint can be easily replaced in the field. The overall design is built to fit many different boot types securely: the sliding centerpiece adjusts for size, and the heel lever clicks in small increments for precise fit.