How can I repair a huge tear in my tent?
We have a great 20-year-old 14x14 Eureka family tent. This summer a branch came down and tore a 36 inch vertical rip in the tent. Can it be repaired? Is there a company here in Northern California that does that or a kit I can buy to repair such a long (clean) tear? Gloria Millbrae, CA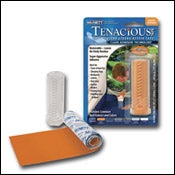 Heading out the door? Read this article on the new Outside+ app available now on iOS devices for members! Download the app.
Well, there is always duct tape! You may have to replace it occasionally, but for a cheap, quick fix, that would work as well as anything. For something a little more exotic, try McNett's Tenacious Tape ($5/roll). It's a durable, super-sticky tape that is designed for fabric repair. Available in clear or colored versions, each role is 20 inches, so you'll need two. Lay the tent on a flat surface, pull the torn seams together as closely as you can, then tape the tear together. Put the tape on the outside of the tent.

The Tenacious Tape
Otherwise, I'd send it to a repair center where it can be patched properly with sewn-on fabric similar to the original stuff. Rainy Pass Repair in Seattle can do this for you.
One question: Is it time for a new tent? I've never had a tent last more than nine or ten years at the most. After all, it doesn't take a lot of exposure to sun and UV for the tent fabric to start degrading. It may look fine, but likely only retains half of its original strength, if not less. Eureka's big nine-person, three-room Tetragon ($160) is quite nice. Might be time for an upgrade.