What Are the 10 Best Road-Trip Albums?
I'm planning a cross-country road trip this fall. Any suggestions for good driving music?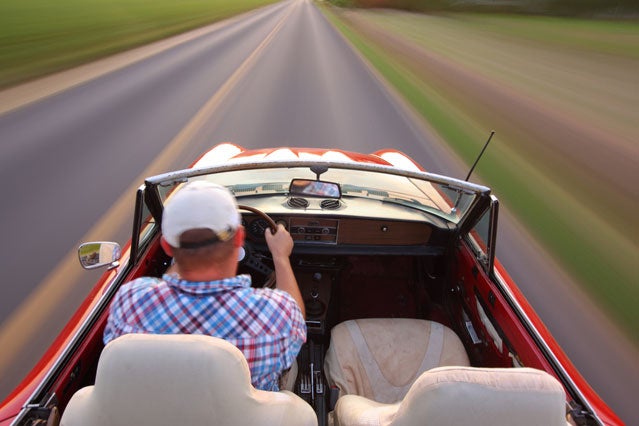 Heading out the door? Read this article on the new Outside+ app available now on iOS devices for members! Download the app.
When you're on the road, there are times when Pandora or satellite radio just doesn't quite capture the mood or scenery of the moment. That's when it's time to turn to one of these classic records. Besides just being great music, these really work as albums: each sets a distinct tone from beginning to end, perfectly suited for long trips behind the wheel.
Lucinda Williams, Car Wheels on a Gravel Road
With her songs of heartache, pain, loss, departure, longing, and anger Lucinda Williams could make Roy Orbison seem upbeat. The singer's appropriately gravelly voice makes you feel like you're riding shotgun with her on empty dirt roads as she tells her stories.


Best Listening Location:

Any county road in the South, especially Louisiana or Texas.
Green Day, American Idiot
Profane and profound, the pop-punk torch-holders paint a depressing portrait of modern, sterile America through the eyes of Jesus of Suburbia in their rock opera American Idiot.


Best Listening Location:

New Jersey Turnpike.
R.E.M., Automatic For the People
There isn't a weak point on the haunting, downbeat Automatic for the People. Starting with the first track, "Drive," Michael Stipe expresses some (usually) depressing but compelling feeling in every song. Best played at night or in the rain.


Best Listening Location:

A dramatic, winding road, like the Pacific Coast Highway.
Bruce Springsteen, Nebraska
Leaning heavily on the folk masters who influenced him, the Boss tells a short story in almost every song on Nebraska, paying tribute to small town life, cars, and the highway.


Best Listening Location:

I-80 on the long, drab stretch of cornfields between Lincoln and North Platte.
Johnny Cash, At Folsom Prison
This album captures Johnny Cash near his prime, singing stories of loss, crime, and punishment, including the classic "Folsom Prison Blues," in front of the inmates of Folsom State Prison in California. No album makes you feel better about being free and on the open road than this one.


Best Listening Location:

Following the old Route 66 through the dusty byways of Arizona and New Mexico.
The Beatles, The Beatles
The White Album, recorded as the Beatles were beginning to drift apart, is like a soap opera playing out for you through the course of a double album. Lennon and McCartney (and, to a lesser degree, Harrison) collaborated less than they did for previous works, and recorded many of the songs individually. You can feel the band bouncing in haphazard directions with each track.


Best Listening Location:

The traffic-filled freeways of Southern California, or any other place where you're craving variety.
The Clash, London Calling
You won't want to skip a single song on this two-disc album. The Clash folds hard rock, jazz, reggae, ska and other styles into a punk core that plays like a sampler platter of 20th-century popular music. Start listening—even along the most boring stretch of pavement—and the next thing you know, an hour and a half will have passed.


Best Listening Location:

The Pennsylvania Turnpike.
Eric Clapton, Unplugged
Clapton returns to his bluesy roots in Unplugged, definitely one of the great guitar albums of all time. If screaming electric guitars make for windows-down city listening, this acoustic collection plays especially well when surrounded by nature.


Best Listening Location:

Driving through Independence Pass between Leadville and Aspen, Colorado.
Zac Brown Band, The Foundation
This album keeps finding its way onto my playlist. Zac Brown combines reggae, Jimmy Buffett, rock, and bluegrass with the sounds of traditional country music to create an immensely fun song collection.


Best Listening Location:

The Blue Ridge Parkway in Virginia, Tennessee, and North Carolina.
Stevie Wonder, Songs in the Key of Life
What's a road trip collection without some Motown? Songs in the Key of Life is sort of like Stevie Wonder's autobiography in music, as rich, deep and varied as the songwriter's life itself.


Best Listening Location:

Anywhere there's pavement.