The Boof Will Set You Free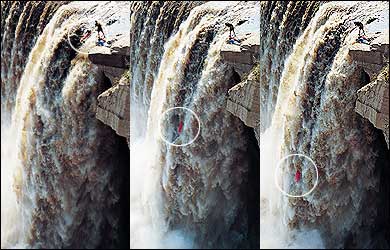 Jed Selby
Heading out the door? Read this article on the new Outside+ app available now on iOS devices for members! Download the app.
When Ed Lucero plummeted 105.6 feet over Canada's Alexandra Falls, he set a new world record for the highest plunge in a kayak. What was he thinking? John Galvin finds out.
Seeing is Believing
CLICK HERE
to watch the video clip of Ed Lucero's big drop.

Last summer, on a river-running safari in Canada's Northwest Territories, world-class kayaker and madcap steepcreeker Ed Lucero, 37, stopped off at a roadside park to admire Alexandra Falls, a raging 105.6-foot drop on the Hay River. Intrigued, he spent a week studying the "perfect curling line" that flows over the left side of the cataract. Then, on the afternoon of July 31, he strapped on his custom-made polyethylene-armored life vest and nudged his playboat over the edge. After falling ten stories, and being held under for a solid four seconds, Lucero popped out at the bottom—separated from his kayak, but otherwise intact—the shaken-but-still-sentient owner of a new world record.



John Galvin:
So, Ed. You flung yourself off a 105.6-foot waterfall. That seems a little crazy, doesn't it?



Ed Lucero:
If you don't know anything about it, you would think it was crazy. But if you've run wild-ass waterfalls for 12 years, and set up safety for them, and got trashed, and made mistakes, and then some magical day you see the highest waterfall you've ever seen, and you say to yourself, "This one looks doable"—then it's not crazy.


John: Um, OK. Take me to the edge. What was it like?
Ed: It felt like I was on a conveyor belt that had just speeded up. Then I go over and I've got my head tucked fully down, ready for impact. That was probably the calmest moment of my life. I didn't hear the waterfall anymore. It sounds nuts, but it's relaxing. I was in my own little world for what seemed like a long time. Then WHAM-O! BOOM! I hit the water and there was an incredible tone in my head, like BUUUUUUhhhyoooooing. Eeeeee.

John: What happened as you went under?
Ed: I was pulled almost all the way out of my boat. It was like diving in headfirst, and you hit the water and your pants are down below your ankles. My first thought was to pull myself back in, but I knew I could have broken something, so I moved very slowly to see if I was hurt. But I was OK; nothing was broken. If I had been leaning just a little bit to the side, I could have snapped my spine. That would have changed my day for sure.


John: Still, it must have hurt.
Ed: It didn't hurt at that moment, but a shock wave went through my body. We drove home that same day, and we were cramped up in a truck and I took a nap. When I woke up, I could barely get out of the damn truck to go to the bathroom, it hurt so much.


John: Were you scared?
Ed: During the week before, when I was going back and forth in my mind about what could happen, I would visualize myself going off it, and it was terrifying. I was wondering, Am I too old to do this? I don't kayak every day, like my young, rippin' friends.


John: Speaking of your young friends, most of the kayakers you were with are a lot younger than you. Did you think maybe you shouldn't be playing the same games as them?
Ed: Definitely. I remember one day in particular, we were surfing this monstrous wave on the Slave River, and these guys are up on their heads, doing 360s, helixes—everything. I thought, These guys are pushing the limits, and I'm not at their level of kayaking. It was a little sad. I told them I didn't think I was the man for this drop. Then a little later I was like, Dude, what are you thinking? You designed this life jacket, you've been running waterfalls for years. If there's anybody who can run this drop, it's you. Don't be an insecure, down person.


John: So you didn't go with the intention of setting a record?
Ed: Exactly. I hadn't even heard of this waterfall before.


John: Did you know that it would be a record if you made it?
Ed: I wasn't sure. I knew it was the biggest, most powerful waterfall I'd ever run, and I knew it would be an attention-getter.


John: Uh-huh. The last time you tried to get some attention, you embarked on something called the Soul Tour, where you drove around the country spreading the gospel of kayak safety. Do you see a paradox in here anywhere?
Ed: Hey, something allowed me to be here—like a life jacket, like a small kayak, like 12 years of running falls. Safety is key.


John: The park manager at Twin Falls Territorial Park told me he was surprised you made it out alive.
Ed: I believe it. This waterfall is just the latest drop where people have questioned my sanity.


John Galvin, a frequent contributor to Outside, wrote about the Mississippi trash man in August 2002.
Trending on Outside Online