Giro di Salame
On a vintage steed, over vertiginous hills of white gravel, suitcase overloaded with courage, BUCKY McMAHON battles through Italy's infamous Eroica—a grueling, 127-mile "period cyclotouristic rally"—in hopes of dying just this side of glory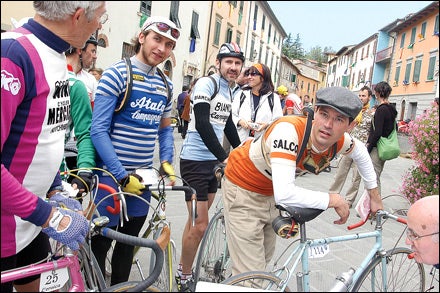 Heading out the door? Read this article on the new Outside+ app available now on iOS devices for members! Download the app.
After the brutal climb to the village of Radda, with only ten kilometers to go, I was about to bonk, nary a revolution left in my legs. Then I heard the cheers from the crowd: mama, papa, and daughter in kneesocks. "Bravo!" they shouted. I nearly burst into sobs of gratitude. Of the roughly 3,000 riders in Italy's 12th annual Eroica, an epic, old-fashioned cycling tour up and down the hills of Tuscany's Chianti region, I must've been nearly last. All well-wishers had abandoned their posts save these three, the patron saints of slowpokes.
Eroica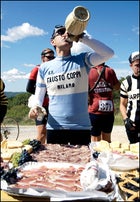 Rest stop
Eroica riders in Chianti

Scenes from a love affair: L'Eroica riders celebrate il grande ciclismo on the rural roads of Chianti
Eroica riders in Gaiole

Late starters in Gaiole
My spirits soared.
And then I was plummeting down yet another motherfucking gravel hill. I foolishly hoped it might be the last in the 205-kilometer route I was following in skinny-tire travail. Over the rural strade bianche, or "white roads" of shale and limestone, the dying October sun cast magic-lantern shadows from behind a stately colonnade of cypress trees. That and the violent drubbing of my tires over the white washboard nearly strobed me senseless. Yet here on the other side of exhaustion, a mere floating head of witness, I instinctively, effortlessly dodged potholes and washouts at a speed that would surely have wrecked me earlier. Then the road flattened out through a good long stretch of plowed and fragrant farmland, and I thought, for the hundredth time, Che bella!—and, there being no other riders in sight, that I'd missed a sign.
I stopped and rotated my torso to look back, my neck being no longer operable. A-ha! Here came some other poor bastards, on venerable old bikes like mine, rattling down the hill. I wasn't last, or lost, after all. I set to it again, spinning a favorite, honey-smooth middle gear. "Piano, piano," I said, gently coaxing the lugged-steel bones of Lola, my dauntless 1978 Trek, and echoing the signore at the previous night's Heroes' Feast. In the host village of Gaiole in Chianti, my glass had been kept brimming with Chianti Classico as we roared and toasted all things ciclismo. At my table, a local coach had offered a strategy for the next day, making gentle pedaling motions with his hands: "Piano, piano…"
That is, "Slowly, slowly…" Easy does it.
But now it was starting to look as if easy wasn't going to do it after all. Nearly 14 hours of grinding up and banging down steep gravel had taken its toll on my Lola: a spoke sproinged; derailleurs in dire need of adjustment; wheels out of true; taillight long gone, rattled clean out of its bracket. But she was still the belle of the brawl to me. Her lightweight American steel had absorbed countless bone-rattling blows on my behalf and kept on rolling, past many a mechanical breakdown. As for me, I'd had my brains knocked out of true. Like a visionary in the desert, I was running on soul.
Night crept from behind distant purple vineyards. A brief steep climb and then the strade bianche T'd into tarmac, the sudden ease like a jolt of espresso. Cars whiffed by, lights on. A van slowed—my tablemates from the feast. Done, celebrated, and heading home, they shouted "Almost there!" and left me to my pain. So the long-dreamed-of finish line in Gaiole's cobblestone piazza was close. I looked and thought I could see the hilltop village's lights blooming down below, but the route swung away, back into forest.
Darkness. I toggled Lola's headlight. Dead.
L'Eroica, it should be noted, is not a race but a randonnée, a road trip for the pleasure of the ride. Still, it's a point of considerable pride to finish the longest route within the "heroic" time frame of 5 A.M. to 7 P.M. That deadline was minutes away.
As I flew downhill through a landscape like a vast black-on-black Rothko canvas, I glimpsed below me the red taillight trails of three riders streaking for Gaiole and glory. If I could catch them, I might beat the deadline on borrowed light.
WHEN I'D SIGNED UP for L'Eroica two months earlier, I had no idea what an all-day ride with extreme elevation changes entailed, but it had seemed the perfect challenge: to transform a middle-aged surfer/tennis player with declining mobility and a bad back into a far more resilient athlete, one who could, for instance, ride hard all day in the Chianti hill country. And it would all be for a good cause.
A dozen years ago, Giancarlo Brocci kicked off the tour to celebrate the strade bianchi and rally support for their preservation. Some, citing the dust and wear on their high-end roadsters, craved blacktop. Brocci and his fellows in the Parco Ciclistico del Chianti foresaw that asphalt would not only ruin the character of the countryside; it would also pave over a lot of the history of il grande ciclismo, the midcentury era of mud and blood that saw the rise of national heroes like the legendary Fausto Coppi, Il Campionissimo, "the Champion of Champions." The event they created is part costume ball, part battle reenactment, with a sawtooth profile resembling a mountain stage of the Tour de France. The first Eroica drew about 100 faithful, but last year's event attracted thousands of cyclists from more than a dozen countries, many of them riding beautiful antique bikes and kitted out with period gear and clothing. Lugged steel, wool jerseys, leather saddles, etc.—all of this is encouraged, but I also saw carbon-fiber frames and people wearing as much spandex as Spider-Man. With four courses to choose from—38, 75, 135, and 205 kilometers—you can randonnée through the Chianti well into your dotage.
Speaking of which, at age 53, and with zero road-bike experience, I might have chosen one of the shorter courses. But committing to an event far beyond my abilities was just the sort of psychological jump-start I needed. I was already following "a sensible program of exercise and diet," and it had me firmly mired in mediocrity. In tennis, for instance, all too often I heard myself saying "Too good" rather than pursuing an opponent's would-be winner as I'd once done, with the mad fury of a Jack Russell terrier.
I needed a bike. I soon found a well-preserved, Eroica-appropriate ten-speed: silver and maroon, with full Campagnolo, downtube shifters, a burnished leather Brooks saddle, and 30 years on her. I named her Lola after the swift and tireless heroine of the German cult film Run, Lola, Run. I'm six-one, 185 pounds; at 25 pounds, she's svelte for her age. We meshed biomechanically right from the start. She seemed to have an invisible motor, a get-up-and-git that made me want to ride and ride.
I soon contacted an Eroica veteran, San Francisco wheelman Bob Freitas, seeking advice. His response was terse: "My condolences." He added, "Florida ain't Tuscany" (I live in flat Tallahassee) and "Those elevations are in meters, not feet." My friends were even more skeptical. One, well-versed in the physiology of exercise and recovery, opined that 127 miles of hills would kill me outright. I feared an Italian bonk, and I feared an Italian sag wagon, just waiting to scrape my sorry bonked ass off the gravel, the way Irish peasants once feared the banshee's coach. I found the only hills in town and started putting in my miles.
By September I was clocking 50-mile loops, returning home broiled the color of steak tartare and having off-gassed surplus pounds into the atmosphere. I'd dropped nearly 20 of them, to 167, had a spring in my step, and had no more back troubles. Old and slow, maybe so, but I was hungry for that ghostly gravel.
I WAS ALSO JUST PLAIN HUNGRY. That first night in Gaiole, I went to a café with some other riders and destroyed a plate of tagliatore in a wild boar sauce. I was already looking forward to the tour's ristoro stops, which promised traditional fare: salame, prosciutto, riboletto stews, and the original energy drink, Chianti. I was eager to gourmandize on the fly. The affable Eroica director, Claudio Marinangeli, dropped by our table with his beautiful daughter, whose name I didn't catch. "Ees very far," she said with a lovely pout when I told her I was doing the long course, "but good you try!"
By Saturday, Gaiole was hopping with cyclists signing in at the gymnasium, which had been transformed into a museum of the bicycle, with turn-of-the-century Peugeots and 1950s Bianchis hung on the walls. In an adjacent park, vendors hawked pre-derailleur bikes with Rube Goldberg manual shifters and all manner of other catnip for the cognoscenti. Anticipating the chill of Sunday's pre-dawn start, I picked out a pair of gloves and a tri-colored cycling cap with earflaps. One or the other, not both, I chided myself, budgeting. Like a dumbass, I tossed the gloves back.
Mingling as best I could monolingually, I managed to bump into some vintage Brits, one of whom, 72-year-old Trevor Smith ("international courier and lover of women"), was a national champ who'd once raced against Coppi himself. "I have a story to tell," he said with a rhetorical flourish of his Guinness. "It was a beautiful sunny day, not a cloud in the sky, and we're all coming down the mountain like the blazes when I feel a spatter of raindrops. What's this? I say to myself. Then I see up ahead: It's Fausto Coppi with his johnson out, raining piss all over everybody."
Five hours after that night's Heroes' Feast, I sprang out of my bed at the B&B and was soon stuffing my face again: pani santi ("little pastries"), various regional pork products, and plump, ineffably wonderful Chianti grapes. In the village square, a throng jostled under harsh klieg lights. Some riders had a tweedy Roaring Twenties look: slouch caps, goggles, aluminum water flasks clipped to the handlebars. Eddy Merckx–style striped caps and canary-yellow Cinzano jerseys were favored by sixties aficionados. Wool-clad Italian iron men with handlebar mustaches and tree-trunk legs pushed squat little bikes, spare tubes wrapped in figure eights around their shoulders or slung across their chests like ammo belts. We got our brevet booklets stamped, mounted up, and were off under a black, star-pricked sky.
PIANO, PIANO! But there was no denying the adrenaline surge of my first peloton. I was part of a great dragon of illumined cyclists six riders abreast, the head of the beast perpetually disappearing around the bend ahead, the tail still flowing out of the piazza behind. We made a hissing sound like gentle surf, spokes whirring, tires snicking smooth wet pavement. The first bit was all descent, a ten-kilometer/six-mile coast south toward Siena, but cold! I shivered so hard my whole bike shook. My fingers burned, then went numb, so I alternated hands on the bars, shoving the other into my armpit to restore sensation. I was passed by a lot of riders with gloves.
At last an official with a flashlight appeared, waving us off the highway and onto the first section of strade bianche. The limestone seemed to glow in the dark. It crackled, was both grabby and suddenly not. The workout brought blessed warmth. Over this first long, undulating climb, the pack spread out single-file to a long, thin thread. By the time the sky showed pink, I was sweating contentedly, and with the first red sliver of old Sol upon the horizon, the countryside erupted with shotgun blasts, the gentry out shooting birds.
Had I done the math at the first control point, the 40-kilometer/25-mile mark, I might've noted I was kind of dogging it. But I was happily gobbling more pastries and grapes and slurping hot coffee. Besides, there were at least a hundred of us! I was right in the thick of things. Too many minutes later, I was back at it in high spirits.
But soon the first of the 15 percent gravel climbs rose up like the pale brow of Moby-Dick. It looked insurmountable, like you'd just bounce off. I shifted to my lowest gear and hit it out of the saddle, surging all the way up on sheer audacity. But the next section was even steeper. (Some hit 18 percent.) A few cranks into it, I spun out, spitting gravel. So I walked.
At the top of every hill was a prize: the ruins of a castle of the Guelfs and Ghibellines, a 14th-century fortress, a grand villa commanding a noble view of vineyards and olive orchards. Then came the tunnel vision of a roller-coaster descent, every bit as demanding as the climb and much more dangerous. At the checkpoint, a sixty-something South African on a mint '63 Raleigh described the course as "very sporting."
"Quite," I said around a mouthful of salame sandwich.
After a crash at zero kilometers per hour that bloodied a knee and an elbow, I developed a strategy: Stand up, sit down, spin out, get off and hike. At a forced march I could nearly keep up with the young dudes with cannonball calves and 27 speeds grinding out the steepest sections. But of those who never walked, there were also riders much older than me, pedaling bikes even older than themselves. Talk about heroic. A great many featured only one gear, and it was no granny.
AT THE FIFTH CONTROLLO—and my fourth lunch of the day—I noted a higher percentage of English-speaking riders. The Italians were smoking us Anglophones like so many salami. The consensus, voiced with good humor, was that we'd fallen hopelessly behind shed-yool. We of course toasted this development.
Back in the saddle, my quads protested vehemently; a slow burn traveled from tailbone to skull. Every sinew stretched tight, I vibrated like a tuning fork. Still, I reeled in one rider, who turned out to have a badly taco'd front wheel, then crept past a young American who told me we weren't going to beat the deadline.
Whaddya mean "we," compadre? I still had something left in the tank.
The climb to Radda siphoned that off. One moment I'd been a mystic of the wheel, endlessly pedaling, remembering no other way of being. I'd even thought of the great French sailor Bernard Moitessier. In 1968, he'd abandoned the Sunday Times Golden Globe, a race to become the first man to circumnavigate the earth solo and nonstop—only to keep sailing. He ended up traveling the distance of one circuit and three-fourths of another. Why stop at the finish line?
The next moment I was just a desperate doofus about to bonk.
And soon it was dark. Planetarium dark. Below, those three red taillights arced across the blackness. The only thing missing was the Pink Floyd. Yet through the phenomenon of persistence of vision, the lights left lingering streaks that showed me the contours of the turns. It was purely conceptual riding, ridiculous at high speed. I held on through the first curve and the next, but rather than gaining on them, as I knew I must, I fell behind a little each time. And then they were gone. I couldn't see past my handlebars. Slowing way down, I could just make out the difference between road and not-road.
A car came roaring up behind me, flashed its brights, hit the horn. My pulse shot up. On I rolled, piano, piano.
Half an hour later, I was still in the dark, in the cold, in the forest, creeping along, wondering what a night out would do to me. Up ahead I saw a light, a couple of buildings—surely the outskirts of Gaiole—and what looked like an ice cream truck. I pedaled up to it, shivering, and tapped on the window. Inside was a woman in green scrubs.
An ambulance, a sag wagon if ever there was one.
"Do you know which way is Gaiole?"
She pointed back the way I'd come. I'd kept on going all right—right past the finish line.
But I wanted that finish line. I turned around and began to creep uphill, near to grieving. I was grinding along, beginning to shiver convulsively, when the lady in the sag wagon pulled up next to me.
"You want a ride?"
To give up the cobblestones, to leave the thing unfinished, was like an amputation. I'd like to tell you that I declined, asked her to lead the way as I retraced my tracks, found the turn I'd missed, and made my own little triumphal entry. But I did not.
A moment later, the EMTs were treating me for hypothermia. Lola sat in the back.
I tried to explain: It wasn't as if I'd bonked; it was just that I was lost, see? I lurched off the stretcher and switched the odometer to total distance: 212 kilometers.
Seven over the top. But, alas, past seven o'clock—and far from the finish line.
"Non capisce," said the lady, trying to get me to settle down.
Soon the ambulance pulled into the piazza. I climbed out the back, wrapped in a blanket, and the organizers clustered about me, murmuring words of sympathy and concern. I tried to tell my story again. The broken light! The missed turn! Duecento e dodici! Not a bonk! No bonk!
"Ees very far," someone said, "but good you try!"