The Olympic Superstar Next Door
With mega-celeb Lindsey Vonn out of Sochi, the Olympic lights will shine bright on her laid-back teammate Julia Mancuso, the perennial underdog who always seems to come home draped with medals.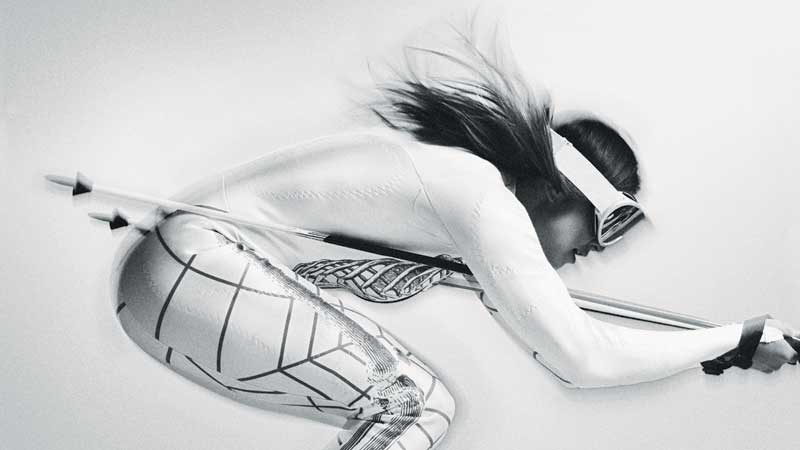 Heading out the door? Read this article on the new Outside+ app available now on iOS devices for members! Download the app.
My plan to treat Julia Mancuso like an Olympic superstar is falling apart. I rented a red Porsche Cayman at LAX and made brunch reservations at the Ivy. But it's already 10 A.M., I have to get her to a photo shoot at noon, and she hasn't showered after her morning beach workout of sprints, tuck jumps, and stutter steps. Fortunately, Mancuso's throwing audibles and solving problems. She knows this great little organic non-GMO spot on Abbot Kinney. "I showered last night," she says, both simplifying things and confirming the basic nature of her appeal.
BTS Mancuso
Mancuso gallery

Follow Julia as she
goes surfing
on Maui's north shore
Mancuso is the Olympic champion you'd want to drink a beer with. The 29-year-old Lake Tahoe, California, native trains for skiing by surfing and paddleboarding, appears untroubled by minutiae, and then, like Big Papi, comes through when it matters. This pattern first emerged at the 2006 Turin Games when, as an obscure 21-year-old, Mancuso won gold in the giant slalom. She wasn't quite a favorite at Vancouver, either, but she won two silver medals, making her the most decorated Olympian in U.S. Women's Ski Team history.
Going into the Sochi Games, most of the chatter has focused on Mikaela Shiffrin, the 18-year-old American phenom, and Mancuso's training partner Lindsey Vonn, who reinjured her surgically repaired right knee in November. Maybe it's because of Mancuso's relaxed demeanor that observers continue to underestimate her. But to hear Mancuso tell it, the laissez-faire attitude isn't a strategy; it's all she knows.
"When I started, we weren't wearing our race suits to training," she says. "We didn't have concepts like the 10,000 hours"—the idea, popularized by Malcolm Gladwell's book Outliers, that it takes that long to master anything. Though the idea strikes many critics as oversimplified, it has gained messianic status among overbearing sports parents. "I was just self-motivated," she says. "Nobody ever told me what to do."
Mancuso appears untroubled by minutiae, and then, like Big Papi, comes through when it matters.
That hasn't changed much. Right now, 86 days before the opening ceremonies in Sochi, the rest of the U.S. Ski Team is at Colorado's Copper Mountain prepping for the World Cup season kickoff at nearby Beaver Creek. Mancuso, meanwhile, is crossing Ocean Avenue, chatting on the phone, and taking my keys. "We'll drive," she says, by which she means she'll drive.
She pilots us through Venice, pulls a U-ey, and parks down the street from Axe Restaurant, where we find a quiet table in the shade out back. Mancuso orders bacon, eggs, and French toast, and makes easy small talk. Well into our conversation, I ask about her relationship with Vonn, whose World Cup wins, crashes, and personal trainwrecks have dominated ski headlines of late. Despite reports of an alpha-female rivalry, Mancuso tells me that the two have grown closer. They share a coach, and Mancuso insists that their would-be rivalry was mostly made up by the press. "If it was anything, it was just girl stuff," Mancuso says. "Me saying 'I'm so free!' and her rolling her eyes."
Mancuso's love life has also been public, but she isn't much fun to gossip about, mostly because she doesn't make a show of guarding her privacy. Before anybody ferreted out the news of her recent breakup with two-time overall World Cup champion Aksel Svindal, she posted it herself on Facebook. Her Instagram account is full of bikini-clad selfies: swimming, surfing, and drinking tall boys in hot tubs. Somehow, none of this feels like a big deal.
"I have a really good family and a lot of support around me," she says of her ability to both win races and cut loose without going all Shaun White at a Nashville wedding reception. Then again, it would be hard to outdo her own father, Ciro, who spent four years in federal prison for running a $140 million drug-smuggling operation.
"You grow up in Squaw, where the cool people are the ones breaking rules—like Shane McConkey," she says, referencing the deceased action-sports star who made his name (and died) BASE-jumping on skis. "How can you grow up thinking that skiing is super serious when there's this guy pushing the limits on every level?"
After the photo shoot, we rush to LAX so Mancuso can catch her flight to Colorado. She's back in black skinny jeans, Jordans, and a trucker hat. With her super-G skis and boots crammed between the tiny sports car's two seats, Mancuso suddenly becomes a disembodied voice hashing out the next day's training plan with her coach—which boots to wear, how many runs she'll do.
And that's when it hits me. Mancuso gives the appearance of playing fast and loose, but she's a driven and focused athlete, just not in the way you'll read about in a book on how to become a champion. And she doesn't see herself slowing down, even after Sochi, despite the fact that no woman has won a World Cup race after age 32. "No, I think I'll keep going," she says casually.
Then I make the same mistake that so many others have: I underestimate her. "So you're not one of those athletes who need to retire on top?" I ask.
She flashes a brief look of confusion before displaying her secret weapon: the absolute confidence that separates skiers who win races from those who win Olympic medals. "I don't really have any doubts that I'll be on the podium."
Trending on Outside Online