Gone With the Wind
Last spring, Bear Grylls walked away from one of the sweetest gigs in the adventure world. Was it career suicide? Or a savvy move by a born survivor?
Heading out the door? Read this article on the new Outside+ app available now on iOS devices for members! Download the app.
"ONE! TWO! THREE!" And with that, Bear Grylls, Saddleback Church pastor Rick Warren, and one unlucky volunteer from the congregation all toss back a handful of worms and maggots. The crowd of some 5,000 inside this Orange County megachurch groans and cheers, followed by an awful moment filled with the miked-up sounds of chewing and swallowing. Then Warren—evangelical icon, best-selling author, and the minister who delivered the invocation at President Obama's inauguration—digs into the squirming glass bowl for seconds. The place erupts. "EEEWWW!"
Welcome to Bear Grylls, live on stage.
It's early May, and Grylls, 38, star of Discovery Channel's Man vs. Wild, is six days into a PR blitz to promote the U.S. release of his autobiography (and 11th book), Mud, Sweat and Tears. Today's performance, a version of an act he debuted in 2011, follows a simple formula: Grylls makes a dramatic entrance by—look up there!—rappelling down from the ceiling. He plays some Man vs. Wild clips. He chats with a cohost about his life of adventure. He gets audience members to eat bugs. It's hardly as thrilling as watching him brave nature's cruelest punishments on TV, but for Grylls fans it's crack. In the past year, he's sold out 17 shows in the U.K., Australia, and Norway. Here at Saddleback—where, at the invitation of Warren, he's performing free of charge—churchgoers vigorously applaud every Man vs. Wild video. They hush in reverence when he discusses his faith. ("You don't meet too many atheists in the Death Zone on Everest.") They guffaw at his punch lines. ("I thought, Typical, it's the best-hung goat in the hemisphere!")
Indeed, last spring it seemed that everything was going right for Bear Grylls. Mud, Sweat and Tears had already become a bestseller in Australia and the U.K. His signature collection of survival products for Gerber, including the $62 Ultimate Knife, which has sold a million units since 2010, was adding 12 new tools. His outdoor-clothing line with British brand Craghoppers was also expanding. He'd recently become the face of a Dockers ad campaign and had starred in a high-profile TV commercial for Degree deodorant. ("Sweat is like tasty gravy to a hungry wolf," Grylls deadpans.) In the days surrounding the Saddleback appearance, he taught Al Roker how to light a fire, gave stranded-mom survival tips to Rachael Ray, and shot arrows for Jay Leno.
There was just one thing missing: Bear Grylls no longer had a TV show.
"Let's get lashed!" says Grylls as we roll north through L.A. traffic toward his hotel in Beverly Hills. It's about half an hour since he took his bows at Saddleback, and we're sitting in the backseat of a red Kia SUV driven by Delbert Shoopman, who manages social media and licensing for Bear Grylls Ventures USA, the company Grylls launched this year to nurture his growing commercial empire. Riding shotgun is publicist Heather Krug, who Grylls will soon name CEO. The two of them chuckle and roll their eyes at their boss. They know we will not be getting drunk; the man is a Boy Scout, figuratively and literally. (He was appointed the U.K.'s chief scout in 2009.) He just likes to say that he's going to get lashed.
"Everyone can read behind the headlines that Discovery was pissed," Grylls says of the highly-publicized breakup. "They're not used to someone calling it a day."
He also likes to say how much he loves just about everything.
On being best known for drinking his own pee: "I love it!"
On his oft repeated motto "If you risk nothing, you gain nothing": "I love that!"
On the parallels between survival and everyday life challenges: "I love that!"
On his new Gerber line: "It's all that Batman kind of product space that I love!"
Grylls expresses these loves, plus probably a dozen more, during the hour-plus we're stuck in traffic. This is the same unfettered exuberance that fuels everything he does. When he first started filming Man vs. Wild in 2006, Grylls thought he'd have to contain himself. Then, during a flight between shoots, he watched an episode of The Crocodile Hunter. "I learned one critical lesson from Steve Irwin," he says of the late host, "which is that people love enthusiasm."
Today, Grylls is especially enthusiastic about all the "incredible offers coming in now that I've got free from Discovery." (More on that in a bit.) He tells me he's in discussions with a number of networks and that he's confident he'll be filming again soon. He won't share specifics, but he isn't looking for a Man vs. Wild II.
"The whole of Man vs. Wild has been me in that same zone, because we're showing what to do when your life really is on the line," Grylls says as we crawl north along the 405. "It's like if my kids were in trouble, I'd instantly go into a very serious place. I'd push you to the side"—he slams his open palm into my chest—"and I'd be in that zone. But life isn't like that. We're not always in danger. And when I'm not in danger, I love messing around. When they say 'Cut!' I'm like, Ah, I really need to break wind. I can't break wind on the show, because people will get upset."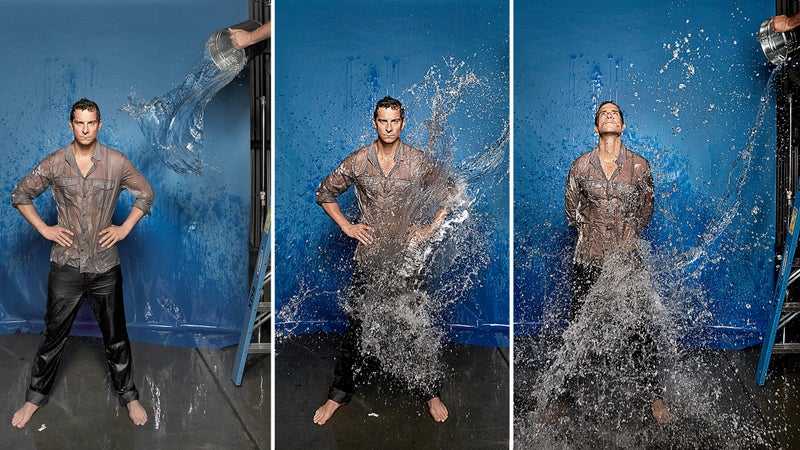 What Grylls has in mind is something more like the two specials he produced for the U.K.'s Channel 4 last winter. Called Bear's Wild Weekend, they had him taking cheeky talk-show host Jonathan Ross and comedian Miranda Hart on short, relatively mild adventures that placed the two massively popular British TV personalities in comically uncomfortable outdoor situations.
"I sold it as 'This is me taking them on a boys' adventure,'" says Grylls. "We totally had fun. I am breaking wind on those shows. We're making fondue. We've got tents and all the supplies. We're making fires without having to rub sticks!"
Both specials got huge ratings. Grylls credits their success in part to the fact that Wild Weekends was nothing like Man vs. Wild, but he says he never could have pulled them off if he hadn't already established his credibility.
"Those shows were so popular because viewers had seen me bust my balls for seven seasons of Man vs. Wild," he says. "So when they see me with a box of chocolate and a hunk of cheese in an ice cave, they understand. I want the new programming I do to be in that zone."
Did Discovery fire Bear Grylls? Er, well, sort of. Maybe. In May, Grylls told me that the dispute began when the network brought him a couple of ideas for new programming. "They weren't right, so I said no," he told me. The disagreement got tense, but Grylls held his ground. That pretty much matches what Discovery sources told the Hollywood Reporter in March, saying it "terminated all current productions with him" because he was unwilling to participate in new projects.
What neither side mentioned is that Man vs. Wild's ratings had recently taken a dive. According to Nielsen, the last season averaged 792,000 viewers per episode, down from 1.3 million in season six and one million in season five. Last fall it came in 15th place among Discovery's key series, four slots behind the husband-and-wife survival show Man, Woman, Wild. Chances are, Discovery was pushing Grylls to consider spin-offs that were cheaper to produce. And the network was undoubtedly miffed when Grylls, still a defining personality for the network, balked at its suggestions. "Everyone can read behind the headlines that Discovery was pissed," he told me. "They're not used to someone calling it a day." (Discovery declined to comment.)
Movking his Man vs. Wild character doesn't present a conflict for Grylls: "There is a parody moment. I don't mind that."
Grylls is certain to get another show. "Somebody will pick him up," says Rob Moynihan, L.A. correspondent for TV Guide. "It could be he's more of a host and not out in the wild, but he's definitely a talent that people want to land." He might even cook up something new with Discovery, a possibility he mentions several times. No one in entertainment matches his blend of charisma, fan base, and adventure showmanship. At a pre-Olympics gala at London's Royal Albert Hall in May, where he was introduced as an ambassador to the Games, Grylls rappelled in from the roof, nearly landing on Prince William's head. In June, he carried the Olympic torch across the River Tyne—on a zip line.
Grylls also has a knack for simple entertainment. During guest appearances on talk shows, his go-to gimmick is to start a fire using a flint, his Ultimate Knife, and cotton balls. Hohum. But then he stamps it out with his bare hand, wowing the audience. He likes showing how to filter water with—cue the icks—the sock off his foot. In April, when he was invited to throw out the first pitch at a Dodgers game, he set the ball aflame with fire paste. Video clips of the stunt bounced around the Web.
Reducing survival skills to cheap parlor tricks might mock his Man vs. Wild character, but that doesn't present a conflict for Grylls. "There is a parody moment," he concedes. "I don't mind that. I've always been able to laugh at myself."
That's good for Grylls, but you wonder: Is laughter really what his fans want from him?
"One of the things we loved about Man vs. Wild was turning up in all these countries and tearing up these immaculate executive helicopters," Grylls tells me. The car ride has ended, and we're all sitting outside his hotel at a large table, along with Jamie Haith, cohost of his live shows. "Ripping the doors off, blood on the white leather, animal carcasses, and then just leave in a flurry: We've been to town!"
Which brings us to another Grylls love: "I love pranking around!"
Several minutes after he tells me this, he pretends to fart on my digital recorder. ("It's been a total privilege speaking to you, Outside magazine—pffft!") On a recent flight across the U.S., Grylls spotted a passenger asleep in front of an episode of Man vs. Wild, so he got Shoopman to film him standing next to the guy, narrating: "Look, he's watching! See how he's enjoying it?"
In March, during the intermission of one of his live shows in Norway, Grylls got an idea for another gag. "They had all the tutus and costumes backstage," Grylls says. "And I said, 'Why don't I dress up in a pink tutu and a wig?' So I come on in this absolutely monster wig and this gown, and I thought everyone would love it."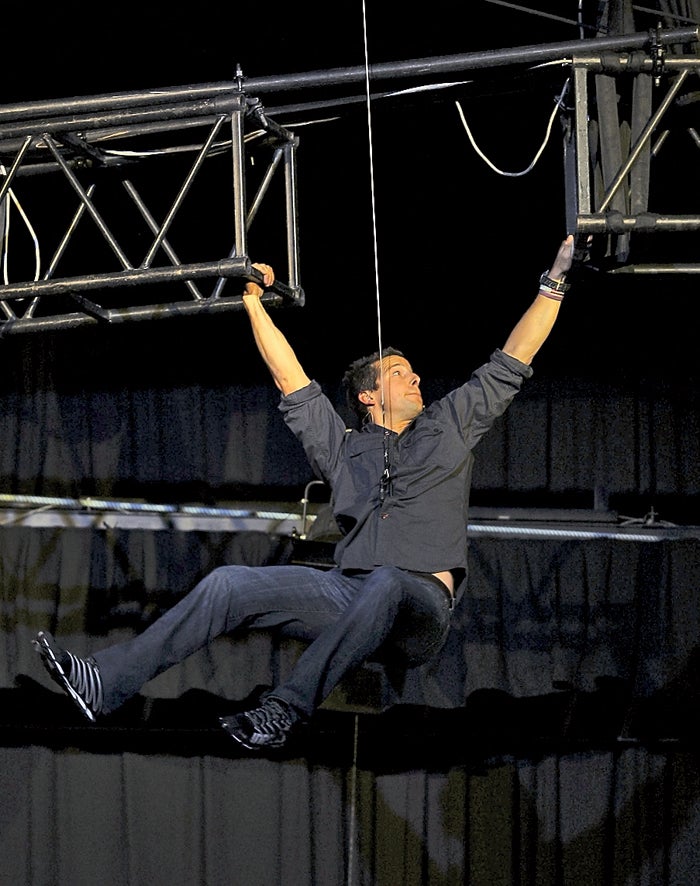 They didn't. "You could have heard a pin drop," says Grylls, shaking his head. Afterward, he realized it was because the audience didn't know that side of him. "They know just the hero," he says. "And you don't want your hero to take the piss out of himself."
Therein lies Grylls' big challenge. It's one thing to perform tricks and deliver punch lines on talk shows; it's quite another to develop a series that gets the fans of hard-charging survivalist Bear Grylls to stick around for an hour of light entertainment.
And while Grylls is still hugely popular, he's not immune to failure. In 2010, he created a second series with Discovery, called Worst Case Scenario, that presented him with urban survival problems: trapped in a burning car, attacked by dogs, stuck inside a falling elevator. Produced around L.A., it lacked the authentic-feeling scenarios of Man vs. Wild and lasted just one season. "You can't be serious if people know it's not real," Grylls says. "And, of course, it wasn't real."
There's also the risk of overexposure. On top of the Gerber tools and Craghoppers apparel, he's launching a line of binoculars and GPS gadgets with Bushnell, as well as a stand-up paddleboard with SUP maker Coreban. He has already released a video game and two iPhone apps. Grylls himself can get a little overexcited about all of this. In May, he blogged about "a totally wild Bear Grylls movie in development." Several weeks later, he announced to his Twitter followers, "Bear Grylls Survival Academy Coming Soon!"
"Oh Bear," Krug responded when I emailed her about the academy. "Nothing to report yet. Just an inkling of an idea."
Two days after the Saddleback performance, I join Grylls and his team at the Leno taping. The plan is for Grylls to do the usual sit-down schmooze about his new book, then pick up a bow and arrow and shoot at a spinning target with sections marked Nuts, Berries, and Maggots. Whatever Grylls hits, he has to eat.
"Do you have control of that?" a worried-looking producer asks him during rehearsal.
"I have total control," Grylls replies with mock confidence.
Ten minutes later, he's anxiously pacing the greenroom, recalling his days as a paratrooper in the British special forces. "It's like sitting with the lads on the tail of a C-130," he says. "You just can't wait to get on the ground."
The taping goes flawlessly. Gabbing with Leno, Grylls delivers a pitch-perfect joke about passing gas in front of Queen Elizabeth during a Boy Scouts event. Picking up the bow and arrow, he hits the berries first (audience: "BOOOO!"), then—thwack—dead center on maggots (audience: "YEEAHHH!"). He downs a spoonful of live grubs—(audience: "EEEEWWW!")—and it's over.
Outside the studio, he gives me a hearty hug goodbye, then turns to his posse and smiles. "Let's get lashed!"