Return of the Road Trip
The great American road trip is resurgent. Hallelujah.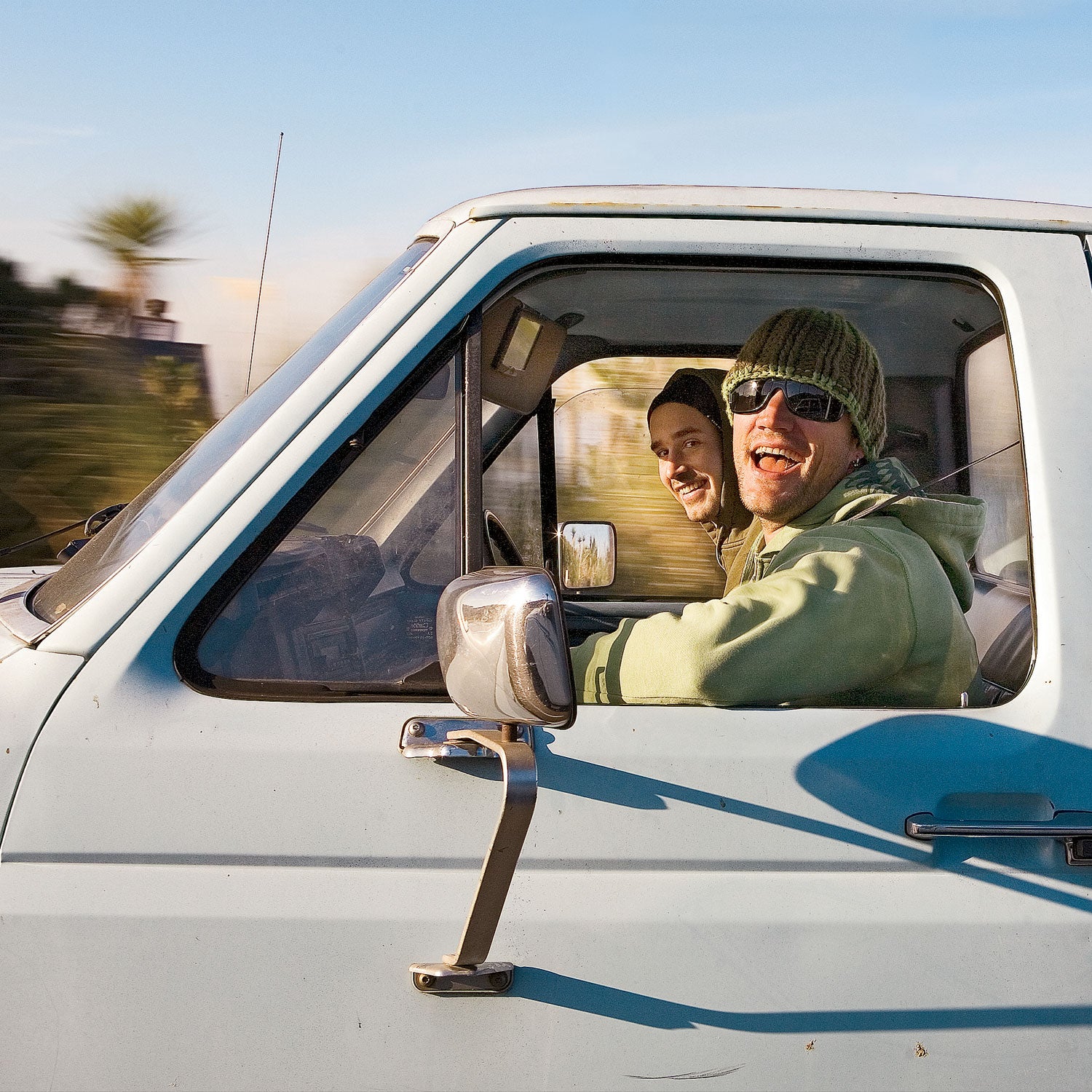 Ewan Burns(Photo)
Heading out the door? Read this article on the new Outside+ app available now on iOS devices for members! Download the app.
Last year in these pages I said the road trip was dead. Is it OK if I say the opposite now? Yes, the road trip has revived. In fact, it's fine! We Americans respond to the price of gasoline the way a person suffering from dehydration does to the IV needle, —that is, instantly. Last summer, when gas was four dollars a gallon, we drove in pain, wincing at each splinter of the gas gauge's descent as our $60 tankfuls bled away. Now, thank God, we can be Americans again. In this country, we have to drive; —it's as simple as that. If we're not on the road, who are we? For me, propulsion begins in the easy chair in my third-floor office as I look out the window into the upper stories of the trees, and a deepening of the shade brings on an old longing, and I want to be out west again. I must add, as a caveat both to the reader and myself, that I live in New Jersey. This means that when the mood for heading west in actuality, not just in fantasy, comes over me, I have little choice besides Interstate Highway 80. I gas up (400 miles for $22!) and take the nearest entry ramp. As the poet Richard Hugo wrote about another western road trip, "Never has your Buick found this forward a gear."
Now people are driving again with their hearts in it, full-out and having fun. Everything and its brother is roaring down I-80. When did every third semi start having Logistics painted on its side? Across New Jersey, the traffic jams and unjams in the familiar accordion pattern, trying to break free of greater New York. The highway pinches down through the Delaware Water Gap, then climbs into Pennsylvania. For 300 miles after that I-80 is a mountain road, beset with windings and bad weather. Pioneers in the 19th century, when crossing these Alleghenies a little farther to the south, used to stop at overlooks to admire their first view of "the West," which at that time began in central Pennsylvania. They used to shout things like "Onward to Illinois!" and "Hurrah for Ohio!"
When the highway leaves the mountains and straightens out across the glaciated plain of eastern Ohio, there's an unleashed quality to the traffic as it strains westward even faster. A cartoon would show us all in profile, frozen in flight, our ears back and our noses stretched toward the horizon line. I mean, everything is rushing down this road—houses, nuclear-reactor parts, coliseum ceiling beams, yachts (Is that fair? Shouldn't they find some water route to where they're going?), Danielle Steel the romance novelist's tour bus, high-school bands, turbines, fiberglass golf-cart bodies, cell-phone-tower segments, convoy after convoy of New York City garbage destined for a central-Ohio landfill. Someday, we're supposed to believe, all this massive freight will move around our country driven by— what? Sunlight? The wind? Well, someday is not quite yet. Open the window, turn the music up, put the pedal down.
Driving the Continental Divide
The intoxicating blur of an all-nighter down the Continental Divide.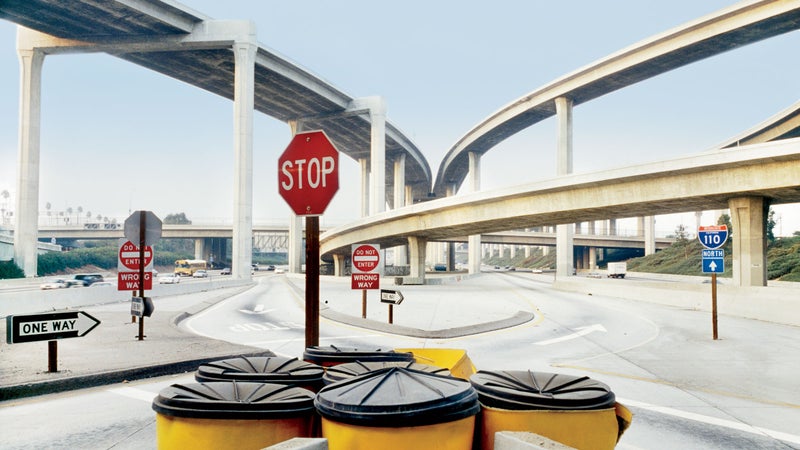 A bond develops in the car. A private universe takes shape. It's made of road noise, of speed, of conversation, of AM radio music and bags of chips. It emerges as we drive south from western Montana into the Snake River country of eastern Idaho and sweep down along the Wasatch Range through Utah, pushing, pushing, headed for Los Angeles, where my girlfriend and I have business the next day. The landforms passing in the dark are silhouetted by our bluish headlights—a hallucinatory succession of alpine meadows, sagebrush plains, and expanses of pure emptiness. As we leave St. George, Utah, at 3 A.M. after buying candy bars and Cokes from a red-eyed clerk, a biblical vista of weathered stone appears that makes us feel both puny and exhilarated. We started this 1,200-mile trip at dinner time, and though we intended to be sensible and take a break halfway—to rent a motel room, watch TV, and sleep—we find ourselves gulping truck-stop coffee instead and riffing away about love and art and politics, drunk on the intimacy of momentum itself.
What a thrill it is to forget the world these days, to outrun its cell-phone signals and cable newscasts and live in a zone of uninterrupted motion that seems, at times, like a preview of eternity, especially in the hours before dawn. It feels almost criminal, this mobile solitude, like an act of rebellion that must be punished, which is why we reflexively hold our breath whenever we spot a police car by the freeway. We fear we'll be given a ticket for euphoria.
In Nevada, we approach a border casino town whose billboards advertise shows by seventies pop stars who seem to have risen from the cultural dead. We contemplate pulling over for a nap but quickly decide against it. To stop would be to abandon our little capsule and fall back to earth. To stop would be to crash. We roll down the windows to catch the breeze and press on toward the outskirts of Las Vegas, whose distant glow is merging with the sunrise.
Hurtling down the S-curves of I-15 into San Bernardino, California, it hits us that our trip is almost over. We'll have to return to our jobs and bodies soon. We've crossed a whole continent, nearly, from north to south, and though we were close when we started, we're closer now, and neither of us is eager to let go. Should we have stopped in Las Vegas and gotten married? Should we turn back and do it now?
We can't. We're there.
Hitchhiking in Wyoming
Hitchhiking in Wyoming, I needed a miracle. I got one.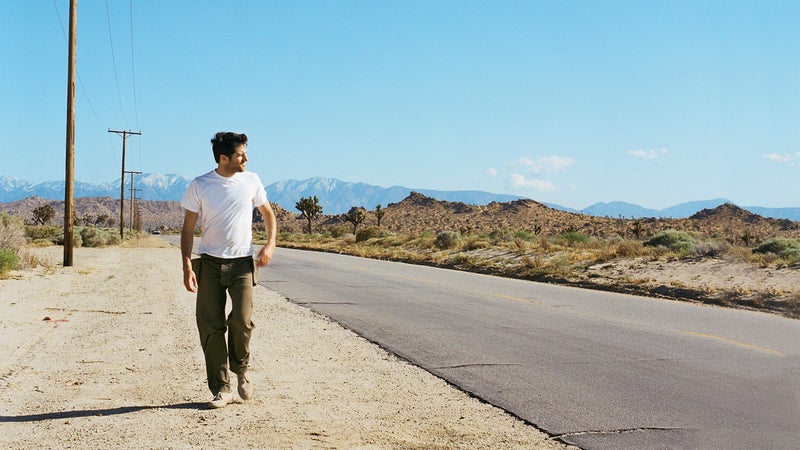 Few Forms of travel can be as frustrating, or as serendipitous, as hitching rides. This is particularly true in the sun-baked, windswept, thinly populated place that is Wyoming. Despite being the self-proclaimed Equality State, Wyoming has outlawed hitchhiking. I found this plenty ironic while waiting for hours alongside Highway 191 outside of Rock Springs on a simmering July afternoon in 2001. A state trooper had already run me off as I tried to catch traffic coming off I-80, so I had humped to the edge of town, hoping he wouldn't follow. I was en route from Denver to Jackson to do some camping, and I sat on my pack by the roadside, sticking my thumb out for every passing 18-wheeler and overloaded RV bound north toward Yellowstone. Nobody stopped. Men in cowboy hats glared as they flew by. The wind kicked the dust up and I was hit in the chest by a tumbleweed.
Finally a huge SUV skidded to a stop in the roadside gravel. I climbed in, profusely thanking the driver, a bearded, weathered man with gray hair. We rode through the parched landscape in silence until his cell phone rang: His daughter was in the parking lot at Denver's Red Rocks Amphitheatre for a Phil Lesh show, had forgotten her tickets, and wanted some strings pulled with "Uncle Bobby"—Weir, that is. Apparently this was no ordinary rancher. When he hung up, I asked him his name. "John Perry Barlow," he replied. Rancher, yes; as well as poet, essayist, political activist, lyricist for the Grateful Dead, and, in a strange twist, a campaign manager for Dick Cheney's 1978 congressional bid. (Today Barlow focuses his work on "cyberlibertarianism"—promoting individual liberty on the Internet.)
We drove a hundred miles to Pinedale, the conversation drifting between animal husbandry, Internet access in the developing world, and jam bands. I crashed at his house in a room with gold records adorning the walls. The next morning he told me he'd found me a lift to Jackson. We drove a couple miles and swung into a tiny municipal airstrip. A pilot friend had offered to pop us over in her single-engine Cessna. I was crammed in the back with Barlow's hundred-pound Samoyed as we lifted up over the barren landscape, the Tetons looming to the north. Barlow took the stick, navigating by the ribbon of highway two miles below us. His friend touched us down at Jackson airport, and we parked right next to Air Force Two. I still have a snapshot of myself, dirty with travel, grinning next to Dick Cheney's nose cone.
Roadtripping on a Broken-Down Hog
You're never closer to the road than when riding a motorcycle; especially one that costs $25 and goes only right.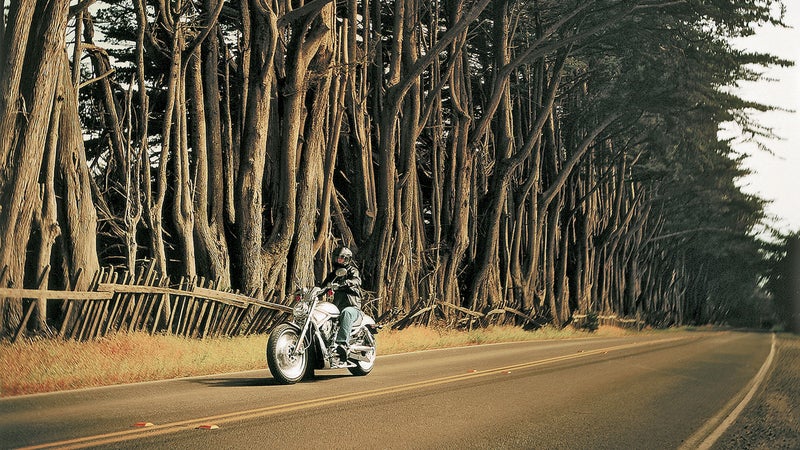 Until a few years ago, I considered myself a connoisseur of grand motorcycle adventures, having knocked off the length of Baja and ripped the oceanside twisties of Highway 1. But it wasn't until 2006 that I truly understood the essence of two-wheeled exploration. Low on dough that summer, I purchased an ailing junk-heap cruiser from a teenager outside a Boulder, Colorado, trailer park. The kid wanted $30 but was easily talked down to $25, since the bike was covered in drippy black spray paint and clearly assembled from chop-shop parts. From then on, I spent roughly every third day riding the same mountain loop clockwise through the Front Range.
These two-hour tours were not my choice. They were the bike's. Thanks to a severely tweaked front fork, the thing pulled right. Whether I aimed for the Laundromat or the coffee shop didn't matter. On our maiden voyage, I headed for the nearby grocery store, felt the handlebars twitching for higher ground, and let the bike lead me up a road I'd driven dozens of times. It shook like a coin-op motel bed at the wide entrance to Boulder Canyon, and thinking that this ride could be my last, I paid special attention. I noticed that a lone crag close to town, the one favored by rock climbers, actually marked a swooping buttonhook in the river. At the beginning of a short straightaway ten miles on was a cliff with one gnarled pine standing sentry, and at the end of the straightaway was a collapsed wooden lean-to. As we approached the town of Nederland, the mountain walls quickly began to recede and it struck me that the whole canyon was shaped like an hourglass, with the narrowest, and deepest, section in the middle. How could I have missed this?
I turned onto the Peak to Peak Highway. As we descended into a shallow valley, the temperature cooled and a mist clung to my leather jacket, as it would only this once, at the beginning of summer. As I roared by on the full power of three, sometimes four, cylinders, aspen leaves fluttered. Later, they would grow pale and brittle and would crackle under my balding tires. Above Jamestown, the horizon widened to reveal the cones of the Rockies, browning like meringue left too long in the oven. I waved goodbye and turned—right, naturally—toward home. Glorious!
A motorcycle road trip isn't about miles covered or epic scenery. It's about forcing yourself to look around. And you can do this, that junker taught me, even on the most familiar route. Right up until your rear tire explodes.