Best Fitness Blogs
The best sites for health advice and commentary, so you can get online and go outside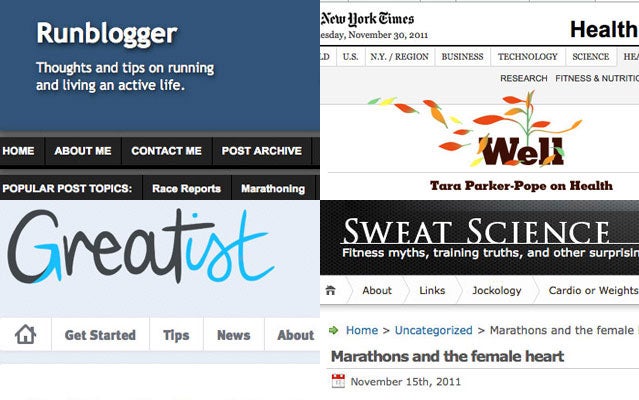 Heading out the door? Read this article on the new Outside+ app available now on iOS devices for members! Download the app.
The Top 10 Fitness Blogs
Within the last year, The New York Times, The New York Observer, and Wired all pondered whether Facebook and Twitter have killed blogging. Phooey. Health and fitness blogs are better than ever—and these 10 provide analysis and voice that status updates and 140 character tweets can't touch. These are the fitness blogs we find ourselves checking every day.
10. Conditioning Research
9. RunBlogger
8. Core Performance
7. Greatist.com
6. NPR Shots
5. Science Daily Fitness News
4. Mobility WOD
3. Wall Street Journal Health Blog
2. Sweat Science
1. The New York Times Well Blog
10. Conditioning Research
A personal blog with an eye for catchy fitness headlines

Written by: Fitness enthusiast Chris Highcock.
Best for: Fitness fanatics with a short attention span.
Highcock, a Scottish fitness fan, uncovers interesting tidbits of info and videos related to strength training, running, nutrition, parkour—you name it, he's posted something about it. Highcock's blog is more like a content aggregation service than a personal platform. He has a decidedly Paleo bent, frequently posting short tidbits of info about strength training, stretching, and barefoot running.
Sample post: We weren't kidding on the brevity, as highlighted by this post on proper pushup technique.
After the post yesterday on pushups I noticed that John Sifferman had posted this video on proper technique

 Read More at Conditioning Research
9. Runblogger
A college professor's detailed tips on running form, shoes, and training

Good for: Running advice and commentary.
Written by: Dr. Peter Larson, Assoc. Professor of Biology at Saint Anselm College.
Yes, Larson's blog is about running more than general health and fitness, but running is such a big part of  fitness that we had to include it. While many of his posts are specific—detailed analysis of footstrike patterns, for example—Larson presents a wealth of balanced info on the raging debate over proper running form and minimalist running shoes. Plus, he usually offers up his own his own experiences as a runner, like this take on the classic running tale: busy workweek + injury = unhappy runner. Larson crams a ton of substance into long, analytic posts, but sometimes he just wants to ruminate. What else would you expect from a college professor/distance runner?
Sample post: Larson debates whether Christopher McDougal's recent article in the New York Times Magazine, in which Larson was quoted, was worthless because McDougal's claims were all based on anecdotal evidence.
I've been reading with some amount of amusement the comments associated with Christopher McDougall's latest article in the NY Times Magazine. On the one hand there are folks decrying the use of anecdote and asking to see the data showing that barefoot is better, as well as those horrified at the thought of running barefoot on concrete. On the other hand are the exuberant individuals ready to head out and start padding along on their forefeet tomorrow, many of whom will probably hurt themselves in the process by forcing change too quickly. As usual, the middle ground tends to get lost, and that middle ground tends to be where I find myself these days. …

8. Core Performance
Practical posts on leading a healthier life, in mind and body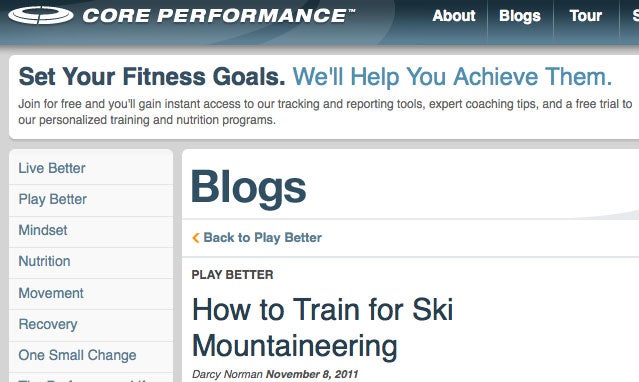 Good for: Practical tips
Written by: Nutritionist Denise Barry, physical therapist, Darcy Norman, and a horde of resident experts on health and fitness, from doctors to motivational speakers.
Core Performance is a training system that focuses on mindset, nutrition, movement, and recovery. Actionable tips to improve health and well-being are partnered with videos, recipes, and informational pictures. It's got the right balance of how-to's, nutrition, and training tips, all backed by solid research. Much of it comes from nutritionists and physical therapists that advise pro and Olympic athletes. The only downside? This blog won't give readers a daily fitness fix; sometimes almost a week passes without a post. 
Sample posts: 5 Ways to Make Your Daily Commute Healthier, Q&A: Is Fresh Fruit Any Healthier than Frozen Fruit?, and how to get in shape for ski mountaineering.
Along with avalanche training, a game plan, an experienced partner, and supplies, a fit body should be on your list of essentials for ski mountaineering. If you're not in good enough shape, the trip could be treacherous. Here are a couple keys to focus on: …
7. Greatist
Feel-good reading on health, fitness, and happiness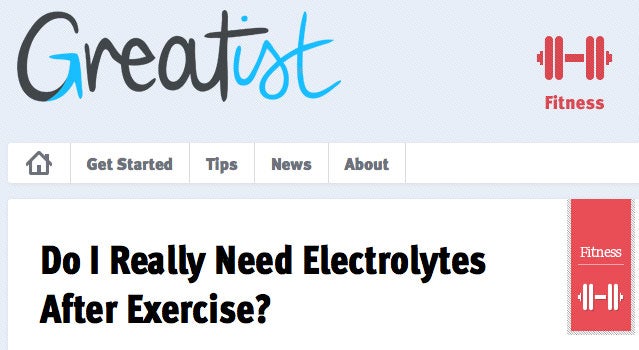 Good for: G-rated health and fitness tips and news.
Written by: Derek Flanzraich, a Harvard grad with a passion for fitness and digital media, and a team of young writers.
Founded in March 2011, Greatist is a relative newcomer to the health and fitness blog scene. Updated multiple times a day with posts on fitness, health, and happiness, the site can be a time-suck. The simple design and elementary-school-like graphics make it look like you shouldn't be browsing if you're a male or over 13, but the posts are often teasingly titled as must-answer questions: Do My Muscles Need 2 Days to Recover? (It depends.) Does Chewing Gum Reduce Anxiety? (It does!) Plus, if you want to read more, key facts are footnoted with sources, which makes further digging easy.
Sample post: On what you do and don't need to consume post exercise. 
Physical function may hang in the balance if electrolyte levels remain low after a workout. Resulting symptoms can include muscle fatigue, dizziness, and nausea. But the right food or sports drink can get those electrolytes back in the body, no sweat. Yet when and how much to eat or drink depends on factors like exercise intensity, weather, and individual differences in sweating [1] [2].
The Threat of Sweat — Why It Matters
Dig up that high school chemistry book for an electrolyte refresher course. Electrolytes are minerals that break into small, electrically-charged particles called ions when they dissolve in water. Found in blood and cells, electrolytes are essential to physical activity because they regulate bodily fluids. Sodium and chloride, which maintain normal blood pressure and support muscle and nerve function, may be the most well known of the bunch. But the supporting cast includes calcium, which aids muscle contraction; magnesium, which aids healthy cell function; and potassium and phosphate, which help to regulate energy and pH balance.
During exercise, the body's electrolyte balance can begin to shift. Finding a stick of deodorant may not be the only post-workout problem— as the body loses electrolytes through sweat, the imbalance can result in symptoms like muscle cramps, fatigue, nausea, and mental confusion. And if the electrolyte supply stays low, muscles may continue to feel weak during the next workout session [3]. Long-term risks include kidney failure, seizures, and disturbances in heart rhythm— a high price to pay for skipping a few sips…

6. NPR Shots
Sharp reporting on national and global health issues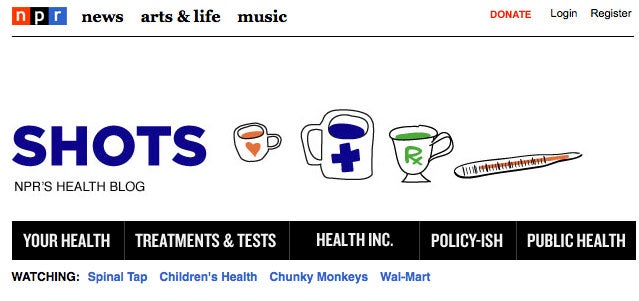 Good for: Debate fodder.
Written by: Scott Hensley, a reporter on the health beat for the past 15 years, and other NPR reporters.
Here's the thing: Staying up-to-date on health policies is one more way to be proactive about personal wellness. NPR's health blog frequently tackles the health issues tangled up in political battles, like a woman's right to use birth control, a city's right to fluoridate its water, and a state's right to mandate insurance reimbursement for CT scans. If it's hot in politics, it's on this blog, with posts going up several times a day.  There's not as much general advice here, but we've shared plenty of other blogs where you can find that.
Sample post: Reporter Nancy Shute looks at some sobering statistics about America's weight problem. 
In case you haven't noticed, we're fat, and getting fatter.
If Americans stay on this path, 83 percent of men will be overweight or obese by 2020. Women are right behind them, with 72 percent projected to be overweight or obese by then.
The implications go far beyond tight pants and groaning sofas. Obesity is a big risk factor for cardiovascular disease and diabetes.
Imagining an America of overweight, unhealthy people gives public health officials the willies. And it should be frightening to us civilians, too. …

5. Science Daily Fitness News
Straight-up news on the latest scientific fitness research

Good for: Fitness wonks with a science bent.
Edited by: Dan Hogan
The truth is, Science Daily is a science news website, not a blog. You will not find any personal musings here, just straight up relaying of information on fitness research from studies conducted all over the world. And that's exactly why we like it. Studies often go up here before they're used to defend arguments elsewhere, making Science Daily one of the best places to go to learn about scientific studies without any added media bias. You can use its write-ups to fact check the blogs. The design screams 1995, but the editors catch every bit of scientific research published on fitness.
Sample post: A summary of new research on metabolism and weight gain.
Male and female mice engineered to express the inflammatory enzyme IKKbeta in their fat tissue ate more but gained less weight. They burned sugar and fat more effectively than mice who were left unaltered. The research may shed light on how obesity and inflammation affect insulin resistance and sensitivity. …
4. Mobility WOD
Entertaining video exercises to improve strength and flexibility

Good for: Daily motivation and injury prevention.
Written by: San Francisco CrossFit guru, Kelly Starrett, DPT.
Let's get the cons out of the way first. Almost without fail, Starrett, a CrossFit guru, signs his posts as K-Star. And he addresses his readers as MWodies or Leopards, which can get tiresome if you're not a die-hard fan. That's it. Starrett posts an almost-daily strength training move, stretch, or drill—a workout of the day (WOD)—to address musculoskeletal weaknesses or deficiencies and always includes a video explanation. Starrett's energy and passion for his subject come through in his goofy posts and video appearances, inspiring a cult-like following.
Sample post: Starrett breaks down bad shoulder posture.
Today's mission is about resolving one of the uglier aspects of running…yes, I'm talking about crappy shoulder positioning.  Look, your shoulders and thoracic/cervical spine create a mutually stabilizing system.  If you tilt your rib cage in a crazy way, you won't be able to stabilize your shoulders effectively.  (Think rib cage down while pressing overhead for example.) Well, the reverse is also true.  If  you are unable to organize the the shoulder into effective external rotation whilst running because you are missing internal rotation at the shoulder, then you will tend to see some kind of compensatory (crappy) positioning at the neck at t-spine.  Crazy dooshiness at the shoulder (delta-bravo shoulder) weirdly always coexists with forward head on neck.  Who cares that your shoulders are freaking out every time you 'heel strike'…. In order to to have a neutral and effective spinal running position, you've also got to go down stream and fix those crappy shoulders.  One of my running icon friends (TJ Murphy of Competitor) just sent me a photo of a brilliant marathoner in the middle of a race he had snapped.  Her head was 3 inches in front of her center of gravity and her shoulders were so internally rotated you couldn't see her tank top straps.  Not only is she going to have to deal with the tissue compromises, (tight pecs, tight levator….) but she's also giving away a ton of power.  A ton. Oh, and it didn't look good either (BTW).
Mission: Take a look at your shoulder positioning in running. Have someone film you or watch you.  Can you stay stable.  What is your head doing?
3. Wall Street Journal Health Blog
Solid reporting on the trillion-dollar health industry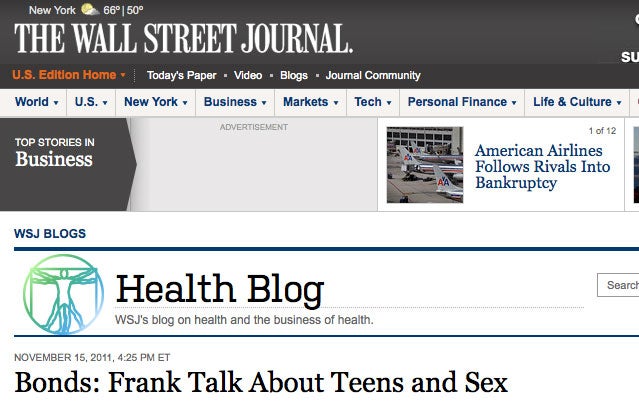 Good for: Conversation starters.
Written by: Katherine Hobson, a reporter on the health beat for 15 years, and other Wall Street Journal reporters.
WSJ's Health Blog is an entertaining mix of studies, politics, business, and cultural observations. Posts go up several times a day, and are not hidden behind the WSJ's famous paywall. Not as politics-heavy as NPR's site, or as service-oriented as the Greatist or Core Performance blogs, WSJ serves up a steady stream of information that would make excellent dinner conversations.
Sample post: If you haven't clicked on the Netherlands sex talk post yet, here's an introduction.
It's common for parents in the Netherlands to allow their older teenagers to have sleepovers with a boyfriend or girlfriend.
Can you imagine that here?
The WSJ Bonds column today explains how American parents should start teaching their children about sex from the time their children can talk.
The American Academy of Pediatrics says by age 10, a child should have learned about human sexuality, including the changes of puberty and normal development. These chats should be age-appropriate, but if parents wait until teens or middle school to tell their kids the facts of life, they may miss an important opportunity that can help kids make better choices: They wait longer to have sex, have fewer partners, and tend to use protection.
Parents can learn a lot about how to do this from Dutch parents, says Amy Schalet, an assistant professor of sociology at the University of Massachusetts Amherst, who has a new book out, "Not Under My Roof: Parents, Teens, and the Culture of Sex," comparing how sexuality is discussed and negotiated between parents and kids in the U.S. and the Netherlands. For example, the Netherlands has one of the lowest teen pregnancy rates in the industrialized world, while the U.S. has one of the highest. …

Read More at The Wall Street Journal Health Blog
2. Sweat Science
Decoding major media health headlines

Good for: Smart analysis and explanation of fitness news.
Written by: Alex Hutchinson, fitness columnist, author, and former elite runner.
While sites like Science Daily give as a barrage of breaking news, Sweat Science actually translates the results and tells us what we should pay attention to. His writing is shaped by his "past incarnations as a postdoctoral physicist and an elite distance runner." We appreciate his ability to thoughtfully break down arguments (Do we need so much running advice?), over-hyped headlines (Is marathoning bad for your heart?), and ideas taken as common knowledge (How much should you hydrate?). Best of all, Hutchinson always backs up his analysis with solid research.
Sample post: In which Hutchinson compares two studies that reached opposite conclusions about the effects of marathoning on the heart.
So what to make of this? Neither study has been published in a journal yet, so it's difficult to analyze the results in detail. It's possible that the conflicting results are simply a result of the fact that the male marathoners were older, on average, that the female marathoners. Or it may be a physiological gender difference. Or it may have something to do with training history. Or it may be a complete fluke: in the male group, the key difference in the plaque volume was 274±176 vs. 169±170. Those are rather large ranges of uncertainty. …

1. New York Times Well Blog
A variety show on medical research and health in American society
Good for: Practical advice.
Written by: Blog creator Tara Parker-Pope, a longtime health columnist, and guests.
A conversational tone and coverage of topics from recipes to insights on hospital practices make this the go-to blog for everything health and wellness. Updated three or four times a day, Well often features guests from the health and wellness field—pediatric cardiologists, nurses, and nutritionists—who give readers a primary-source look at the major issues in their professions. But our favorite part might be the most simple: In the Really? column, journalist Anahad O'Connor tests the veracity of common health claims by breaking down the latest studies into everyday language, then ending with a one-sentence verdict on the claim.
Sample post: In the latest Really? post, O'Connor examines whether exercise can ward off migraines.
Many migraine sufferers are reluctant to hit the gym, fearful that pushing themselves too hard may bring on an attack. But for some, exercise may have the opposite effect.
Migraine triggers vary widely from one person to the next. A few case reports have identified people for whom periods of physical activity could precipitate severe headaches. But by and large, the research has shown that for people predisposed to migraines, regular exercise, at least a few times a week, either does no harm or may have modest benefits. …