Torre, Torre, Torre
Twenty-one-year-old phenom David Lama represents a new breed of super-alpinist. He also has more detractors than Lebron James. When he took his talents to South America's iconic Cerro Torre last January, his bold free ascent highlighted an eventful season that will go down in history—and infamy.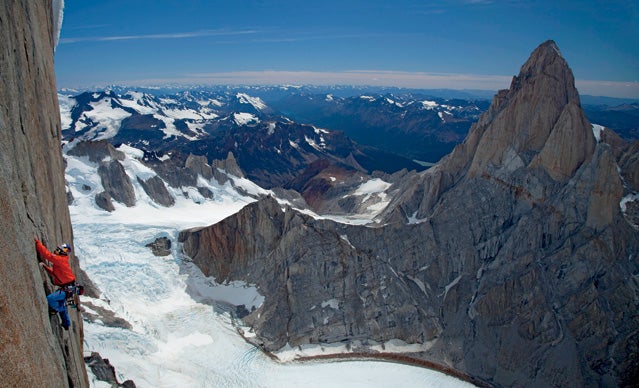 Heading out the door? Read this article on the new Outside+ app available now on iOS devices for members! Download the app.
"The siege tactic used on Cerro Torre's Compressor Route [in 1970] is perhaps the most egregious example of alpinism's egoistic 'manifest destiny' philosophy, one that calls for conquering the mountain by any means, then leaving in place the pitons, bolts, ropes and cables. This debases a route, leaving it accessible to those without the skill or nerve to climb in good style. It is the alpinist's equivalent of hunting with headlights." —Patagonia founder Yvon Chouinard, February 15, 2012
Kruk, Kennedy

Kruk, left, and Hayden Kennedy in El Chalten
David Lama
Lama and climbing partner Peter Ortner settling in below the ice towers
Cerro Torre

Cerro Torre as seen from the southeast
David Lama

Lama after his free ascent
Cerro Torre bolts

Hardware plucked from the Compressor Route
David Lama, Ortner

Lama, right, and Ortner fueling up before the climb
AFTER TWO FAILED attempts to free-climb Patagonia's iconic Cerro Torre, via its controversial Compressor Route, things weren't looking good for David Lama, a 21-year-old World Cup–winning climber and alpinist from Innsbruck, Austria. His sponsor, Red Bull, had been pouring money into a film about the project that was going nowhere, and climbers around the world were pissed that he seemed to view the famed 10,262-foot mountain as his personal movie set. And yet, on January 12, 2012, there he was again, ready to make a third attempt.
The Compressor Route goes up more than 4,000 feet of vertical rock and ice on the southeast ridge of Cerro Torre, which sits in a disputed border area between Chile and Argentina. When people talk about the route, what they're actually referring to is a series of more than 400 closely spaced bolts that were controversially placed in 1970 and now allow climbers using nylon ladders, called étriers, to effectively skip the hardest parts of the mountain. Lama wanted to use the bolts like he would at a rock-climbing gym, clipping into them for safety purposes only, while becoming the first person to free-climb the nearly blank granite that everybody else had avoided. If successful, Lama's climb would stand as a crowning achievement in the region's alpine history.
There was just one problem: the Compressor Route wasn't there anymore. Three days before Lama planned to hike in to start the climb, roughly a quarter of its bolts had been chopped out by American climber Hayden Kennedy, 21, and Canadian Jason Kruk, 24. These climbers believed that the bolts desecrated the mountain, and they were suddenly being called heroes or vandals, depending on who was doing the shouting.
For Lama, this hiccup had immediate consequences. In addition to climbing the blank wall, he and his partner, 28-year-old Peter Ortner, would have to carry and place more of their own removable cams, nuts, and pitons for safety—a much riskier proposition. 
"I was like, 'OK, this is how it is,' " Lama recalls of the now significantly more difficult task ahead of him. " 'We gotta do it without the bolts.' We brought more pieces of gear and decided to try anyway."
TO UNDERSTAND the bizarre events that took place last winter in Patagonia, it's necessary to look at Lama's previous attempts on the Compressor Route and at the entire history of climbing on Cerro Torre. January 2011—when Lama made his second of three attempts—is a good place to start. 
Climbers were feeling stir-crazy that season. The small dirtbag enclave of El Chaltén, at the foot of the massif that shares its name and harbors Argentina's two most iconic peaks—Cerro Torre and its neighbor to the east, 11,073-foot Fitz Roy—had been socked in for a week. Top American alpinists Colin Haley, 27, and Zach Smith, 35, had been waiting to try a new line up Cerro Torre's southeast ridge that would bypass the Compressor Route when Lama and Ortner arrived in town. On January 21, Haley and Smith went to Lama's crash pad to sort out their plans and any potential differences. 
The problem wasn't that Lama aimed to one-up the North Americans by using only his hands and feet to scale what they were hoping to free- and aid-climb. It was his massive film crew. Lama had brought a cameraman, a sound guy, a director, and two Austrian mountain guides to rig lines for camera work. Deep-pocketed Red Bull had also chartered a helicopter to film from the air. 
"We wanted to make sure there wouldn't be a conflict," says Haley, who lives in Seattle. "Because the previous year they had been fixing ropes all over the mountain."
Lama's team had done more than that. In January 2010, his head rigger, a veteran Austrian guide named Heli Putz, had used a power drill to sink some 30 expansion bolts into the stone—in addition to the 400 or so that were already there—and then strung up 2,100 feet of fixed line for a camera crew. But the weather was so bad that the mountain didn't host a single ascent during the 2009–10 climbing season. Lama abandoned his own attempt, along with all of the equipment and ropes—an act that other climbers considered littering. 
Retribution came in the form of furious blog and forum posts, written by everyone from Lama's Red Bull ice-climbing teammate Will Gadd ("I'm incensed") to one of the region's most respected climbers, Italian American Rolando Garibotti, who wrote, "Their fancy fizzy drink [Red Bull] is fast becoming the modern Kool-Aid." Lama didn't help himself by issuing an unrepentant press release. "I don't believe that we did anything wrong," he said. 
As the meeting began in January 2011, the reserved Lama ushered the two climbers into his hooch. Lama, whose first language is German, said he'd been humbled by the outrage in 2010 and that this year his team would tread lightly. The talk remained polite until Lama explained that he wanted to rappel down the headwall from the Torre's summit, scope out the best line for free climbing, and perhaps drill a few more bolts to protect that route for a ground-up free-climbing attempt.
Rappel bolting, or rap bolting, is commonly done at local sport crags where convenience is king, but it's anathema on an alpine peak. Smith, who had said little, cut in: "You know that people will be very upset if you place your bolts on rappel, right?"
Lama didn't flinch. "I can take it," he said.
Smith and Haley weren't happy. Shortly after the meeting, Haley told Jason Kruk, who was also in El Chaltén waiting to attempt the southeast ridge, about Lama's plans to rap-bolt. Hours later, Kruk would blog: "I am upset, and I don't know what to do about it." His friends back home used the comments space to advise everything from equanimity to beating up the film crew.
HAD LAMA'S ESCAPADES taken place on any other mountain, people might not have cared so much. But Cerro Torre has a history of foul play and controversy that can overshadow the great climbs that have happened there. Despite its relatively low elevation, the rime-crusted granite spike wasn't successfully climbed until 1974, when Italian Casimiro Ferrari led three of his countrymen up its west face. 
Ironically, though, the man most associated with the mountain, Cesare Maestri, didn't climb it at all. In 1959, the blustery Italian (now 82 and in failing health) perpetrated what's widely seen as one of the greatest hoaxes in alpinism history when he claimed to have made a fast run up the north and east faces with Austrian Toni Egger—for whom the adjacent spire is named—aided by a third teammate, Italian Cesarino Fava.
Maestri and Fava returned from the mountain claiming victory but lacking proof. Egger had supposedly taken summit photos, but Maestri and Fava said they'd been lost when he was swept to his death by an avalanche on the way down.
Doubts arose as soon as other teams began to make it higher onto the mountain, but it wasn't until 2004 that Rolando Garibotti—whose fluency in Spanish, English, and Italian allowed him to review all the relevant documents—exhaustively attacked Maestri's story in that year's American Alpine Journal. His 8,000-word investigation, "A Mountain Unveiled: A Revealing Analysis of Cerro Torre's Tallest Tale," is a must-read for anybody interested in the inside baseball of alpinism.
What appears to have happened is this: Maestri, Fava, and Egger stopped just shy of a large triangular snowfield 1,000 feet off the ground, where Egger was swept away. Below that, evidence of their climb is everywhere, in the form of rusted hardware. Above it, nothing similar has been found. Not content to cheat his rivals, Maestri taunted them as "weaklings" and boasted, "I believe that everything I've done has been done not because I am a better climber technically than others, but because of the mental process which goes on inside me."
And while this all seems like ancient history, Maestri's story—which he has never abandoned—had the effect of dampening the enthusiasm of the era's great climbers, who looked elsewhere for virgin summits.
"I am 100 percent confident that he never made it past the triangular snowfield," says Garibotti, who in 2005 finally completed the insanely difficult route Maestri claimed to have climbed.
But boasting about a summit he never completed was only the second-worst thing Maestri did on Cerro Torre. In 1970, when he was 40, he returned to the peak to silence his detractors but also to claim the first ascent. He hired a helicopter to fly his gear to the base of the climb. Then he used a gas-powered air compressor to sink those 400 bolts on the Southeast Ridge, leaving the 200-pound machine dangling from the last pitch of the headwall, where it remains to this day. Even with this unfair advantage, Maestri turned back 150 feet shy of the summit—unwilling or unable to attempt the treacherous rime ice that helmets the peak.
"Nature gave us this phenomenal gift," says Garibotti, who long derided Maestri for robbing the mountain of its difficulty. "Then one arrogant human comes along and decides for himself to change that character."
Maestri's Compressor Route set a sour tone for the mountain. After Werner Herzog filmed his 1991 feature Scream of Stone, a fictional story based on Reinhold Messner's book about Maestri's 1959 climb, garbage left by the crew remained for years. According to Adrián Falcone, head ranger at the time, the cinematographers also landed a helicopter on the summit, used a chainsaw to excavate ice, and eventually crashed the helicopter on the glacier and abandoned it. 
For Kruk, Haley, Garibotti, and others, David Lama—with his helicopters, sponsor cash, bolts, abandoned gear, and the like—seemed just a bit too familiar.
THOUGH HE'S BEEN criticized for straying from alpinism's highest standards, Lama is an outstanding climber with roots in the purest traditions of the sport. In 1988, his mother, Claudia Werglef, had just finished nursing school in her native Austria and was trekking in Nepal when she met David's father, Rinzi Lama. Rinzi was a Sherpa guide whose father, a monk, had fled Tibet after the Chinese crackdown in 1959.
"I stayed five weeks in Nepal and, after, he's coming to Austria with me, and we married in December," Claudia says. "He was very charming." 
The couple moved to Innsbruck, where David was born in 1990. At six, David was introduced to rock climbing by Peter Habeler, a family friend who, along with Messner, claimed the first ascent of Everest without supplemental oxygen, in 1978. "David was incredible," says Habeler. "No fear, fantastic balance." Climbing gyms were gaining popularity in 1996, and the Lamas enrolled David at one. He was by far the smallest boy in the gym, and friends called him Futzi, which means something like "squirt" in German. He entered his first climbing competitions at age eight and began winning immediately. At ten, he climbed a 5.13b route in Slovenia. (The scale tops out at 5.15.) At 15, he became the youngest climber on the World Cup circuit, and at 16 the youngest to win an event. 
All along, magazines, onlookers, and Lama's sponsors saw a star on the rise. "He won all that was possible," says Claudia, who gained a reputation for pushing her son toward media exposure. "It was boring for him."
"His life story is crazy," says Colin Haley. "He's basically been on climbing-magazine covers since he was 13 years old. I'm sure his worldview of climbing, where he fits into everything, and his sense of importance are largely influenced by his upbringing."
It's a criticism that Lama himself acknowledges. "I don't know what it feels like to climb without cameras," he says. 
In 2008, Lama took his talents to the snow and ice of the Alps with a first ascent up the north face of the Sagwand, a 2,690-foot 5.12b in Austria's Zillertal range. Just two years later, he aimed to raise the bar for the entire sport by free-climbing Cerro Torre. He admits that, in his early Cerro Torre attempts, he strayed from the fast-and-light style preached so eloquently by Messner and Habeler. "I made a mistake," he says. "The critics were justified." 
If other climbers weren't always convinced that Lama had reformed, it was because he tended to make the same mistakes twice, which is exactly what happened in 2011. After that ill-fated meeting in Lama's quarters, a short weather window opened up that allowed the climbers to make brief attempts on Cerro Torre. Once everyone was safely back in camp, Kruk vented on his blog. 
"David Lama was on the Torre aid-climbing up the bolts," he wrote. "We were being buzzed all day long by a helicopter film crew."
Neither Lama nor Kruk succeeded that year, but both would be back.
MAESTRI'S COMPRESSOR ROUTE, with its closely spaced expansion bolts, resembled the kind of sport climbs found in a gym or competition. At least, it did before January 16, 2012, when it was altered permanently.
Jason Kruk and a new partner, Hayden Kennedy, had taken advantage of the favorable weather, starting on January 15, and used a mix of aid- and free-climbing techniques to successfully ascend the southeast ridge without help from Maestri's bolt ladder. There's an unspoken rule in alpine climbing that allows for unnecessary bolts to be chopped from a route by a party that climbs it without relying on them. Kennedy and Kruk removed around 120, enough to render the Compressor Route unusable. The thought of screwing up Lama, they say, didn't cross their minds. 
"Truthfully, during our climb and the days preceding it, Hayden and I talked nothing of removing the bolts," Kruk wrote in a statement a few days later. 
Meanwhile, in town, news of Kruk and Kennedy's deed spread quickly. Some well-known climbers, like Garibotti and Haley, were overjoyed that the mountain was now closer to its natural state. But others viewed the Compressor Route as a piece of regional history—not something a couple of young foreigners had any right to destroy.
Kruk was waiting in line to use the phone at an Internet café when a mob of 40 people, many of them members of the local alpine club, packed into the tiny room.
"They all took turns yelling and shouting at me," says Kruk, "telling me I had done a really bad thing. It was definitely a mob mentality. A lot of them didn't really care about the bolts. They were just stoked to fight some gringos and look like heroes." 
Eventually, the crowd dispersed after telling Kruk and Kennedy to clear out of town. The local police showed up at Kruk and Kennedy's rented house and confiscated the chopped bolts, which they said would be given to a local climbing museum. The climbers remained in El Chaltén but hunkered down.
THAT LEFT LAMA, Ortner, and their crew to contemplate the new handicap. The team's American cinematographer, a former Yosemite park ranger named Lincoln Else, along with support climbers Toni Ponholzer and Markus Pucher, decided to fly around to the back side of the mountain.
"The three of us would climb up the west face, bivy on the summit, and then be in position to film David the following day on the headwall," says Else. Lama and Ortner had a big lunch and set out for the glacier at 3 P.M., reaching Nipo Nino base camp at 8. 
The two Austrians awoke at 2 A.M., boiled water for their freeze-dried-food pouches, ate, and headed up the mountain. At 9 A.M. they napped, rehydrated, and trimmed down their loads to climbing gear, one fuel canister, four energy bars, one foam pad, and one light sleeping bag. Then they set out in earnest, knocking off 2,000 feet of 5.12 climbing before reaching Maestri's first bolt traverse and climbing straight past it into the hardest pitch on the mountain, which Lama estimates at 5.13b.
"Free-climbing Cerro Torre isn't just about the grade," says Lama. "There are so many other things that have to come together."
By 8 P.M. they'd reached the ice towers high on the mountain's shoulder and chopped a ledge in the rime, where they sat shivering through the night. Twelve hundred feet above them, the camera crew had made the summit and was dug in. 
At first light, Lama tugged on his crampons and climbed 600 feet of ice to the vertical rock on the headwall. Meanwhile, the temperature rose to freezing. "It's all loose and hollow flakes," recalls Lama. "The longer the good weather stays, the more the ice melts out the back of them. Last year, a chunk of ice the size of two footballs fell and broke my helmet." 
With the helicopter circling and filming and Else shooting from above, Lama balanced over the last loose blocks, sunk his ice axes into the summit snowfield, and then picked his way up the final summit mounds. He had free-climbed the Compressor Route without relying on Maestri's bolt ladders. 
The climbers spent half an hour on top before beginning the arduous nine-hour descent back to base camp. "We said congrats but didn't really celebrate," Lama says. "The summit is no place you want to stay long."  
When Lama and his crew returned to El Chaltén, the mood was subdued. (In addition to the bolt-chopping controversy, Canadian climber Carlyle Norman had been killed by rockfall on January 16, while she and her partner attempted a route across the valley from Cerro Torre.) Still, there was cause for celebration. 
"Lama did a fucking great climb," says Garibotti. "He obviously has unbelievable skills, and his ascent is much more valuable courtesy of the fact that he didn't use any of Maestri's bolts for protection." For that he owed a debt of thanks, ironically, to Kennedy and Kruk and their breakthrough ascent and freelance bolt removal. 
A few days later, Lama and Ortner met up with Kennedy and Kruk, who were lying low at the North Americans' house. Finally the tension was gone, and four of the world's greatest alpinists, none older than 28, were hanging out, comparing photos from their new routes and swapping stories. "Hayden and I had a lot of beers with him," says Kruk. "I like him."
For Lama, the summit left a void. "I'd had this dream for so many years, and now it was somehow gone," he says. "I felt like I already had to look for something else." For his efforts, sometime next year, he'll also have Red Bull's yet-to-be-titled climbing film, among the most expensive ever made.