The Genetically Engineered Salmon That Could Soon Run Wild
AquaBounty salmon, the unreported disaster at a Panama grow-out facility, and the Georgian libertarian who took control of the fish farm and may soon move it outside the watch of the Food & Drug Administration. Meet what could soon be the first GE animal allowed for human consumption.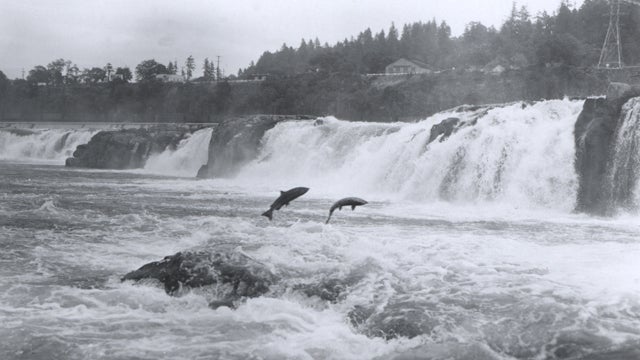 Heading out the door? Read this article on the new Outside+ app available now on iOS devices for members! Download the app.
In August 2008, heavy rain fell in western Panama, damaging a fish farm by a trout stream that flows out of Parque Nacional Volcan Baru. The fish inside were Atlantic salmon genetically engineered to grow faster than typical farmed salmon—twice as fast, according to its producer AquaBounty Technologies.
The fish, called AquAdvantage salmon, were created at a facility on Canada's Prince Edward Island when milt from GE males fertilized eggs of non-GE Atlantic Salmon. The fertilized eggs were transferred to the Panama grow-out center near the headwaters of the Rio Caldera, about 60 miles from the Pacific. AquaBounty intends to sell these eggs to other fish farms.
Although the AquAdvantage salmon is produced in Canada and grown elsewhere, the operation is under Food & Drug Administration (FDA) regulation because the United States is the intended market. If approved, the AquAdvantage salmon would be the first GE animal allowed for human consumption. This has made the fish's approval process especially contentious, and caused it to drag on since 1996, when the application was first filed.
In 2008, the company was raising its first commercial-sized batch of fish even though it had yet to receive permission to sell them. AquaBounty believed FDA approval was imminent, and planned to use these fish for test-marketing and PR work when they reached full size. That plan was derailed by "an unusually severe storm" in Panama, as AquaBounty revealed in an August 15, 2008, memo to investors recently uncovered by the consumer protection group Food & Water Watch.
According to the letter, damage from this storm caused the water inlet system to fail during the night: "[A]ll of these fish were lost. It was intended that the fish, subject to regulatory approval, would be marketed during the first half of 2009."
Nearly four years later, that approval has not come, and the FDA has yet to publicly acknowledge the incident. Representatives of the agency have told me that they can't answer any questions regarding the application because it's still pending.
Dr. Anne Kapuscinski is a professor of Environmental Studies at Dartmouth College. She has a background in salmon conservation, and specializes in environmental risk assessment in aquaculture systems. She told me that she has serious concerns with the scientific rigor of the environmental risk assessment generated by AquaBounty that the FDA is considering for approval of the AquAdvantage salmon.
"There were a lot of things in the way they presented their approach to risk assessment and a lot of what we saw in the Environmental Assessment that was released to the public [that] suggested that they are not on the cutting edge of the state of the art of risk assessment science," she said. "They need to be on that cutting edge when we're dealing with a precedent-setting case, and one that is challenging because we're dealing with an animal that's barely domesticated. Any salmon that escapes from human control, if it's in habitat that it can survive in, is going to continue to live. And we know that farmed salmon is a global commodity. Let's imagine that tomorrow the FDA approved this application. The company is not going to make a profit by simply growing small numbers of salmon in Panama. That's just a proof of concept facility. This company is going to make money by selling millions upon millions of eggs to big salmon farms all over the place."
Historical data from a weather station near the Panamanian facility suggest that, contrary to what the company told its investors, there was nothing "unusually severe" about the storm. In fact, it isn't clear which storm the memo is even referring to. There were several precipitation events in late July and early August, as is common that time of year. That August saw 36 inches of rain. In August of 2010, by comparison, over 61 inches of rain fell.
Susan Turner, spokesman for AquaBounty, told me via email that the damage in August 2008 was not caused by flooding. It happened when a tree fell on an intake pipe, which interrupted the supply of fresh water, which caused the fish to suffocate. She had no comment on why the memo blamed the failure on an "unusually severe storm."
Turner told me the Panama facility is located "…on top of a mountain and is intentionally far from any waterways, so there is no possibility of escape."
This, according to the FDA's literature, is false. A briefing packet for a meeting of the FDA's Veterinary Medicine Advisory Committee, or VMAC, held in September 2010, mentions an "adjacent" river that "runs next to the facility," and states, "should escape of AquAdvantage Salmon occur in Panama, survival is only expected in the vicinity of the grow-out facility and upper watershed of the adjacent river."
The possibility of ecological damage by escaped salmon near the grow-out facility was also investigated by the Aquatic Resources Authority of Panama (ARAP) in late 2009, and there was talk of ordering the next batch of fish destroyed for both legal and environmental reasons. Proper paperwork had not been filed, and according to La Estrella, the ARAP's research director, Ana Luisa Garcia, warned that if these fish are accidentally released into a natural habitat, like the "stream that runs near the area where the [fish] pools lie, it would cause ecological problems due to the predatory nature of the salmon."
Tim Schwab, of Food and Water Watch, agrees. "Scientists have noted the myriad ways in which GE salmon could have a negative impact on aquatic life, but the FDA really hasn't investigated this issue, in part because the agency doesn't have the necessary expertise," he said. "The FDA should have been consulting with other regulatory bodies, like the National Oceanic and Atmospheric Administration (NOAA) and Fish and U.S. Fish and Wildlife Service, all along. Unfortunately, this hasn't been happening and legislators are working hard to compel the FDA to do its due diligence on GE salmon."
Alaskan lawmakers on both sides of the aisle are acting on their constituents' fears that GE salmon threaten the state's fishing industry. Senate bill 1717, "Prevention of Escapement of Genetically Altered Salmon in the United States," was introduced by Mark Begich (Dem-AK) last year. It seeks to ban GE salmon from interstate commerce and defund all FDA activities to consider approving it. The bill has the support of Begich's Republican colleague Lisa Murkowski, who on May 17 of this year filed an amendment to the Federal Food, Drug, and Cosmetic Act that would require the NOAA to conduct a comprehensive analysis of the environmental and economic impacts of GE fish before approving it. (Murkowski's amendment failed in Senate on May 24.)
While legislators were working on these bills, a petition was filed in February by a consortium of environmental and consumer groups asking the FDA to regulate the salmon as a food. This might seem like common sense, as the whole point of growing these salmon is to feed people. But the FDA chose to review AquAdvantage as an animal drug, rather than a human food. In the FDA's view, the refashioned DNA that is in every cell of the fish's body is considered a drug, and that's what the agency is regulating. If approved, the AquAdvantage salmon would not only be the first GE animal approved for human consumption, but the first animal drug that's theoretically capable of swimming off into the ocean and reproducing.
AquaBounty claims there are multiple barriers in place to prevent gene escape, including temperatures near the river's mouth that are considered intolerably hot to Atlantic salmon. Also, the fish are screened to be all-female, and are sterilized, so that in the unlikely event of an escape the genes would have no way of spreading to the wild salmon population, the company has said.
The sterilization techniques are not 100 percent effective, however, which means that some fertile females could get through. This bug in the process was the basis for a $500,000 grant from the United States Department of Agriculture (USDA) last October to improve the company's sterilization procedure. The grant was later cancelled after public outcry.
With regard to the idea that warm water near the river's mouth would create a barrier to salmon escape, Kapuscinski finds the evidence that's been presented thin scientifically. It's true that dissolved oxygen levels in water go down as temperature goes up, and salmon are sensitive to dissolved oxygen, she said. But there are many variables, such as seasonal variation in water temperatures, and differences in salmon temperature tolerance created by genetic modification.
A key step in the approval process was the September 2010 meeting of the FDA's Veterinary Medicine Advisory Committee (VMAC), which convened to discuss the human and environmental dangers posed by AquAdvantage salmon.
While the overall mood of the meeting was that the fish are probably safe for human consumption and not a threat to the environment (an idea many have challenged), several of the scientists there, including Kapuscinski, detailed their objections to the lack of rigor that had gone into the studies thus far. Problems with the studies included insufficient sample size data, sample sizes too small to be statistically significant, and absence of standard statistical methods that would be expected for such a precedent-setting decision. "We're really worried that this sets the bar too low," Kapuscinski told me.
At the VMAC meeting, Kapuscinski again addressed the assumption that warm water temperatures downstream from the Panamanian grow-out facility provided a barrier for escape. "The assessment suggests that water temperatures in the lower reaches of the Panamanian river and Pacific Ocean will be lethal to these transgenic fish but has their thermal tolerance been measured?" she asked. "Published research on coho salmon shows an increased thermal tolerance resulted after growth-transgenesis."
In layman's terms, research has shown that coho salmon genetically modified to grow faster are not as sensitive to changes in water temperature as wild type coho salmon. Such tests need to be done on the AquAdvantage salmon, she urged.
Her comments were cut short at the meeting due to time constraints, but she emailed me her full statement, which concluded: "Any failure of a multiple confinement system means that, once AquAdvantage salmon escape, the release cannot be undone because these fish are mobile organisms with very low but not zero likelihood of having some fertile escapees. We urge the FDA to require a transparent Environmental Impact Statement (EIS) that completes genetic and ecological risk assessment for the two proposed facilities and other commercial facilities likely to buy AquAdvantage Salmon eggs in the foreseeable future."
Though Kapuscinski and others had hoped for the more rigorous EIS, the VMAC ended up recommending that the FDA revise its Environmental Assessment. And that seems to be what it is doing, according to a rare public statement on a pending case made by FDA commissioner Margaret Hamburg. An EA will be released "very soon," she told the New York Times.
Those who are concerned at the prospect of this technology gaining FDA approval might be even more alarmed at the possibility that, if that approval doesn't come soon, the technology behind the AquAdvantage salmon might move to where the FDA has no say in the matter at all.
After nearly two decades of waiting for permission to market its only product, AquaBounty is out of money. This isn't the first time AquaBounty has run into difficulties, but it might be the last. The company is already being carved up.
In a March 22 meeting this year, AquaBounty shareholders approved the sale of the Prince Edward Island hatchery to the company's major shareholder, Linneaus Capital Partners (technically, to its wholly-owned subsidiary, Tethys), in an effort to trim operating costs. Shareholders also approved a private sale of additional stock shares to raise enough money to cover an additional 10 months of expenses. That money will run out in January.
Linneaus Capital Partners controls the means to produce the AquAdvantage salmon eggs, and Linneaus is controlled by a Georgian businessman named Kakha Bendukidze. A free-market libertarian who was once Georgia's finance minister, Bendukidze is credited with making the country more business friendly, in part by gutting its regulatory industry—including its food safety and inspection services.
If FDA approval is denied or delayed, there doesn't appear to be much stopping Bendukidze, who did not respond to requests for comment, from seeking alternative markets for the technology. Perhaps his home country
Linneaus also controls several open-water sea-cage fish farms in the Mediterranean and North Seas, as well as a venture called Grow Fish Anywhere. AquaBounty is hoping its Panama facility can demonstrate the profits to be had with inland fish farming.
"They're saying that they're going to be land-based," Kapuscinski told me. "I'll believe it when I see it. Right now all the capital in the salmon farming industry is invested in cage culture, for some good reasons, because that's much easier to make financially viable."
"At the end of the day, economics will win," Bendukidze recently told the New York Times. And it was economics, he said, that brought him into the industry in the first place. "I had no idea of aquaculture. I was just looking for some diversified investments."
The AquAdvantage salmon is one of an unknown number of GE fish and animals being developed around the world. It would be impossible to track down every lab on earth, especially those that are independently funded and not applying for patents or approvals. It's possible that gene escapes have already happened, or that GE fish are secretly being grown somewhere and fed to us.
At the VMAC meeting FDA fisheries biologist Eric Silberhorn admitted that if GE fish were being imported, they probably wouldn't be detected. He also alluded to reports of GE shrimp already in the food supply, before cutting himself off.
Silberhorn is on the team that's overseeing AquaBounty's consideration under NADA, the New Animal Drug Application. But he wears many hats at the agency, and presented on three separate occasions at the two-day VMAC meeting. A discussion about the possibility of inadvertently importing GE fish to the U.S. included this exchange:
Dr. McKean: What percentage of the salmon do you test coming into the United States?
Dr. Silberhorn: A fairly low percentage.
Dr. McKean: That is what I expected.
Dr. Silberhorn: I mean, I will be honest with you; there are reports that there are transgenic shrimp in—there are all kinds. But we won't go there.
Dr. McKean: Don't muddy the water for me please.
Reached by email, Silberhorn declined to elaborate on the transgenic shrimp he referred to, saying he can't comment on anything related to the still-pending AquAdvantage decision.
"I know that there's some research going on," Kapuscinski said, "but I'm not aware of any transgenic shrimp, a viable line of them having been developed with a trait that's worth culturing them commercially. But it's possible. It's plausible."
Trending on Outside Online