5 Great Day Trips With Kids
Heading out the door? Read this article on the new Outside+ app available now on iOS devices for members! Download the app.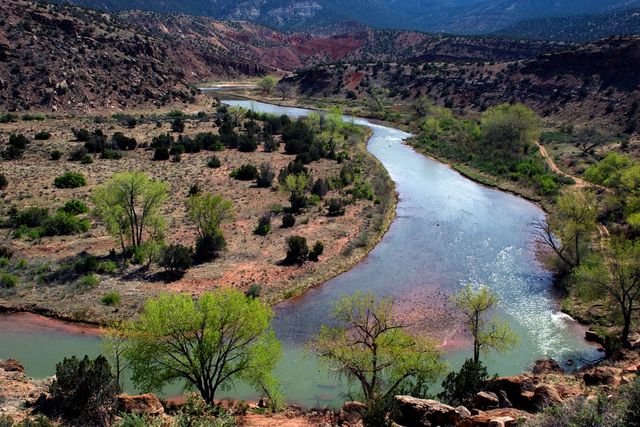 The Rio Chama. Photo: Ingrid Truemper/Flickr
If done right, an adventure day trip can be just as satisfying as a bigger mission. If not, it can be way more stressful. To make the most of your summer, you'll want to plan a few ambitious day trips (lest you spend every Saturday watching your kid ride his bike around the same 1/16th-mile lap in the park). But you gotta be smart—and organized. It's a little bit art, a little bit luck, and a lot of science. Here are 5 great day trips to take with your kids.
Rafting the Rio Chama, New Mexico: Put in at the boat launch 13 miles north of US 84, just below Christ in the Desert Monastery, and float eight miles through Class II-III rapids to the take-out at Big Eddy. The water on this stretch of the Chama is dam-released, so check the USGS for river flows. 
Hiking Emerald Lake, Rocky Mountain National Park, Colorado: This 3.6-mile hike is doable even with little ones, and the view of snow-capped peaks backing a, well, emerald lake is enough to make your eyes pop out of your head and roll around in the dirt. Bonus: three other lakes en route help incentivize the chidlets.
Hiking Old Rag Mountain, Shenandoah National Park, Virginia: When I was growing up, it was tradition to hike this knobby peak in the Blue Ridge Mountains with my dad every New Year's Day. The trail climbs four miles and 2,500 feet through wiggly slots, caves, cracks and scrambly, hand-over-hand outcroppings to its raggedy summit overlooking the Shenandoah Valley. Keep kids close—there are some drop-offs.
Climbing Medicine Bow Peak, Wyoming: Mark Jenkins' kid-friendly epic of choice is this 12,000-foot peak near his home in Laramie. With 1,000 feet of elevation gain from Lewis Lake, talus fields, and late-season snow drifts, the four-mile hike delivers a seriously big sense of accomplishment to little hikers. His daughter Addi made her first acent when she was four.
Floating the Boise River, Idaho: Michael Lanza likes this six-mile, three-hour raft/duckie/inner tube outing for its easy access from downtown Boise. Put in at Barber Park, along a fairly undeveloped stretch of river through the tree-lined city to the take-out in Ann Morrison Park. Keep your eyes open for great blue herons. Weekdays are quieter.
—Katie Arnold
@raisingrippers