Slacklining Tips for Both Kids and Beginners
Heading out the door? Read this article on the new Outside+ app available now on iOS devices for members! Download the app.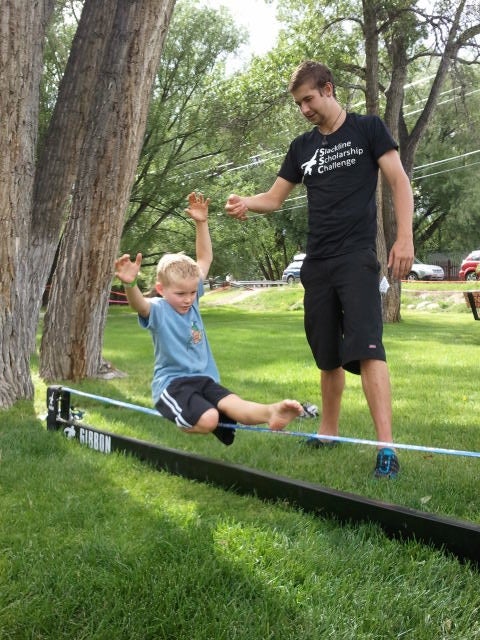 Testing out the kid-friendly SlackRack. Photo: Gibbon Slacklines
With their low center of gravity and natural ability to live fearlessly in the present, most kids are quick studies on the slackline. Just look at 14-year-old Alex Mason, who won the inaugural slackline competition at the Teva Summer Mountain Games earlier this summer, trumping competitors nearly twice his age. The sport—which entails balancing and performing tricks on a piece of dynamic climbing webbing strung horizontally between two fixed points—is booming in town parks, backyards, and climbing gyms around the country. And because the webbing is rigged low to the ground, it's a great, safe way to teach little ones about agility, balance, and concentration.
"Slacklining is the next evolutionary step in the world of sports," says Josh Beaudoin, slackline educator at Boulder-based Gibbon Slack Lines, the country's only slackline manufacturer. "The dynamic movement is related to everything we do in life. Most sports have similar concepts of balance, so it's a great cross training tool. The way it makes people feel—connected to their mind and body at the same time. It's addictive."
Beaudoin travels around the country offering balance movement workshops and summer camps to high schools and college students, but he's also taught children as young as those in preschool how to slackline, including one four-year-old who learned how to walk the length on his first day. Here are his five tips for getting your kid in the game:
1. RIG THE RIGHT LINE: Two-inch-wide lines are your best bet for beginners and little ones because they're slightly more stable and less wobbly. Try the Classic or the Funline, which has rubberized print for extra grippiness. The ideal length for newbies is 15 to 30 feet, rigged just below knee height off the ground. "Setting the line up that low will allow less wear and tear on the knee but is also close enough to the ground to manage a fall safely," says Beaudoin. "Anything longer than 30 feet only increases the difficulty, but usually after three sessions, one can learn how to easily walk back and forth." For year-round slack lining, the portable, freestanding SlackRack hovers just 12 inches off the ground and is great for indoors. Set it up in the living room or basement, over wood floors or carpet. It's so low you can just step off. If your floor is really hard, put down a piece of rubber matting for cushioning.
2. CHECK YOUR ANCHORS: Ratchet the line between two fixed points, like trees or posts. The anchors need to be completely bomber—if there's any wiggling, find something more stable. Fortunately, the ratchet system is so easy "any kid can set it up," says Beaudoin. Just be sure to check their work. If you're anchoring it to a tree, look for one at least 24 inches around, with thick bark, and be sure to protect the tree and the line from abrasion. Carpet scrap, car floor mats, corrugated cardboard, foam camping pads make for good padding, or you can use Gibbon's Treewear, a felt guard that wraps easily around the tree with Velcro. Take your line down after each use; leaving it up for too long isn't good for the tree or the line.
3. FIND YOUR FORM: Focus on good positioning: arms above the head, hips aligned above the spine, eyes focused on a fixed point in front, and both toe and heel on the line. Beginners should learn to stand on one leg for as long as they can, with their other leg used as a counter balance swaying from side to side. Challenge them to stand for as long as they can and each time they stand back up on the slackline, try to increase that time by just a few seconds. Says Beaudoin, "You'll find that mind and body will catch on quite quickly."
https://youtube.com/watch?v=2TzERkdNoyw
4. TAKE BABY STEPS: Learning to take steps is important in the beginning; the key is for them to be slow and controlled. "Most kids want to run and jump immediately," says Beaudoin, "but running down the line in the beginning will only lead to grass stains and brushed elbows. The most important thing is to relax and find a healthy breathing pattern. Even three-year-olds can have fun—it's all about relaxing and putting one foot in front of the other." With kids, it's important to spot them as they walk. Stand on one side of the line, with your hands just below their elbows, so you can catch them when they fall. As they get more comfortable, encourage them to practice stepping off the line on purpose to have them build confidence and learn controlled dismounts.
https://youtube.com/watch?v=HvR7gMYcql4
5. GET TRICKY: Slacklining may look like a less scary version of tightrope walking but, says Beaudoin, "It's not a circus act. It's cross-training and competitive." You can do the same jumps and spins you do on snowboards, skis, or a trampoline. Once you can walk the line, you can start trying basic tricks like the drop knee, vertical jump, or lemur leap; check out Gibbon Slacklines for video tutorials. As you improve, you can loosen or tighten the line as you see fit; loose slacklines are good for surfing and poses, and tight slacklines work best for spin and butt bouncing combos.
For more information about slacklining tricks, competitions, scholarships, and demonstrations, check out Gibbon Slack Lines at www.gibbonslacklines.com; $65-$140 for line and ratchet; tree wraps, $19.99.
 —Katie Arnold 
@raisingrippers
Trending on Outside Online