Olympic Champion Summer Sanders on Life After Winning the Gold
One of the most decorated swimmers talks about life in the two decades since she won four medals at the 1992 Barcelona Games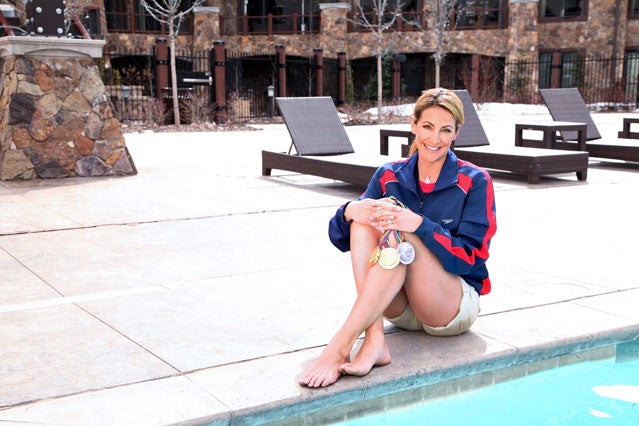 Courtesy of Summer Sanders(Photo)
Heading out the door? Read this article on the new Outside+ app available now on iOS devices for members! Download the app.
Summer Sanders won four medals—including two golds—for Team USA at the 1992 Olympics in Barcelona, making her the most decorated swimmer at the Games. Two decades later, Sanders carried the torch for the London Games, where she was reporting from the pool for Yahoo. Sanders talked to Outside about her swimming career and life after the Olympics.
Summer Sanders World Championships

Summer Sanders takes home the gold for the 200m butterfly event at the 1991 World Championships in Perth
You started swimming at a very young age. What first attracted you to the water?
I grew up in northern California, where it was consistently in the hundreds in the summertime. My dad didn't think he should have to turn on the air conditioning when we had a swimming pool in our backyard; it was our built-in air conditioner. My parents wanted us to be pool-safe, so I had lessons when I was 18 months old. I would like to share with all the parents out there that I was that kid who cried during every one of my lessons. But it wasn't an option for my parents; we had a backyard pool, so I needed to learn how to swim.
One day, when I was about three, my brother was playing in the pool with his buddies in the deep end. I was in the shallow end with my little ring floatie around my torso, and my mom was watching me from the side. She said I was looking at my brother and his friends playing, and all of a sudden I put my arms straight up in the air and sank down into the floatie. My mom thought, "This is either going to be good, or I'm going to be diving in after her," and the next thing she knew I came up swimming toward my brother. Apparently I was secretly paying attention to those lessons, I just needed my own time to become comfortable with it.
It really was my brother who got me involved in swimming. I wanted to be just like him and do everything he was doing. He joined the swim team when he was a normal age—six and a half—and I tagged along and was really excited to do it. The instructors said they would have liked for me to be six, but if I could swim a lap in the pool, I could be on the team, and I did. That was the beginning of it. I immediately fell in love with that sense of accomplishment when I touched the wall after my first race.
When did you first realize the Olympics was a possibility for you? Was it something you had dreamed about as a child?
Swimming is great because there are levels of goals. First, when I was four, it was making it to the other end and overcoming the fear of standing up in front of everybody at a swim meet because I was such a shy kid. Then I moved on to qualifying for Far Western, which is a little swim meet in the Bay Area. Then it's high points at swim meets and big trophies. Along the way, I knew what the Olympics were and I knew I wanted to do it.
The dream really started when my dad took me to the Olympics in 1984 and I put a face to my heroes. My brother and my parents were my heroes, but then I started to look at some of these athletes as my heroes, such as Tracy Caulkins and Mary Lou Retton. That's when it really became a far-off dream. I thought, "That would be amazing to be an Olympian."
That did drive me quite a bit, but it wasn't a true goal until I just missed the Olympic team in 1988 by .27 of a second. That's when I said to myself, "I think this actually could be a goal now. I'm really driven and I'm focused. It's on my goal sheet. I want to make the Olympic team."
How does competing at the Olympics compare to other races, say college or professional races?
It's really tough to come back after the Olympic Games, and that's why I continually remind people how we need to sit back and be truly amazed at people like Michael Phelps, Ryan Lochte and Natalie Couglin who have been at the top of their game for so many years. It's a grueling sport. It's not just the fact that you're looking at a black line the whole time and it's just you against the water. It's a lot of hours. It's a lot of emotional investment. Often times, that's more difficult than the physical investment in it. So it's really hard to come back. I chose to go right back to Stanford after the Games. I felt that was the best choice for me: to go back to a normal life. It's very humbling to walk around the Stanford campus; there are people doing amazing things in so many fields, not just sports. For me, it was great to go back there and be around my friends and lead a normal life.
Have you been to any other Olympics since 1992?
I was reporting and working at the 1996, 2000, 2002 and 2004 Games. At the 2006 Games, I was eight months pregnant with my daughter watching my husband compete. Then I was working again at the 2010 Games and the 2012 Games.
Does reporting about swimming make you miss being in the water?
Not at all. I loved my experience at the Olympics. I cherish that team; the 1992 women's team was such an awesome Olympic swim team. I'm just not that kind of person who wishes she could go back. I really love the stage of life that I'm in, and there's one thing that has been consistent the entire time: I really do love the Olympic Games. I'm the biggest cheerleader there, so I like being in the position of talking about the sport and being able to cheer for Team USA.
I'm sure there's a lot of speculation about the athletic potential of your children because you and your husband are both Olympians. Is swimming something you want for them?
I would love if my kids fell in love with a sport. I just want them to be passionate about something. I want them to build confidence through trying something that scares them. When I say "scares them," I don't mean adventure sports—I don't need them falling down a mountainside or something—but I want them to challenge themselves. I want them to set goals.
I think you can learn a lot about life through sports: dealing with failure, dealing with success, working as a part of a team, being a good teammate, being a humble winner and a gracious loser, accountability—these are all things my children are learning through sports right now, even at ages four and six. Whether or not they are Olympians, I do not care. When I see a smile on their face when they score a goal in soccer, it makes me want to tear up. I just love the fact that I see them going for it. I'm as proud of them when they score a goal as when they help their teammate get up after they get knocked down, and that's what my kids do. I don't care what sport they do, and I don't really care if they play sports. I'd love it, but I want them to find something they're passionate about.
What opportunities do you think being an athlete, and specifically an Olympian, have opened for you?
Sports definitely opened up many doors for me. For as long as I wanted to be an Olympic athlete, I wanted to work in television. I went straight from the Olympics into commentary for swimming, and then I started auditioning for shows. I hosted a show on MTV and then Nickelodeon, and I hosted a show for the NBA for a long time. I've always recognized that that very first door was opened because of the Olympics and sports.
You're currently working with Kellogg's Team USA. Why did you choose that project?
Are you kidding? I eat cereal morning, noon and night. I'm that kid, and I've been that way forever. I just love my cereal. It was the fuel that I used during my swimming. I was raised with a mom who said, "You need to eat a great breakfast." She'd always say, "You need to eat something that sticks to your ribs," so I would actually imagine my cereal sticking to my ribs. I say the same thing to my kids now.
I recognize that our Olympic team is not government-funded. We're only one of three countries that are privately funded, so when we have Olympic sponsors I'm honored to be a part of their campaign. Kellogg's is a perfect message because breakfast is essential; it's something I'm preaching at home. And I love the fact that I get to cheer on these awesome athletes, like Kerri Walsh and Rebecca Soni.
You're also a spokesperson for Rethink Varicose Veins.
When I was contacted about being a part of this campaign, I thought somebody was messing with me because my mom was getting the vein procedure the next day. I'm honored to be a part of Rethink Varicose Veins because I do think there needs to be a different face to this condition. So many of my friends suffer from varicose veins or venous insufficiency, which is what I have. Thirty million men and women in America suffer from this or the more serious condition, which is chronic venous insufficiency. The problem is less than 10 percent actually seek treatment. That is where my voice needs to be bigger; we want to direct people to the website and encourage people to learn about this.
If you're like me, you run around all day doing 12,000 different things, and at the end of the day you think, "Ugh, my legs are tired. I'm going to put them up." But you should think about it when your legs start aching. My procedure was less than an hour, and I walked in and walked out. I was talking with my doctor the entire time, and my legs feel awesome. Now I'm ready to go run around London for the next month.
It's 2012. Does it seem like it's been 20 years since you competed in Barcelona?
No. When I think that I've lived now more years post-gold medal than I did previous to the gold medal, I can't believe it. And I'm not the only one who can't believe it's been that long. My parents will sit back and say, "Has it really been 20 years? That's crazy." I actually love it because I feel like when I was 19 and those medals were put around my neck for the first time, I thought I could absorb and understand the magnitude of the moment, but I didn't. Every year since that moment, I think it means more to me. After 20 years, my medals are extremely special. When I see people hold them for the first time and see what they mean to people, I get a little bit emotional.
Is there anything else you wanted to share?
If I could say one thing to your readers, it would be—and I'm sure your readers already do this, but— I am that parent who tries to lead by example and get out and exercise with my kids. I've found it to be really fun, and it makes you feel young when you're out cruising around with your kids. Lead by example not only at the table, but also with exercise and health outside as well. It benefits the whole family.
Lead Photo: Courtesy of Summer Sanders