Checking in With Skier and BASE Jumper J.T. Holmes
Heading out the door? Read this article on the new Outside+ app available now on iOS devices for members! Download the app.
https://www.youtube.com/embed/D7TB8b2t3QEJ.T. Holmes delivers Google's Glass to Sergey Brin.
In case you missed it,
J.T. Holmes is having kind of a big year. He ski-BASE jumped off a 260-foot
cliff with Matthias Giraud near Chamonix, France, in February, did a three-man
ski-BASE jump in Baffin Island in May, and jumped out of an airship above San
Francisco wearing a wingsuit and Google's new product: Glass. With the glasses and Google's Hangouts technology, Holmes conversed
with Google founder Sergey Brin live above San Francisco in an airship before wingsuit flying into the city, landing on Moscone Center,
and storming into the auditorium to join Brin on stage along with a group of
cyclists and rappelling stuntmen organized by Andy Armstrong. Last week, he was skiing with Julia Mancuso,
and speed riding and ski-BASE jumping at a zone near Queensland, New Zealand, a mecca for all his favorite sports. We caught up with him to talk to him about his skiing, Shane McConkey, and his latest sport, speed riding. Speed riding is a
combination of skiing and paragliding that allows an athlete to take to the air
when needed in order to fly over obstacles and ski multiple close-out lines.
https://www.youtube.com/embed/q7jGnliPuLcJ.T. Holmes and Matthias Giraud ski-BASE jump.
I saw that ski-BASE
jump video that Matthias put up and know that it's the first jump that you've
done since Shane died. Can you tell me about that?
After Shane died, I never shunned ski-BASE jumping. I always wanted to do it,
but I always was looking to do the next thing with it. It's fun, creative, and
there's still firsts to do. But with Shane gone, my primary ski-BASE partner
was also gone. For two years, I focused on competing in the Freeride World
Tour, which is pretty time consuming. I essentially just didn't get around to
ski-BASE jumping, because it wasn't on the top of my mind and it just didn't
happen. I trained Tim Dutton to start BASE jumping and ski-BASE jumping and
we were going to do ski-BASE jumps during the Freeride World Tour in 2010,
but it just never happened because we were always focused on skiing. Obviously,
my primary love in the mountains is skiing.
It didn't really have
anything to do with trust. There were people around here that I would have
loved to ski-BASE jump with. It's purely a matter of the fact that we had the
best ski season of all time in 2011. We had powder every day. That just seemed like
more fun than ski touring out to some cliff in the backcountry where you are
going to do a ski-BASE jump of the same nature as before. So, powder won, and
competition won.
Anyway, one day I found
myself in Europe with some friends to go make a normal BASE jump and we got
winded out. I knew Matthias was in Chamonix, and I just gave him a call. He
said, Oh yeah, I just did one. Come on out and we'll do another. I just
packed my rig and went out and joined him. It was cool to do it again, to break
the ice, and to follow Matthias, because he did a really cool jump and I got a
really cool shot of it. But it wasn't mentally a big deal for me, because I was
totally comfortable with the style of ski-BASE jump. I didn't have any worries
about my jump not going safely. Of course, you feel a rush, and you have
memories, but to ski off a cliff and to open a parachute right away is entirely
different than what happened with Shane and I. So it was a completely different
category of jump. It was like, if someone died racing a downhill course, are
you going to be scared to go to the halfpipe? Probably not, but it's still
skiing.
That said, I went to
Baffin with Tim Dutton and Jesse Hall. It was a situation that kind of stirred
all of the emotion and really brought back to the surface Shane's death. For
the first time, we actually revisited the cutting away of skis and going into a
terminal BASE jump from a cliff. Add to that, we did it with three guys at a
time. That was where the feeling of being back on the horse really set in,
because it involved trusting the Tyrolia bindings to cut away again, and it
involves basically doing a jump of the same category—which I hadn't done
since Shane passed away.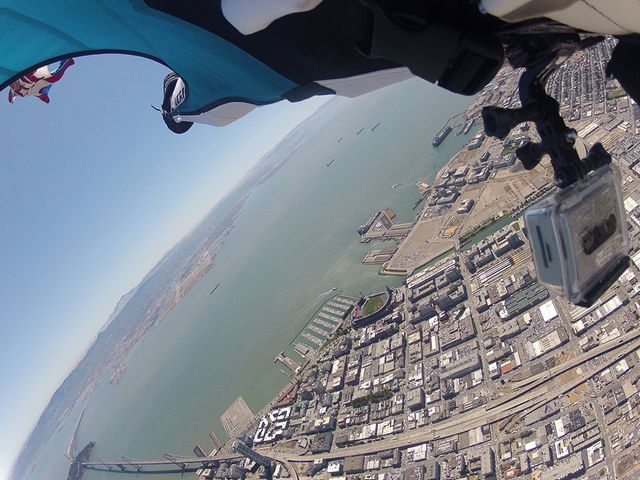 Can you tell me a bit
about the Baffin trip?
That was the end of the May. It was for a Pirelli tires commercial. 
What kind of memories
did that bring back?
It was like, if you were in the starting block of a downhill race, and the last
time you raced, your best friend died. It's not something you can just kind of
ignore, but if you think it all through, and concentrate on the elements of the
task at hand, and are completely comfortable with all of those elements coming
together—whether it's the conditions, the release of the skis, the amount of
available altitude, the condition of the jump, the people you are jumping
with—you can actually have a comfortable experience with that run, which is
what I did.  
At what point did the
memory bubble back up?
Well, stuff like this never really goes away. I'm not going to think about the
day that we lost Shane every day, but it's not like I don't think about it
every day. I think people kind of wear a scar. I look at myself and I have scars.
Do you notice them? No, but they're there. They are just there. It's not
something that you focus on.
I wouldn't say that it
went away and came back. It's just that finally I got around to doing it.
Here's the thing about ski-BASE jumping: Ski-BASE jumping is quite cumbersome.
You get to the top of a mountain with the pack of your backcountry gear and a
parachute and you have your less-than-ideal skis because you have the Tyrolias
on them, or you're never going to see the skis again, or whatever it is. The
point is, it's a cumbersome task because it involves getting a lot of gear to
the top of a mountain. Now, you have a beautiful day in Chamonix and a cable
car, that's really only $60 away. If you have somebody fun to hang with, like
Matthias, whose going to add an element of daring and entertainment to your
jump, it's going to be pretty fun. Would I have bothered to go jump that cliff
by myself? Probably not. But really it's like a matter of the carrot being
tempting enough to get the rabbit to chase it. To ski off of a cliff in Baffin
Island is a hugely rewarding experience, so that's finally why I got around to
it.
My daily outings in
the mountains are decided upon based on what is going to be the most fun and
what the mountains are offering that day. If the mountains are offering
powder snow at Squaw Valley during a legendary year, I'm going to be skiing pow
at Squaw Valley. If the mountains are offering crappy conditions, but good
hiking conditions with no wind, then maybe I'm going to go for a hike to make a
ski-BASE jump. My mind frame and the decision to BASE again wasn't a deep
and meaningful process; in fact, there was never really the thought: I'm going
ski-BASE jumping again. It was just a matter of it being, a) what the mountains
offered, and b) something that was enjoyable and intriguing enough to deal with
a cumbersome element of getting your crap to the top of the mountain. In Baffin
Island, I hiked 4,000 vertical feet with a 65-pound pack in a three-hour push,
just to put things in perspective.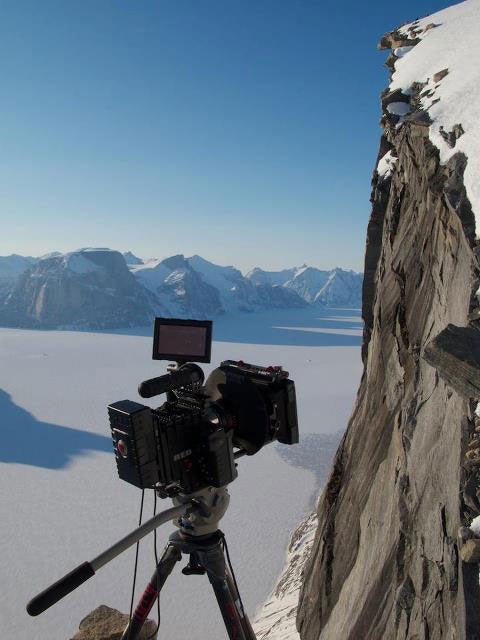 Where was it?
That was in Sam Ford Fjord. That was a place that Shane visited in May of his
31st year on the planet and I did the same thing. We skied off of Ottawa Peak,
and that was certainly a first, and all three of us just went flying off the
mountain.
After you did it, what
did you feel?
I remembered just how damn fun it was. To ski off a mountain with a significant
amount of speed and cut away skis and go into freefall? It's like if you huck a
cliff and the landing never really comes. It's super fun, intense. You're
feeling your freedom, and there are great visuals. It really brought back
memories of how much fun Shane and I used to have together, which made me miss
my friend more. When Shane died—and in the days prior to that—we were really
happy to be where we were. We were really in tune with our equipment and our
jumps were really coming together, and we were having a lot of fun. Our eyes
were really big with everything we saw. We saw all of this possibility and we
were like kids in a candy store. Where we were was great and we thought we were
going to be having fun, but then the rug was kind of swept out from underneath
us when he died.
And if he wouldn't have
died, do you think you would have done more ski-BASE jumping?
I think we would have done more on the trip in 2009, checked off more of the
boxes of the to-do list of ski-BASE. And I think we would have revisited it maybe
in the same timeframe in 2012. If you look at the pattern: in 2003 we ski-BASEd
for the first time on the same day, and in April 2004 we went to the Alps and did
a whole bunch of ski-BASE jumps and skied off of the Eiger. We didn't do much
again until 2007 when we were ready to ski off cliffs with wingsuits. Then, in
2009, we went to do double stager  ski-BASE, to ski interesting couloirs
that ended in cliffs, and to do some more wingsuit ski-BASEs just for fun. I
think that if he was still around, in 2012, instead of bringing it back to the
level we were at in 2009, we would have been able to bring it further. That
said, we did ski three men off a cliff, and I believe that's a first. I don't
think anyone has been a three-person terminal ski-BASE. To my knowledge, nobody has ever even skied three
at a time off a cliff with parachutes at all.
What's your focus on
now?
My focus is on skiing and speed riding. Speed riding is kind of the new sport
that I'm really enjoying and incorporating into my skiing. It basically
allows me to do more. Shane and I really got into ski-BASEing to ski closeout lines. With speed riding you can ski multiple closeout lines in one run. So
it's the tool for radical big mountain descents and that's what I want to do.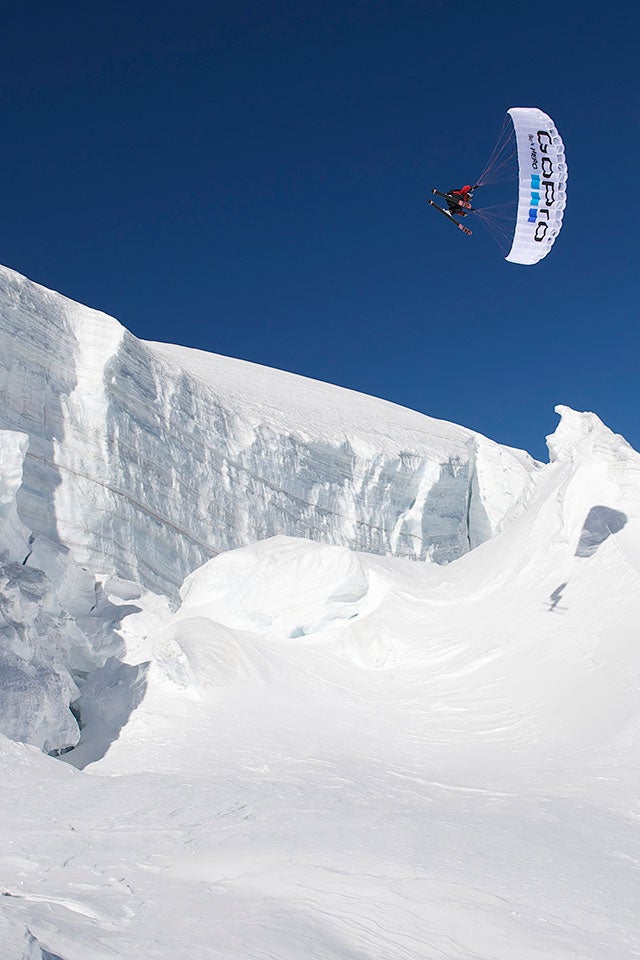 Holmes speed riding. Photo: Michi Portmann

Is there any one place
where you're focusing on speed riding?
Not any one place in particular, but I am going to La Parva,
Chile, which is a place that's really fun for it.
What kind of feeling do
you get from it?
Speed riding is the culmination of the two sports, because you get your airborne
element and you also get your on-snow element. It speaks quite nicely to my
skill set and I'm enjoying it. I'm also finding it to be a veritable safety
tool for mountain transportation.
Is there anything
different in what you're doing?
I'm trying to catch up with the leader of the sport, whose name was Antoine
Montant. He's a big inspiration to me right now.
Have you gone out with
him?
We discussed meeting and trying this year, but he died. He died
wingsuit BASE jumping.
Is there a level of
danger in this that's comparable to BASE jumping, or is this different?
It's one of these sports where it's very low impact and very fun and really
intriguing, but it's really low impact until you take one big impact. It has an
element of serious consequence. You need to approach it very thoroughly. You
can't let your guard down. You have to be respectful of the mountain and the
conditions. You have to scout thoroughly and you have to approach it like you
do BASE jumping. When I approach skiing I can look down the mountain and say,
I'm 80 percent sure I can stick this line. I'll try it, because if it falls on
the 20 percent, the likelihood is that I'm just going to have to brush the
snow off the back of my neck and defog my goggles. That's all that happens. But
with BASE jumping, if you're not 99.999 percent sure, you really shouldn't do
it.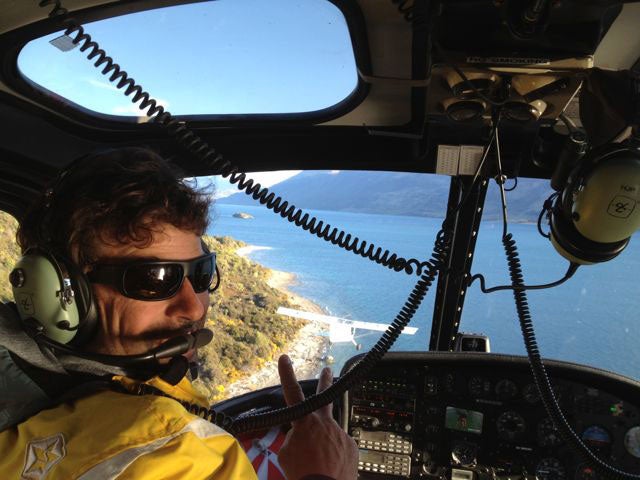 Heli ride. Photo: Courtesy of J.T. Holmes
Are you using any new
technologies?
There's a lot of gear innovation and progressive skills. Speed riding is a place
where the gear is developing quickly. There are things I do with my own gear
that give me an advantage. There's a whole lot of experimentation that needs to
be done on the gear end. Shane and I were both gear geeks. We like to tinker
with stuff. You can obtain an advantage with gear. Another side the gear
element is that when you achieve a performance boost or achieve a new
technology that you have developed or integrated yourself, and your life
depends on that gear, suddenly you have a connection to that gear. You gain a
bit of mental strength involved when it works well. When you stand on top of a
mountain with your own set up that you've tinkered with and trust, you
think, Well, I put this thing together and I'm pretty sure that it's
going to work, and it's kind of a hard-to-describe, cool feeling that
you get.
You can follow J.T. Holmes on Instagram (jtholmesjr), Twitter (@jtholmesjr), and Facebook (facebook.com/holmesjt).
—Joe Spring
@joespring
facebook.com/joespring.1