Josh Tostado, the Vapor Trail, and the Fall of 24-Hour Racing
Heading out the door? Read this article on the new Outside+ app available now on iOS devices for members! Download the app.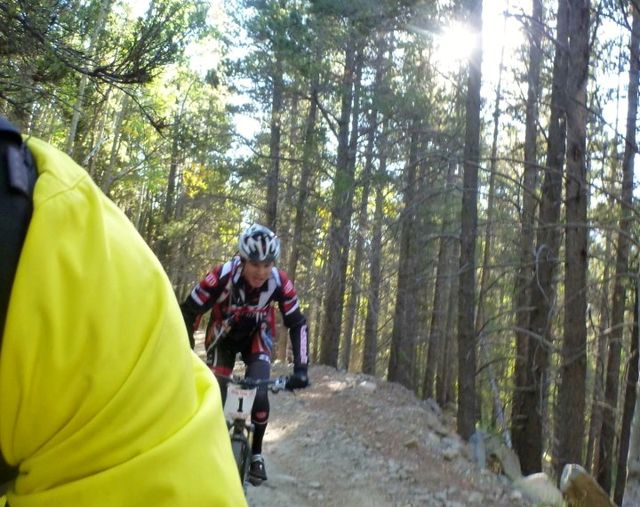 Josh Tostado overtakes an unsuspecting rider in the early morning Vapor hours.
Last weekend, I rode the Vapor Trail 125, an unsanctioned bike ride out of Salida, Colorado. It was my third time at the event, and though I didn't have the smoothest ride ever, the experience reminded me of just how fun small-scale mountain bike races can be. Fifty-some people lined up at 10 p.m. to race 125 rugged miles of backcountry two-track and high-altitude singletrack. There's 17,000-some feet of climbing, including a two-mile hike-a-bike over 12,000 feet in the blackest hours of night. Finishers trickled in from mid-morning 'til late evening the next day, and the only fanfare was a low-key barbecue behind event sponsor and local shop Absolute Bikes. It was exactly what bike racing is supposed to be: laid back, complication free, challenging, and—most of all—fun.
Even as big races like the 24 Hours of Moab are having trouble generating interest, grassroots events like the Vapor Trail are popping up all over the country. In part, the attraction is the simplicity. Registration fees are low (often free at local events), there are no overwrought rules or lengthy pre-race meetings, and pressure is almost nonexistent. It's just a bunch of like-minded riders lining up for a shared experience and a good time.
This little event had a big-name entrant this year, three-time 24-hour national champion and 24 Hours of Moab course record holder Josh Tostado. The Alma, Colorado, native originally planned to race the 24 Hour World Championships in Alberta, Canada, but when they were canceled he shifted his plans to Salida. And good thing. Tostado blazed the trying course, beating his nearest competition by almost an hour and setting a new course record of 12 hours and 42 minutes. I caught up with the new VT champ after the ride.

That was your second time at the VT125 but, because of weather, the first time on the full course. What'd you think?
I love the course. The Canyon Creek trail is one of the best descents I've ever been on, and the Monarch Crest and Rainbow Trail are some of the most iconic trails in the country. The riding in Salida in general is just awesome. And even though I was on the bike less than 13 hours, I consider the Vapor Trail almost as hard as a 24-hour race. You have to carry more gear and clothing with you, and you have to have lights that run all night. Plus, the riding is so physical that it really takes it out of you.
It's definitely rugged. What bike did you ride?
I went with a Santa Cruz Blur XC with a 120mm fork and a seat dropper. This is a lot of bike for a race like this and more like the bike that I ride every day. But I really wanted to be as comfortable as possible and to be able to rip the downhills and have fun.
Not a 29er? That's interesting. You don't see many endurance racers on 26ers these days.
I don't race a 29er because I don't have one and have never tried one out. I would like to get a Tall Boy for next year, but I'm also very happy on my 26-inch bike. Some people might look at me and think I'm crazy for riding a 26er, but a bike is a bike. No matter what size your wheels are, you still have to pedal it to make it go.
You were so fast that you arrived at aid stations before they'd even opened. How'd you keep going?
I started the race with a Hydrapak full of an Infinit Nutrition mix, a bottle, and a full Gu flask, which got me to Snow Blind aid, where I filled my bottle. I also had another full Hydrapak waiting at the Monarch aid. I was able to pick up gels and bars at every aid except at the top of Starvation Creek, where I took the name literally.
There's so much psychology to endurance races, especially overnight. How do you keep psyched?
In a race like this, the fun factor is high, which makes it easier to stay focused. I just think about getting to the next fun section, and that makes me want to get there faster. Plus, you're out in the middle of nowhere at night, doing crazy hike-a-bikes above tree line. There's a lot going on. It's an adventure. I was so tired at the bottom of Starvation Creek. That was the low point. But I've learned that if you just keep pedaling, eventually you will feel better. When I hit Rainbow Trail I felt great again and was hammering.
You shaved an hour off the record time. Think it can go faster?
I was really happy with my time. Everything went smoothly. But I think that it could go a little faster.
You were able to ride the VT125 because 24 Hour World Championships were canceled. Is 24-hour racing on the wane?
I don't think 24-hour racing is dying. It's just changing hands. People want to race in different places all the time. New venues keep the sport fresh. Big-production 24-hour racing might be on the decline, but there are a lot of smaller races popping up.
Exactly, small-scale unsanctioned events like the VT125. Why do you think these are so popular?
The small unsanctioned race is what mountain biking is all about. Personally, I don't want to go to a race and have a bunch of rules to abide by. You should just show up, race your bike, be a good sportsman, and race fair. People are sick of established race circuits—those are the ones that are declining. But people are gravitating to fun races, like the NUE series. It has to be a good time or people won't come.
You've been 24 Hour National Champ, etc., etc. What's left on your to-do list?
In the beginning I had a chip on my shoulder and needed to prove myself. But now I really just love racing my bike. I like the day-in-day-out journey of staying strong year round. And I like seeing all the other freaks out there. The lifestyle—that's what it's really about for me now.
Any more races this year? 
I'm going to race the 24 Hours of Moab. My girlfriend has never seen it, and I want her to experience the freak show. Plus they are calling this the last year, so I think I'll do it one more time before it's gone.
—Aaron Gulley
Trending on Outside Online