Friday Interview: Steven Nyman
The U.S. Ski Team member and two-time Olympian discusses the Kitzbuhel, overcoming injury, and why downhillers get better as they get older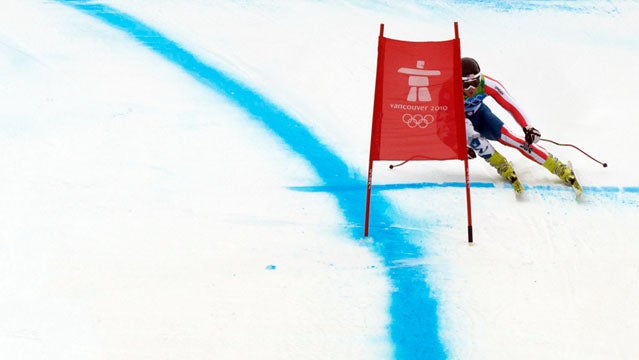 Heading out the door? Read this article on the new Outside+ app available now on iOS devices for members! Download the app.
On a foggy day in Val Gardena, Italy, this past December, the U.S. Ski Team's Steven Nyman became the first American male—aside from Bode Miller—to win a World Cup speed event since 2008. Starting in position 39, the 30-year-old Utah native surged from the back of the pack to snag victory. No man has raced to the top of the podium with a bib number that far back since 1996. It was a victory well won—Nyman has been plagued with numerous injuries over the last few years. A torn Achilles forced him to miss the 2011-12 season. Needless to say, he likes Val Gardena—he won the classic Saslong there in 2006, his first—and last, before December—World Cup win.
Nyman, a two-time Olympian, lives in Park City, Utah. When he's not skiing, he's an avid stand-up paddleboarder, music lover, and freeskier. In 2011, he appeared in Warren Miller's Like There's No Tomorrow. Off the slopes, he runs Fantasy Ski Racer—think fantasy football but for ski racing. Skiing runs in the family—his father ran the ski school in Sundance, Utah, and his brother Blake is a professional freeskier. Come January, the World Cup circuit is in full throttle. Here, Nyman talks about the Kitzbuhel, the biggest race on the tour, overcoming injury, and why downhillers get better as they get older.
What do you love most about ski racing?
I love the challenge of each individual course. In downhill it takes years to master the intricacies of some of the hills. I also like the mental battles I face day to day. I love them and hate them. I'm scared every time I push out of the gate, but the feeling of conquering your fears is thrilling.
What's your favorite downhill race and why?
That's a tough one. They all have their unique traits. But the most well-rounded race on the tour is Beaver Creek. It's a lot of fun to ski as well. I love Wengen, Switzerland, too. The scenery is jaw dropping wherever you are and the people love skiing there. The fans are incredible.
You're going into one the most classic and prestigious downhill races of the season, Kitzbuhel, can you talk about what makes it so special?
Kitzbuhel is the ultimate intimidation race. Right out of the start gate, it's "full gas," as they say in Austria. It's the most dangerous course on tour. It's also a great spectator event when it comes to ski racing. It's jam-packed with 60,0000 to 80,000 people on the day of the downhill.
What was it like the first time you raced Kitzbuhel, also known as the Hahnenkamm?
My rookie year I didn't plan to race it but the season was going well. I decided to stay and do it. I was shaking in my boots at the start, but I remember hearing a story of a guy who quit there. He backed out of the start gate and said no more. I wanted to do that but decided otherwise because I didn't want that story to be told of me. And I ended up scoring World Cup points my first time down. So that was a bonus.
After several years off the podium, to what do you attribute your win in Val Gardena in December?
When I started out on the World Cup circuit, I started winning quickly. It was only my second year when I collected my first win and I was just along for the ride. I was on the podium the next year but then had a long drought mostly due to injury. But I also blame my lack of management of myself. With success comes privileges, and I wanted to experience those as well. I didn't manage my body and then the injuries set in. I had to relearn how to take care of myself. Now I think I have a pretty good grasp on it.
As for Gardena, I like the race because of all the terrain. When you run the course top to bottom, you come off the ground over 25 times. I am pretty good with terrain and I think it's because of my height.
After a couple of hard years, was there ever a time when you thought you might not podium again or thought your career was over? How did you keep on persevering despite the setbacks?
There were times when I had some issues that I didn't know I could resolve. I had doctors telling me they didn't know what the problem was with the pain in my knees. I didn't know if I was going to ski again. With the last injury (Achilles), I had small doubts but I knew I could come back and compete. I didn't know I would win so fast. I've always told myself, I'll continue skiing as long as I love it. And I still love it. But I'm not going to lie: I've fought some serious fears after the last couple of injuries. Downhill is a tough beast to climb back in the saddle and ride again and again and again.
Do you feel like the win in Val Gardena was luck, or are you are a contender to podium at all upcoming races?
There was some luck involved for sure but I did ski well. I had an advantage, as did everyone else who started 25 on. I capitalized on it. I had some fast training runs and knew I could do well if my skis were running. When I went off the big camel jump (Kamelbuckel) I flew so far and I knew my skis were running. I told myself, Ok, now just dial the line and you can do something great. And I did.
What are your strengths as a racer?
I am well-rounded in everything. I don't dominate a certain aspect like some guys do. I am just decent at a lot of things. I think my strength is my tactics, my ability to see where I need to go.
Can you talk about a day in the life of a downhiller?
The life of a downhiller is stressful. Hurtling yourself down a mountain at 70mph can be stressful. When you have to practice it, I think it's even more stressful. Our life isn't all glitz and glamour. We wake up early just to train, around 5:30-6:00 a.m. To train, we need a lot of the hill for downhill and super-G; a mountain is only able to give it to us before the lifts open at 9-ish. The rest of our day involves recovery (food, fitness, napping) and getting ready for the next day.
What is a typical meal for you when you're in season?
I have really come to grasp the Austrian cuisine. A schnitzel refuels the gas tank pretty well. But I try and stay healthy. I avoid too much sugar. They tend to feed us well on the World Cup tour—good salads, lots of potatoes, pasta, and the various meats they give us over here, though I can't tell what some are. But for the most part, it's simple food. I don't like eating anything too complex. And I don't like sitting in a restaurant for too long.
How many months a year do you train?
Five months of racing/training, four months of ski training, and the rest is dry land and fitness training.
What are your goals for this season? For your career?
This year, my goal is to regain my confidence. When my confidence is there, my consistency will come. I am looking for consistent results near the top. That's the only way you win the downhill title and that's a goal of mine for the future.
What do you attribute the success of the American speed team this year? Do you think the new coach/program is helping?
The new coaches are great. Sometimes you have to shake things up and that's what they did. But the old coaches taught me so much. It's always a building process and this is a fresh look at it. A revitalization. We have a wide range of ages on the speed team now and the old guys needed a new look at things so we can keep up with the new talent that is coming in hot.
Talk about Fantasy Ski Racer. Where did you get the idea for it and what's the latest?
FSR is something I thought up with Nolan Kasper a few years ago and it finally came to fruition three years ago when my brother kept telling me we had to do it. The main goal is to get people more engaged in the sport. We felt there was a big disconnect between the fans and the racers and this would be a bridge to help with that connection.
If you weren't a ski racer, what would you be?
A pirate.
Who were your ski idols growing up?
Kjetil Andre Aamodt. He skied and medaled in four Olympics. Super impressive. I had the opportunity to stand with him at an awards ceremony. I was fourth; he was fifth. It was a dream come true—to have your childhood idol look up to you and say "This is embarrassing, you're so tall I'm so short!"
What's the hardest part of being a ski racer?
The road, but I do love the road. When I'm home for too long, I get the itch to go. But now we have a good home base in Europe, so it feels more like home.
What's the best part of being a ski racer?
Having people close off a run (usually from the top of the mountain to the bottom), put up safety netting, and then they say, "Go as fast as you can from the top to the bottom." That's pretty sweet.
In your opinion, who's the best downhiller of all time?
All time—hmmmm, Klammer seemed pretty nasty. I will give you a top five in no particular order: Klammer, Cuche, Maier, Rahlves, Eberharter.
It seems like downhillers get better as they get older—Cuche, Miller. Why is that?
Downhill requires the ability to be comfortable at very high speeds. If you're not, you're either going to hurt yourself or you're not going to be fast. To gain this comfort level, it takes miles upon miles. One good crash in downhill can set you back for weeks, if not the season. But once you find that comfort zone or balance point on your skis at those high speeds, it's pretty incredible. You're flying down a sheet of ice at 70 to 90mph in complete control. Things seem to go slow. You seem to have complete control. 
There are young guys who perform well at downhill and there always will be. But they aren't always the most consistent. The old dogs are the ones with the consistency. They are the ones who win the titles. Fun fact: no American man has won the downhill title. We hope to change that soon.
How do you think ski-racing coverage could become more mainstream in the Unites States?
Number one: lowering prices of ski tickets around America. I think it's above $100 a person now at several major resorts across the States. This is all due to liability issues. In Europe, it's not as much of an issue. Number two: Add some more info for the viewer—heart rates, GPS, ghost racers, POV cameras. Number three: Show it on normal TV. It is so tough to currently access in America.
Do you have your eyes set on Sochi? What about Pyeongchang? If you're headed to South Korea, will you be learning "Gangnam style?"
I have already been practicing my "Gangnam" dance! When I heard that song I though, Maybe South Korea can be pretty cool? We'll see if I still have gas in the tank.