Eliminating the Chain with Belt-Driven Bikes
Want to get rid of that greasy tattoo on your leg? Check this out.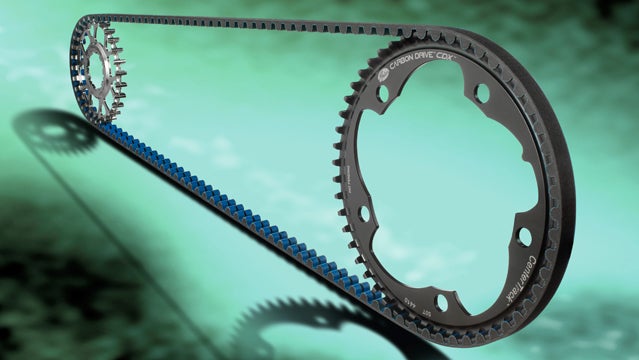 Courtesy of Gates(Photo)
Heading out the door? Read this article on the new Outside+ app available now on iOS devices for members! Download the app.
If you bought a bicycle between say 1893 and 2007, chances are you know what a bike chain tattoo (aka "rookie mark") is—the greasy imprint of your bike chain on your leg or pant cuff. Bike chains, greasy and annoying as they can be, are a critical part of two-wheeled forward motion. Though your chain will periodically fall, rust after a rain shower, and generally make a nuisance of itself, if you're going to bike, you need a chain.
Or you did. In 2007, to combat the sometimes rusty, seizing, calf-printing, mis-shifting chain, Gates invented the Carbon Belt Drive.
It's not so different from a chain and chainrings/cassette, but instead of a metal chain, the system uses a half-inch wide belt made from carbon fiber and polyurethane that mates perfectly as you pedal with what looks like a thick chainring. The belt is super strong, rust impervious—even after being sprayed for 192 hours with salt water—and it won't leave a print on your pants. It also won't stretch over time like a chain. Because there is no metal-to-metal contact, belt drives don't need the lube that eventually turns into greasy dirt. And, no metal on metal not only means zero maintenance, but a smoother ride. It's virtually silent—no clacking. And the clincher: it's lighter than a standard drivetrain.
The idea for a belt drive bike came from other industries. Gates had developed high-performance belt drives for everything from dragster blowers to snowmobiles, but they had never applied the idea to bikes.
When they did, a few brands were interested and the system debuted on five bikes total in 2008. Today, there are more than 200 bike models from 80 brands using Gates belt drives on every style of pedal-powered vehicle, from urban bikes to mountain bikes to e-bikes. Paired with internally geared hubs, gearboxes, and multi-speed bottom brackets, it's not only for single  speeders.
The only bummer: you can't retrofit your bike with the system. A belt drive requires a split frame that can be unbolted in the back in order to slide the unbreakable belt over the front and rear cogs. A belt can't be broken and reconnected like a traditional chain, and it doesn't shift gears in the same way—an internal shifting hub is required. (Available now.)
To highlight the advantages of belt-drive bikes, particularly that you won't get your clothes dirty, Gates just re-launched their website. Don't be alarmed—though at first you might think you've clicked onto some sort of religious site or yoga retreat center where everyone is required to wear white. It's just Gates making a point—you'll never have to worry about grease on your leg again.
"We want to blow up people's notions of what bicycling can be," says Todd Sellden, director of Gates Carbon Drive Systems. "The goal is to create buzz and enthusiasm for Carbon Drive as a lifestyle improvement that makes bicycling easier by eliminating some of the grime."
Last summer, we had the chance to test Redline's Monobelt 29er which features Gates Carbon Drive. A single-speed double-butted chromoly frame belt drive bike, it lived up to all of Gates' promises—clean, quiet, smooth and hassle-free. The Rockshox Reba fork took up bumps in the trail, and for this rider, pedaling a single speed made me a better biker—it trained me to power up hills, and to use my body position more effectively. Plus, it gave me quads of steel. The bike: available now, $1700.
Lead Photo: Courtesy of Gates