Train Your Brain
The biggest obstacle to reaching your fitness goals? That thing between your ears.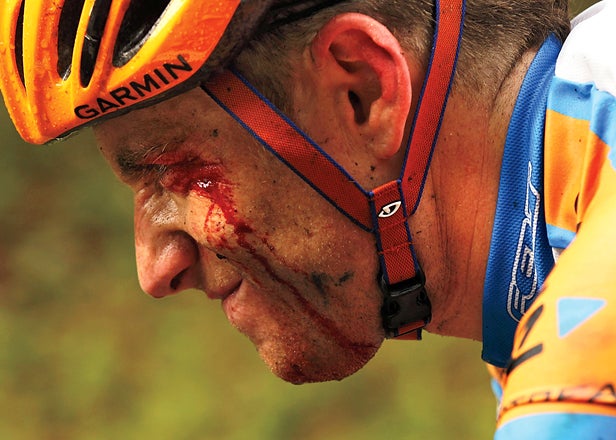 Heading out the door? Read this article on the new Outside+ app available now on iOS devices for members! Download the app.
Head Gains
Pro athletes know how to tap the power of the mind to achieve their goals. Here's why you should, too.
AFTER RIDING TO a surprising fourth-place finish at the 2008 Tour de France, Christian Vande Velde looked like the next big thing in American cycling. But the following season, his ambitions were laid low by a brutal crash in the Giro d'Italia, and then they were quashed again in 2010 by a string of race-ending accidents. "It was tough," the 34-year-old Vande Velde admits. "It killed my motivation, and I considered hanging it up."
If Vande Velde had let his career coast to a halt, no one would have blamed him. Many everyday athletes, especially those who aren't paid to perform, lose their drive over smaller hitches than that, from nagging injuries to boredom and burnout. "Most athletes come up against a mental roadblock like this at some point," says Julie Emmerman, a psychologist who works with riders on Vande Velde's team, Garmin-Cervélo. "The question then becomes how to rekindle the fire."
For most of us, the biggest barrier is motivation—getting started on a training plan and then staying hooked. (Just ask anyone who's made a New Year's resolution to get fit.) For dedicated athletes, the mind is also a key to better performance. According to Steven Ungerleider, author of Mental Training for Peak Performance, Eastern European athletes have been using formal mental training to help them excel since at least the 1960s, and by the 1988 Olympics in Seoul, 83 percent of all athletes were using some form of it—visualization, positive self-talk, mind-clearing relaxation tricks, and goal setting—as part of their regimen.
It's not just psychobabble; it's science. The brain helps dictate motivation and energy levels by secreting peptides, which communicate with the cells in various parts of the body. According to cell biologist Bruce Lipton, author of The Biology of Belief, by consciously changing your thought processes, you can control the messages your brain sends and override your body's natural reflexes to shut down under stress. And countless studies have shown that mentally rehearsing an action—from a basketball shot to a climbing sequence—can improve your game. "There is a lot of research on how mental imagery—self-talk and various other psychological skills and training programs—are very powerful in affecting performance," says Joe Powers, executive director of the Center for Neuroscience and Society at the University of Pennsylvania.
Too bad most everyday athletes miss out. Though many of us reap huge rewards from technology and training techniques that originated with elite athletes, few amateurs take full advantage of the mental tools that pros use to power through intense workouts, spur motivation, and stay focused during competition. And, no, this doesn't mean you need to see a sports shrink to improve your time in a local 5K. There are simple techniques that can help you set solid goals, have confidence in your plan, stay positive, and have more fun.
The latter was Vande Velde's key. Last summer, at the end of his disastrous season, he entered one more race, the Vuelta a España. There was no pressure to win, allowing him to savor the experience. "By the end I was actually having fun," he remembers. He took a five-week hiatus from the bike to reboot his enthusiasm and has set a new goal—the 2012 Olympics—restructuring his schedule to allow for more time training near his family. "I'm not planning on watching the big races on TV again this year; I'm going to be in them," he says. "And that gets me excited to tweak my training, to perfect my form, and, at the end of the day, to get out there and race."
The same goes for you. The right attitude can make or break your chances at any fitness goal—helping you gain momentum, maximize your performance, and ultimately stay in it for the long haul. The first step is to harness the most powerful tool at your disposal.
Get Hooked
Starting a fitness goal is easy. These tips will keep you energized through the finish.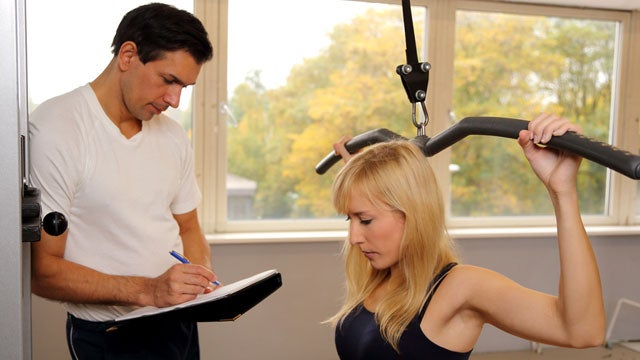 Pro Tip
Fear? What Fear?
At the 2006 Winter Olympics in Turin, American skier LINDSEY VONN crashed hard and was helicoptered off the mountain. The next day, with a badly bruised back and hip, she faced down the same course to finish eighth. How'd she do it? "Before I skied again, I visualized the course about 20 times, like I was skiing it," Vonn says. "I could see every bump, every jump. That helped me concentrate on exactly what I had to do. I wasn't surprised to finish. I would have been surprised to crash again."
Dean Karnazes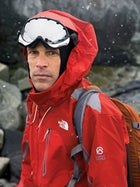 "Signing up for a series of events is a great motivator," says ultrarunner Dean Karnazes.
SHOOT HIGH
The first rule of setting goals that work: Think big. Michael Phelps didn't accidently win eight gold medals in Beijing. He wrote down that audacious goal and set it on his nightstand to look at every morning. "A big event, even one that seems far-fetched, can provide good motivation," says Derick Williamson, elite coach for Durata Training, in Austin, Texas. "Registering for something like a marathon can induce the fear and accountability you need to get serious."
DO IT: Commit to a dream event, race, or challenge. Sign up for the Big Sur, the New York City, or China's Great Wall marathon and plan a vacation around it. Enter Costa Rica's La Ruta de los Conquistadores mountain-bike race and start preparing to suffer. Register for your first century. Pay the entry fee and put it on your calendar now.
THINK SHORT-TERM
Once you've got your big goal established, set little ones—benchmarks and midway targets that will keep you inspired as you make progress. "Signing up for a series of events is a great motivator and keeps you building fitness," says ultrarunner Dean Karnazes. Just make them attainable. "When your goals aren't realistic, they can backfire and end up causing doubt, uncertainty, and more stress," says Jeff Galloway, a former Olympic distance runner and author of the forthcoming Mental Training for Runners: How to Stay Motivated.
DO IT: If your goal is to complete an Olympic-distance triathlon, enter yourself in a sprint-distance event a month from now. Want to run a marathon in six months? Sign up for a half-marathon in three. Commit to five workouts a week. And every two to four weeks, test yourself with a time trial: designate a course, do a 15-to-20-minute warm-up, then go all out for half an hour, checking your time against your previous efforts.
CALL IN THE COACH
"It isn't that you can't do it alone," says Lynda Wallenfels, a coach to some of the country's top endurance mountain bikers. "But a coach draws on the experience of many athletes to know what will work." That means you'll get better results more quickly, and you'll have the confidence to give your training your all. "I can't think of anything more important," says elite U.S. marathoner Kara Goucher. "You need to go to the starting line with total faith in what you've been doing to get there, or you won't have the confidence you need."
DO IT: Check thecoachdepot.com to find a certified coach or, for sport-specific instruction, try the coaching directories of the Road Runners Club of America (rrca.org), USA Cycling (usacycling.org), and USA Triathlon (usatriathlon.org). Before committing, interview prospective coaches about their credentials and approach. On a budget? Choose a trusted coach's Web-only program. Straight Web-coaching services are hit-or-miss, so check for specificity and variety in workouts before you sign up. (We like addaero.com and 2peak.com.)
BUILD A TEAM
Anyone privy to your goals—a coach, family member, or friend—can help you stay motivated by keeping tabs on your progress, but nothing keeps you on target like a training partner. "When you agree to train with someone, it brings responsibilities," says Jim Taylor, author of Prime Sport: Triumph of the Athlete Mind. "When you don't show up for a planned workout, you're no longer just letting yourself down; you're also disappointing your training buddy."
DO IT: Join your sport's local club and find partners with similar goals and schedules. Use networking sites such as bikewire.net and runnerslounge.com to compare workouts with fellow athletes, and share your activities on Facebook. Sign up for a charity training group like Team in Training or Team LiveStrong and raise money from friends and family. Knowing that people around you pitched in will keep you feeling accountable.
KEEP A PAPER TRAIL
A training log is the best way to chart the progress you've made, which will keep you fired up for more. "It's really important to watch your progression from week to month, from training to races," says pro marathoner Adriana Pirtea. "You can see you're on track. That's a big motivation."
DO IT: You can easily log your workouts at online training hubs like the Outside Fitness Center (outsideonline.com/fitnesscenter). There are a host of smartphone apps, such as TrailRunner, My Tracks, and Endomondo, that will help you maintain a wealth of exercise data, including routes, elevation, and calories burned—and let you chart, compare, and share with your friends.
Hit Your Peak
Pro-proved mental strategies to help you cultivate a winner's mind-set.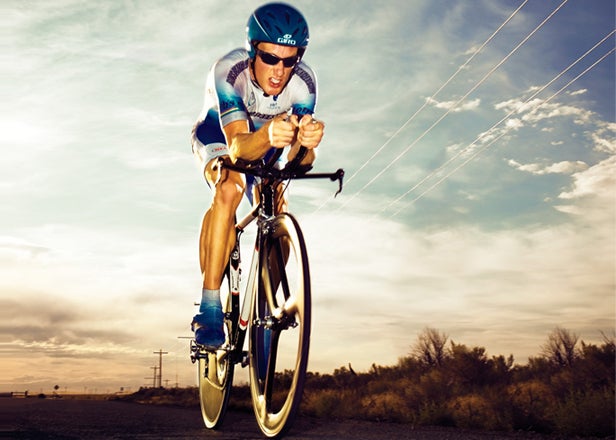 SEE THE FUTURE
If there's one mental strategy that separates pros from the pack, it's visualization. When you rehearse a move or performance clearly in your mind, the brain becomes more familiar with it, and it can control movements more easily in reality. "It's something that all the great athletes do," says Michael Sachs, a sport-psychology professor at Temple University. "There is certainly clear evidence in the scientific literature that it works."
DO IT: In the weeks and days before an event, spend 15 to 30 minutes daily visualizing how your race will unfold, from start to finish. Make the vision as vivid as possible, from the taste of the gels to how you'll feel as you cross the finish. Stressed out by competition? Imagine yourself calm and composed on the starting line. "There are countless studies showing visualizing a more relaxed state desensitizes you to the stress," says the University of Pennsylvania's Powers, "putting you at a more ideal level of stress during competition."
PICK A MANTRA
Pro athletes talk to themselves during hard workouts and competitions—repeating a few simple words to keep them in the right frame of mind. They may look crazy, but the habit short-circuits any defeatist thinking and keeps you in control of what your brain is telling your body. "I have a power word for when I'm racing," says Goucher. "When I run a marathon, it's 'courage'. When you're hurting in the race, you think of that word and it stands for all the work you did, and it helps you remember you're ready."
DO IT: Pick a few words to say to yourself when you're deep in the pain cave—first in training, then in races. Use positive language ("I can do it") and say it out loud if you can. Never mind the puzzled looks.
CUT THE EXCUSES
Think like a winner. Some athletes invent pretexts for why they can't succeed even before they hit the starting line. "It's a self-protective mechanism," explains Williamson. "If you go to a race focusing on your lack of training, you've created a justification in case you don't do well."
DO IT: The moment you start telling your buddy how little you've been training lately, stop yourself. Even if your conditioning isn't perfect, fixating on it will only make things worse.
BREAK IT DOWN
When you're dead tired halfway through a race, the finish line may seem unreachable. Don't let it overwhelm you. "The mind can make a 30-yard straightaway in 100-degree heat look like the horizon of the Pacific Ocean," says ultrarunner Hal Koerner, two-time winner of the Western States 100. "I shift my gaze to three feet. Or I choose a landmark to push to and then, once I've reached it, relax the tempo and pick the next challenge."
DO IT: Set up intermediate finish lines—the next light post, an athlete ahead of you, the crest of the hill—and once you're there, pick the next one. Distract your brain from the pain any way you can. "I like to listen to audiobooks when it gets tough," Karnazes says. "You might be dying, but if you put on a good book, hours can go by and you'll still find yourself captivated. It takes your mind off your body."
Beat the Burnout
Sick of the grind? Five ways to liven up your workouts and keep your training on track.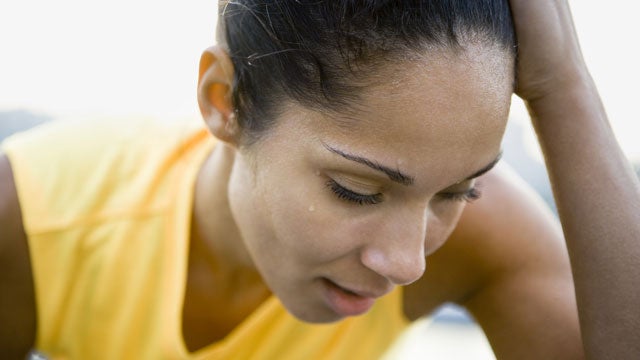 Pro tip
In for the Long Haul
GEORGE HINCAPIE has staying power. In his 18th season as a pro cyclist, the 37-year-old and 2009 U.S. national champion is still among the country's best. His secret? Committing to a full plate of competition. "A couple of years ago, I would have told you I'd be done by now, but I'm still enjoying it," he says. "It comes down to racing. There are goals that I still want to accomplish. I know that unless I work hard in training, the races are going to really hurt. It might be tough to go out when conditions are bad, but if I don't, the races will be even harder."
Running Burnout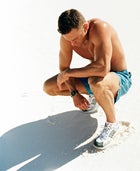 Really need a change of scenery? Bring a GPS and try to draw something with your track.
SICK OF IT: The same old routes
MIX IT UP: Throw in timed intervals and sporadic pace changes. Sprint for 20 seconds every time a red car passes you. Reverse directions on your favorite loop. Or do a one-way route—go as far as you can in one direction and arrange for someone to pick you up. Really need a change of scenery? Bring a GPS and draw something with your track. "You can get in a funk just doing the same thing every day," says Goucher. "Try something totally new."
SICK OF IT: Working out indoors
MIX IT UP: TV can help you pass the treadmill time in more ways than you think. Designate a buzzword and do a 30-second sprint every time you hear it. (If you're feeling strong, try "deficit" on CNN.) Or go hard during commercial breaks. If that doesn't work, add to the challenge. Unlike a stationary bike, mounting your ride on CycleOps Aluminum Rollers with Resistance ($360; cycleops.com) will have you focusing so much on balance that you won't even notice the clock.
SICK OF IT: Hard workouts
MIX IT UP: Stack your Shuffle with high-energy tunes. A team of British scientists recently demonstrated that the faster the pace of the music you listen to, the harder you go: a 10 percent increase in the tempo of a song led cyclists to exert 3.5 percent more power and cover 2.1 percent more distance in the same time. Start with runningmusicmix.com, which offers preset playlists of songs arranged by beats per minute. The Motion Traxx podcast releases free high-bpm mixes crafted for working out; Podrunner Intervals goes a step further and sets a soundtrack to your speed workouts, interspersing fast music with slow-paced breaks.
SICK OF IT: Early-morning training sessions
MIX IT UP: Buy the Brookstone Rise & Shine Natural Wake-Up Light ($100; brookstone.com). A progressively brightening light will trick your brain into producing more cortisol and adrenaline, which help you wake up. Schedule a buddy to meet you at least once a week—you'd bail on yourself, but you won't flake on a friend. "If you have to get out the door when it's zero degrees and still dark, you're more likely to do it if someone is waiting," Galloway says.
SICK OF IT: Everything about training
MIX IT UP: Turn workouts into playtime. Here are three fitness games that can help:
SIGN UP FOR A LOCAL HASH—an informal fun run in which you'll be asked to figure out the course on the fly, and finish with a beer (or several). Find a local group at gthhh.com.
SET UP A CHASE, with a weaker partner getting a head start proportionate to his ability. Or practice attacking: over a set distance, one partner surges and strikes to get away; the other tries to contain the attacks.
RACE YOURSELF. Garmin's line of sport-oriented GPS computers, such as the new Edge 800, for cyclists ($450; garmin.com), and the Forerunner 410, for runners ($325), let you to race against your past performances, a goal pace, or a track uploaded by a friend.