A Jungle Murder Mystery Heats Up
Ann Bender will once again be tried for the murder of her husband, an American financier who built a lavish mansion in the wilds of Costa Rica. This is what we know.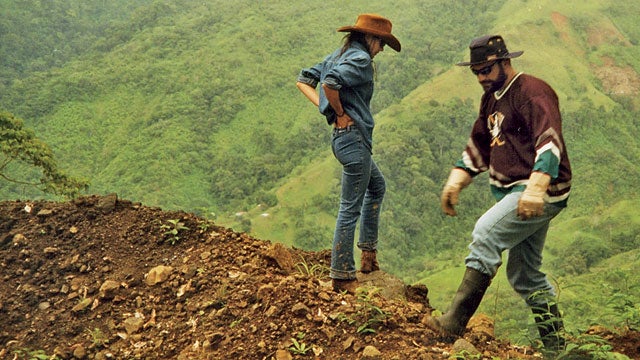 Heading out the door? Read this article on the new Outside+ app available now on iOS devices for members! Download the app.
Ann Bender, the multi-millionaire accused of killing her husband in their sprawling Costa Rican compound in January 2010, will again face trial for the murder. Last January, Ann Bender was acquitted of the crime. (Ned Zeman wrote about the crimein our June 2013 issue.) But a three-judge panel in Costa Rica recently overturned the acquittal, calling for a retrial.
Ann and John Bender had lived in Costa Rica since 1998, building a sprawling nature preserve on 5,000 acres in the Costa Rican jungle. John had made a multi-million-dollar fortune trading options before he cashed out, renounced his U.S. citizenship, and built his dream home with Ann.
On January 7, 2010, John Bender died of a gunshot wound to the head while in his bedroom on the fourth floor of the couple's sprawling, open-air 120,000-square-foot living space. Almost immediately, his wife was considered a suspect by the police there, and within weeks they had formally charged her with the crime.
The rest of the case reads like a paperback thriller. Both Ann and John suffered from bouts of depression and mania that sometimes lasted years. John had been injecting Ann with home remedies meant to heal various, undefined ailments. When police entered the home, they found 550 Tiffany lamps and $8.5 million worth of jewels scattered around the home. After John's death, Ann discovered that his fortune had been wrested away from her by the lawyer in charge of his trust. 
When a Costa Rican court acquitted her in January 2013, Ann felt that she could finally start over. She was ready to move near her mother in Florida. She thought the courts would soon return John's money to her, as well.
But this September, all of that changed. After the acquittal, the prosecution appealed the decision. (A tactic not allowed in the U.S., but legal under the Costa Rican judicial system.) Last month, the court overruled the acquittal, calling for another trial. The panel determined that the judges in the initial trial had neglected several "inconsistencies." Among them:
• That there was "clear indication that (Bender) was found in a sleeping position, which is strange because it does not fit with those who commit suicide."
• That "there was no gunpowder found on the victim's hand, which brings doubt to him firing the weapon."
• And finally, "although the accused did not have sufficient gunpowder residue on her hands, the judgment itself says she wiped her hands on napkins which did have gunpowder on them. They were found on a chair on the second floor."
"This is a persecution against me," Ann told a Costa Rican website in Spanish after the ruling. "And not just against me. Against my husband, against our dream, and against our life together. Why? I don't know. What I do know is that this is not justice."
No date has been set for the new trial.
Trending on Outside Online