You Should Be Drinking Canned Craft Beer
Canned beer has finally caught on, and that's a good thing.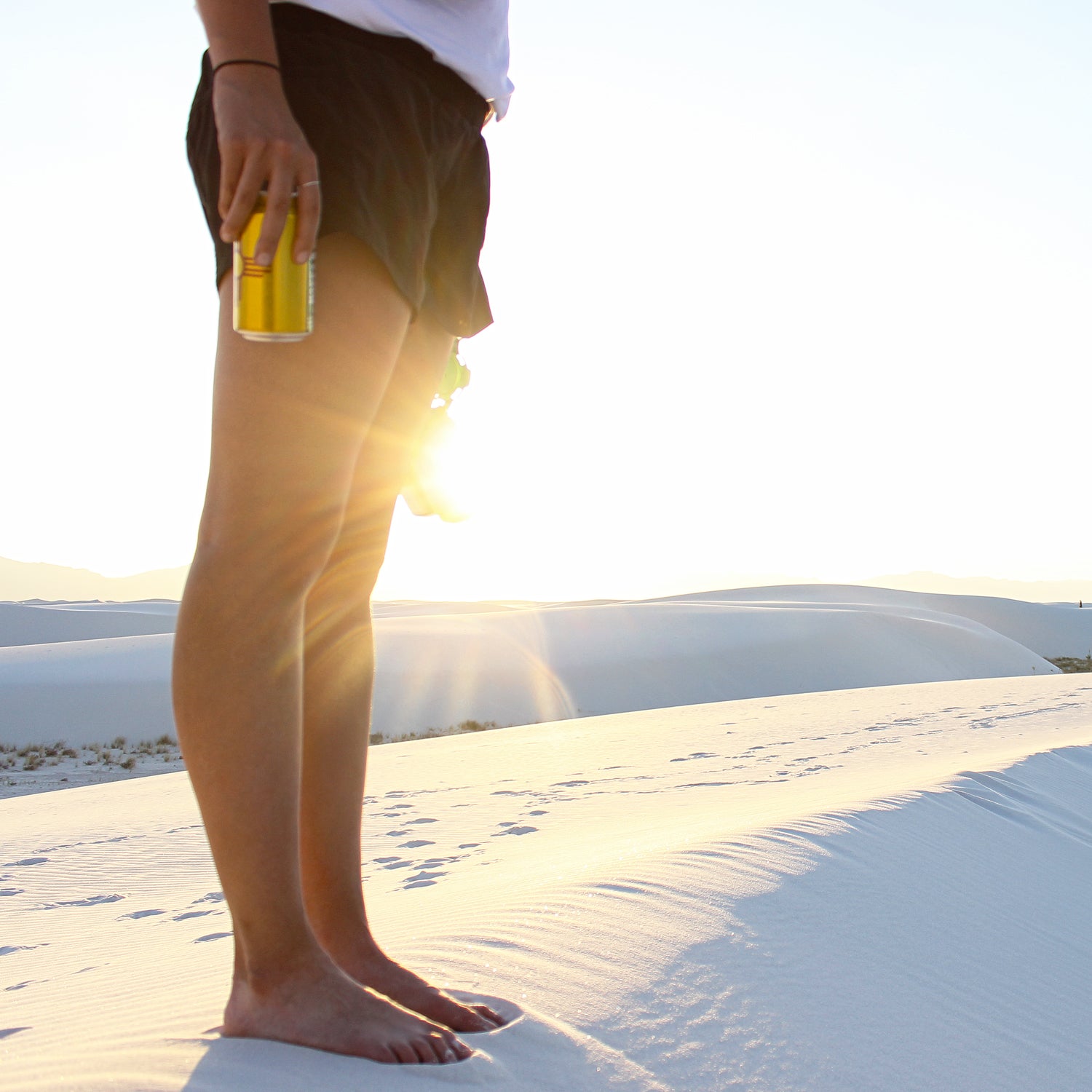 Hannah Weinberger(Photo)
Heading out the door? Read this article on the new Outside+ app available now on iOS devices for members! Download the app.
Finally there's an acceptable reason to say the words "nice" and "cans" in the same sentence.
Nice, cans! (with a comma), is okay when squealing about your favorite bottled IPA. Why? Despite the can's lowbrow reputation, cocooning beer in aluminum actually can keep the final product fresher.
"We always knew we wanted to be in cans," says Katy Jordan, marketing director for Dog Tag Brewing Company. "There was such a stigma against canned beer for such a long time but luckily we're moving away from that."
Chad Melis, the marketing director at Oskar Blues Brewery, which started producing canned beer before it was cool, remembers the stigma well. "In 2005 the New York Times named Dale's Pale Ale America's top pale ale and people were like, 'What the hell? ' Back then it was laughable to put a good beer in a can."
In 2005—when Oskar Blues won Best Pale Ale—there were 20 craft brewers producing canned beer. In 2013 there were 262, CraftCans.com, a website devoted to the canned craft-beer industry, reports. That's 1,210 percent growth in eight years. Caveat: the overall craft brew movement has exploded (sales were up 17 percent industry-wide last year alone). Even with its explosive growth, canned beer still only occupies 9 percent of the beer market.
But Claude Marbach, the vice president of sales and marketing at Rexam BCNA, one of the world's largest beverage canning corporations, thinks that percentage will grow. This year his company canned beer for more than 40 craft breweries, while a few years ago; it only had a small handful of craft beer accounts. You should be embracing the beauty of a good set of cans, too. Here's why:
#1: The Seal
"A bottle top has pores in it. But an aluminum-on-aluminum seal doesn't allow any oxygen in or out. Oxygen is bad for beer," says Melis.
#2: Aluminum Blocks Light
Hops are light sensitive. According to a 2001 study conducted at the University of North Carolina, when the isohumulones—or light sensitive compounds found in hops—are exposed to visible or UV light, they break down into free radicals, which produce a foul odor. That's why beer that's been exposed to light "skunks." While brown or green bottles can alleviate the issue, aluminum cans eliminate it completely.
#3 Aluminum Is Better for the Planet
"Aluminum cans are infinitely recyclable. The one you drink out of today can be recycled, smelted to can sheet, converted to cans again, and back on a shelf at your neighborhood store within 60 days," says Claude Marbach, vice president of Sales and Marketing at Rexam BCNA, one of the world's largest beverage canning corporations. "The U.S. aluminum-can-recycling rate is currently at 67 percent, which is more than double the rate of other beverage packages."
Cans also weigh less and can be packed compactly into pallets, meaning they take less fuel to ship. "We can get 100 cases of beer onto a pallet in cans, versus 60 to 72 cases in bottles," says Melis.
#4 Portability
"It fits into our lifestyle. If you want to go biking or kayaking, you can just throw a few in a backpack and not worry about it," says Marbach. "Cans provide a vessel that's totally portable. When we thought about it, it wasn't just, 'This is something we should do,' it was, 'This is something we have to do.'" With cans, you don't have to worry about glass breaking the backcountry and you can crush them after you're done drinking. Win.
Want to try a few new canned beers? These brews took home awards at this year's Sixth Annual Canned Beer Fest, held last month in Reno, Nevada.
Best Lager: Brooklyn Brewery, Lager
Best Hybrid and Wheat: SanTan Brewing, Sunspot Gold
Best Pale Ale: Nebraska Brewing Co., Cardinal Pale Ale
Best Dark Ale or Lager: Southern Star, Buried Hatchet Stout
Best IPA: Oskar Blues, G'Knight Imperial Red IPA (Also won Best In Show)
Best Belgian, Fruit, Spice or Specialty: Sockeye Brewing Company, Summer Ale
Crowd Choice: Dog Tag Brewing Company
Lead Photo: Hannah Weinberger