Lonnie Dupre Just Solo Summited Denali. That's a Huge Deal.
Explorer's solo winter ascent is one of the most impressive feats in contemporary mountaineering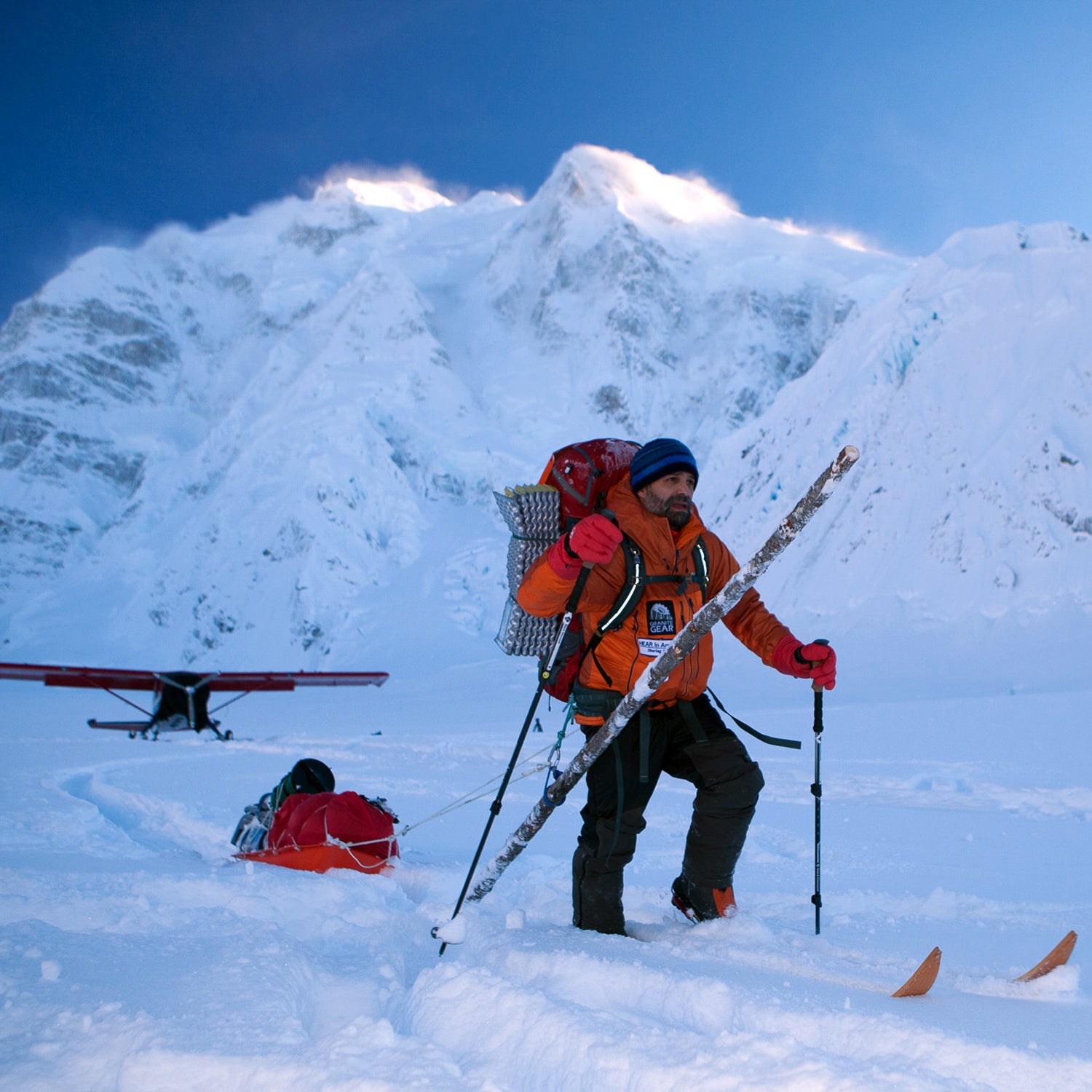 John Walter Whittier(Photo)
Heading out the door? Read this article on the new Outside+ app available now on iOS devices for members! Download the app.
By New Year's Eve, Lonnie Dupre had been pinned down for four straight days in his small tent at 11,200 feet on Denali's western flank, uncertain if he'd be able to continue his ascent of the mountain. Facing whiteout conditions and battered by horizontal-blowing snow, he couldn't even emerge long enough to descend a mere 600 feet to retrieve critical supplies for fear of suffering cold exposure or getting lost. 
"It's almost suffocating when the wind's carrying that much snow and it's that strong," Dupre said in a satellite phone call recorded on his blog.
For the past four years, Dupre has set out to make mountaineering history by becoming the first person to solo summit North America's highest peak in the month of January. The 53-year-old Minnesotan explorer is the first person to have circumnavigated Greenland using nonmotorized transport—in 2001, via dogsled and kayak—and he covered 3,000 miles of Arctic snow during a dogsled expedition through the Northwest Passage in 1991–1992.
But on Denali, it appeared Dupre had met his match. During his first three attempts up the West Buttress route, in 2011, 2012, and 2013, he didn't make it higher than 17,200 feet—less than one day's travel from the top of the 20,237-foot peak—before harsh weather forced him to turn around. Undaunted, Dupre returned to the Alaskan Range each winter for another crack at the mountain. Finally, on January 11 of this year, after 25 days of climbing alone, he reached the top. 
Thousands of climbers have summited Denali in summer months, when the weather is most favorable and help is nearby. In 2014, more than a third of the 1,204 people who attempted Denali made it to the top. Only an elite subset of climbers have dared attempt the feat in the dead of winter, and fewer have made it to the top—16, to be exact. (Six people have died on winter expeditions.) Most were climbing in teams, which affords a small measure of safety that Dupre didn't have. Ascending in January "is like heading out onto the moon by yourself," says Tucker Chenoweth, a mountaineering ranger on Denali since 2002. "There's nobody there." 
That's what makes Dupre's achievement historic. On a mountain that has become increasingly modernized with route markers and safety infrastructure, his journey was more akin to the first attempts on Denali that occurred more than a century ago.
"Soloing in the summer is not really true soloing. You're surrounded by other people. I think what Lonnie has been doing is true soloing. There's really no backup."
With vertical relief of more than 13,000 feet, the climb up Denali's West Buttress route presents the greatest distance from base camp to summit of any of the Seven Summits—more even than Everest. In the early days of Denali mountaineering, climbers had little hope for rescue if they got into trouble. Just getting to the base of the climb required dangerous travel across the wild expanse of the Alaska Range. A judge in Alaska's Third Judicial District named James Wickersham is credited with the first attempt on the mountain, in 1903. He hit a seemingly impassable wall of ice partway up and was forced to turn back. It wasn't until 1913 that a party led by Harry Karstens and Hudson Stuck reached the true summit, via the Muldow Glacier route on the east side. (The West Buttress route, widely considered the standard route up, wasn't pioneered until 1951.) Climbers in those days carried only the most rudimentary gear: hemp ropes, silk tents, moccasins, and an early version of crampons known as "ice creepers."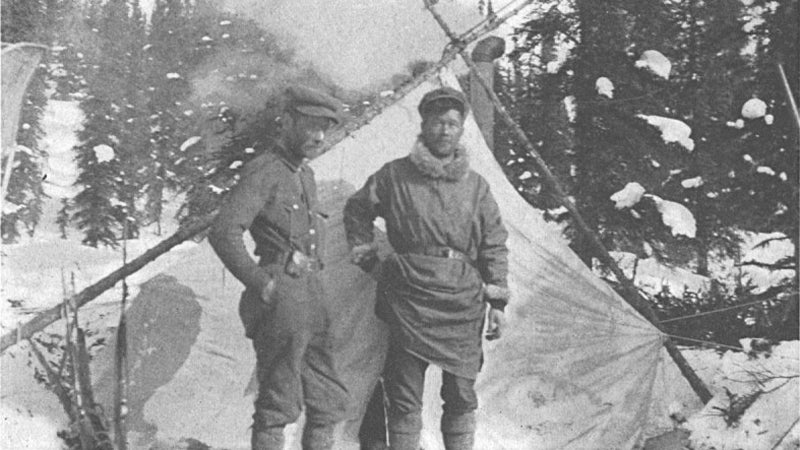 In February 1967, a team led by Art Davidson, Dave Johnston, and Ray Genet achieved the first winter summit. On just the second day of their trip, they lost one team member in a fatal crevasse fall. When Davidson penned his classic memoir of the expedition, he named it Minus 148 Degrees in reference to the lowest temperature the group experienced on its journey.
"At twenty-two I came to regard the first expedition to Mt. McKinley in the winter as a journey into an unexplored land," Davidson wrote. "No one had lived on North America's highest ridges in the winter twilight. No one knew how low the temperatures would drop, or how penetrating the cold would be when the wind blew. For thousands of years McKinley's storms had raged by themselves."
Today, upwards of 1,200 climbers tromp up Denali's expanse each year (96 percent of them via West Buttress), and each is forced to contend with the inherent dangers of high-altitude trekking: crevasses, frostbite, altitude illness, and hypothermia. And that's in May and June—the months with the highest summit success rates—after the severe cold of winter wears off and before late summer and fall, when warm temperatures turn Kahiltna Glacier on West Buttress into a minefield of crevasses.
In summer, climbers can avail themselves of ample resources to support their journeys. A battery of professional guides is available to plan and assist with trips. National Park Service rangers maintain stations at base camp and camps at 14,200 feet and 17,200 feet, and are poised to lend a hand when there's trouble. The service even keeps physicians on hand to treat cases of altitude illness, frostbite, and other injuries. There are roughly 1,000 feet of fixed lines above 14,000 feet that climbers jug up in the summer and bamboo wands in the ground indicating the proper turns in the route. Most of the time, it's so well traveled that climbers can follow in the footsteps of the person who came before them. In the event of a serious injury, climbers can hope for a helicopter rescue or at least a flight out on a plane from base camp.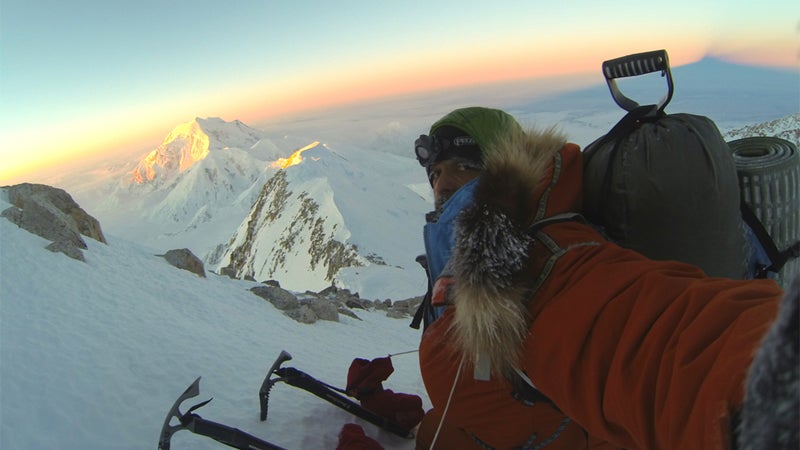 Winter is a completely different experience. The hand lines aren't maintained, the rangers and doctors are off for the season, and you'd be hard-pressed to find a willing guide. Pickets—the long steel stakes pounded into the snow that climbers clip to for safety—are almost certainly buried in snow and unavailable, which means a climber is more likely to fall and get hurt. In short, Dupre was completely on his own, miles from another human being, and surrounded by perilous mountains.
"Soloing in the summer is not really true soloing," Chenoweth says. "You're surrounded by other people. I think what Lonnie has been doing is true soloing. There's really no backup."
Without his experience in the poles, the climb might have killed Dupre in the manner in which the mountain has killed other climbers. "The low visibility and extreme winds made ending up in a crevasse or being blown from your feet and off the mountain a real possibility," Dupre said, according to a press release issued by his expedition company, One World Endeavors, the day he summited. (To safeguard himself against a potentially fatal plunge into a crevasse, Dupre clipped a 10-foot-long black spruce pole to his body.)
Frigid temperatures and crevasses notwithstanding, Dupre also had to cope psychologically with his circumstances. More than two weeks into the climb, waiting at 14,200 feet for the weather to let up, Dupre issued another satellite phone call: "There's nothing worse than having to stay put—especially when you have 18 hours of darkness every evening," he said. "It makes for very long nights." At one point, he slept for 19 hours straight just to conserve his energy and calories.
Dupre relied on painstaking logistics and custom-designed gear to be successful. For traveling on the lower mountain, he used eight-foot-long wooden skis he crafted himself. The extra-large skis gave him additional flotation for traveling over crevasses. His 165 pounds of gear—including a five-week supply of food—he dragged behind him in a sled, at first. Once the terrain got steep, he switched to hauling it on his back.
The challenges the first ascenders of Denali battled—the ones most modern climbers go out of their way to avoid—were the same ones facing Dupre during his journey. However, Dupre did carry a Spot locator and a satellite phone to be able to call for help. But, according to Chenoweth, a rescue would be "very slow" and "improbable." He was on his own, and the dangers were very real.
"It's that big adventure spirit at its highest level," Chenoweth said. "You're doing something that not many other people are doing. Your decisions have consequences, and you're accepting that." 
Lead Photo: John Walter Whittier
Trending on Outside Online