Truth or Consequences
Does wilderness therapy help troubled kids? After a gang of teenagers staged a violent mutiny in the badlands of Utah, we joined the search for answers.
Heading out the door? Read this article on the new Outside+ app available now on iOS devices for members! Download the app.
Sheriff's Office press release, Iron County, Utah, 8 A.M., December 5, 1999: "On Saturday, December 4… eight male juveniles, students at RedCliff Ascent, a wilderness-based youth custody facility, assaulted and overpowered their camp counselors, tied at least one of them up, and escaped into the hostile West desert of southern Utah…. At dark Saturday night, one of the youths had been caught after he stopped running because of an apparent illness; the other seven youths are listed as still at large."
Marty Stock, 23, RedCliff Head Instructor: "I was hit hard in the back of the head but I thought it was an accident. I spun around and there was one of the kids winding up again. Grand slam. I figured it out right then. They were all in on it. I knew I had to take this kid out fast but then they jumped me and started pounding me on the head with sticks. I was moving and ducking. I pulled one guy down on top of me to use him as a shield but another kid was teeing off on my legs, trying to break them. I was running through the scenarios. I realized it was bad. The other counselor, Sunshine, might get away and radio for help, but then they might overtake her and hurt her. If I kept fighting she would keep fighting and then they would have to hurt her."
Sunshine Fuller, 22, RedCliff Counselor: "I thought they were wrestling at first, then I saw the boy swinging the stick at Marty. I threw my arms around the two kids sitting beside me and pulled them down to the ground in a bear hug. Then there was someone coming behind me and I heard Marty yelling, 'Sunny, don't fight! Don't fight!' They bound our hands and feet with parachute cord and duct tape. They hog-tied Marty and left him on the ground and tied me to a tree. The whole time they were tying us up they were apologizing. They kept saying it was nothing personal. They're just smart enough to be stupid. I think they only wanted to go home."
Iron County Sheriff David "Dude" Benson: "Our objectives are threefold: One, catch the kids and see that they're punished; two, protect the lives and property of our citizens; three, provide for the welfare of the kids 'cause they've done some dumb stuff here, but they are still just kids. It might do them good to spend a night out in the cold, maybe that and an empty stomach will encourage them to turn themselves in."
Marty Stock: "It was definitely premeditated. We had this inkling from the beginning. You get a feel with a group. The ringleader never hit me. He just watched. While they were tying us up we told them to take water, take food, take sleeping bags, take warm clothes, take the water purification drops. But they were scared out of their minds. They were frantic. They were trying to act tough, but they were panicking. They said the reason they hit me in the head was they were trying to knock me out. I said they sure did a piss-poor job of it and they said it was harder than it looked in the movies. After they fled, I rolled across the ground and recovered a Swiss Army knife from under the tarp. Sunny opened it with her teeth and I eventually cut my hands free."
---
When I arrived in Cedar City, Utah, Sheriff Dude Benson, just back from a domestic dispute that had briefly distracted him from the search for the RedCliff fugitives, invited me into his office. The heads of two large, well-antlered mule deer hung on the wall behind his desk. Because the suspects were juveniles, the sheriff was not permitted to give out their names, but they ranged in age from 14 to 17 and came from all over the United States—Pennsylvania, New York, Connecticut, Illinois, Texas, Oregon.
The teenage desperadoes were eight of 1,800 kids who have gone through the RedCliff program, which operates out of the tiny town of Beryl Junction, Utah, 37 miles west of Cedar City. Headquarters is a nondescript tract house with farm sheds around back. Steve Petersen, a youth treatment counselor who wears a hooded wrestler's sweatshirt to work and has forearms the size of hams, cofounded RedCliff with three partners six years ago. A few years earlier, Petersen had been working in a juvenile lockdown facility in Utah when he got permission to take eight kids to the Wyoming ranch where he grew up. They slept in the basement in sleeping bags, branded calves, and baled hay until they were too tired to move.
"They just plain thrived," Petersen recalls. "I saw a different behavior in these kids than I did in lockdown. They had all been getting this high-intensity therapy, but it wasn't reaching them. They probably knew more than the therapists in a lot of cases. They could give you all the right answers. But outdoors, talk is cheap. Outdoors, you can't fake your way."
RedCliff runs its courses inside 560 square miles of BLM land. Tough, dry, juniper and sagebrush country. The adolescents—usually both boys and girls—are driven into the mountains blindfolded. Their gear is minimal. Each kid has been taught how to make a backpack from a tarp, a wool blanket, 20 feet of parachute cord, and 12 feet of seat-belt webbing. Everything they need to survive—a large enamel cup, a week's worth of rice, lentils, raisins, oats, sleeping bag, sleeping pad, but no knife or matches—is rolled up inside. There is one counselor for every three or four kids. They travel through the wilderness in bands of 12 or less. All meals are cooked over a campfire and every night is spent beneath a tarp.
'They had all been getting this high-intensity therapy, but it wasn't reaching them,' Petersen recalls. 'They probably knew more than the therapists in a lot of cases. They could give you all the right answers. But outdoors, talk is cheap. Outdoors, you can't fake your way.'
There is no set graduation date. Kids stay out in the wild as long as it takes them to complete five "phasebooks" of wilderness skills. The average stay is 56 days; the record, held by one particularly long-suffering boy, is 171. Each kid participates in individual and group therapy once a week, often around the campfire; every night, each kid is required to write a journal entry, a poem, and three goals for the next day. The bands are almost constantly on the move, hiking through desert and mountains in 100-degree heat or snowstorms. Approximately 60 percent of the kids are sent to RedCliff by their parents, the rest by caseworkers or Utah judges who assign juvenile offenders to RedCliff in lieu of incarceration. The program is not cheap: $335 a day for private kids, $130 for state-ordered teens.
Runaways are not uncommon, but they're usually caught within a few hours. The December incident was the first time an entire RedCliff group escaped.
---
Jonathan Mroz, 18, 1996 Redcliff Graduate: "We wanted to kill our counselors, too. We thought about it every night. On the hikes we would come up with ways to jump them. But we never did it—out of respect. They earned our respect. They were able to hike those 20 miles and take care of themselves in the wilderness. I was a little punk when I went out there. I was 15 and very violent. I got kicked out of military school for fighting. Every time I got into trouble my family saved me—until they sent me to RedCliff. It was an awakening. It was humbling. I thought I was a big shit and quickly found out I wasn't. I thought I could kick the world's ass. But you can't kick the wilderness's ass.
"At first it was amazingly difficult. Being stuck out there in the desert. What am I doing here? Why am I here? I didn't want to do anything and my whole group suffered. I was a runner myself; I tried to escape. I made it 250 yards. The turning point was when I realized I was here and I might as well make the best of it. I was out there for 90 days and, looking back, I wish I'd stayed out longer."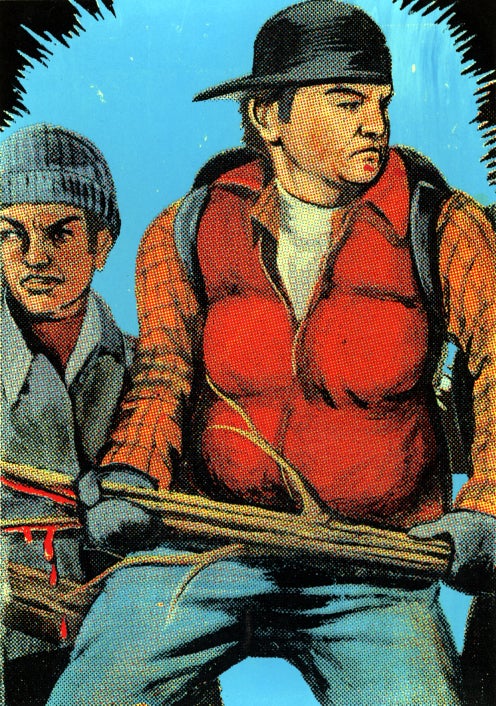 Sheriff's Office press release, December 5, 1:30 P.M.: "Due to being tired and cold, one of the runaway juveniles has turned himself in near the Circle 4 Pig Farm in Beaver County."
Joshua Mendenhall, Redcliff Program Director: "Anybody who has had a fairly normal adolescence can think back and recall doing foolish things that probably had them on the brink of disaster. There are three myths of youth. One, I'm smarter than everybody else and I can't get caught. Two, I'm immortal and I can't get hurt. Three, nobody on this earth has ever felt the way I feel. Spend enough time outdoors and you'll sort through all three.
"The first couple of weeks kids are here, before they 'land,' they'll say, 'Well, when I get back to the real world….' But the wilderness is the real world. As soon as a kid accepts this, basically gives up trying to give up, he's landed. Then he's ready to learn. We teach them how to build a fire with a bow and drill, how to build a tarp shelter, how to make themselves comfortable in the wilderness. Once they can do this, after about a month, they can go on solo. All solo really is, is camping by yourself for 24 hours. The counselors are actually only a few hundred yards away, checking up on the youth all night long, sometimes every hour, but the kid feels like he's all alone and must fend for himself and that's what counts.
"For most of them it's the first time in their lives they've actually been alone. You can't be alone at home in town. You have a telephone and a TV and radio and friends and cars driving by. Most of these kids have spent a lot of time running away from themselves, so going on a solo is a big deal. Without parents or caseworkers or probation officers or peers, they have to make peace with themselves."
'I thought I could kick the world's ass. But you can't kick the wilderness's ass.'
Crystal Bray, 17, 1999 Redcliff Graduate: "Car theft, sloughing off at school, not coming home, violating probation. A whole bunch of stuff. I wasn't into drugs but I was drinking a lot. The judge sent me out here. I thought camping meant sleeping in an RV. I was like, 'I'm going to die! I have to sleep out in the cold in a sleeping bag in a shelter? I'm going to have to eat rice every day? There's no way I'm going to survive.' But I did. I was out there for 55 days.
"I was used to having somebody to fall back on. I was used to having somebody get me out. But out here you have to figure out how to be your own person. Every day we would get up in the morning and cook our oats on the fire and pack up camp and hike. We would hike for miles. They never told us what time it was, how early in the day it was, how long our hike was going to be, or where we were going. It was like, 'Hey, we're here.'
"It would rain or snow and sometimes we'd put our tarp over the fire because that's all we had. And then after we ate, we would go to bed in our sleeping bags and wake up and do it all over again.
"I went on solo on my 26th day. I was so scared. I didn't think I was going to get a fire or anything. I thought I was going to be eating cold. I didn't know if I was going to be able to build a shelter. And then I just got out there and didn't even think about that stuff. I got the fire going right away, set up my shelter, ate, wrote in my journal, and went to bed.
"I was lying there all by myself, and that's when I changed. I was like, 'You know what? This is where it's at, right here. This is what it's about. This is where I can change.'"
I met Crystal the day she came out of the wilderness. She was blonde, ruddy-faced, and covered with dirt, with a handsewn leather talisman around her neck. She couldn't stop smiling, as if she had a secret she was dying to tell.
---
Sheriff Dude Benson: "Believe you me, we're doing all we can do. We've had two helicopters out there and 15 to 18 officers and volunteers searching day and night. The kid who turned himself in today over in Beaver County said, 'I saw your helicopter so I knew you were going to catch us.' I hope we catch the rest of the kids and I hope they're safe."
Marty Stock: "While they were tying us up we were trying to help them. Their safety was our biggest concern. They kept saying, 'Quit being so fucking nice.' I almost had two or three of them talked into staying when the kid who initiated the attack said, 'Look, you shut up or else I'm going to finish the job.'"
'While they were tying us up we were trying to help them,' says counselor Marty Stock. One of the kids who attacked us said, 'Look, you shut up or else I'm going to finish the job.'
Dan Sanderson, Redcliff Clinical Director: "Typically, when kids come into our program, we see them avoiding the business of their life. They've figured out the system—their parents, the schools, the courts—and realize they really don't have to deal with the difficulties or responsibilities in their life, that they are entitled to not have to deal, that someone else will eventually manage that for them so they don't have to worry about it. Or they've determined that they really don't have what it takes to deal with their lives.
"Most adolescents get to a point in their treatment where they are willing to admit that their style of coping has been less than effective; unfortunately that's where most treatment stops. Right at that 'Ah-ha!' moment, that insight. But the next step is crucial—to experience doing things differently, so you actually know what it feels like to succeed on your own.
"RedCliff doesn't emphasize the survival aspect of living in the wilderness. We just give them a series of problems that they need to overcome. It's not rocket science. Learning wilderness skills—fire building, shelter building, plant recognition, star recognition, stamina, all of it—provides the teenager with a new catalog of emotions to fall back on when he returns to his old environment."
Karen Mroz, Jonathan's Mroz's mother: "Parents shouldn't expect RedCliff to be a miracle. That's the wrong assumption. It is better than anything I know of—military school, prep school—but it's not a panacea. It's the place to go to start a new process. It's a place for a kid to go to get time-out from the rat race of being a teenager. RedCliff is not a boot camp. A boot camp wouldn't have done anything but scared the hell out of my son."
---
In 1990, Michelle Sutton, 15, who was enrolled in an Arizona wilderness therapy program, died of dehydration after her counselors failed to take seriously her severe physical distress. Two months later, Kristin Chase, 16, collapsed and died after a five-mile hike in hot weather while participating in a Utah program. In 1994, Aaron Bacon, 16, died of acute peritonitis during the course of a different Utah-based wilderness program. (Outside covered this incident in October 1995.) None of the companies involved with these fatalities is still in operation.
"After those deaths we tightened up everything," says Ken Stettler, the quality assurance manager for Utah's Division of Youth Corrections. "We now have the most stringent outdoor program licensing standards in the U.S." To retain its license, a program must observe a wide range of safety rules, including 24-hour supervision of all students and frequent medical examinations.
I tried hard to find something amiss at RedCliff, some story of abuse and depravity. I interviewed counselors, kids, parents, and later signed up for a course and was taken blindfolded into the field with a group. I slept under a tarp, learned how to make a bow-and-drill fire, humped my pack through the desert. No screaming drill sergeants, no coercion, more food than you could eat, plenty of water. If you don't feel like walking, you can sit in the snow, and everybody waits. If you're on a solo and you don't feel like building a fire, you sleep and eat cold. All up to you. It was little different from an expedition, except that the mountain these kids were climbing was in their heads.
---
Iron County Sheriff's Office press release, 10:30 A.M., December 6, 1999: "Four of these young men headed south and west in our search area…. They remained out of sight and ultimately decided, collectively, that one would hitchhike and find a vehicle to steal and come back and get the others…. [This individual was apprehended] in White Pine County, Nevada. We were informed, and he told us the other kids [were waiting] near Modena, Utah. The Iron County Sheriff's Office responded en masse and the youths were taken into custody without incident. Six out of the eight are now in custody.
"The kids were tired, dehydrated, and cold. They were transported to Youth Detention in Cedar where they will be charged with: one count felony aggravated assault, one count simple assault, and one count theft.
"We are still concerned with the two that are still outstanding and will continue to search."
It is an immutable American belief that wilderness can mend the broken soul. Read Thoreau, Stegner, Whitman's Leaves of Grass, Hemingway's "Big Two-Hearted River." Faith in the purifying power of the spartan, vigorous outdoor life is part of the American self-image. And there has always been plenty of anecdotal evidence, but only in the past few years have social scientists started quantifying the rehabilitative nature of nature.
"I track the frequency and severity of criminal behavior before and after youths have gone through a licensed wilderness therapy program," says Doug Nelson, an associate professor of recreation at Brigham Young University in Provo, Utah. Nelson is one of the pioneers of wilderness therapy; he started the Boulder Outdoor Survival School in 1980, and then founded the Aspen Achievement Academy in 1989; both are still in operation. He has documented substantial reductions in crimes such as burglary, theft, drug possession, and assault after kids attend a wilderness program—reform that contrasts dramatically with the high rate of recidivism in teenagers who remain in the conventional juvenile justice system.
"The key element to outdoor programs is that the wilderness itself provides the structure and consequences. If a kid's food is uncooked and he's cold, well, who made those decisions? In lockdown facilities the personnel are contriving the structure and the kids feel manipulated. They look at the personnel and say 'It's you, you're controlling my life.'
"Clearly there are reasons the wilderness works," Nelson says. "You can't buffalo Mother Nature. You can't manipulate Mother Nature. You can't make excuses. Mother Nature doesn't care."
---
Iron County Sheriff's Office press release, 8 A.M., December 8, 1999: "At approximately 1:00 a.m. we received information from a Union Pacific railroad train conductor, that a boy matching the description of the youth in question was standing near the tracks attempting to stop the southbound train…. Sgt. Bret Allred was first on scene and picked up the boy who was turning himself in…. He said the other boy was not with him because he was too cold and tired and also sick and could not go on. The boy was quick to take us to the other missing youth…. Both boys were glad to be caught; both of them were treated for possible hypothermia and dehydration; both boys were then transported to the Youth Detention Center in Cedar City and charged with one count felony aggravated assault, one count simple assault, and one count theft."
Sheriff Dude Benson: "If this were a football game, then we had the home field advantage. Mother Nature, the game's most valuable player, forced the boys out-of-bounds with a well-timed snowstorm and freezing temperatures late in the fourth quarter on what turned out to be the game's final drive. I am proud of my team and happy for the boys and their families."
Marty Stock: "It's really sad, because we knew. We told them. When they started beating me I didn't know if there was a way out for them. Once they took that first swing and everybody jumped in, they were already down that road. It's just sad. But I still think they're recoverable. I don't like to say that any student is unrecoverable."