How Much Does It Cost to Climb Everest?
And why does it vary so much?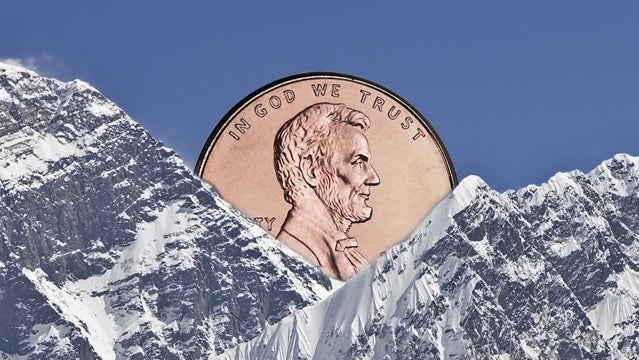 Heading out the door? Read this article on the new Outside+ app available now on iOS devices for members! Download the app.
High-altitude mountaineering is a pay-to-play game. If you're going to attempt to climb Mount Everest you're going to shell out a minimum of $30,000. Most western guiding companies charge around $65,000, and if you're going all-out on a private expedition with an imported chef and constant access to Instagram, your trip might run as high as $100,000.
The median cost hasn't changed much over the years, despite more technology and rescue options, additional guide services, and increased government regulation. Many operations that were charging $65,000 in the '90s are still selling trips at that same rate in 2013. Cheaper expeditions have increased their prices due to legislation from the Nepalese government that mandated how much Sherpas and porters have to be paid, and there are more "budget" Sherpa-guided operations available, but, for the most part, Everest might be one of the few places in the world that has escaped inflation.
There are some fixed costs that every climber has to pay, regardless of how they climb or who they climb with. Climbing permits, issued by the Nepalese government, cost $70,000 for a party of seven, or $25,000 for an individual climber. Every group pays camp fees, like a garbage and waste deposit, and pays a local government liaison to stay in camp with them. "They're there to make sure that if you've got a permit for Nutpse, you're not climbing Everest," says Gordon Janow Director of Programs for Seattle-based Alpine Ascents, which has been guiding Everest trips for 15 years.
At Base Camp, all the teams combine forces to pay for the camp doctor and to pay Sherpas, commonly called Icefall Doctors, to set the fixed ropes, so that the equipment that everyone uses to traverse the Khumbu Icefall is in place.
Then there's gear, and getting to Base Camp, which is pretty consistent, price-wise, across the board. For instance, oxygen costs $500 a bottle, and climbers typically bring 6 bottles; a yak to transport your gear to Base Camp will run you $150 a day.
Because of that, Everest season is a boon for the local economy. "About $3 millions comes in to the Nepalese economy through permits," says Alan Arnette, a journalist and climber who runs a detailed blog following each Everest season, "And I bet half of that again goes to the tea houses, the local guides and food, heli companies, and hotels in Kathmandu."
Some of that is regulated. Because a percentage of the money from the permit goes to keeping Everest and the surrounding areas clean, and having local representatives in place to monitor the teams, the government pays local workers as do the climbing groups. The Nepalese government has mandated a minimum wage for Sherpas, but Janow says that Alpine Ascents, and many of the other western groups, will pay their crew more than that to assure that they have the same local teams in place year to year.
That wage range is a significant cost factor. The biggest monetary variable is which group you chose to climb with, and how they run their operation. Smaller climbing  teams with higher guide-to-client ratios, and larger support systems are more expensive.
Lower budget companies tend cut costs by having smaller staffs, which drops their overhead. They also can keep costs low by hiring local base camp staff instead of flying teams in, and then not paying those people very much "It used to be that you only had western guides. Guides from Europe, New Zealand and the U.S. were the only ones that had the skills to fix ropes and trained in medicine, but now the Sherpa community has improved their skills," Arnette says.
Western guides are more expensive—Janow says they pay their guides $20-50,000 for the season—and the higher budget companies also shell out for things like customized weather forecasts. Janow says that they bring a backup for all of their gear and mechanical systems to basecamp, and that they also have a deep staff. "To keep it running smoothly we want to always have someone available to heli someone out, or deal with anything like that. So there's always a backup manager on," he says.
Then, there are extravagances, like a personal film crew, or elaborate meals, which some crews deem necessary to keep climbers, who typically loose their appetites at altitude, eating. "If all you want to eat is dal bat, that's pretty cheap," Arnette says. "But some guides will fly in steak, others will have beer and wine, a lot of people have sushi. Jagged Globe prides themselves on having a chef from Europe."
Even in a highly planed environment like Everest, where logistics teams work all year to make sure expeditions go smoothly, there are some uncontrollable variables. "There's a sliding scale of everything," Janow says. "You've got these general ideas of how it going to work, but then you never know. This year I have over $10,000 in freight, just paying airlines. Last year I had a $4,000 Wi-Fi bill."
More of Outside's Everest Coverage