Will Gadd Conquers Niagara
The world's best scales an iconic (frozen) waterfall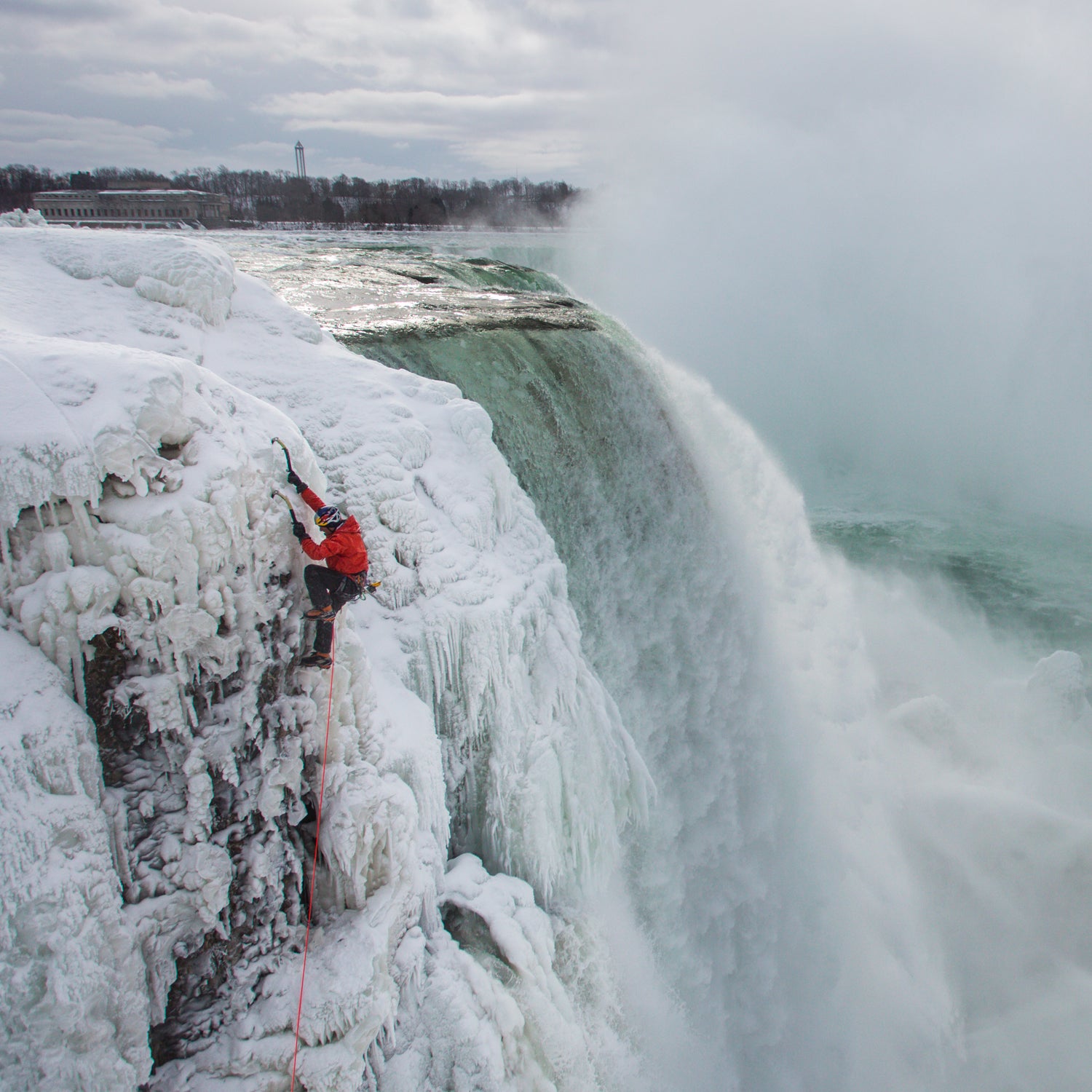 Heading out the door? Read this article on the new Outside+ app available now on iOS devices for members! Download the app.
Will Gadd is the most well-known ice climber in the world. He has three X Games gold medals under his belt and took first place in the international Ouray Ice Festival in Colorado earlier this month. On Tuesday, grainy footage emerged online of the 47-year-old scaling a frozen section of Niagara Falls. The clip went viral, and on Thursday, Gadd announced through Red Bull that he had made the first-ever ascent of one of the most iconic natural features in North America.
On Friday, after a whirlwind media tour that involved Good Morning America and USA Today, Gadd sat down with Outside (which he says is his favorite publication).
OUTSIDE: First, let's get the backstory on the Niagara Falls climb. That seems pretty risky.
GADD: I've always wanted to climb Niagara Falls. It's one of the largest waterfalls in the world, and parts of it do occasionally freeze. But it never really freezes completely, and you're never going to get permission to climb it even if it did, so there's two strikes right there.
About a year ago, Red Bull and I started talking about cool things to do, and that was on the list. I was like, No, that will never work. You can't get permission. They said, We're good at that. It took a lot of assurances to the local people that this was not a stunt, that this was something I could do with a reasonable degree of safety.
You're known for, forgive me for using the word, "stunts." How difficult was this for you when compared with some of your previous climbs?
It's one of those things that you really have to get right. It's not just climbing a waterfall. When I pulled off the ground, I was carrying the weight of everybody involved in the project that wanted it to go well. Also, we'd been talking with officials about having ice climbing in New York state parks. So there are a tremendous amount of positives if things go well and a tremendous amount of negatives if things go poorly. You can't screw it up.
[quote]"That's 4,000 semi trucks a second ripping off the lip of that thing. The earth shakes down there. Shit's real."[/quote]
Then there's this massive waterfall ripping over my shoulder, and I don't care who you are, that's going to put some butterflies in your stomach. Six million cubic feet of water per second. That's 4,000 semi trucks a second ripping off the lip. The earth shakes down there. Shit's real. Technically, I've climbed harder things, but never on a stage like that, in such a dynamic environment.
If I fell, I was going to fall into what we were calling the Cauldron of Doom. Normally on an ice climb, if you fall in the first 20 feet you might land in the snow and walk away. Here, if you fall, you go into the world's most savage mixing bowl. And it is going to fuck you up.
In a previous interview you said that when money comes into a sport, it brings problems. Did doing such a big-production climb take something out of it for you?
Ninety percent of the days that I go climbing, it's me, one other person, and a goat out there. Ice climbing's still low-key. Stuff like this is where I go to work. And I'm used to competing. I've done a lot of competitions, so I have the mental tools to deal with pressure. But there comes a point in all these things where you have to stop thinking about everything else but the climb. Niagara Falls doesn't give a shit if there's a production crew there. If I don't pay attention and get it right, I'm going to get killed.
An amateur photographer received some notoriety when he posted video of some of your early work on the [Niagara Falls] wall. It's got to be a funny thought to have to care about everything else around the climb rather than just the climb itself.
I've done some things that have definitely got attention over the years, but I just wanted to climb Niagara Falls. All of a sudden, I'm getting a call from People. What do you do with that? I'm an ice climber from Alberta. You just deal with it.
Is there some kind of philosophical lesson you can take from scaling something that is solid now but will be liquid in a few months?
Anytime I'm out in the mountains, I feel pretty small. I never feel like I'm kicking ass on anything. The older I get, the more I realize we're all just on a short-term ride here. It's not really about making the most of it, but about finding those cool places and moments in life, whatever they are. And Niagara Falls is one of those. Hanging out with my kids at the wave pool, seeing my daughter swim for the first time—all those things are equally valid. They're just beautiful moments. You don't get that many in life, honestly. And Niagara Falls was definitely one of them for me. I stood on top of that thing and I was pretty stoked.
What's next?
I pretty much blocked out all of February to early March for this project. I needed to be ready to go as soon as the weather set up. So I've got some free time, and I'm pretty fired up to use that and hang out with my kids, do some skiing, plus I've got a couple of new routes to finish off in the Canadian Rockies. And this spring I've got a super-secret canyoneering project—it's not anywhere near your neck of the woods, although the Taos Box is a great river. Then there's a project in Greenland to help some glaciology people research what's going on underneath the Greenland ice cap. And also the Canadian national parks—I've been working on opening those up to paragliding for the past six or seven years, and it looks like that may pay off. If it happens, there's a whole lot of really cool flights I want to do.
And then something else is always going to come up that's cool. I never set out to be who I am, it's just who I am. I'm lucky, and I sure do appreciate it.
Lead Photo: Christian Pondella/Red Bull Cont