Best In Go: 20 Amazing Adventures
Cut back on adventure overload with our curated trip guide.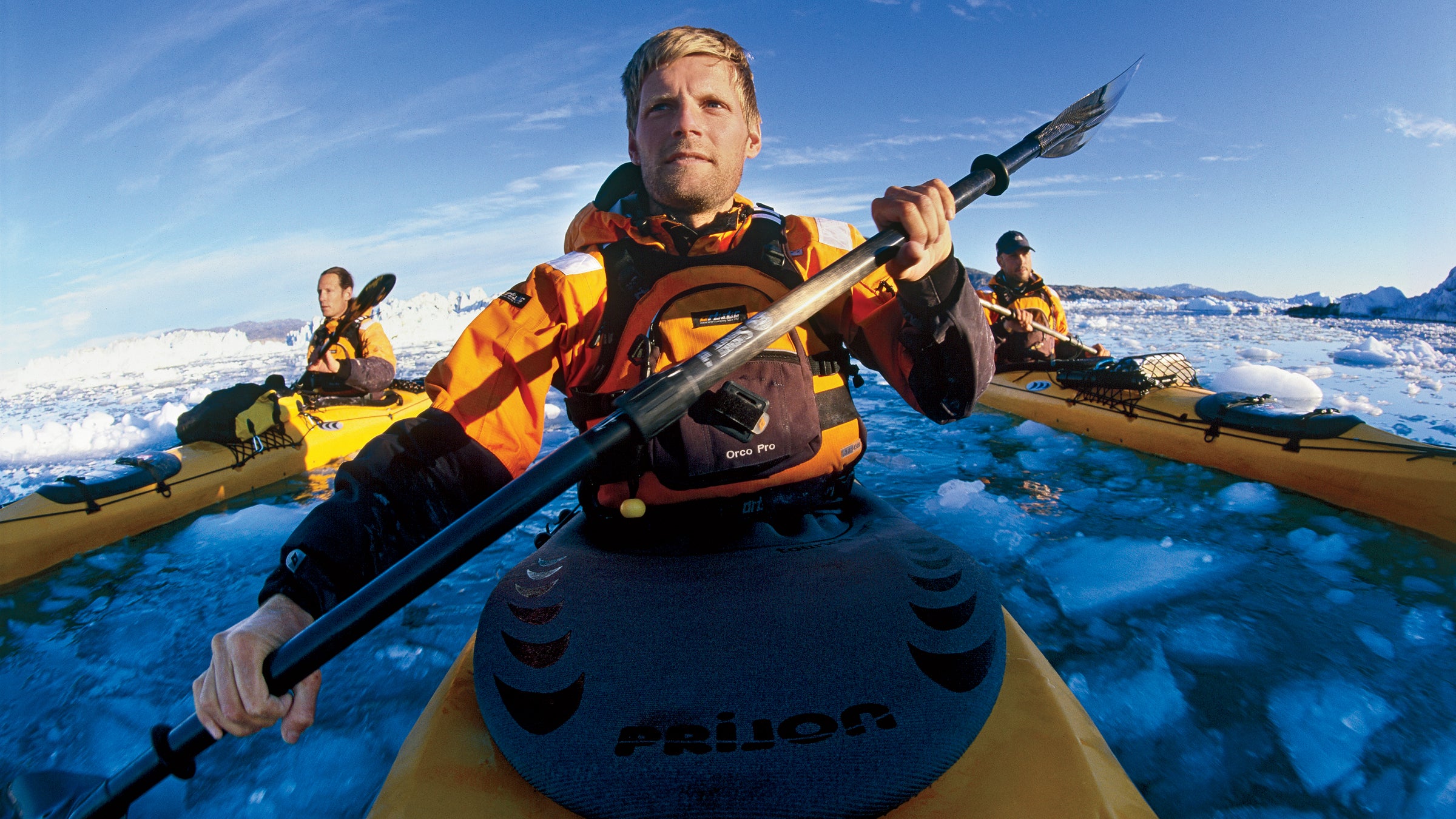 Jean-Luc Grossmann(Photo)
Heading out the door? Read this article on the new Outside+ app available now on iOS devices for members! Download the app.
Our mission: Sort through 763 of the world's most spectacular new outfitted adventures and choose 20 that will blow your mind, but not your savings. Your mission: Pick one and disappear.
---
Riders on the Storm
Surf and sail in Indonesia.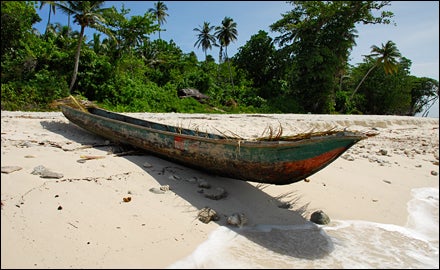 In the 1980s, Martin Daly put Indonesian surfing on the map by piloting a single-engine boat between breaks and hunting for lost treasure. This fall, he returns as skipper of EpicQuest's 112-foot luxury yacht, the Indies Trader IV, for a two-month, five-leg trip. Surf-crazy guests book a single leg of the voyage, which leaves from Padang, Indonesia, and makes stops in Jakarta, Bali, Timor, and New Guinea. By day, hit Daly's now famous finds, such as Rifles—a quarter-mile right-hand wave. By night, crash in posh cabins and gorge on seafood. Tip: Ask for the trip's final departure, when Daly plans to cruise up the rarely surfed west coast of New Guinea. The boat leaves Padang August 21, and each leg lasts 12 days. From $5,500 per person with two people.
---
Easy in the Islands
Sail the Thai isles.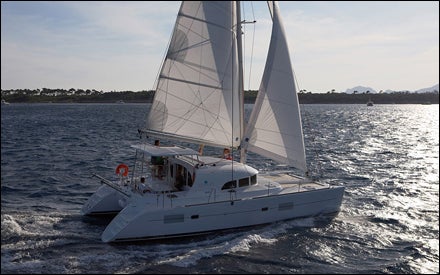 After a week of sailing between Thailand's southern islands, you'll be ready to go Gilligan. On Gap Adventures' new cruise, eight sailors lounge on a 37-foot live-aboard catamaran, drifting between ten limestone islands jutting from the 88-degree water of the Anda­man Sea. Like snorkeling? Tell the captain (guests help choose the trip's route) and he'll take you to the mangroves of 98,800-acre Ao Phang-nga National Park in the evening, after the tour boats leave, for a private viewing of the park's 80-plus marine species. Departures from November to April; from $1,250.
---
Ice Breaker
Kayak Greenland's fjords.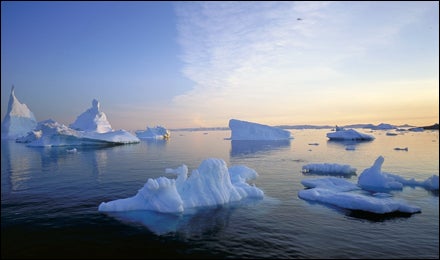 Explorers' Corner's 16-day sea-kayaking expedition through seven of Greenland's remote fjords isn't luxurious—accommodations are a tent pitched on permafrost, and some meals come freeze-dried. But the payoff is worth it: expansive views of the five-mile-wide Knud Rasmussen Glacier calving into the Tasiilaq Fjord. A 1.5-hour flight from Reykjavík, Iceland, and a two-hour skiff ride with an Inuit hunter are required to reach Tasiilaq (pop. 2,000) and the mouth of the fjord. From there, spend your days dodging motel-size icebergs in your 18-foot kayak and hiking beside 4,000-foot peaks. Three departures in July and August; by application, From $3,890.
---
Play Odysseus
Paddle the Greek isles.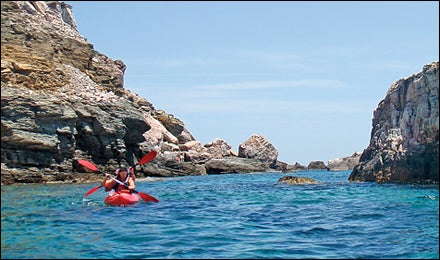 Sea kayaking among the Greek Isles will recalibrate your definition of relaxation. On the Northwest Passage's eight-day, 80-mile circumnavigation of the islands of Paros and Andiparos, guests average three to six hours of casual paddling a day in clear waters. Rest at sand and pebble beaches (clothing is optional), tour 4,000-year-old Minoan ruins, and sip cocktails on the porches of seaside inns. Pack light: The air and water temps are both 82 degrees. June 6–13; $2,895, plus $80 round-trip for the five-hour ferry ride from Athens to Parakia, the start of the trip.
---
Double Everest
Trek both sides of the mountain.
Hard-charging guide and Imax cinematographer David Breashears shows his softer side on Destination Himalaya's new Two Faces of Everest Trek. The five-time summiter will lead up to 16 guests to the mountain's north and south base camps in the span of a month. During an eleven-day stay on the Tibetan side, clients will attempt a hike to advance base camp, at 17,500 feet, and to the ice pinnacles of the Rongbuk Glacier. The group will then drive to Kathmandu, Nepal, and fly to Lukla to begin the six-day trek up to the south side of the peak. En route, trekkers visit with Sherpa families and catch spectacular views of the high Himalayas. September 19–October 3 (north side) and September 30–October 17 (south side); $6,885 for either half or $12,770 for both.
---
The Fine Colombian
Traverse the Andes.
After a 33-year hiatus, Mountain Travel Sobek returns to the Colombian Andes for a high-altitude lake-to-lake traverse. A 12-hour drive from Bogotá brings guests to the Sierra Nevada del Cocuy, a 1,181-square-mile national park where days are spent trekking and camping among receding glaciers and virgin alpine lakes. Highlight: On day eight, guide Sergio Echeverria leads an ice-ax-and-crampon-assisted summit push up one of three potential peaks: Pulpito del Diablo (15,748 feet), El Concavo (17,061 feet), and Toti (16,733 feet). July 20–30 and August 3–13; $5,000.
---
Olympic Glory
Killer Value in the wilds of Washington.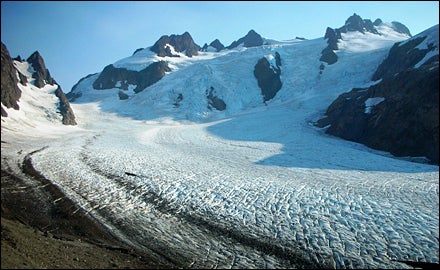 Despite its proximity to Seattle, Olympic National Park is still untrammeled—especially in its mountainous interior, home to more than 30 glaciers and 300 climbable peaks. Explore a handful of those on Mountain Madness's 77-mile Bailey Range Traverse. Days one and nine put guests deep in lush, moss-draped forests. The rest of the time you're finding high-alpine routes, gawking at the Pacific crashing to the west, and, on days seven and eight, traversing the Blue Glacier en route to the summit of 7,969-foot Mount Olympus. July 24–August 1; from $1,800.
---
Cat Walk
Follow a Zen master's footsteps.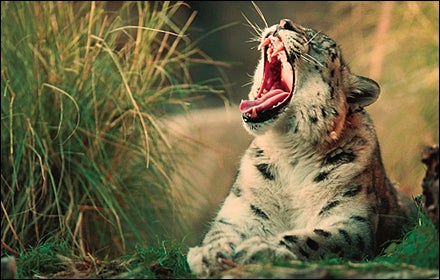 In 1978, Peter Matthiessen published The Snow Leopard, the National Book Award–winning account of his quest to find the world's most elusive big cat among Dolpo, Nepal's 23,000-foot Himalayan peaks. One World Trekking's 29-day hike through Shey-Phoksumdo National Park retraces the legendary author and Zen master's footsteps, past 11th-century Buddhist monasteries and 100-foot waterfalls. With four 16,500-foot passes, this trip is for experienced trekkers. One World guarantees porters and cooks, if not leopard sightings. September 7–October 5; from $4,400.
---
Riding with the King
Cycle like a pro through France.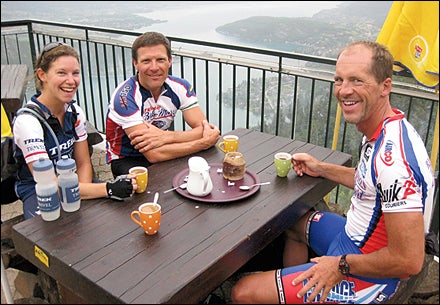 In addition to making the bikes that Lance Armstrong and his RadioShack teammates will use at this year's Tour de France, Trek also offers a trip where you can ride those bikes. At the Tour. The same day the pros race, to the soundtrack of screaming fans. Trek Travel's Team RadioShack Trip offers access to coach Johan Bruyneel, the team's mechanics, and some of the riders, in addition to a dinner at the team hotel. Between stays in four- and five-star hotels, up to 24 guests will ride portions of three of the Alps stages and be privy to VIP viewing areas, including one at the mountaintop finish of Stage 8, in Avoriaz. Tip: For an extra $500, Trek will outfit you with a carbon-wheeled Madone 6.9—just like the one Lance rides. July 10–15; $6,600.
---
Scotch Rocks
Mountain bike Scotland.
The premise of Wilderness Scotland's Coast to Coast trip is simple enough: Cross the country on a mountain bike. On this weeklong, 249-mile journey, up to eight clients pedal west from Aberdeen. By the afternoon of day one, riders bank singletrack turns through ancient pine forests and fog-cloaked fields of purple heather. Nights are spent in century-old inns where dinners are capped with a choice of way too many locally distilled Scotches. Three 30-plus-mile days prep riders for the grind up 2,500-foot Corrieyairack Pass and, at journey's end, a long, gentle descent to a lighthouse overlooking the Island of Skye and the Inner Hebrides at Ardnamurchan Point. Departures in May, July, and September; $1,430.
---
Kiwi Spin
Road bike New Zealand.
You'll have to pick up your jaw several times on Bicycle Adventures' new South Island Budget Tour. The 600-mile trip starts in Christchurch, on the island's east coast, and ends ten days later in Queenstown. In between, guests cover about 45 miles of rolling country roads per day, from emerald-green Lord of the Rings country to craggy beaches to lush vineyards. Your steed: a smooth Jamis road bike. Your digs: rustic country lodges. (Bicycle Adventures trimmed $775 off the price by cutting out four-star hotels.) Your recovery: optional massages, visits to hot springs, and a jet-boat ride beneath Mount Aspiring National Park's misty mountaintops. Departures in January and March 2011; US$3,475.
---
Bomb Canada!
Soar on a mountain bike.
Sure, heli–mountain biking is a little absurd: You fly over roads to bike down trails. But we'd still love to try it out. Rilor Wilderness, a new outfitter dedicated to the pursuit, recently opened a 2,600-square-foot chalet on the shores of British Columbia's gin-clear Slocan Lake. On their four-day, intermediate-friendly tour of the 8,000-foot Selkirk Mountains, riders take four rides per day through alpine meadows into old-growth cedars. The last day is the biggest: a ten-minute helicopter flight for a four-hour, 5,700-foot descent from Toad Mountain to downtown Nelson. Cooldown is steak at the lodge. Eight departures between August and October; US$1,500.
---
Rapid City Escape
Rafting in British Columbia.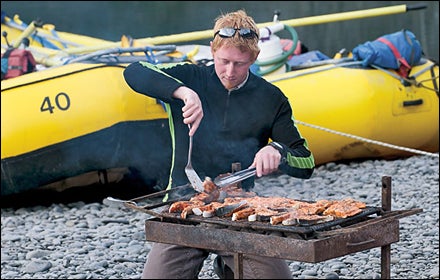 Some of British Columbia's finest whitewater is merely 90 minutes from the city of Terrace, but it's been run commercially only once. Why? It wasn't until 2008 that Skeena Valley Expeditions, a local rafting outfit, received permission from the Nisga'a First Nation to run 30 miles of the Nass River, a Class IV beauty running through the wild Coast Mountains. The fortunate 12 who get on this year's trip will be among the first to paddle through the Nass's glacial water, alongside running salmon and underneath soaring eagles. Nights are spent at riverside campsites, sampling smoked salmon prepared by Nisga'a people. August 13–18; US$2,732.
---
North by Northwest
Paddle Oregon.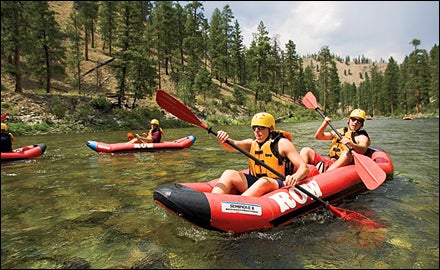 If your idea of an ideal float involves low cost, high refreshment, and Oregon's lush landscapes, have we got a trip for you. Two, actually. On Rogue Wilderness Adventures' Paddles and Pints trip, 18 guests spend three days rafting the Rogue's Class IV rapids and two nights sampling the finest local hops with the Golden Valley Brewery's Mark Vickery, who spent ten years brewing up magic at Bend's Deschutes Brewery. August 27–29; $935. Meanwhile, on ROW Adventures' Kayaking 101 trip, aspiring river rats learn to read whitewater, paddle an inflatable boat, and prepare camp meals on eastern Oregon's fir-lined, Class III Grande Ronde. You'll cover ten miles of smooth water per day, cook Dutch-oven ribeye by night, and, by trip's end, be ready to lead your own expedition. Three departures in June and July; $1,000.
---
Eastern Star
Ride the Tsangpo river.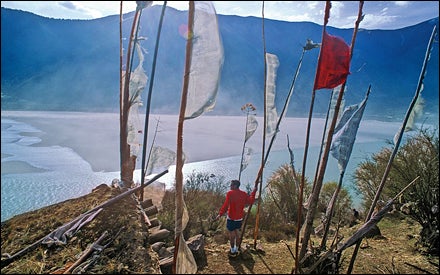 In 2002, a team of world-class kayakers sponsored by Outside became the first to descend Tibet's Tsangpo, the Everest of rivers. Last year, whitewater experts Global Descents made a 110-mile section of the river in India—where it's called the Siang—available to mortals. The ten-day expedition starts with a helicopter flight from Dibrugarh, Assam, to the put-in near Tuting, a village at the Chinese border. From there, 12 rafters and four guides spend six-hour days paddling big-water Class V rapids through rugged, 1,800-foot-deep canyons. Nights are spent camping on sandy beaches and feasting on fish curry. Five departures between November and January; $4,500.
---
Southern Exposure
Take the easy route through Patagonia.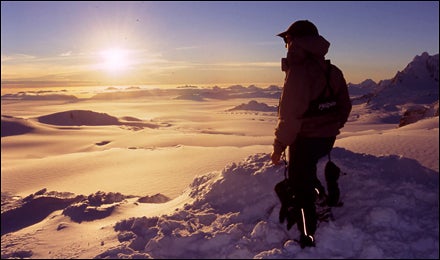 When American Eric Shipton crossed Chilean Patagonia's Northern Ice Field, in 1963, it seemed like a frozen hell. But with porters, resupply camps, and a less severe route, Azimut 360's 11-day Ice Field Circuit will feel posh. After a three-hour flight from Santiago to Balmaceda and a long drive down the winding Carretera Austral, Azimut's 37-mile circuit sets out from the tranquil Terra Luna Lodge into the Leones Valley. After crossing Leones Lake, it's on to the Neff Glacier and six days in snowshoes or crampons. The route spits you out in the village of Puerto Bertrand, on the shores of the mighty—and dam-threatened—Río Baker. Monthly departures between November and March; $1,890 per person with a group of four.
---
By Land or By Sea
Camp and dive in Galapagos.
Seeing the Galápagos from a yacht deck is akin to seeing the World Series on a luxury-box TV screen: inadequate and obnoxious. Get closer on Big Five Tours and Expeditions' new eight-day Galápagos Safari Camp Diving trip. Guests stay on Santa Cruz Island, at the Galapagos Safari Camp, a new series of 89-square-foot luxury tents on a recently reforested cattle farm. From there, divers of all experience levels can opt for guided, two-dive day trips to sites full of sea turtles and hammerhead sharks; landlubbers can comb Santa Cruz's white-sand beaches alongside sea lions and pelicans before lounging in the camp's infinity pool. Departures year-round; $2,700.
---
Walk on the Wild Side
Close encounters in the Serengeti.
In 2007, Serengeti National Park officials rewrote their tourism plan to include walking safaris in select areas of the 5,700-square-mile savannah. Now, after several recon trips, luxury outfitter Mark Thornton Safaris is one of only three companies permitted to lead trips for up-close encounters with lions, buffalo, and elephants. (Yes, the guides carry rifles.) The three-to-six-day trips are usually added to longer tours of Tanzania, and begin each morning with a six-hour trek and end each night with sundowner drinks. All itineraries are customized. Departures between May and March; From $650 per person per day for a group of four, including transfers from the airport in Arusha.
---
Atlas Slogged
Off the map in Morocco.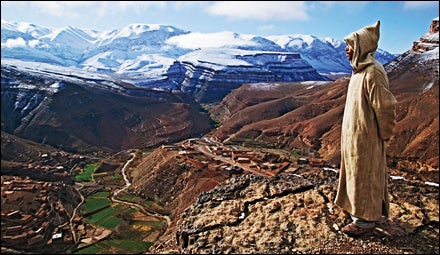 Most travelers know Morocco for its colorful markets. But on KE Adventure Travel's new Peaks and Valleys of Jebel Sirwa trek, expansive views of the Atlas Mountains are the climax. You'll keep an easy pace on the six-day, 50-mile trek, leaving plenty of time to visit the semi-fortified villages of Berber farmers. By night, you'll camp in grazing pastures. At trip's end, scramble up 10,800-foot Jebel Sirwa, an extinct volcano offering stunning views of the High Atlas Mountains. Trips depart from Marrakesh in March, April, October, and November; $865.
Lead Photo: Jean-Luc Grossmann