Where can I find the best multi-pitch rock east of the Mississippi River?
I'm short on time and cash, and stuck out here on the East Coast, but am looking for a climbing destination on this side of the Mississippi that's equivalent to Liberty Bell. In other words, a fun, multi-pitch rock with a bit of a sense of accomplishment at the summit. What can you do for me? Richard Fairfax, VA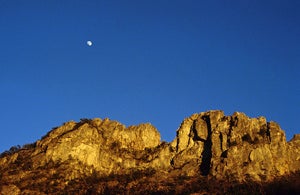 Heading out the door? Read this article on the new Outside+ app available now on iOS devices for members! Download the app.
There's nothing East of the Mississippi equivalent to Liberty Bell Mountain, a 1,000-foot thumb of granite that summits at 7,000 feet in Washington's Cascades. Just like you won't find anything equivalent to Grand Teton or Devil's Tower. But the good news for you, Richard, is that there's still a ton of fantastic multi-pitch climbing within a half-day's drive from you, up and down the Atlantic Coast. Some favorites:
West Virginia's Seneca Rocks
West Virginia's Seneca Rocks
Seneca Rocks, West Virginia
You say you want a "sense of accomplishment" when you complete your climb? Anyone who reaches the spectacular summit of Seneca Rocks in the Monongahela National Forest of eastern West Virginia, can't help but feel like a mountain conqueror. This 900-foot-tall shark's fin of quartzite rising above the North Fork River is considered the tallest tower for climbers in the east, boasting almost 400 routes, some as long as 300 feet.
Outfitter: Seneca Rocks Mountain Guides
Cathedral Ledge, New Hampshire
New England's top (and some people would argue only) multi-pitch climbs are clustered around the town of Conway in the White Mountains of northeastern New Hampshire. The favorite (and most easily accessible) is the 500-foot-tall tower of granite called Cathedral Ledge, within Echo Lake State Park. When you get to the top, don't expect to savor the moment with your friends in solitude, though—it's accessed by an auto road that's popular with camera-toting tourists who will be there to congratulate you.
Outfitter: Eastern Mountain Sports Climbing School
Looking Glass Rock, North Carolina
This 500-foot pustule of ancient frozen volcanic rock rising 3,970 feet above the Blue Ridge near Brevard in the Pisgah National Forest of western North Carolina is veined with free-climbing, aid, and multi-pitch routes that vary in difficulty from beginner to expert. Most of the multi-pitches are found on the Nose and South Face. Much more secluded than the other two climbing areas—though a hiking trail also accesses the summit. Outfitter: Appalachian Mountain Institute