An Ultrarunning Bromance Captured on Film
Two friends go on an annual adventure. This year, it's in New Zealand, and we'll be there every step of the way.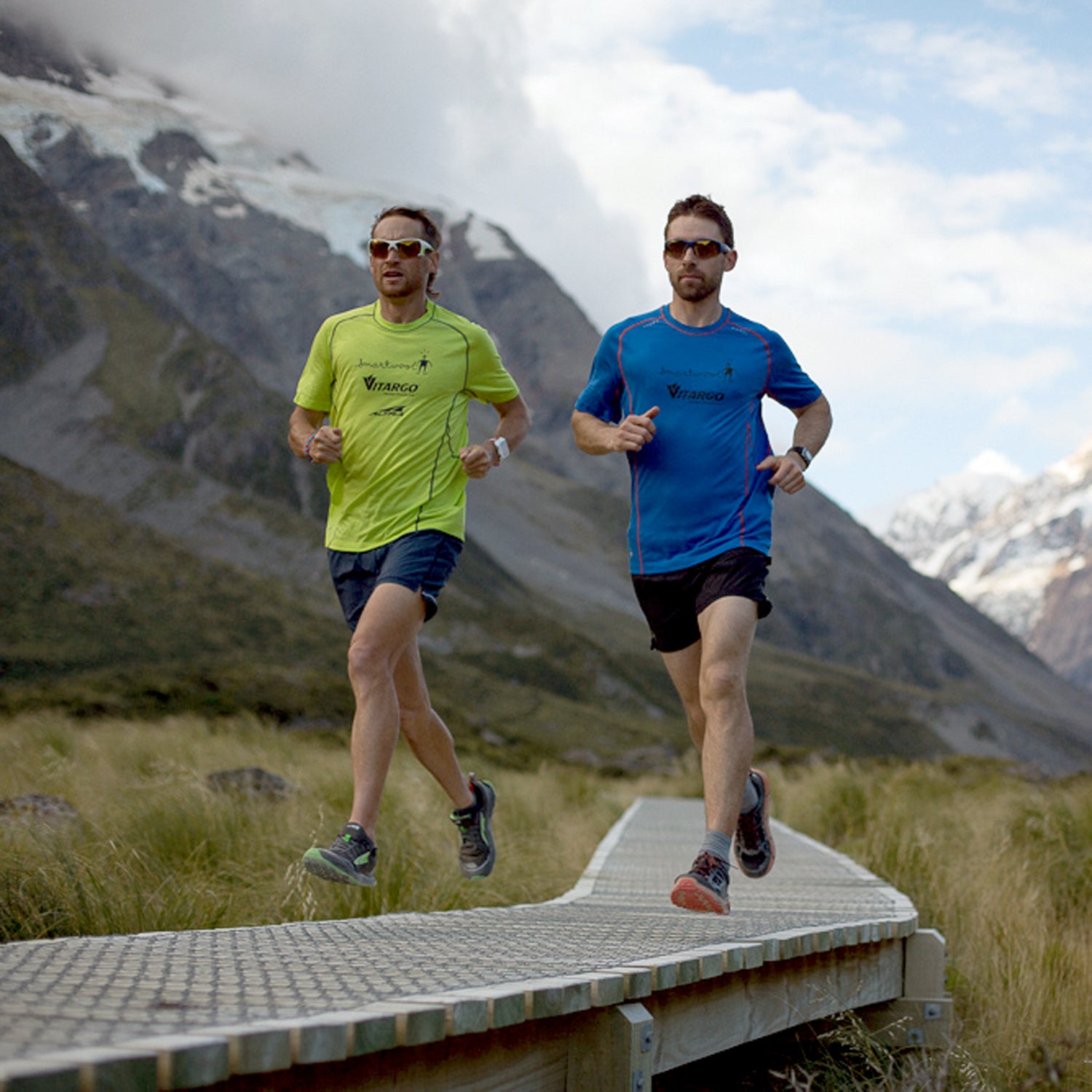 Courtesy of Schlarb-Wolf Product(Photo)
Heading out the door? Read this article on the new Outside+ app available now on iOS devices for members! Download the app.
Jason Schlarb and Jeremy Wolf go way back. The two men, now in their 30s, met running cross-country and track together at Montana State. After nearly a decade apart—Wolf worked as a manufacturing engineer in Los Angeles, while Schlarb joined the U.S. Air Force—the two moved their families to Missoula, Montana, where they've been ultrarunning together ever since.
If it sounds like an off-road bromance, that's because it is, complete with an annual adventure, sans families—and filmed for the world's enjoyment.
In 2013, Schlarb and Wolf ran in the Italian Dolomites with another college buddy. "We did a five-day trip from hut to hut, running about 20 miles a day," Wolf says. "We traveled with nothing but our running packs on. At night, we would stay at the Refugios and they'd have food and bedding. We made a short little film from that trip, just kind of GoPro style."
The next year, they went bigger. Filmmaking runner Joel Wolpert joined them in Patagonia's Torres Del Paine National Park to help them create what became Around Patagonia, a short video akin to ski porn for trail runners.
Now sponsored by Altra, Vitargo, and Smartwool, Ultimate Direction, Julbo, and Outside, the two are in New Zealand filming a two-and-a-half week trip with Wolpert's help. We caught up with the trail running duo just before they left to talk ultrarunning, van life, and their great escapes.
OUTSIDE: Are the Kiwis known for trail running? What's the connection between the sport and the island?
JASON: In addition to having some famous trail runners internationally, New Zealand is full of a lot of wild lands. The Department of Conservation is kind of their national forest equivalent; they've got a lot of "tracks" what they call their trails, and national parks. They spend a lot of time, effort, and tax money in preserving these wild places through these beautiful parks and tracks. It's kind of a famous place for getting out into the wild and trail running, hiking, backpacking. They have over 200 huts throughout New Zealand that are managed by the Department of Conservation, so it's a fun place to go play. And run. That's the reason we chose New Zealand.
The film's a lot about Jeremy and me. It's about him and me doing this year after year, having fun together, unlike films that are usually about an athlete, a team.
Is there a competitive aspect to this?
JASON: No, I'm gonna go down there and do a 50K, but it's more about exploring the island and running with some of the greats that are from the South Island. But no, no actual FKT or competition. It's more about having fun and showcasing what New Zealand is all about.
What are you guys looking forward to most?
JEREMY: My take on this whole experience is going to be highlighting the diversity of the South Island. I've been there in the past as well. We're going to go to one tiny island and run the most amazing mountain trails, go down to run in the fjords where there's mountains coming right out of the ocean, running on glaciers on the west coast, going up north and running on beaches. The amount of terrain and geography and diversity that we'll be able to experience on one island doesn't exist anywhere else.
JASON: We'll be traveling in a camper van—six-person, three beds, self-contained, with a shower and a toilet, kitchen. I can't remember the brand, but we booked it ahead of time and have that waiting for us when we arrive.
Tell me about the filming.
JASON: We're gonna go out there and do ultra-distance running and capture it all on film, with Joel's amazing ability to carry that stuff and run with us. So, we'll do these big runs and have our other videographer drive a shuttle and do some point-to-point runs. We're gonna use some boats for the Milford Sound, get dropped off on one end and run across on one of the most famous tracks in New Zealand, called the Milford track. We'll get picked up by a ferry on the other side. There's going to be some cool stuff to be captured that not many people can film.
As far as equipment, Joel has a gimbal for his SLR, and then we have a three-axis GoPro gimbal that we'll carry as well. The cameras have a waterproof housing for when it's raining, because the weather in the South Island is really dynamic and there's a lot of moisture.
How'd you convince your wives to let you do this?
JASON: I think there are precedents there. We've done this specifically each year the last three years, and then that history of us going together. The film's a lot about Jeremy and me. It's about him and me doing this year after year, having fun together, unlike films that are usually about an athlete, a team. This is more repeatable every year, us going to fun places.
Do you two ever just want to punch each other?
JEREMY: I won't mention any names to protect the innocent, but among our crew we have one very light sleeper and one heavy snorer. In Patagonia, we were sleeping in a bunkroom in a remote hut. After a couple hours of not being able to fall asleep due to the loud snoring, the light sleeper climbed up on the bunk to wake the snorer to put an end to the snoring. Upon being shaken awake, the snorer was very upset about being woken and told that he was snoring. He said there was nothing he could do about it, so leave him alone and go back to bed. There was some hurt feeling over this incident and it remained a sensitive issue for the remainder of the trip.
Given both the sleeper and snorer will be on the New Zealand trip I envision (a) the light sleeper wearing earplugs, which may not be enough to silent the heavy snorer. Or (b) one of the two is sleeping outside of the motor home.
Schlarb and Wolf's 30-minute New Zealand film, Kiwi Tracks, will be released on Vimeo in June.
Lead Photo: Courtesy of Schlarb-Wolf Product