Gear Guy
What Essentials Do I Need in My First-Aid Kit?
Think wound care and sterilization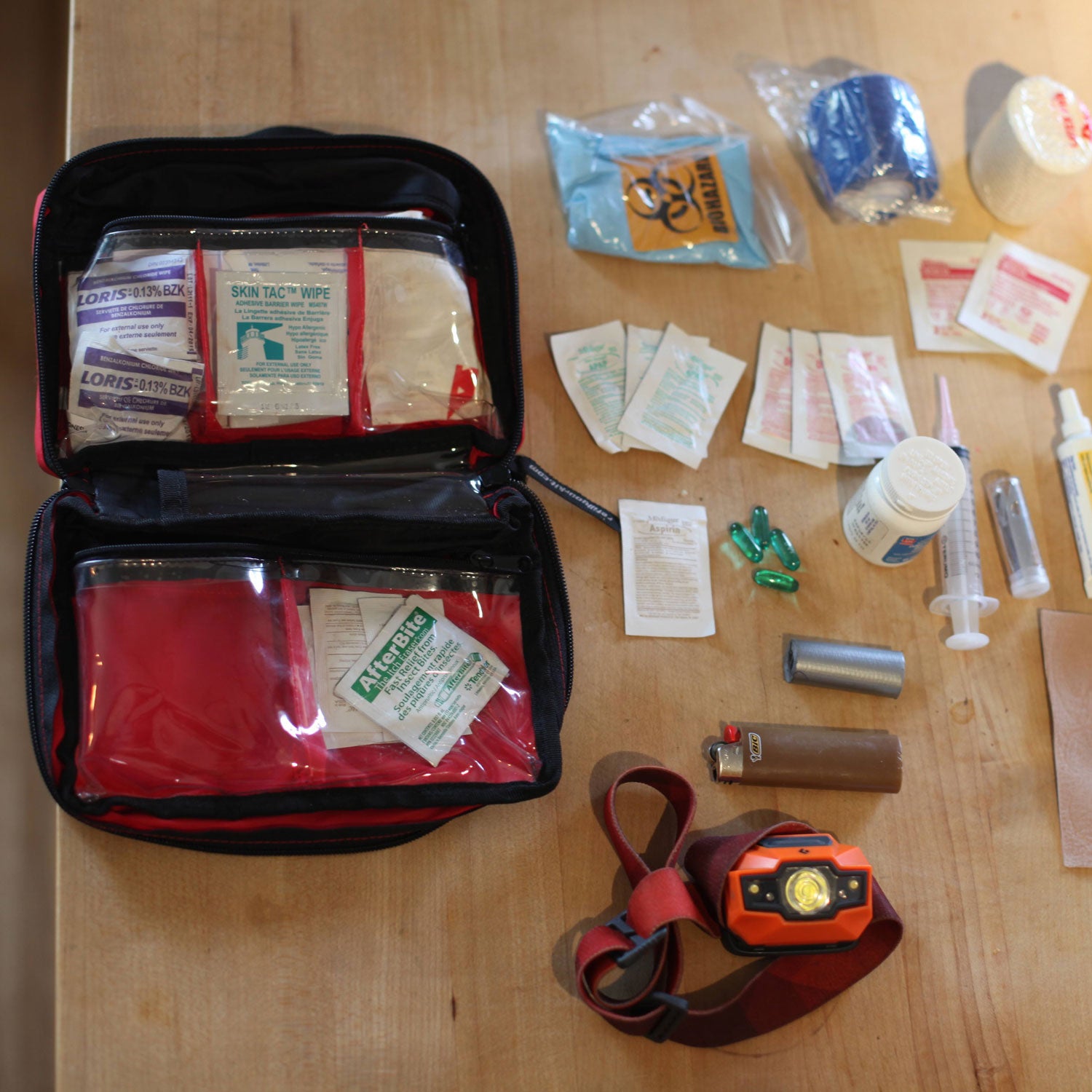 Courtesy of Gareth Tate(Photo)
Heading out the door? Read this article on the new Outside+ app available now on iOS devices for members! Download the app.
Gareth Tate—my friend, co-adventurer, and cameraman for the Gear Guy videos—started teaching Wilderness First Responder courses for the NOLS Wilderness Medicine Institute almost a decade ago. We took a look inside his personal first-aid kit to compile a list of the essentials you need in yours.
Headlamp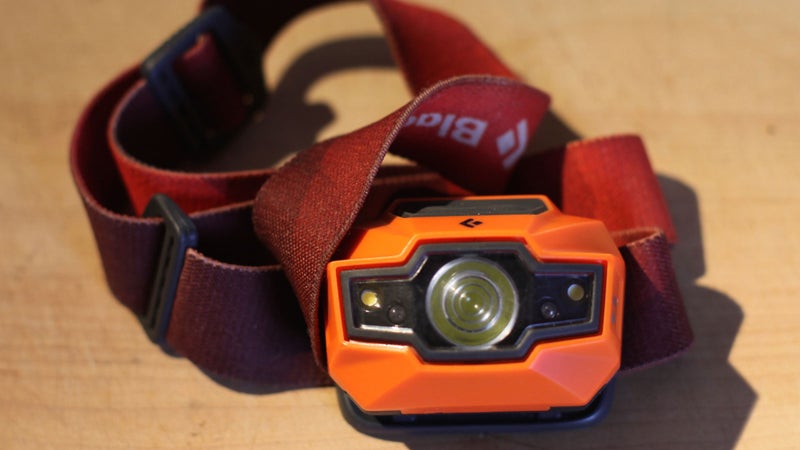 If you can't see, you can't take care of your buddy. "First aid can't be done if you're blind," says Tate, no matter how well stocked your med kit is. 
---
Coban Wrap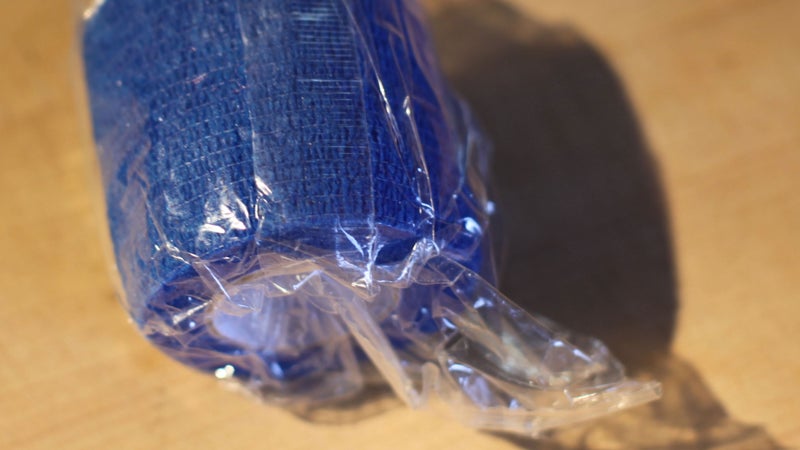 Coban—a water-resistant, self-adhesive, reusable elastic band—is the best bandage for the backcountry. 
---
Irrigation Syringe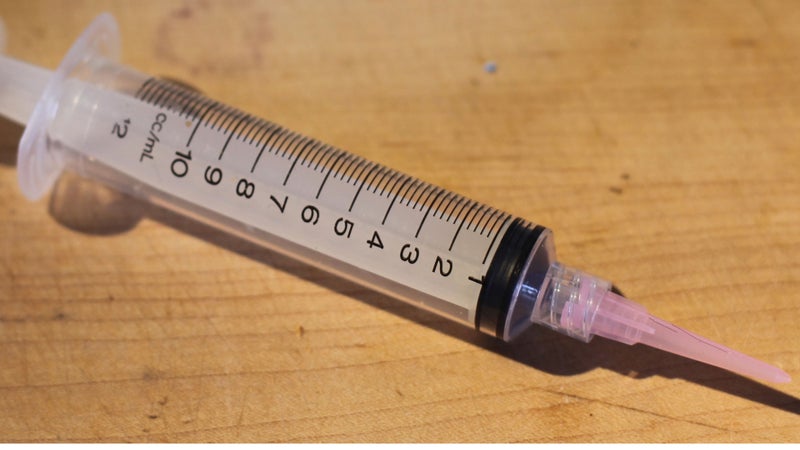 "Pressure irrigation with clean water has proven to be the most important step to cleaning wounds in the field," Tate says. While there are tools that will let you improvise, none work nearly as well as an true irrigation syringe.
---
Tweezers  
Whether you have an open wound or a splinter, you need a tool to remove debris from your skin, says Tate. Just make sure the tweezers are clean. 
---
Latex Gloves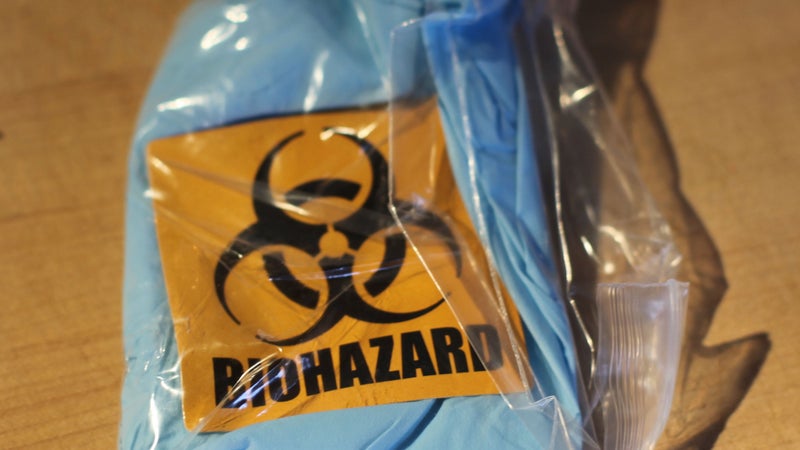 Gloves are the best protection against communicable diseases while treating someone, Tate says. They're also tough to improvise in the field. 
---
12 Other Essentials
Lighter: Tate considers his lighter an essential survival tool. Use it to start a fire, provide light, and even sterilize equipment. 
Ace bandage: Use Coban for wound dressing, but stick with Ace for sprains and strains. It's much more comfortable for basic athletic injuries, says Tate.  
Athletic tape: Without which your Ace bandage is useless. 
Tylenol: It can treat general pain and alleviate light fever. 
Benadryl: Tate uses Benadryl to treat mild allergic reactions.
Aspirin: "It's particularly important if you're adventuring with people with potential cardiac problems," says Tate. "It could be a lifesaver." 
Advil: Your go-to anti-inflammatory pain reliever for most injuries and sore muscles. 
Alcohol wipes: Tate uses alcohol wipes to sterilize medical tools (think tweezers and an irrigation syringe), not wounds.  
Antibiotic ointment: Apply antibiotic ointment to dressings that wrap tissue wounds, Tate says. The ointment prevents the bandage from sticking to skin, keeps the wound moist, and acts as a barrier against bacteria.
Gauze: "For controlling bleeding and for dressing wounds," Tate says. He suggests buying squares (3×3 or 4×4 inches) so you don't have to pare them down in the field. 
Moleskin: Don't skimp on blister-prevention materials. "Bring ample amounts of moleskin, as blister patches need to be reapplied daily to be effective," he says.
Duct tape: "Why? Because it's duct tape," Tate says. The stuff has a million and one uses in the field. Get creative. 
Lead Photo: Courtesy of Gareth Tate
Trending on Outside Online