This Is How You Win a DH Bike Race Without a Chain
We caught up with Aaron Gwin, the two-time downhill world champ, after his chainless victory in Austria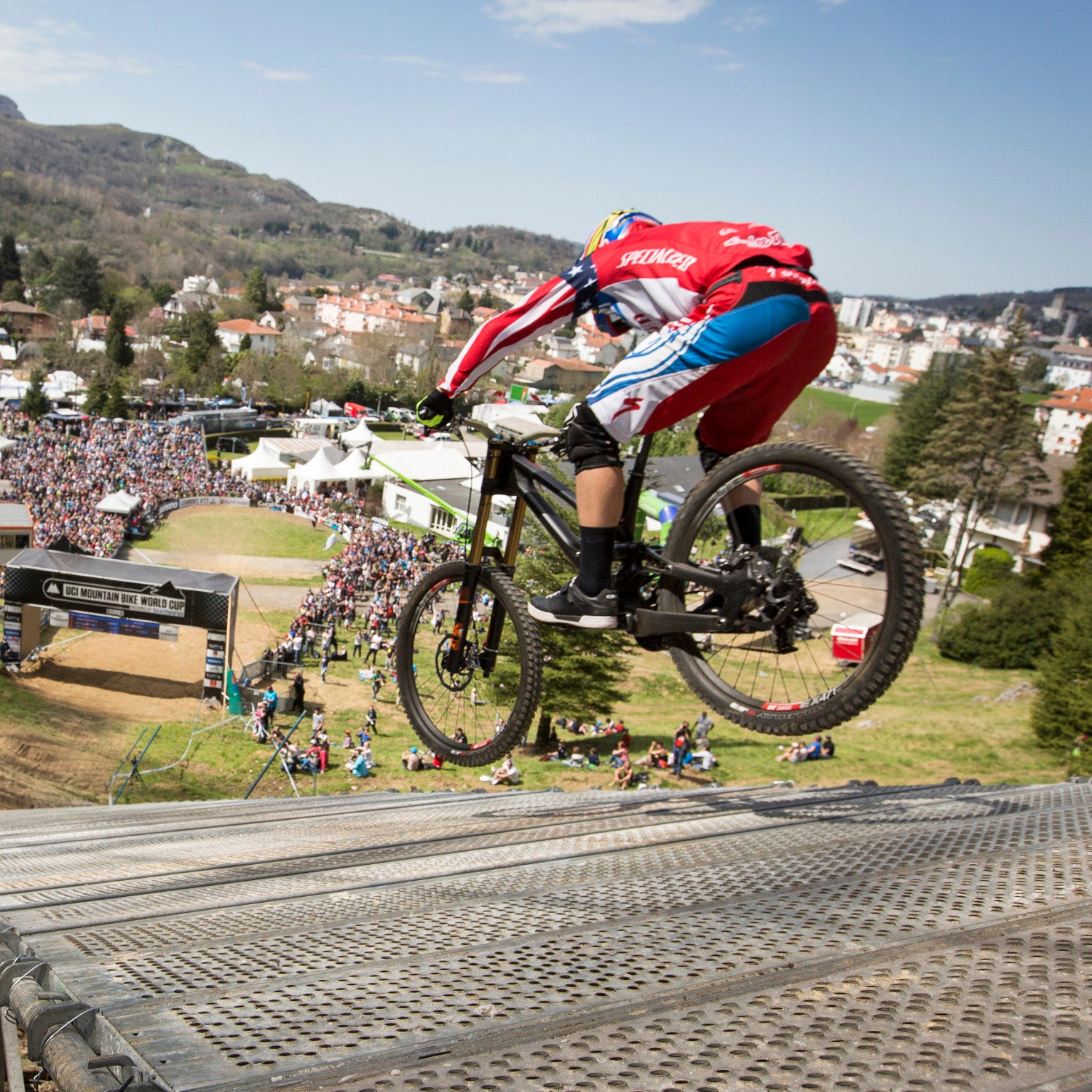 Heading out the door? Read this article on the new Outside+ app available now on iOS devices for members! Download the app.
Aaron Gwin is becoming the master of mechanicals, especially on the Leogang, Austria, World Cup downhill course.
In 2014, Gwin had what looked to be the most ridiculous run ever on a totally flat tire. But last weekend, almost a year later on the same course, he one-upped himself when his chain broke before the first bend. Though he wasn't able to pedal for the entirety of his run, and despite the fact that he was up against the best downhillers in the world, Gwin still managed to pull off the victory, edging out Australian Connor Fearon by 0.045 of a second.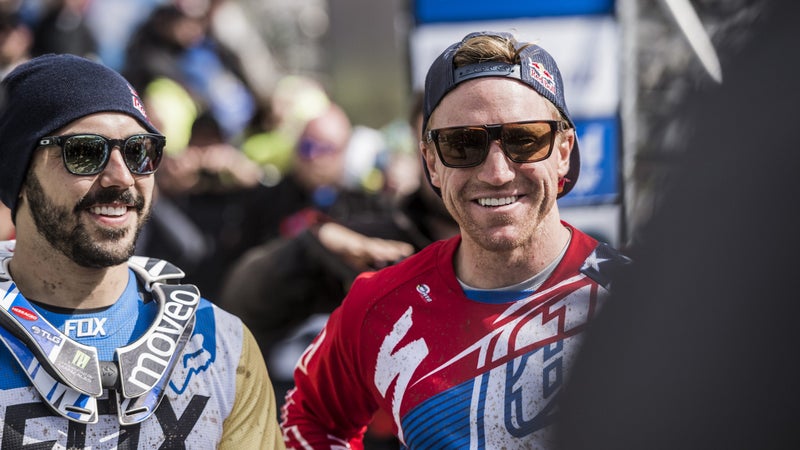 To put that in perspective, that's like Usain Bolt losing a running spike a few steps into a 100-meter Olympic race and still beating everyone. Or like Barry Bonds knocking one out of the park with a broken bat.
Ridiculous.
We caught up with the Specialized racer a few days after the race to get his thoughts on how he did it and what he can possibly do to upstage this performance next year.
OUTSIDE: When you realized your chain had broken, why didn't you just stop?
GWIN: For me, quitting is never logical if there's any ounce of hope. The points difference between finishing last or finishing 10th is huge in a race series that's only seven races long. Even more important is the commitment that I make to myself and to my sponsors. I sign contracts promising to give it my absolute best. They've invested a lot of time and money into me, and I want to honor the commitments that I've made. Throwing all that away because of a small setback would never make sense.
O: Did you ever think you could win with a broken chain?​
AG: I wasn't sure that I could still pull off the win, but a top 10 seemed possible.
O: What did you say to the other two guys on the podium? It had to be awkward for them to realize that you were better than them with a non-functioning bike.​ 
AG: It wasn't awkward at all. Those other guys had a great race. The times were tight that day. The course, luckily, only had a few pedaling sections, so it wasn't like you needed to pedal everywhere. I just had the speed in the sections that counted, and thankfully it was enough to squeak out the win.
O: Will you change equipment because of the mechanical?​
AG: Haha. No definitely not. I've been with SRAM components almost three years, and the product is incredible. We almost never have mechanicals, which is crazy considering the amount of time and abuse we put the product through. I've never broken a chain on a downhill bike. It was just a freak deal. And if I wanted to point the finger at anyone, I'd point it at myself. I was trying to shift the bike under full power without easing up on the cranks. Usually you time your shifts between pedal strokes, but with the start gate being so short on this course, I took the risk of shifting under full power. I do that often on starts and have never had a problem, but if you take the risk enough, it's eventually bound to happen.
O: Given that you've had mechanicals three seasons running at Leogang, do you feel cursed at that venue?​
AG: No, I don't believe in superstition. If anything, I'm extremely thankful for that place. It's had a huge positive impact on my career. It's one of my favorite tracks and venues of the year and I always look forward to going there.
O: So what can you possibly do next year that will be more dramatic than winning on a broken chain?
AG: Hopefully next year will be drama free.
Lead Photo: Lukas Pilz