The Best Little Boat in the West
How a humble wooden fishing craft became the quintessential Grand Canyon ride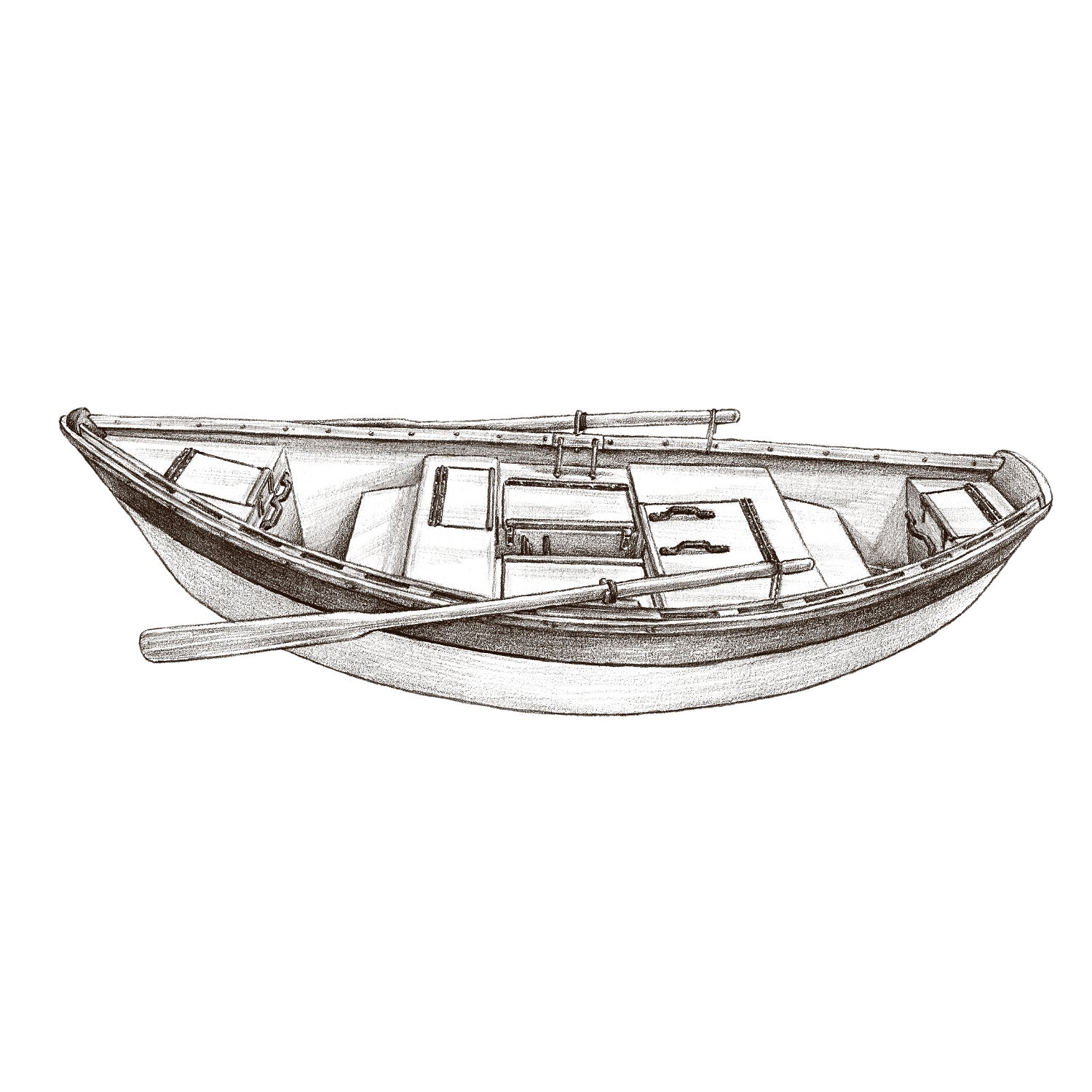 Heading out the door? Read this article on the new Outside+ app available now on iOS devices for members! Download the app.
To the untrained eye, a whitewater dory is a modified version of a traditional New England dory: the small boats (rarely longer than 20 feet from stem to stern) that were used by 19th-century cod fishermen to ply the gale-wracked sea waves off the Grand Banks of Newfoundland. That rich North Atlantic heritage, however, is cheerfully cast aside by the fishing guides who live and work along a pair of rivers in the Pacific Northwest, where the shape of the classic whitewater dory (known as a drift boat on the McKenzie River and a river dory on the Rogue) is said to have been conceived, from scratch, right there in Oregon during the twenties and thirties. According to this story, credit goes to local boatwrights who invented a wickedly lively boat that guides could use to place their high-end clientele—celebrities like Babe Ruth, Ginger Rogers, and Herbert Hoover—over the best pockets of steelhead.
What no one can dispute is that it was the Oregon drift boats that first caught the eye of Martin Litton, the whitewater-rowing conservationist who, together with a vinegary river rat named P. T. Reilly, began adapting these craft to the Colorado River in the summer of 1962. (John Wesley Powell had used wooden boats, too, in 1869, but those were round-bottomed, keeled, and notoriously hard to turn.) Litton's boats evolved to incorporate a host of new features—a wider beam for lateral stability, closed decking to shed the waves, self-bailing footwells and watertight compartments for storage and buoyancy—into what is now called the Grand Canyon dory.
Regardless of their provenance or what they're made of (wood, fiberglass, even Kevlar), all whitewater dories share three key attributes: flared sides, a sharply pointed bow that extends high above the waterline, and a flat hull with no keel. That last item calls for an added word of clarification, because while it's true that a dory's bottom is absolutely flat from side to side, the hull curves upward and out of the water at the bow and stern. It's the shape of that hull—a feature known as rocker—that imparts a dory's signature quality: responsiveness.
On a fast-moving river, a flick of an oar blade is enough to spin a dory on a hot dime or arrow it briskly through a minefield of exposed boulders. Beware, however: such dexterity comes at a price. Whitewater dories are finicky. They are unstable. And they are so outrageously fragile that they will break into pieces if you so much as think about flirting with a rock. In effect, you are the skipper of a floating eggshell.
Remove any of this boat's signature traits and you've got something more elegant than a scow but less fair than a dory. Combine them all and you are staring at a thing of grace, a tool in which form and function blend with such fluid tact that, regardless of whether you are an angler on the Gallatin or a commercial rowing guide on the Colorado, each element of the oarsman's equation—the river, the rocks, and the rowboat—seems incomplete without the other.