This Drone Will Fit in Your Smallest Backpack
When (if?) the Snap hits production, it'll become the adventurer's ultimate toy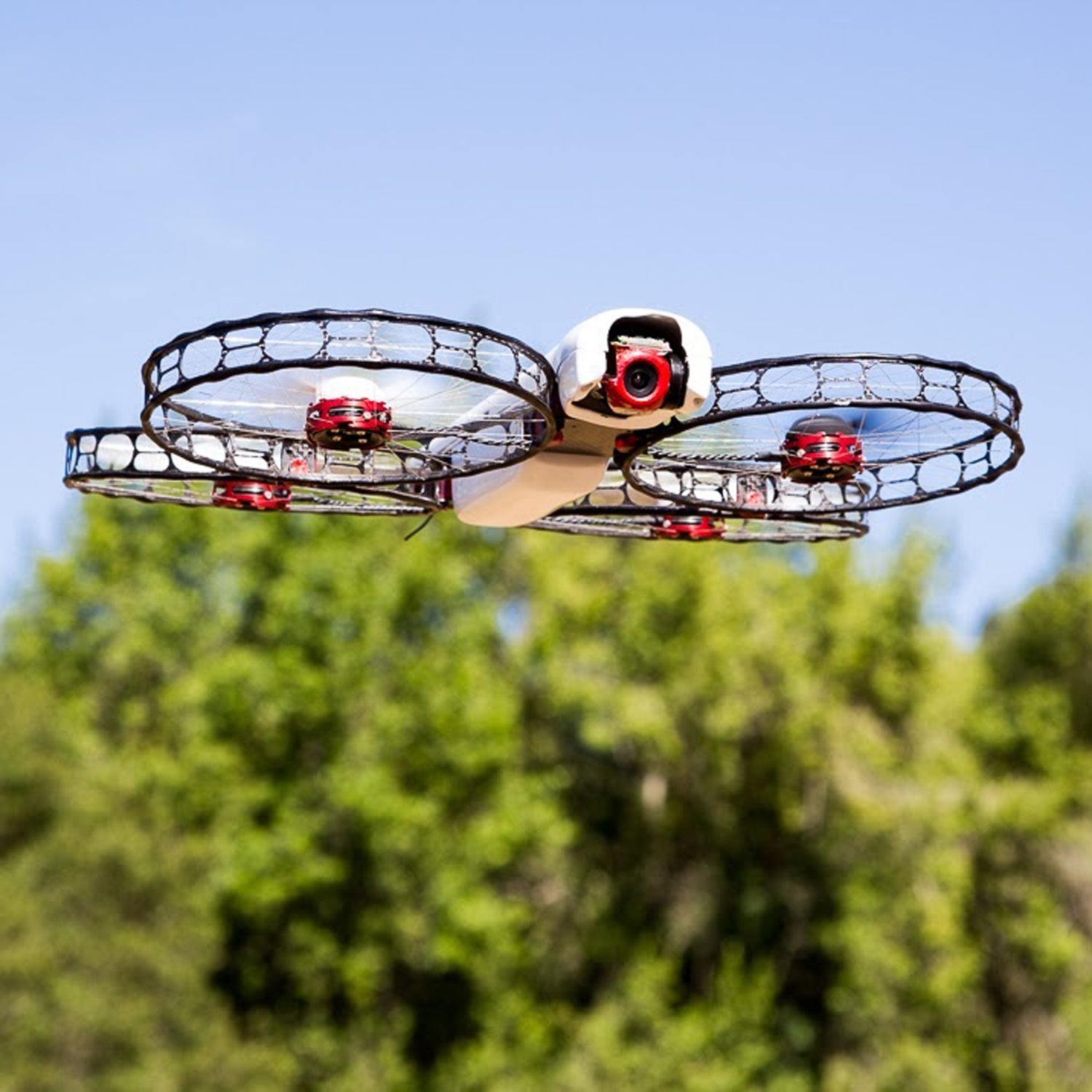 Brent Rose(Photo)
Heading out the door? Read this article on the new Outside+ app available now on iOS devices for members! Download the app.
These days, when you're at an event and you look up and see a drone hovering high above you, it's almost always a DJI Phantom. There's a good reason for that: DJI's drones fly high and fast and they shoot excellent video. 
One thing the Phantom doesn't do well, though, is travel. You're limited to keeping it in its original cardboard box or in a big, heavy Pelican case. Forget about lugging it around the backcountry. 
That's exactly why we like the new drone from Snap. It disassembles in seconds, it has no bulky remote control, and it fits into even a small 15 liter hydration pack. Plus, it has a high quality built-in camera. (More on this later).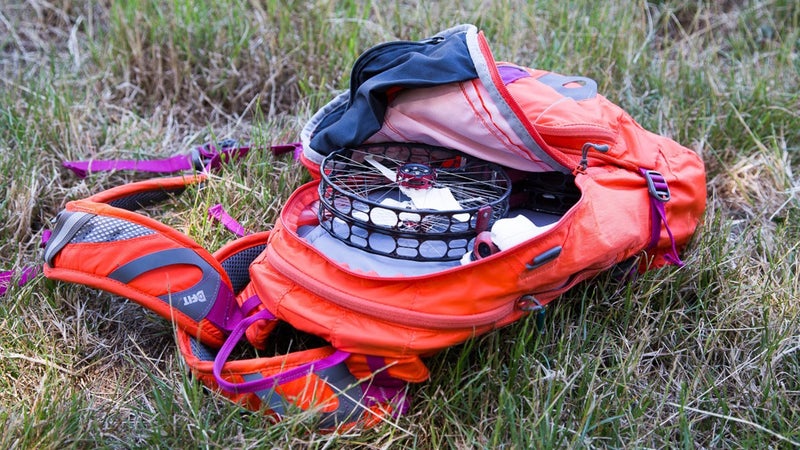 The UAV has four rotors on two separate arms. To assemble the device, align the two arms next to each other, and then lay the stick-like body over the middle. The whole package attaches magnetically (no tools required) so it's a quick, easy process. When you want to pack up, pop the body off, stack the two arms, and drop everything in your pack. 
The drone's rotors are protected by a matrix of steel wires. They both shield the blades while the drone is in storage and from big obstacles (think walls and branches) during flight.
These wires also serve the very important task of protecting your fingers from the blades. Most drone companies strongly recommended you keep your hands the hell away from any kind spinning rotors (just ask Enrique Iglesias). 
But the Snap is designed to launch and land from you hand. Speaking as a person who just had a Phantom 3 slice his palm open a few weeks ago (I though it was turned off, but it was really just playing dead), this is appealing.
As far as controlling the Snap, it's all done through a smartphone app. Drag your finger up or down to control the elevation, and tilt the phone left or right to move the drone closer/further/side-to-side. 
Default is a user-friendly mode where the app will always move in relation to your position, regardless of which direction the drone is pointing. In other words, tilting the phone away from you will send the Snap further out, and tilting it toward you will bring it back toward you. It's extremely easy to learn.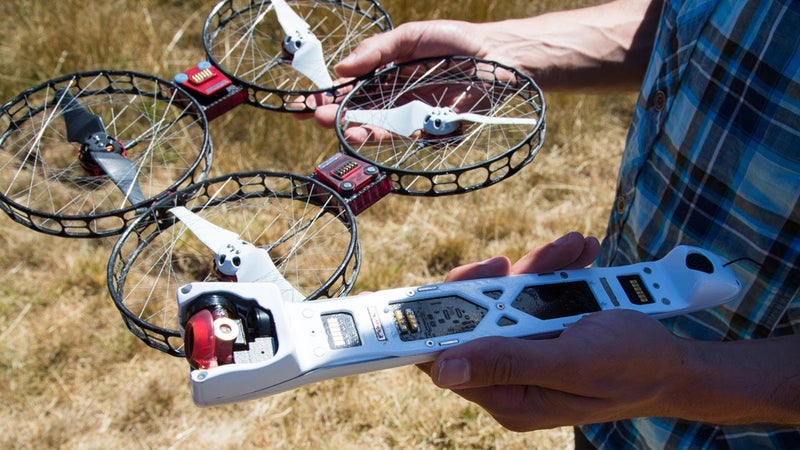 The app also will also have some pre-set flight programs. For instance, you can set it a certain distance away from you, and then, with the press of a button, it will fly in a perfect circle around you, with the camera pointed inward. Think 360-degree hero shots after reaching the summit of a big peak. Or you can draw start-and-end points on the phone's screen, and have it do a fly-by at just the angle you want. It can stay static in the air and rotate around to keep you in frame (using the phone's GPS sensor, so it knows where to look), or it can follow you from a certain distance and angle. It's pretty damn advanced and pretty damn cool for filmmakers. 
Or it will be. Hopefully. 
The Snap isn't scheduled to come out until March 2016. The version I got to play with is still very much in prototype mode. There were a fair number of flight anomalies, a few instances of it disobeying commands, and some weird gimbal issues, too. 
This is to be expected, though. The company's still eight months away from its release date, so bugs are to be expected at this point. The hardware isn't quite final either. The finished version will look more or less the same, but it will feature a 4K camera (like the Phantom 3), where as the prototype I used was limited to 1080p. 
So why opt for this over the more established DJI line? The smartphone controls on the Snap (as opposed to the joystick with the DJI) are definitely easier for newbies to understand. The Snap is also lighter, and feels a lot safer, than the Phantom. 
Of course, there are some trade-offs. As far as I could tell, the Snap wasn't as fast as the Phantom. (Although it wasn't much slower, and I can't speak to speeds conclusively until we see the final hardware.) 
One thing that's certain: the WiFi on your iPhone doesn't have anywhere near the range of the remote on the Phantom (only about 100 meters). The Phantom 3 can fly for a full mile and a half away before losing radio contact. (I personally verified that.) You'll be able to program the Snap to fly that far, but you won't be able to alter it's flight pattern or see what it sees until it comes back. All that said, Snap plans to offer a range extender for up to 1000 meters.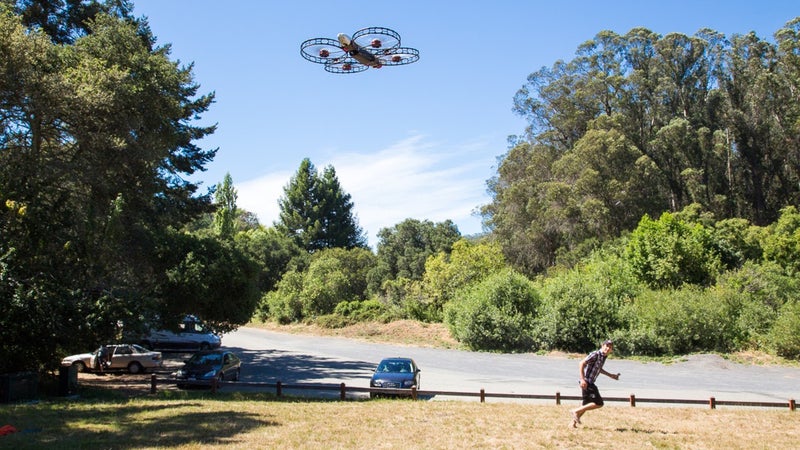 A few other notes. If you're a joystick fan, you can pair a Bluetooth, Xbox-style remote control with your phone and use it to fly the Snap—but again, your range will be limited by the phone's Wi-Fi. 
Snap plans to release an alternate array of rotors, which they affectionately call the Odd Pod, to boost flight time to close to an hour. The Snap currently gets about 20 minutes of flying time with its standard setup (the Phantom 3 gets about 25 minutes). 
There's still much to be ironed out between now and the release date, but I was told that we can expect the Snap to cost around $1,000—not cheap but a few hundred bucks less than the Phantom 3. I think the extreme portability and ease of use is going to be a major selling point, and, assuming the company gets all the bugs worked out, there's could be a new popular kid on the block come spring. 
Lead Photo: Brent Rose