In Stride
The Path To Self-Transcendence Begins with 3,100 Miles
Dispatches from the longest footrace in the world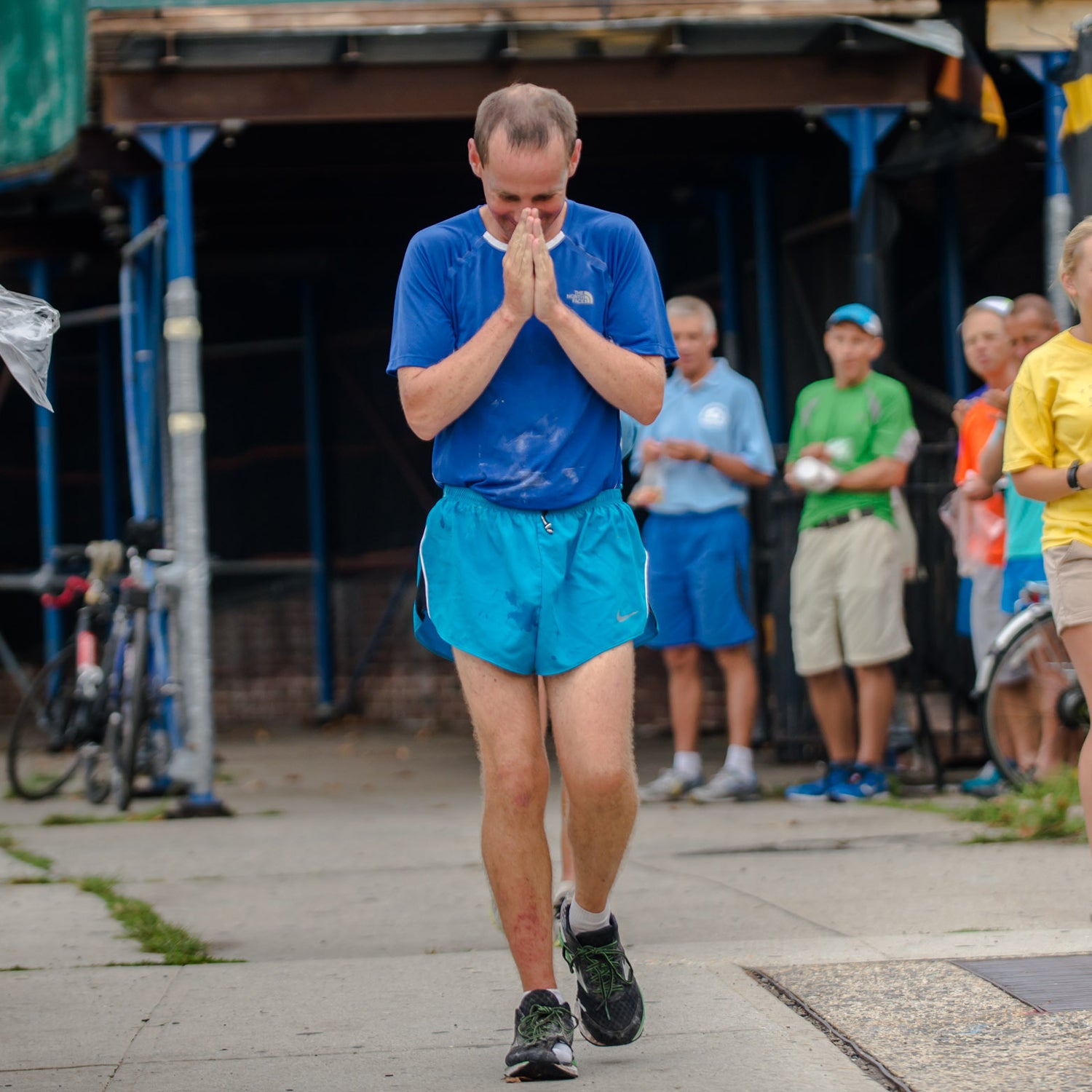 Heading out the door? Read this article on the new Outside+ app available now on iOS devices for members! Download the app.
On Tuesday, August 4, at 6:12 p.m., a former IT professional named Nirbhasa Magee completed a half-mile lap around a nondescript block in Queens, New York. That may sound like an unspectacular feat of endurance, but what distinguishes Magee from most other joggers plodding around Joseph Austin Playground, is that, over the course of the last 52 days, the 35-year-old Irishman has done the .5488 mile loop 5,649 times, an astounding total of 3,100-miles. To put it another way, that's like running from Portland, Maine, to San Diego, California, on a patch of urban landscape with little in the way of distinguishing features, save perhaps the perplexed stares of adolescent soccer players wondering what the hell you're doing. 
Magee, along with 11 others, was running what's known as the Self-Transcendence 3,100 Mile Race, which ended its nineteenth iteration this past Tuesday. Founded by the late Sri Chinmoy, the Bengali guru who was considered to be something of a Renaissance man of the occult and believed that "the supreme secret or goal will be to transcend ourselves," this event is the longest certified footrace in the world. Runners must average 59.6 miles per day in less than 52 days in order to be considered a finisher. As the eighth and final runner to reach the 3,100-mile mark in the allotted time, Magee's personal triumph coincides with an auspicious year for the race. In 2015, new world records were set in both the men and women's divisions; 44-year-old Ashprihanal Aalto of Finland completed his 5,649th lap on day 41, while 56-year-old Surasa Mairer of Austria equaled the feat on day 50. 
From June 14 to August 4, these competitors have been making the rounds in this small section of grass in Queens's Jamaica neighborhood, starting at 6 a.m. every morning and finishing at midnight, at which point they are transported by event organizers to nearby apartments for a few hours of sleep. All runners have support teams–usually family members or those of a similar spiritual persuasion—to hand them food and drink as they slog through the heat and humidity of the northeastern summer, inching their way towards 3,100 miles one concrete slab at a time.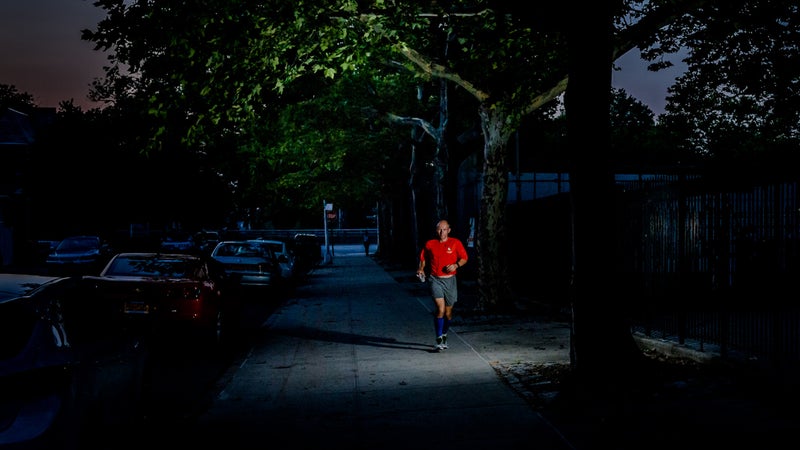 Curious as to what goes on inside the mind of someone who engages in such an extreme undertaking, and having seen elsewhere that runners often speak more candidly while on the move, I headed to Queens and joined Magee for a few laps to try and find an answer. I wasn't sure how lucid anyone could be after five and half thousand loops around the same city block and a diet that includes sticks of butter to keep an emaciated body from withering away, but Magee was affable and articulate as he shared some his thoughts during his final day of self-transcendence.   
Here are a few of them, distilled from our on-the-move interview.
---
On the big question: Why?
"It's kind of funny. I guess it's one of the paradoxes of the human being, with all these different conflicting pieces inside of us. Our body, our mind, would maybe like to go home and rest, but then you've got something deeper and that's just really enjoying being at the peak of capacity. I guess it's the same reason why people swim the English Channel or do Everest, there's some part, when you really push yourself, some inmost part of you that just gets tremendous joy."
On racing strategy for multi-day races
"On the one hand you have to be very focused, determined, to keep always going forward. At the same time, you have to be very relaxed. So when I say focused and determined that doesn't mean stressed out, it doesn't mean being agitated. You have to be very calm, peaceful. If something comes your way, the ups and the downs, the things you don't expect, you can't allow it to perturb you, to shake you. "
On what you listen to while you run
"I listen to different things actually. Sometimes, I'll put on a nice audio book. I really like American history. There's a historian called Doris Kerns Goodwin, she wrote this fantastic book about Lincoln [goes on to give a detailed synopsis of the book].  She also wrote a more recent book about the turn of the 20th century, about Teddy Roosevelt and William Howard Taft [another extended summary]. So I listened to maybe four or five different audio books during the time I've been here. Usually about two or three hours a day.
Music?
"Yeah, usually late at night. When I get sleepy, towards midnight, usually the last one and a half hours. Something with a little bit of a beat to it just to keep me moving. Then, the last couple of laps, to try and get into a meditative state again, I might put on some music by my teacher. [i.e. Sri Chinmoy, whose prolific musical oeuvre allegedly includes about 22,000 songs.]
On running shoes
"I don't scuff as much as some of the other guys, so I'm quite good on shoes. All the same, I've probably gone through about ten or eleven pairs. [Like several of the other runners, Magee had cut the toe box out of his shoes.] I'm wearing a Nike Pegasus now, but they're not my favorite brand for this race. My favorite brand is the Mizuno Wave Rider, they've got a very high heel. But, yeah, probably ten, eleven pairs, which is slightly less than average for this race. It really depends on the style of the runner; the winner, Ashprihanal from Finland, he probably used seven or eight pairs, whereas the Russian, Vasu, runs like this [goes an exaggerated forward shuffle]–apparently, the first race, he went through 30 pairs."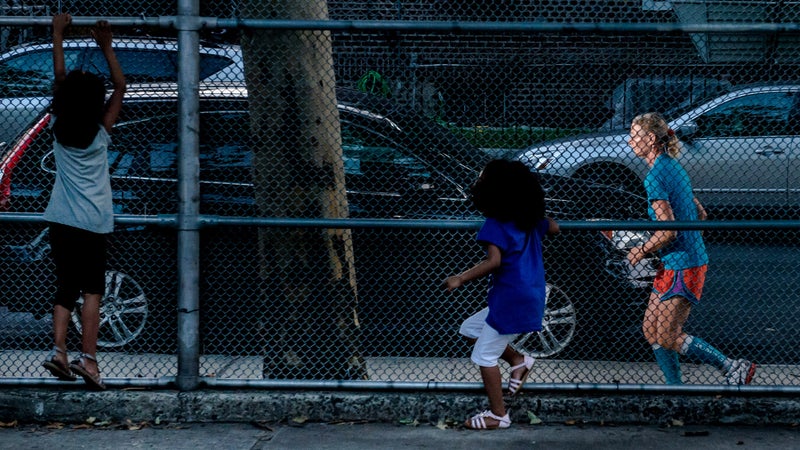 On training for the impossible
"I think a lot of the training is just for the mind. So the mind gets used to the idea of long distance and doesn't go [shrieks maniacally]. My basis was that every day I'd run for two hours, at least. Then, for my long runs, I'd do a four hour run, and then five hour run, etc. Then, I'd start actually thinking about miles per week. That was my barometer. I'd aim for about 150 miles per week, but mentally it's very hard keeping that level of training up for so long."
On fueling while running
"[As we pass through the aid station and Magee's brother hands him a cup of beer.] I actually have to drink beer by doctor's orders. Non-alcoholic beer. I had some issues with my gall bladder, because we just eat so much food. [Another runner told me that they probably burn around 10,000 calories per day.] Apparently, beer stimulates the stomach and the gall bladder. I drink about five or six glasses a day."
Promising that I would return for his finish that evening, I left Magee to do some fueling of my own in the air-conditioned sanctuary of a nearby Indian restaurant. The proprietor, it turned out, was also a devout Sri Chinmoy follower. As I sipped mango lassi beneath a photo of the guru lifting 7,063 ¾ pounds with one hand, I wondered what sort of reception would await Magee when he completed his journey.
Apparently, I wasn't alone. When Magee set off on his 5,649th lap, a modest crowd, including camera crews and local news reporters, had gathered beside the chain link fence enclosing the ball fields of Joseph Austin Playground. Most of the athletes who had already completed the course in the past few days had returned to welcome the last finisher. 
---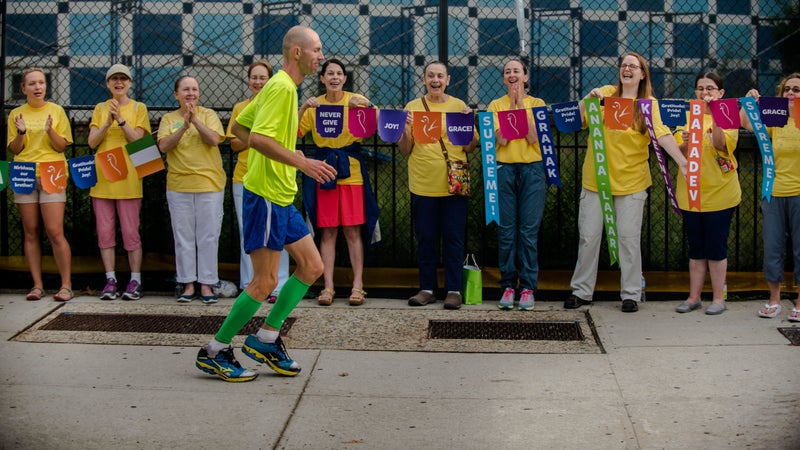 After Magee broke the tape–in this case, a purple ribbon held aloft by his father and brother, who had come from Ireland for the race–he was given a bouquet and urged to take a seat on a foldout chair. Two women in saris presented him with a giant tiramisu bearing the number 3,100, after which the entire congregation began to serenade Magee with a few of the Sri's 22,000 songs.
Among the singers was this year's champion and new record-holder Ashprihanal Aalto. Aalto, who has also done small-scale stuff like hike thru-hike the PCT and Appalachian Trail, has now participated in the 3,100-mile race 13 times. I asked him why he kept coming back, and Aalto told me that for him the race was a "spiritual journey" and "like meditation." Beyond that, the trials of self-transcendence were apparently also useful in putting everyday woes into perspective. 
"Here, it can be pouring rain and you're tired and you've been running for ten days and you have thousands of miles to go and just have to keep going all the time . . ." Aalto said.
"[When you come back] you value things differently. Some things are not so important anymore. After the race, the things that used to be big things become small.  It used to be 'oh, no, I broke my phone' or 'I lost my keys' and the mind makes a big deal out of it. But after this race, you're just like 'oh, who cares.'" 
I asked Aalto if he planned to run again next year. 
"No, next summer, I'm going to climb Mt. McKinley," he said. "I don't just run all the time, you know."
Lead Photo: Sri Chinmoy Ultra Race Photos