Meet the Only Guy to Raft the Animas This Week
As people in Durango watched the Animas River turn a neon shade of orange last week, a pair of rafters took to the water to deliver a message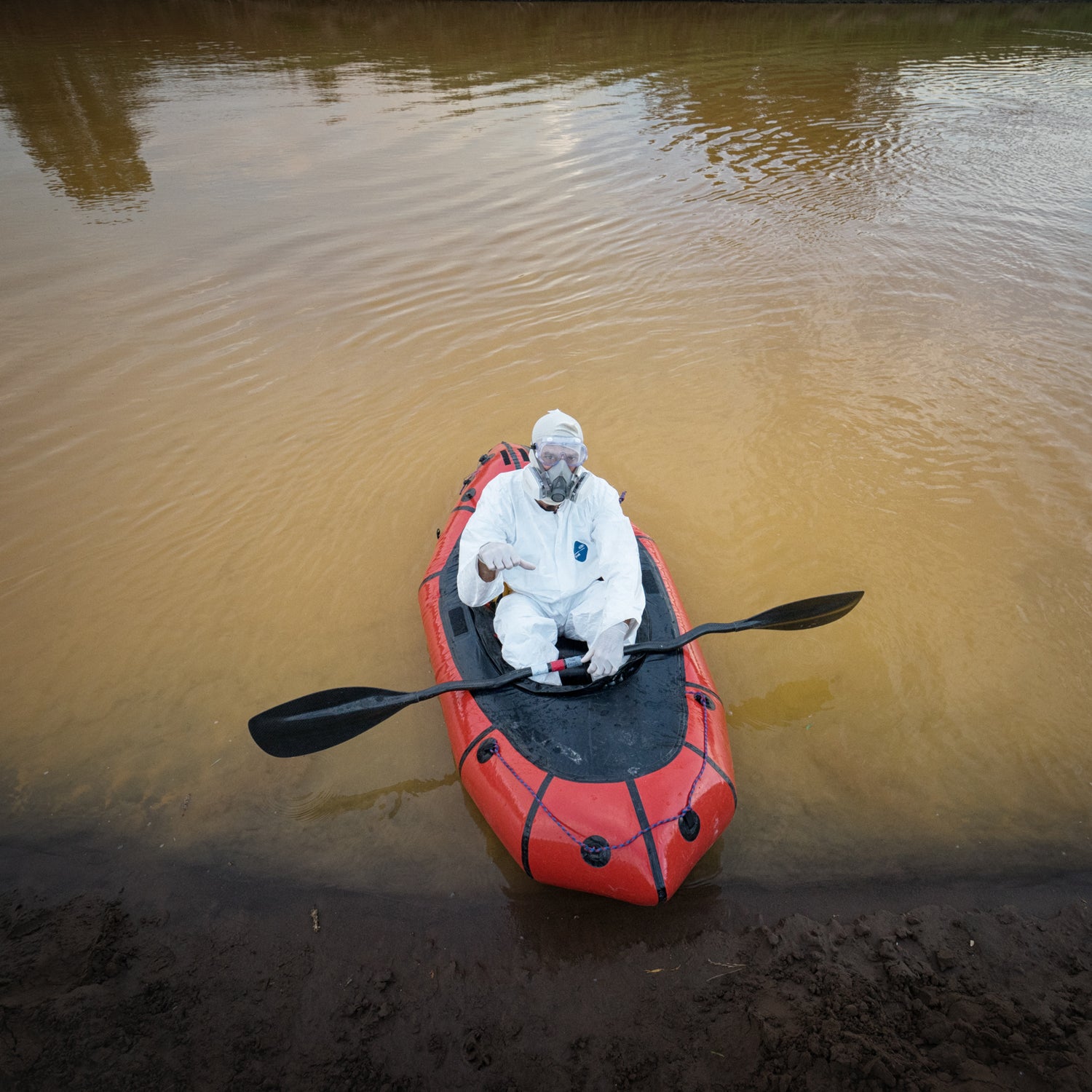 Steve Fassbinder(Photo)
Heading out the door? Read this article on the new Outside+ app available now on iOS devices for members! Download the app.
When residents in Southwest Colorado got word on Thursday that a wastewater dam at an inactive gold mine 50 miles north had ruptured, sending a plume of bright orange chemical waste down the Animas River, everyone cleared the waterway. Everyone, that is, except Nathan Shoutis.
The Animas is a pillar of summer activity in the state. It flows straight through the heart of Durango, a popular tourist town, enticing kayakers, rafters, floaters, tubers, fishermen, and swimmers this time of year. On August 5, the Environmental Protection Agency (EPA) accidentally punctured the dam at one of the hundreds of mines in the Silverton area, unleashing more than three million gallons of water laced with arsenic, lead, and other pollutants. By Wednesday, August 12, the bright orange sludge had flowed from the Animas to the San Juan River in New Mexico and was on course to reach Utah's Lake Powell.
As the toxic plume spread downstream, locals stood watch on bridges and riverbanks, paying witness to an ecological tragedy. However, Shoutis, a 34-year-old high school librarian and pack rafter in town from Wyoming, and his friend Steve Fassbinder, a 41-year-old pack rafter and photographer, opted to take a closer look. They came up with an idea to shoot Shoutis paddling through the polluted water. But why? We caught up with the two to find out.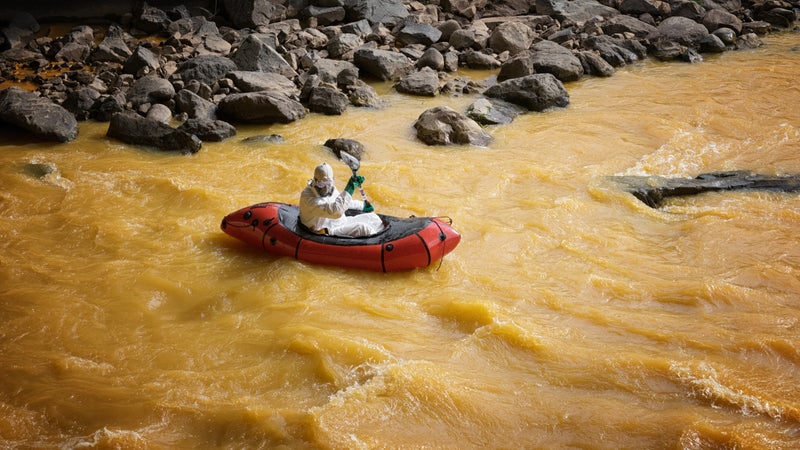 OUTSIDE: How did you plan this?
FASSBINDER: I was at work and news of [the spill] came over the radio that this is heading to Durango. You think, No, that can't be happening. Then you realize that it is actually coming and could be really bad. It's a strange thing when you know a disaster is coming to your town. When something like that happens you don't normally get a warning. It was a weird feeling in town that everyone knew it was coming. I thought I should probably make a statement.
"We intentionally picked a spot that wasn't splashy. I definitely didn't want to splash it in my face or tip the raft over and swim in it, no way."
What kind of statement?
FASSBINDER: Just trying to raise awareness that this might not be the last time this happens. What people may not know with this spill is that it's only part of a larger picture—a lot of that stuff in the mines has been leaking for decades into the Animas. The water passes quality tests but the chemicals are still in there and coming through town every day. This is our legacy from mining in Silverton. 
You have to understand that eventually something like this [pollution] is going to come down. I wanted to get people to think about that—this could be something we'll see more often. It got me thinking today about fracking—it's like the modern mining boom we're having and it's affecting Colorado. We're running headlong into it and what are the consequences going to be in a hundred years from now?
Why the suit? 
SHOUTIS: To bring the message through clearer. Since the photo got out [in the Guardian], Steve and I have talked about calling this character HazMan. He's like the recreationalist of a future when we might have to wear that kind of safety gear, depending on how we manage our environment. Pollution is just getting more and more prevalent and we're consuming more and have more waste. So the character represents a future in which you might need to protect yourself from the environment that you love.
And you had a Hazmat suit on hand?
SHOUTIS: It's actually a Tyvek painter's suit. We picked it up at Home Depot on the way to the river along with some cheap chemical safety goggles. And the mask is just a painter's mask. Nothing fancy.
Were you worried about falling in or getting any of that water on you?
SHOUTIS: Yeah, definitely. We intentionally picked a spot [near Santa Rita Park] that wasn't splashy, and I just did some laps in the water. I definitely didn't want to splash it in my face or tip the raft over and swim in it, no way. I got a little on my hands and washed it off immediately afterwards. I wasn't critically worried about it, but I played it safe. I didn't want to mess around with that water. At that point [on Friday morning], we didn't know what was in it. The EPA didn't release that information until later.
Have you done this kind of performance art before?
SHOUTIS: Not really, no.
FASSBINDER: We did it on a whim. The river was technically closed and we were trying not to get busted. But it had to be done.
Lead Photo: Steve Fassbinder