Lumenus Founder Jeremy Wall Is the Steve Jobs of the Outdoor Industry
The 23-year-old inventor on upgradable smart jackets, Zero UI, and why the Apple Watch isn't the future of wearables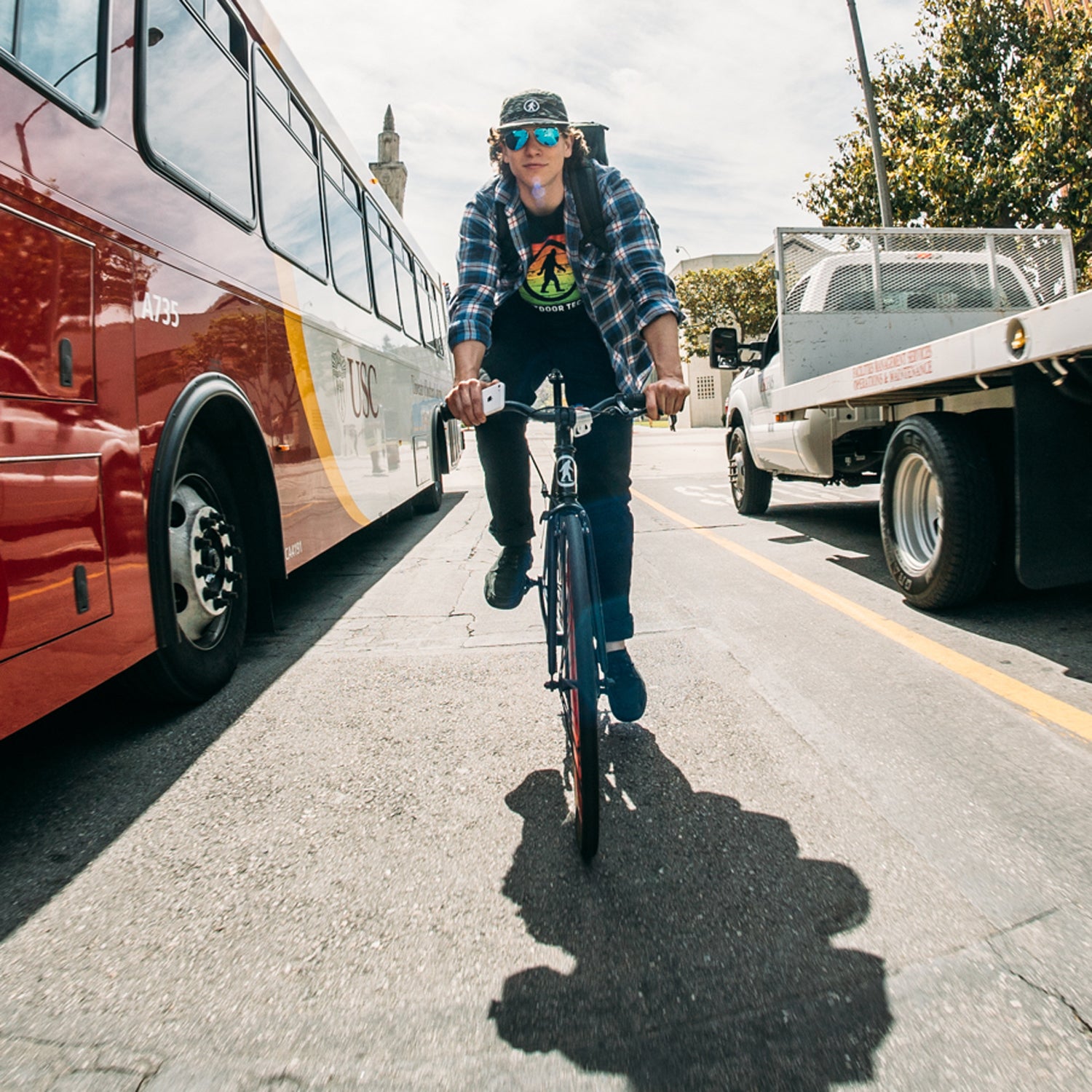 Heading out the door? Read this article on the new Outside+ app available now on iOS devices for members! Download the app.
At any trade show, hidden behind the big brands and glitzy booths, is a find—an unexpected, innovative offering that, if we pay attention, could provide a glimpse of the future. 
At this year's Interbike, that find was Lumenus, a small startup with one main product: LED-equipped jackets that interface with Google Maps on your phone to offer turn-signal indications for your chosen route and, crucially, added visibility, and automatic turn and brake signaling to other road users. 
Although only in prototype phase, the Lumenus products were some of the most memorable from the show. But what caught our eye wasn't a jacket that tells you where to turn or even automatically signals those turns to other road users. It was the potential for what might come next. We caught up briefly with 23-year-old Jeremy Wall, founder of Lumenus, for his thoughts on what the future of wearables might hold. Hint: it's not the Apple Watch.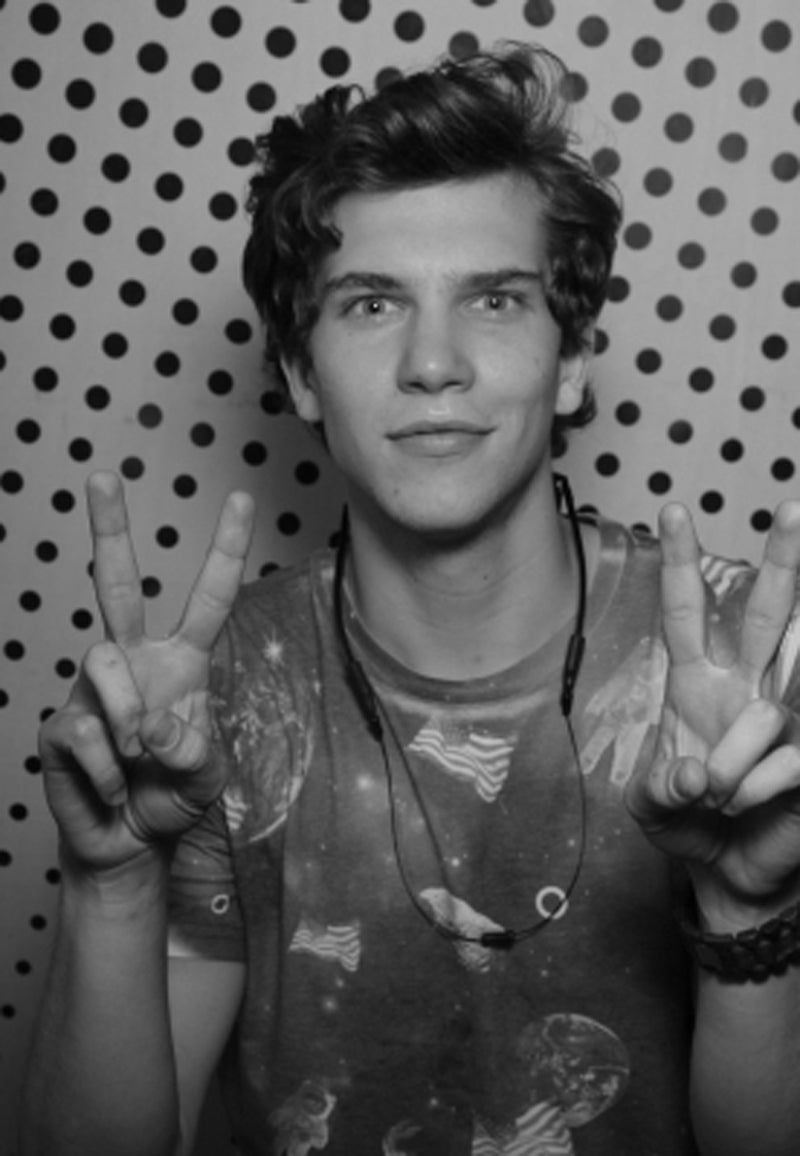 OUTSIDE: How did you come up with the concept for the Lumenus tech?
WALL: I found that I used a lot of various technologies and was ultimately dissatisfied with them. I use Strava and Runkeeper and MapMyRun, and I saw flaws and wrote them down. 
The biggest issue was that you're always interfacing with a screen. Almost everything on the market, from the fashion to the performance realms, seems futuristic, but there's always a screen. Visual lighting is an interesting way to communicate in another way. There are some biometric tools, in health care for instance, that have that ability to communicate like this, but because none have an interactive component, they're limited. 
So when we figured out that turn signals could be automated, we asked what else could we build in. And we realized you could have, say, a pace meter for running—a little light that lets you know, automatically and visually, without looking at a number and doing math, that you're on pace. 
That was what struck me at Interbike: you guys basically had turn-by-turn GPS, only without the screen.
We want to remove the screen. As a cyclist, that's the last thing I want to look at, so you're not tethered to your phone. You can just live your life. For me, as a person who studied fashion, I didn't picture a bracelet or smartwatch as a wearable—it's an accessory. When I think "wearable," I think clothing. It's in your life every day, not an adjustment you make. You need a great cycling jacket, so why not add tech and function to it?
Lumenus is integrating software, hardware, and textiles into a single product. What's been the biggest challenge?
That integration was pretty easy, actually, because we have waterproof electronics, and the tipping point was a price point we wanted to reach. But there are other issues. We realized that waterproofing standards like IPX7 don't apply to washables, so we had to create new standards of washability, which is different from conventional waterproofing. We were asking questions about what can be integrated: how much of the brains need to live in the jacket, or can we just do battery and hardware and the brains live in the phone?
At the same time, the garment has to work as a whole piece. Nobody will pick this just because it has lights—it has to fit well and look good. That's been my focus: how do you make something with all of these tech features integrated seamlessly without feeling bulky? And it needs to be washable and have materials that work in the weather you're riding in.  
The biggest issue is that we don't have a standard to follow. It's not like there's an Arc'teryx jacket that'll show us how to put this together. We're creating the standards as we go. 
So you don't have a blueprint to follow. Where are you finding technological guidance or inspiration?
There's not a lot of electronic integration in soft goods, so we're looking at independent industries. Take deep-water scuba gear. We want to know how the companies in that space make electronics that are 100 percent submersible and pressure-resistant. 
In general, we're looking at how people have integrated batteries and wires. I spend a lot of time looking at the latest and greatest products, even if they're not immediately relatable to what we're doing. For example, I found a company making a muscle sensor—when you flex, it creates a certain electronic reaction—and I want to know if we can apply that technology. 
"Some of my favorite companies have a larger mission. Ours is to save lives and be a pioneer in what smart clothing can be."
What other markets do you see the Lumenus technology working in?
We're really excited about the industrial market. It's especially exciting for people in construction or highway patrol, because the product is so adaptable. A highway patrol officer could wear a black vest with built-in visibility that would flash white and blue whenever he got off the bike. 
You're backed by Outdoor Tech, but you recently launched on Kickstarter. Why? Are you looking for additional capital, or are you market testing?
A little of both. There's a significant up-front cost to develop this technology. But we also wanted to see what the market has to say. We came to Kickstarter early because we wanted to engage with customers. For example, one of the first questions about our pack was, "Does it come with a hydration bladder–compatible top?" It didn't, but that feature was easy to integrate. Kickstarter is a great place to get meaningful feedback on a concept. We don't have to make 500 prototypes first to discover what we did wrong. 
Do you want to keep Lumenus independent, or are you looking more for acquisition or partnerships?
We're not creating lights and jackets. We're creating an ecosystem of wearables and influencing how people interact with them. Some of my favorite companies have a larger mission. Ours is to save lives and be a pioneer in what smart clothing can be. 
As a founder, I love the idea of controlling where this goes, but the ability to team up with someone with an R&D budget who can help us create this? I'm open to that.
For you, the future of wearables is clothing. What does it look like beyond that? 
We'll continue to develop new products, but we're trying to create a brand that has value year after year, so the stuff has to be upgradable. A Gen 1 garment will work with Gen 7 software. We're looking at things like silver [thread, which can conduct electricity,] and biometrics. We look at technology like energy harvesting, flexible batteries, and sensors that can stretch in fabric. 
How do the upgrades work in practice? 
Say the first jacket has signaling for text notifications. Maybe in Gen 2, you can customize colors based on whom the text is from. We can continually upgrade that software, which is why we start with a really high-quality LED that animates and changes color in false spectrum. With that hardware, we can create, for example, customizable training programs. 
Is that the Zero UI (user interface) we hear about?
Yes, that's it. For example, a garment would have lights that automatically adjust to different lighting and weather. So the jacket senses that it's 6 p.m. in Minnesota and brightens the lights accordingly. Instead of you tinkering with an app, it automatically makes the change for you. 
Why is Zero UI such a big deal?
As [sci-fi writer] Arthur C. Clarke said, "Any sufficiently advanced technology is indistinguishable from magic." That's where I see wearables going. Think about pacemakers: They're one of the earliest wearables ever made, and people don't think about them. But they're really advanced. They're integrated biologically! You don't think about the tech unless it's not doing what it should. That's where wearables are going: They're going to be more beneficial with less interaction from you. There's more AI, using logic like a human mind and taking data, analyzing it, and acting on it automatically. 
This interview has been condensed and edited for clarity.
Lead Photo: Courtesy of Jeremy Wall