Tentrr Is the New Airbnb for Campers
The former managing director of the New York Stock Exchange hated staying at overcrowded, dirty campsites. So he came up with a new model: single canvas tents for rent on some of the most beautiful private property in the U.S.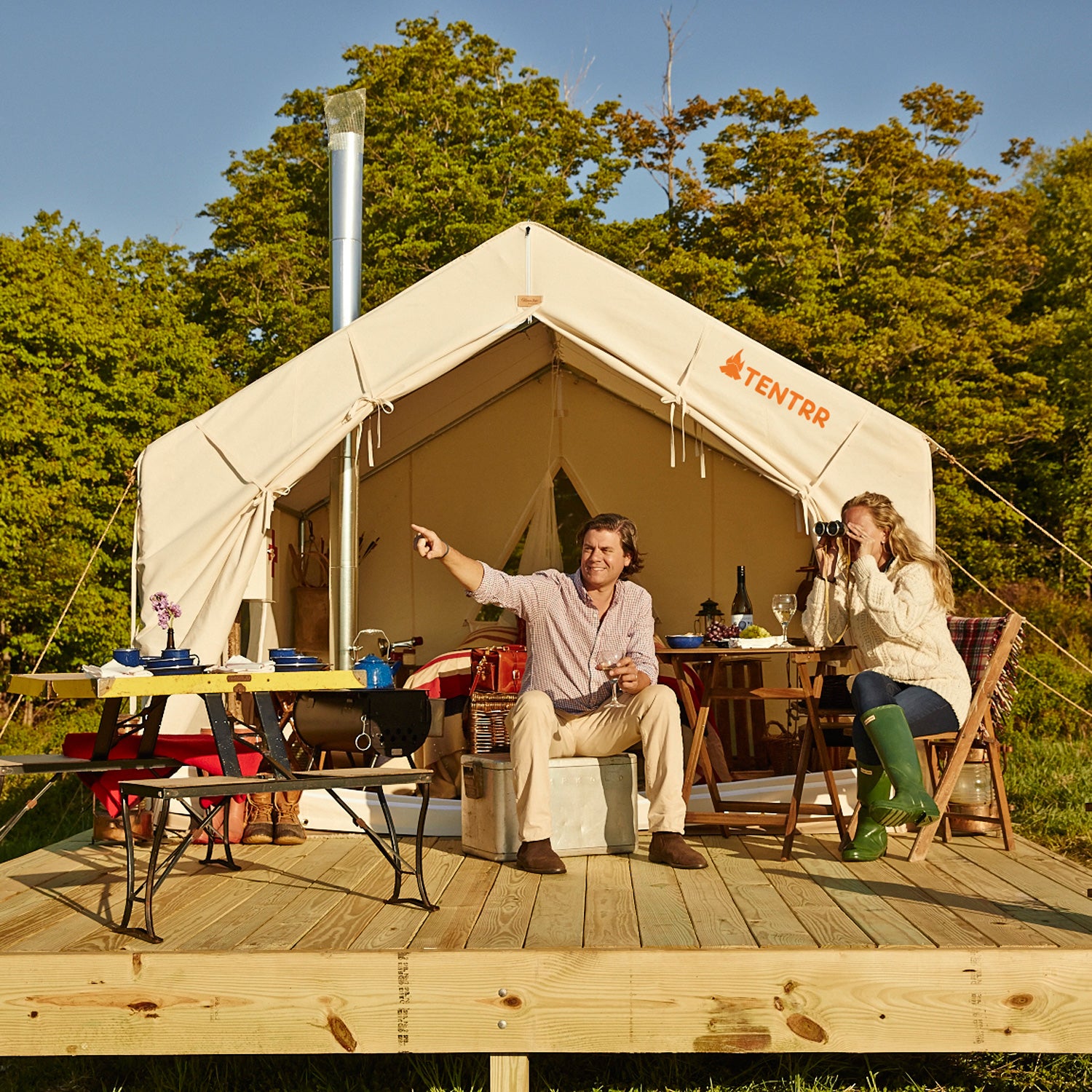 Tentrr(Photo)
Heading out the door? Read this article on the new Outside+ app available now on iOS devices for members! Download the app.
One weekend last summer, Michael D'Agostino fled Manhattan for a campground in the Catskills, where he and his wife hoped to enjoy a respite from the city's frenzy. He pitched his tent at the last available site, which happened to be near the bathroom and the parade of people passing in and out of it. The adjacent site was occupied by a group of 40 mead-guzzling Wiccans whose revelry lasted well into the night. 
The experience left him more than just sleep deprived. It inspired him to invent a brand-new approach to camping.
"It didn't make sense to take people from the city, where they live on top of one another, and move them to the country to continue living on top of one another, only in tents," says D'Agostino, 41, who compares his Catskills outing to "camping in Times Square." So he left his managing director position on the New York Stock Exchange to launch Tentrr, a network of individual campsites situated on private land. Each site in the network enjoys an average of 12 acres of privacy. "Instead of a campground with multiple sites clustered together, we're building a distributed model, with just one site on a big space," he says.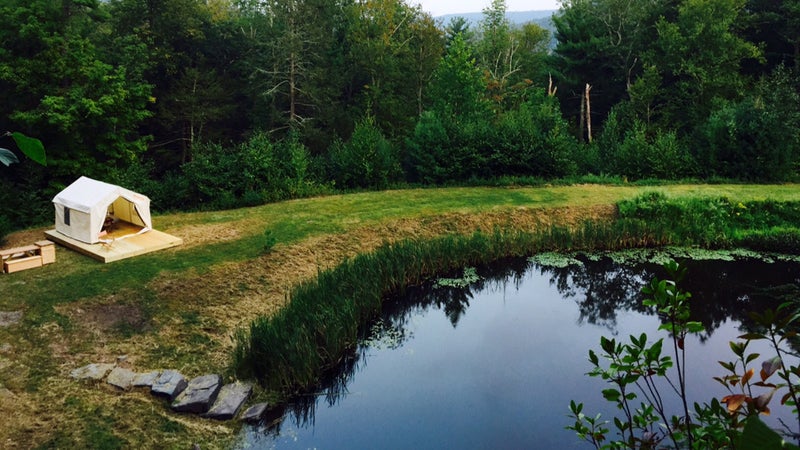 Think of Tentrr as camping's answer to Airbnb, except Tentrr sites are standardized: once a CampKeeper agrees to list his or her property on the network, Tentrr constructs a wooden platform, an outhouse with chemical toilet, and a CampBox (a combination table-bench-storage unit that D'Agostino designed himself) and erects a canvas tent with an air bed. 
The company leaves the details up to the CampKeepers, who generally pimp out the tent with cozy rugs and maybe a wood-burning stove. Campers need to bring just food and entertainment. 
"It's totally synergistic," says Chris Lane, one of the first landowners to join the Tentrr network. Guests pay $145 per night to stay on his Delaware County farm, where they overlook a flower-filled meadow surrounded by rolling hills and forest. "It helps defray the cost of land ownership, which can be substantial," says Lane, a New Jersey resident who purchased the farmstead as a weekend retreat and retirement home. Campers, meanwhile, get to cook over a fire, let their dogs run free, and gaze at stars typically hidden by city lights. 
"It feels like your own private paradise," says Dave Presley, 29, who stayed in a Tentrr site near Delhi, New York, this past summer. "I've always been someone who wants to be in the woods," he says. "My career [as a video producer] put me in Manhattan, where I'm surrounded by cars, people, noise, but being able to drive out and feel completely secluded allows me to reset." His Tentrr escape required just a two-hour commute, but "I felt like I was in a completely different world that let me connect back to nature," he says. 
Tentrr also benefits rural economies by attracting sustainable numbers of visitors to locations often overlooked by tourists. "I think it's an awesome idea," says Carol Wingert, town supervisor for Tusten, New York. "It's not bringing hundreds of people to one spot, so it's environmentally sound," she says.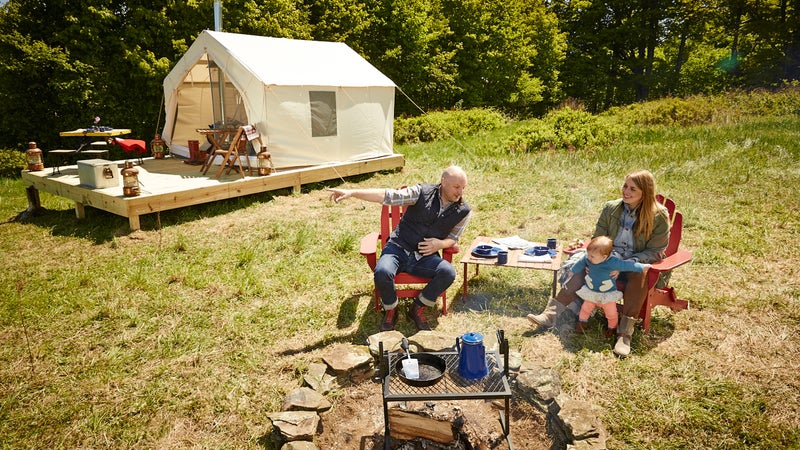 Currently, Tentrr operates about 24 sites, all in New York. Its target demographic ranges in age from 25 to 40 and hails from urban enclaves such as Brooklyn and Williamsburg. But D'Agostino plans to expand Tentrr nationally: The platform is currently seeking CampKeepers in the New England and mid-Atlantic states. As it migrates west, Tentrr will compete with the California-based platform Hipcamp, which books campgrounds and started offering campsites on private land this fall. 
"The more people doing this, the better," says D'Agostino, who wants to use Tentrr's $1.1 million in backing funds to create not just a network of campsites on private lands but also a comprehensive outdoor discovery platform.  
"We think the outdoors is pretty horribly represented online," says D'Agostino. "Right now, you can Google until you're blue in the face and you still won't find the best places to go mountain biking, or canoeing, or fly-fishing, or hiking. You just can't find those local goodies online." Tentrr plans to aggregate all of that dispersed info into one database, incorporating user ratings and a geo-search that lets people match Tentrr sites to their preferred activities. "We want to be like a Yelp for the outdoors," D'Agostino says. 
Lead Photo: Tentrr
Trending on Outside Online