The Noob's Guide to Rock Climbing
Climbing is one of those sports that can seem way out of reach for newcomers. But it doesn't have to be.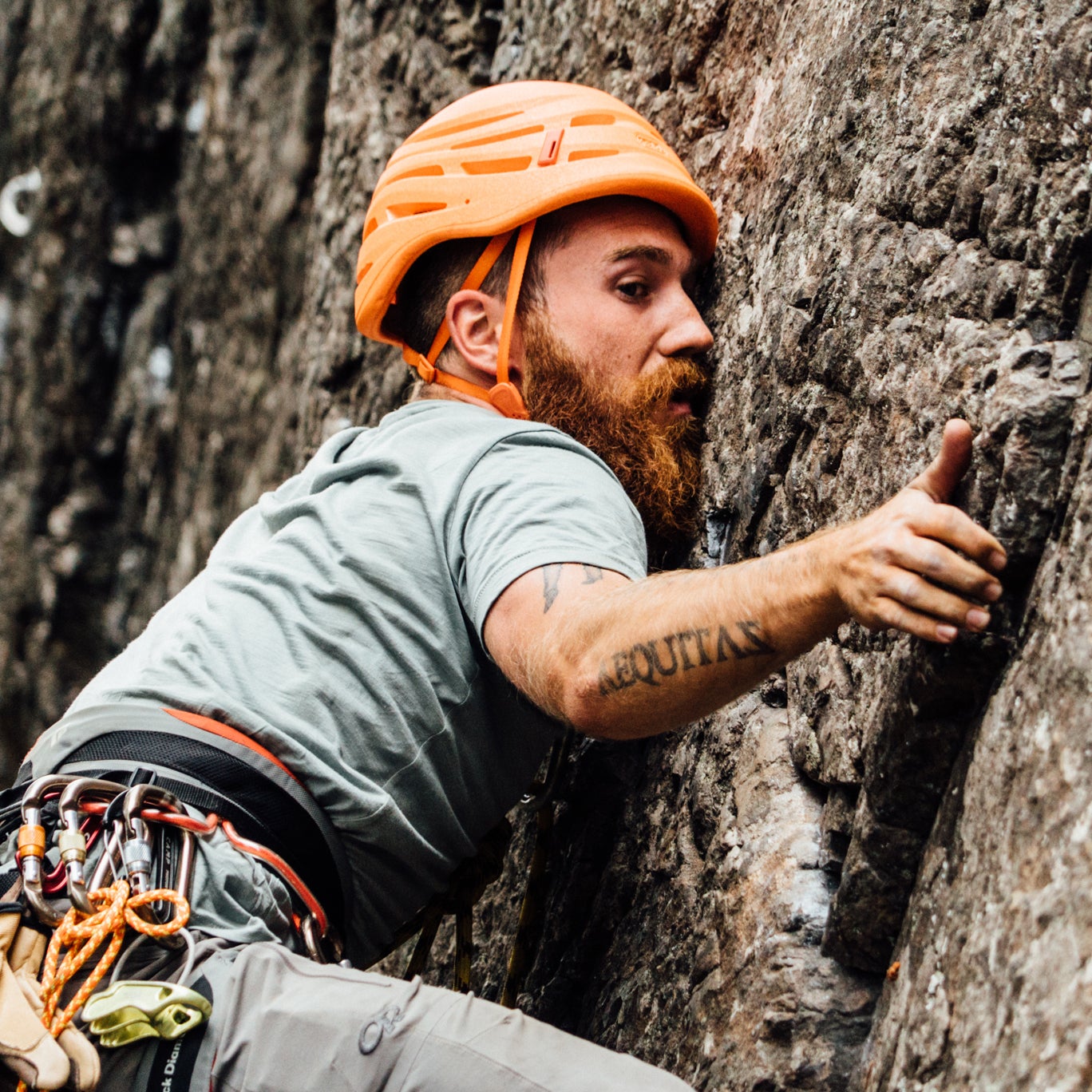 Heading out the door? Read this article on the new Outside+ app available now on iOS devices for members! Download the app.
Always wanted to go climbing, but don't know where to start? We're here to help, with this basic guide to gym and outdoor rock climbing, as well as the different styles, techniques, and jargon. Hopefully it helps remove some of the mystery, helps you figure out which disciplines you'd like to try, and makes it easier for you to get started.
Gym Climbing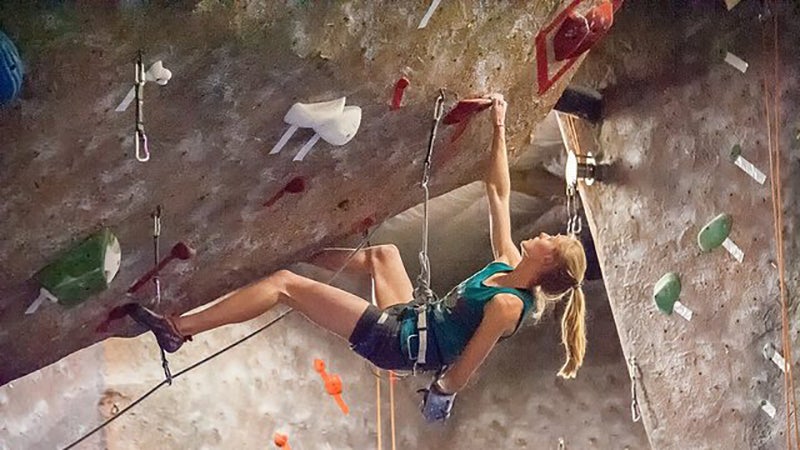 Chances are, you've been to—or at the very least, have heard about—an indoor climbing gym in your town or city. Gyms attempt to replicate outdoor climbing experiences through the use of artificial walls, handholds, and footholds. At each gym, different "routes" up the wall are set at varying levels of difficulty. Routes are typically color-coded by holds, and their difficulty is marked at the start with a plastic card designating its name and grade. The higher the number, the more difficult the route.
Indoor climbing is typically divided into three disciplines. Bouldering, top roping, and lead climbing. Each of these vary in technique, but the objectives are all the same: get to the top.
Bouldering
The biggest distinction between bouldering and other types of climbing is that, in bouldering, there is no use of a rope or harness. Instead of relying on ropes for protection, bouldering usually relies on crash pads (thick padded mats) to protect climbers when they fall. Additionally, routes (called "problems" in bouldering) are not typically more than 20 feet tall. Having a partner isn't strictly necessary, but spotting is an important skill for bouldering.
Boulder problems are graded on the V-scale in North America, with V0 being easiest and V16 being the most difficult. The V-scale is based strictly on difficulty and does not take into consideration fear or danger.
Indoor problems can vary greatly depending on the hold size, spacing, and shape. Because minimal equipment is needed (usually just climbing shoes and chalk) and little initial training is necessary, bouldering has a low barrier of entry. As such, it's often the starting point for many new climbers. New climbing gyms dedicated strictly to bouldering are becoming more prevalent because of this.
Top Roping
If you're climbing indoors but not bouldering, chances are you're top roping. These climbs are protected by a rope anchored from above and belayed (the act of applying tension to the rope to minimize the distance in a fall) from the ground. Top roping is usually considered less physically demanding than other types of climbing due to the belayer's ability to prevent the climber from taking large falls. As such, it's probably the most popular type of indoor roped-climbing.
Top roping routes at the gym are usually marked with plastic cards at the start of the route that note their name and grade. These routes feature color-coded holds as well. In North America, routes are graded on the Yosemite Decimal System (YDS) which ranges from 5.0 to 5.15c. The higher the number, the greater the difficulty.
Sport (Lead) Climbing
Sport lead climbing relies on fixed bolts for protection along a predefined route. The lead climber ascends the route with the rope tied to his or her harness and clips into each bolt or quickdraw to protect against a fall.
In indoor climbing gyms, quickdraws (two non-locking carabiners connected with webbing) are pre-placed on the bolts so that a lead climber only has to clip the rope in as he or she ascends the route.
Lead climbing requires a much greater commitment than top roping, because there is a greater potential for the lead climber to take a more drastic fall (called a "whipper"). As the lead climber ascends, the potential fall distance will be twice the length of the rope between the last clipped bolt and the lead climber; this distance can be exaggerated by dynamic rope stretch.
Sport routes are also graded on the Yosemite Decimal System in North America.
Outdoor Rock Climbing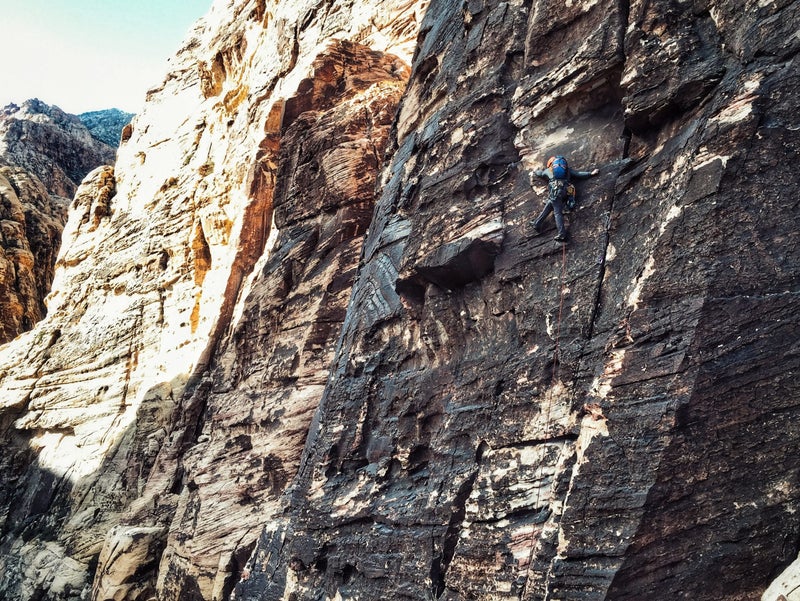 For most, gym climbing is seen as the end of the road—but in reality it's just the beginning. While indoor facilities provide a safe and convenient environment in which to practice, climbing can be most enjoyed in the great outdoors—where variables such as weather, rock, and scenery are constantly changing.
Indoor and outdoor rock climbing have many of the same gear requirements; both types of climbing utilize many of the same skills. As such, if you're comfortable climbing indoors, there's no reason why you shouldn't go try it outside. However, due to the ever changing natural environment, climbing outdoors requires significantly more knowledge of systems—as well as ethics. In this section, we'll highlight some of those differences, shed light on those systems, and touch on some types of climbing that are exclusive to the outdoors.
Bouldering
When bouldering outdoors, portable crash pads are often used for protection. These smaller crash pads typically fold in half and can be worn as a backpack for carrying on approaches.
Top Roping
Top roping outdoors is useful in areas where the rock quality does not allow for adequate leader protection, where bolting is not part of the local ethic, or where top-ropes can be set off of trees. For sport top-rope routes, it's possible to hike to the top of the bolted anchor, set the rope, then return to the bottom to climb. For trad top-rope routes the process is the same, except instead of setting the rope off of a bolted anchor, the climber would build an anchor using removable protection instead.
Sport (Lead) Climbing
Most sport-climbs outdoors are lead climbs. The lead climber will clip into bolts along the route and then build an anchor at the top, while belayed from the ground.
Trad Climbing
Trad (short for traditional) climbing is a style of outdoor rock climbing where the lead climber places removable protection along the route in order to protect from falls. The protection is then removed from the route as the team's final climber ascends.
Why climb trad instead of sport? Since climbers place their own gear (protection devices such as nuts and cams) and there's no predetermined route, trad climbing emphasizes exploration. There are no boundaries. Anything is possible. Put simply, climbing trad is an adventure. Because of those same factors, however, trad climbing has a potentially greater risk factor than sport climbing.
Another advantage of trad climbing is that when compared to sport climbing (where routes are permanently bolted) trad climbers can better adhere to Leave No Trace principles, because modern trad protection is removable—leaving more pristine environments for future climbers to enjoy.
Aid Climbing
Aid climbing is a style of rock climbing where the climber attaches devices to pieces of protection and stands on those devices to make upward progress. It is typically reserved for climbs that are too steep, long, and difficult for free climbing. Aid climbing is the most popular way to ascend big walls like those found in Yosemite.
Free Climbing vs. Free Soloing
Unlike aid climbing, free climbing is characterized by making upward progress relying only on the natural features of the rock—using ropes and equipment only to protect a fall and provide a belay. Most rock climbing is considered free climbing.
Free soloing—the type of rock climbing that's recently become publicly visible because of Alex Honnold—occurs when the climber performs alone without using any ropes, a harness, or other protective equipment. The climber instead relies on their ability to complete the ascent.
Free soloing differs from bouldering in the sense that free solo climbers usually climb to heights that would be unsafe in the event of a fall.
Due to similarities in nomenclature, free climbing and free soloing are often confused, especially by the media—however the two different types of climbing feature notable distinctions.
What Is Rappelling?
Rappelling is the controlled descent of a vertical face by the climber himself or herself—not to be confused with lowering, which is what a belayer might do for the climber at the end of a climb to get them back to the ground. It's used at the end of a climbing route when it cannot be safely or easily walked-off from the top—or if climbers need to bail from a route when the climb becomes unsafe or impossible given the conditions or climber's ability. Rappelling is most often done using a belay device; it requires an anchor to be left behind—either in the form of permanent bolts, or webbing around a rock feature or tree.
Route Length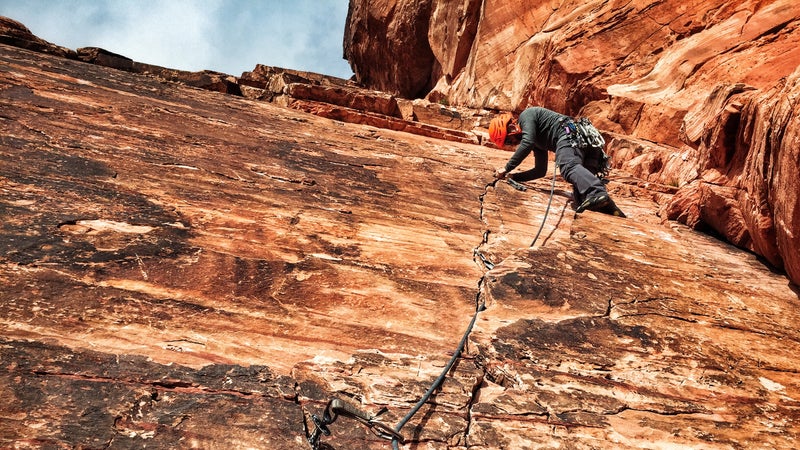 The length of a route will often determine its number of pitches. A pitch is a steep section of rock that requires a rope between two belays—or between the belay and an anchor. A pitch's length can be determined by a number of different factors, including the length of the rope (it must be less than half the length of the rope in order to be belayed,) the end of good rock, visual sight, the ability to communicate, rope drag, the presence of convenient belay stations.
For a single pitch climbs, the route can be completed in just one pitch, which is belayed from the ground. Multi-pitch climbs however, require two or more pitches to complete the route. On a multi-pitch route, a new belay is created in between pitches at each new anchor; oftentimes the lead climber and follower alternate roles climbing leading or belaying and then following and belaying at each station until the ascent is complete.
Gear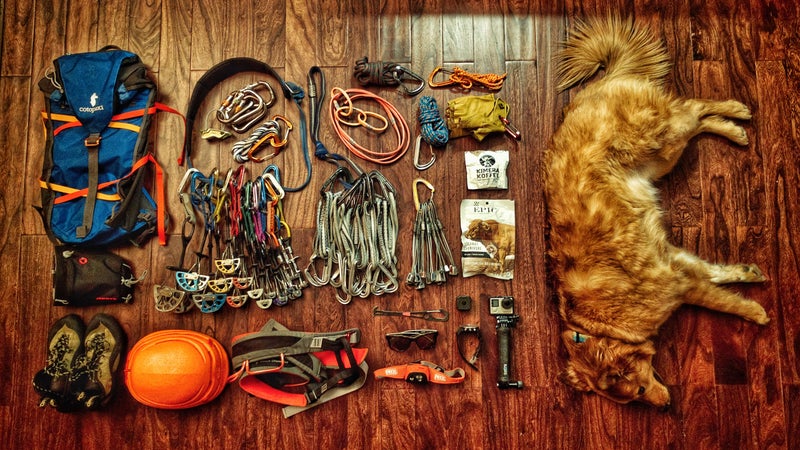 Rock climbing is a relatively gear-intensive sport. As your skill and interest develops, so too will your understanding of what each piece of gear does and how it supports your needs. These are the basics to get you started.
Shoes
Rock climbing shoes connect the climber to the rock; as such they are one of the most important pieces of gear. When choosing your first pair, opt for a shoe that is designed for comfort and all around performance. Then as your skills become more advanced, you can upgrade to higher performing shoes that are best-suited to your specific climbing goals and interests. Regarding fit, the old advice to get shoes two sizes smaller than your street shoe is completely outdated, given advances in materials technology (shoes don't stretch as much anymore) and evolving climbing styles and goals.
Rope
A climbing rope serves to protect the climber in the event of a fall. They are constructed of two main components: a core and a sheath. The core provides most of the rope's strength; the sheath protects the core and makes the rope easier to handle.
They are divided into two main categories: dynamic and static. Dynamic ropes have elasticity and are designed to absorb the energy of a falling climber. Static ropes are used in anchoring systems, for hauling gear up a wall, or when rappelling—but never for belaying a climber.
The most common ropes are single—which means they're designed to be used by themselves as individual strands.
Climbing ropes come in a variety of different lengths and diameters; a 60-meter long, dynamic, dry-treated, single rope with a diameter from 9.5 mm to 10.2 mm will serve a great number of purposes.
Harness
A harness is used to connect the rope to the climber. They usually consist of a padded, reinforced waist belt and leg loops—which are connected to the waist belt with a reinforced belay loop.
Harnesses come with a variety of different features, each tailored to different styles of climbing. When choosing your first harness, prioritize comfort and features over weight-savings.
Belay Device
A belay device is a mechanical friction device used to control the rope while belaying. Their main purpose is to provide an easy way to stop the rope in the event that the climber takes a fall. However, they can also be used to control the descent on a rope when rappelling or lowering a climber.
Passive belay devices (like the Black Diamond ATC or Petzl Reverso) are cheaper and lighter—but active devices (like the Petzl GriGri) will provide assisted braking in the event of a fall. These devices rely on initial friction from a brake hand to operate; and are not automatic. However, active belay devices can more easily lead to negligence on the belayer's part due to their perceived automatic operation.
Most people should learn and develop habits with simple tube-style, passive devices (such as the ATC) first, and move on to more complicated devices with additional features only after mastering the basics. The more featured devices have some additional safety features, but only if the basics are still applied to them. Beginners handed a "safer belay device," are way more likely to make mistakes.
Carabiners
Carabiners are metal loops with spring-loaded gates that are used as connectors. They come in two different types: Locking and Non-locking.
Locking carabiners prevent the gate from being automatically opened when in use. They are used for important connections, like when the rope is running through an anchor, or attaching a climber to the middle of the rope. Locking mechanisms vary from screw gates, to automatic twist lock, to those secured by magnets
Non-locking carabiners are used for less critical connections, like attaching the rope to a piece of protection (when set up as part of a draw or to an individual piece of protection as part of an anchor.
Carabiners come in different shapes, sizes and locking mechanisms for different purposes. A smaller carabiner may not always be better and locking carabiners are often no stronger.
(Quick)-Draws (Quick/Alpine or Extendable)
Draws are used to connect the rope to a piece of protection while climbing. For a quick-draw, two non-locking carabiners are connected by a piece of short, pre-sewn webbing. One of the carabiners is often loose, while the other is kept rigidly in place with a rubber strap, to aid in efficient clipping of the rope. Alternately, two non-locking carabiners can be connected by a piece of shoulder-length (60cm/24in) webbing to create alpine-draws, which have a greater versatility in length. Quick-draws are most often utilized in sport climbs which are usually directly bolted, whereas alpine draws shine in a trad or multi-pitch environments where routes are more wandering.
Protection
Protection devices (often called "pro" for short) allow a climber to place temporary anchor points on the rock during a climb. Passive protection (such as nuts) acts as a choke when pulled on; they use the shape of the rock to prevent the device from falling out. Active protection (such as a spring loaded camming device, or "cam" for short) converts a pull into pressure against the rock, locking it tighter in place.
Nuts are the simplest form of passive protection; they're essentially constructed of small blocks of metal attached to a cable. They are used by slipping them into a wedge-shaped crack in the rock and set when pulled on.
The most common type of active protection are cams. Three to four individual cam lobes are set along an axle; attached in the middle by a syringe-like trigger. When the trigger is depressed, the cams' position narrows. When it is released or pulled on, it expands—securing its position in the rock. Once placed, they are attached to the rope by a non-locking carabiner or draw. Cams were designed specifically to protect parallel sided cracks that were unprotectable by nuts requiring constriction.
Helmet
The primary purpose of a climbing helmet is to protect a climber's head from falling debris such as rock or dropped equipment. In the event of a bad fall and flip, it can also protect the back of the climbers head from impact against the rock.
Helmets are often not worn indoors, but are becoming more and more popular and are now seen as a required piece of equipment in most outdoor rock climbing.
Belay Gloves
Belay gloves protect a belayer's hands from rope burn. They are also useful when rappelling.
Chalk
Chalk is used to absorb moisture from the climber's hands, usually in the form of sweat. It's often stored as a powder in a chalk bag, attached to the climber's harness.
Climbing Knots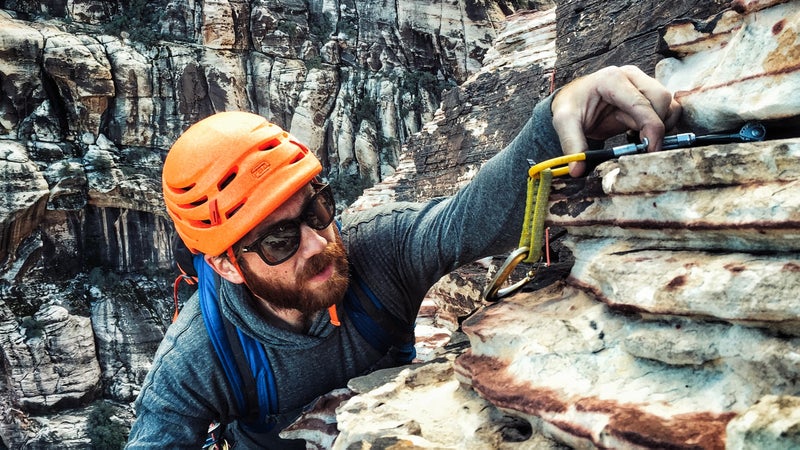 Knowing how to tie knots is an essential part of climbing; knots come in a ton of different varieties. Each serves a purpose. Some can serve multiple purposes. Many knots can serve one purpose. These are a few of the basics.
Retrace Figure Eight
The retrace figure eight is the most secure and efficient way to connect the end of a rope to a climbing harness.
Girth Hitch
The girth hitch is essentially what you do with a luggage tag. It's useful for attaching slings to various things, like the two hard points in a harness—or when slinging a tree for protection.
Clove Hitch
The clove hitch is useful for attaching a rope onto a carabiner, or tying in at an anchor.
Double Checks
Many dangerous or even fatal mistakes that occur during climbing can be prevented through simple double checks. Perform these with your partner before each climb or pitch, starting from the top to the bottom.
Ensure that helmets are clipped, harnesses closures are double-backed, rope ends are tied through two hard-points on the harness (waistbelt and leg-loop connector,) and that retrace figure-eights have ten strands present. Then ensure that the rope is running correctly through the belay device and that carabiners are locked before climbing.
Communication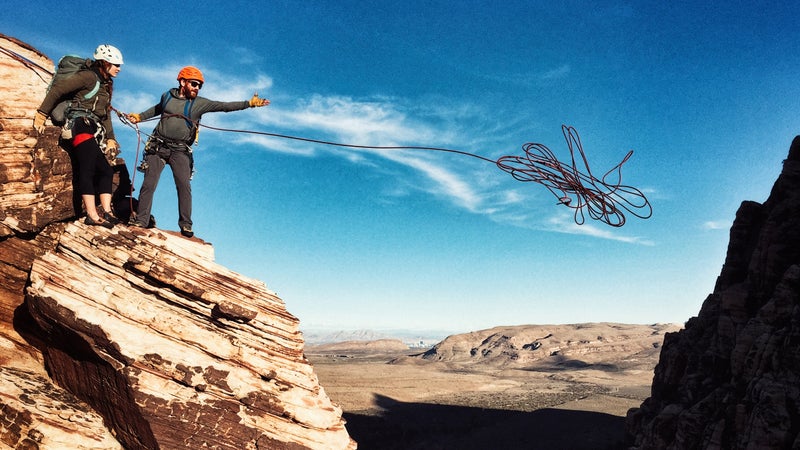 While rock climbing, clear communication is the key to reducing stress, increasing transition efficiency, and avoiding accidents due to miscommunication.
When issuing commands, always start by calling your partner's name. Oftentimes at busy crags, many parties will be climbing and issuing similar commands to your own. By calling your partner's name at the beginning, you can clarify the direction for your communication. Always acknowledge received commands with a "thank you!" followed by your partner's name.
Before beginning a climb, the leader will ask his belayer, "On belay?" If the leader is on belay, the belayer will follow with, "Belay is on." Then the leader will say "climbing" when they are ready to climb. The belayer will follow with, "climb on!"
If climbing a multi-pitch route, once the leader reaches the anchor and secures himself, he will call, "off belay!" Once the belayer takes the leader off belay, he or she will call out, "Belay is off!"
If at any point during the time the leader feels like he is going to fall, he or she can call out, "falling!" and the belayer will increase the tautness of the rope to minimize the shock during the fall.
There are a few more commands that are useful as well. If you see a rock falling or you drop anything, call out, "Rock!" If pulling a rope down, call out, "rope!" when the end goes slack through the anchor; call out "rope!" again before it hits the ground.
By utilizing clear, loud, effective communication, the climbing experience will be improved for everyone around.
Climb On!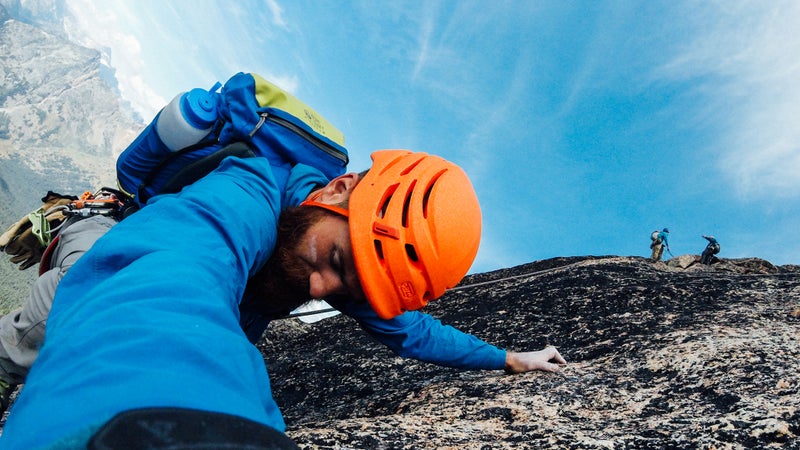 Rock climbing is one of the most fulfilling and exciting ways to explore the world we live in. Though it can be intimidating to get started, once you begin it will be hard to imagine your world without it. While gyms provide an easy gateway into the sport, the real adventure—like most activities—is found once you step outside. One of the best ways to ease that transition is by hiring a professional guide, or seeking out qualified instruction from a reputable organization like The American Alpine Institute.
Additional reporting by Andrew Yasso.
Want to refine your climbing skills? Check out our Climbing Essentials with Conrad Anker online course on Outside Learn, where Outside+ members get full access to our library of more than 50 courses on adventure, sports, health, and nutrition.
Trending on Outside Online