How Can I Stay Fit and Run for Life?
Identify what you love about running, get in a groove, and keep coming back to it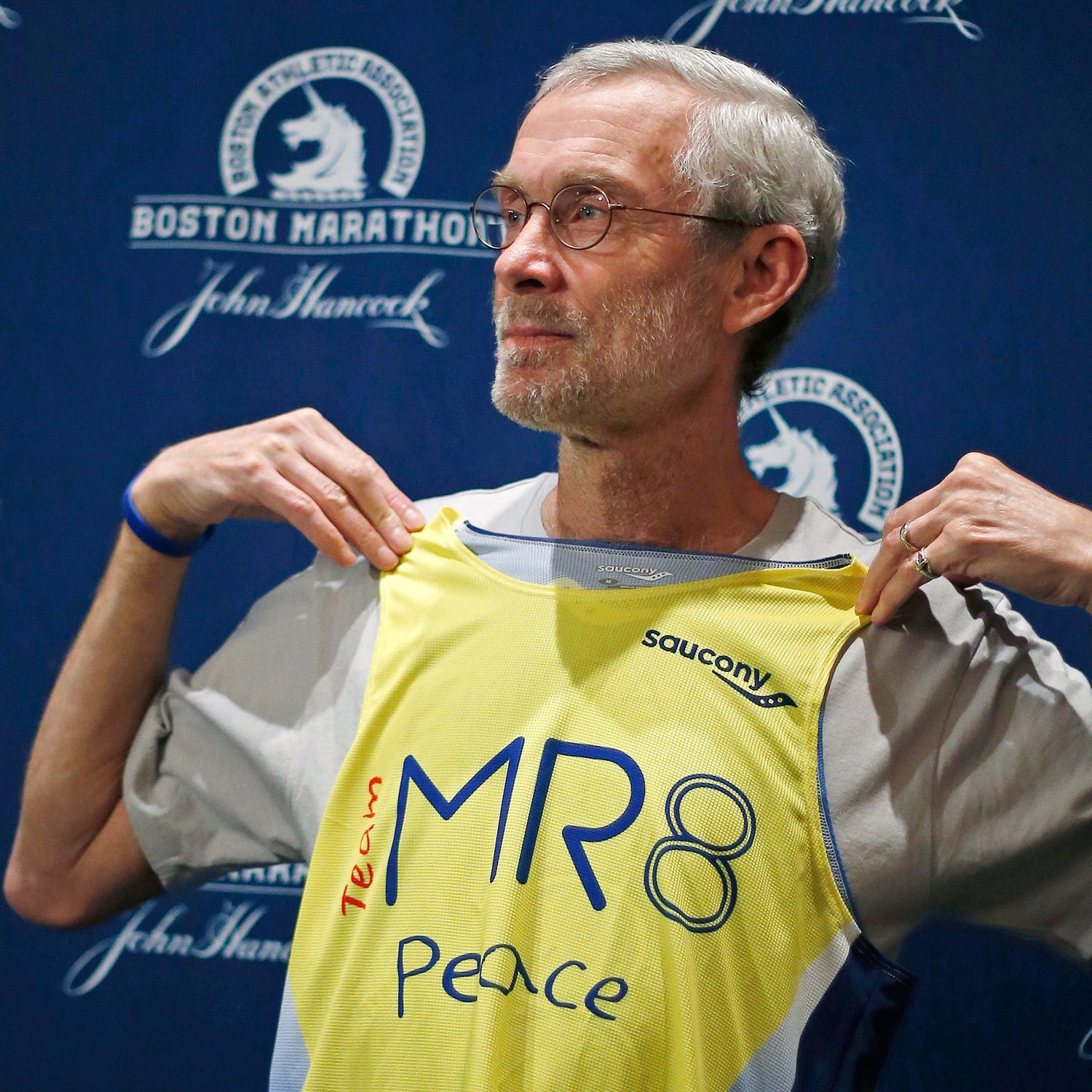 Associated Press(Photo)
Heading out the door? Read this article on the new Outside+ app available now on iOS devices for members! Download the app.
In 1968, a tall, lanky runner from Groton, Connecticut, pulled away from the field at mile 14 of the Boston Marathon. Though he ran the ensuing 12 miles scared, he refused to look back. Two hours, twenty two minutes, and seventeen seconds later, Amby Burfoot became the first American to win the historic race since his coach and mentor, John J. Kelly, did 11 years prior. 
Almost a half century later Burfoot, who is just shy of 70-years-old, is once again lining up to race the Boston Marathon. Only this year he won't be toeing the start line as a favorite, but rather as one of the preeminent elder statesmen of running. He's an accomplished writer, speaker, and all-around expert on the sport. We caught up with Burfoot prior to Boston to soak up some ageless running wisdom. 
Run Lots. Some Days Hard. Other Days Easy. Back when I won Boston, I was running 110-to-120 miles a week.  Lots of long, slower runs with some intensity mixed in.  If I were to do it over, I'd probably try running a bit less. I think I could have achieved the same results with about 70 percent of the training. 
Greatness, Single-Minded Focus: I grew up in the era of sex, drugs, and rock-and-roll, and I didn't do any of those things. I was completely dedicated to running. I ran about seven miles every morning and nine miles every afternoon. I was committed to getting better. 
Favorite Workout: Back then it was a 15 miler through apple orchards and nature preserves. We got faster as the run progressed so it was pretty hard by the end. But the run was always enjoyable and in a great environment. My training was the antithesis of the metrics-based interval training that took hold a bit later on. We just went out and ran—it was a beautiful thing.
Keep Fueling Simple. It amazes me how many nutrition and hydration products there are these days. Back then, we hardly consumed anything outside of maybe a little water. Although we suffered a lot, we were still pretty fast. Nowadays, I like to take a few gels, especially the kind with caffeine. But I still keep it simple. 
Eat Clean. I've always been a bit of a food "faddist." For a while, I was an ovo-lacto vegetarian [eggs but no meat] and ate tons of carbohydrates. When I was running hard, I'd inhale tubs of ice-cream and it burn it off immediately. As I've aged, I've realized the importance of protein in my diet. Nowadays, I eat less carbs and a lot more protein. Eggs, Greek yogurt, and fish are all staples of my diet; I'll even occasionally eat chicken. But I still don't eat red meat.  
Mental Strength: We didn't really talk about "mental fitness" in 1960s. I grew up in a very small community. No one ever told me I would be successful so I was always kind of stunned by winning anything. Eventually confidence builds and success leads to more success. Proving yourself to yourself is really special. 
Play to Your Strengths. I learned early on that I didn't have top-end speed or a fierce kick. I developed my whole racing strategy to punish people early so there wouldn't even be a "race" at the end. I dared people to suffer as much as I was willing to suffer. 
"Recovery" Is Smart Training. While there is a lot of hype about various recovery modalities—from foam rolling, to cupping, to compression, to ice, to heat—there is not a lot of conclusive evidence supporting any of them. Far more important is understanding your body's natural rhythms and cycles and designing your training accordingly: How many easy days do you need after an intense day? How many weeks can you train hard before taking a break? How often can you race? If you listen to your body and are honest with yourself, you'll be able to answer these critically important questions. 
Transitioning Out of Competition: In 1976, I gave it one last shot at making the Olympic team. I finished maybe ninth or tenth. At that point, I had given my all to the sport for over 10 years. I felt I had left it all out there—not just in that race but in my entire career—and I had no regrets. Hanging up the racing shoes wasn't that hard.  
Amateur Running: I love it! The 120-mile-a-week weight on my shoulders was lifted. I got back into running for the sheer joy of it.  
Longevity: Eat right. Sleep. Listen to your body. Don't be afraid to run less. Right now I only run about 25-30 miles a week.  
Running and Writing: The only thing I've ever tried to do is to be authentic. There's been a bit too much fluffy writing about running throughout the years. I just try to paint an honest picture of what it's like to be a runner and to train hard. 
Latest Book: It's called First Ladies of Running. So many women were doing incredible things for the sport in the 1970s, really transforming it. I was shocked no one had compiled all these stories in a book. So I did!  Even though I'm not biologically their "contemporary," I grew up with these women. I saw them at the Boston Marathon every year. We ran together. I have tremendous respect for them and felt their stories should be documented. 
Life-Long Love Affair: What's really important to me in my running career is not that I won the Boston Marathon. It's that I've run the same Thanksgiving Day road race the last 53 years and I've still got a foot in the game and I am leading a healthy lifestyle. 
We get so obsessed in running with muscle fibers and cardiac health and we think it's our nutrition or foot strike or length of our Achilles that is important—but I don't think any of those things are that important. What's important is establishing a sound emotional relationship with the sport. If you can keep running…it's like an old friend. You can revisit, evolve, and recommit in a different way. An old friend that yields massive benefits. 
Lead Photo: Associated Press