Meet the Long-Distance Alternative to the Beer Mile
If you like trail over track (and if you like to hold onto the contents of your stomach), beer relays are where it's at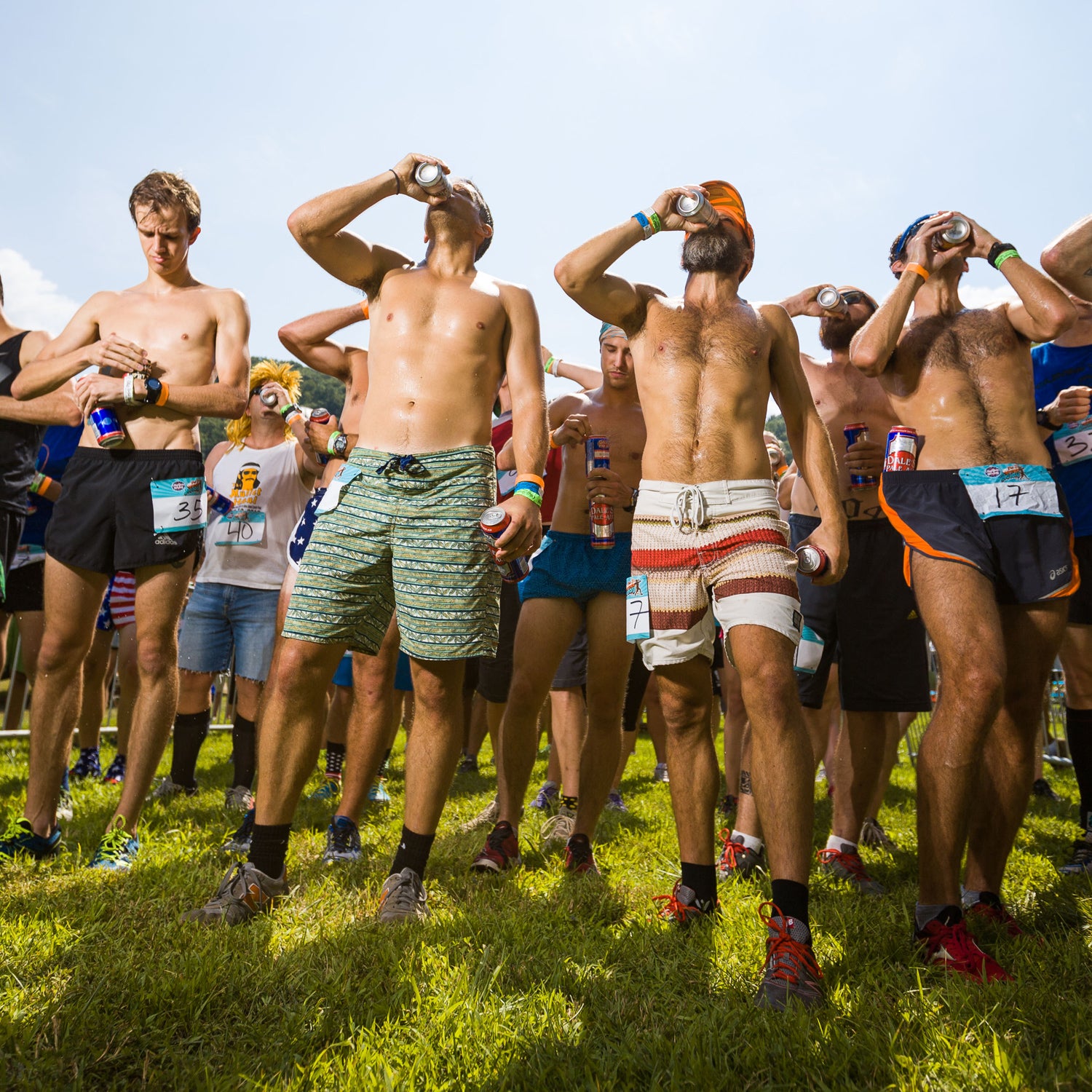 Gameface Media(Photo)
Heading out the door? Read this article on the new Outside+ app available now on iOS devices for members! Download the app.
Far be it for us to criticize the beer mile, but the event really does favor the fast-twitchers among us. Even if you can chug a beer in 5 seconds flat, if you can't follow it with speedy 400-meter splits and—perhaps most difficult—not barf at the end, you're not going to have a successful race. 
Enter the Beer Relay, a four-hour-long running and drinking event designed to test your endurance (and your liver's).  Teams of two or four racers trade off running laps and chugging beers. The team that's run the most laps in the fastest time wins.
Of course, beer has been present at relays since the sport's inception. But, unlike chugging a beer between legs at a Ragnar, at these races it's sanctioned and it offers a competitive edge. "If you choose to drink a beer before your lap, you get two minutes taken off your [5K] lap time," explains Josh Kravetz, who organizes the event for brewery Oskar Blues. (This year's races have been shortened from the previous time of six hours, but Kravetz predicts that in that time, a winning team would complete around 10 laps.) "So if you think you can chug a beer in less than two minutes, it's an advantage." 
It's certainly more doable than 5 seconds, especially if you take a page from champion beer milers like Lewis Kent and do some "practice chugs" leading up to the big day. And it's even easier because you can drink higher quality booze than you would at a beer mile, where competitors almost always slam a can of light beer. With its low-alcohol content and lack of flavor, it's the ideal choice. But when you're only drinking one beer for every few miles run, you can actually indulge in something good. For this race, Oskar Blues lets runners choose from one of its award-winning craft beers. 
Oskar Blues' beer relay traverses singletrack with stretches technical enough that runners have to pass a basic sobriety test before being allowed to continue.
It's the second year that Oskar Blues has run a series of Beer Relays, the first of its kind, and it turns out the concept is a hit. Last year the event ran in two cities: Lyons, Colorado, and Brevard, North Carolina. This year, there will be a third race in Austin, Texas, and Kravetz says registration series-wide is 10-times higher than in its inaugural year. Similar types of events are popping up elsewhere. The Craft Beer Relay series has several runners split up a 5K with beer sampling stations along the way, and the Bend Beer Chase offers samples as teams run between the town's best breweries. 
Oskar Blues' beer relay traverses singletrack with stretches technical enough that runners have to pass a basic sobriety test before being allowed to continue. "You can only drink the beer in the corral [stationed at the beginning of the loop], and before you go into the corral there's this obstacle that's kind of a balance, hopping challenge, just to make sure you have the agility to trail run," says Kravetz. 
While the beer relay course is less controlled than the beer mile course, just about every other aspect is safer—especially when it comes to your dignity. Because you only drink one beer per 5K loop, the beer-to-miles ratio isn't nearly as nausea-inducing as it is in the beer mile. 
"Like any race, you know it's going to be a little painful, but this one you also know it's going to be fun," says Ryan Van Duzer, a filmmaker, endurance athlete and travel show host. He did the race last year as part of a two-man team, and plans to return in 2016. "You don't have to drink the beer," he says, but he admits that at last year's race, he may have encouraged some of his fellow competitors to drink between laps. (He recommends Mama's Little Yella Pils.)
And just in case you're worried about getting completely trashed, science says you're probably going to be fine. Kravetz asked a doctor about how quickly someone would metabolize a single beer throughout the course of a 5K loop. "He told me, 'Well, you're burning so many calories that you're going to burn right through it,'" Kravetz says. "So I wouldn't say it's officially medically approved, but I think the actual level of drinking we're administering is pretty moderate." If you're trying to have a tame day-drinking experience, join a big team so you only run one or two laps during the six-hour time limit. If you're on a team of two, things could get a bit fuzzy during the final laps—but that's the fun of it.  
The whole thing really is supposed to be about fun, not running a PR. Kravetz doesn't see the event going the way of the beer mile, so don't look for a "world championship" race anytime soon—or for people going pro. Kravetz says that he wants the race to be an all-day party in which you happen to do some running, not a 6-minute-long sufferfest that ends in a flourish of vomit. We'll take that alternative.
Lead Photo: Gameface Media