Gear Guy
What Items Belong in My Backpacking First-Aid Kit?
A list of essentials vetted by a wilderness first responder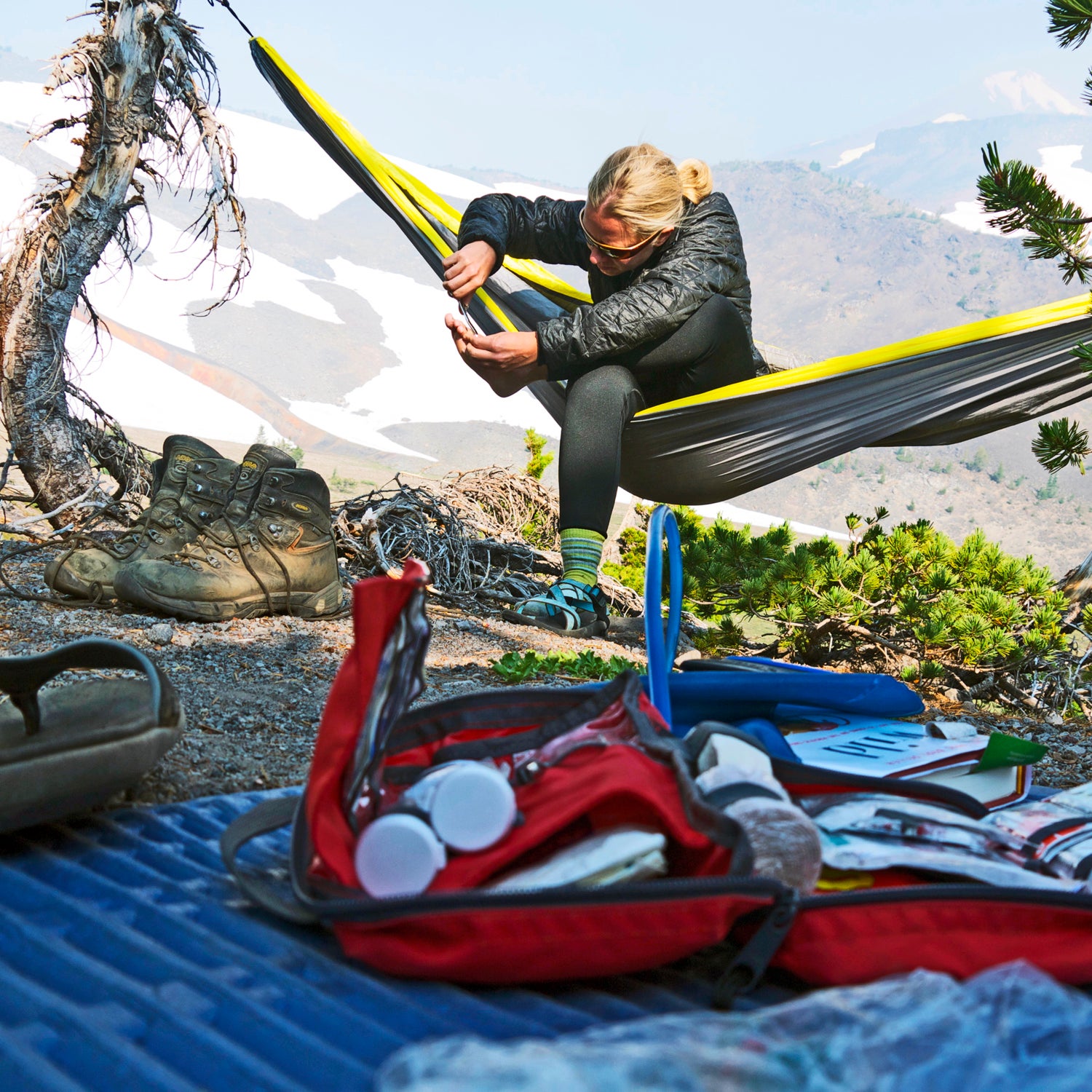 Heading out the door? Read this article on the new Outside+ app available now on iOS devices for members! Download the app.
Gareth Tate has been a wilderness first responder and NOLS Wilderness Medicine Institute instructor for more than a decade, so he's treated countless backcountry accidents. I called him up to find out how to pack a proper first-aid kit. "My approach is pretty minimal. So many of these products are sold to you, and so few of them are actually important," Tate says. "Many of the items become comfort items. You need to differentiate between comfort and essential." What follows is the gear he thinks is absolutely necessary to have in your car or pack. 
---
The Bag
"My favorite kind of customized homemade first-aid kits are toiletry bags because they are compartmentalized and often small and durable," Tate says. "A bad first-aid kit is all thrown together in one plastic bag." 
---
The Pharmacy
Ibuprofen
Tate suggests bringing ibuprofen to help deal with musculoskeletal injuries like sprains, strains, and fractures. "If you bang yourself up, it hurts, there's swelling…take ibuprofen," Tate says. He also has a baseline number for how many you should carry in a normal backpacking kit. "A safe bet would be a minimum of three days of consistent dosing, which is four pills every six hours, or 48 pills." Tip: Always label the container if you're putting the pills in anything other than what they were sold in.
Benadryl
You need Benadryl if you have an allergic reaction to bee stings, poison oak, or other plants. Tate suggests bringing at least 12 tablets on a three-day trip.
---
Wound Care
Gloves
"A fundamental rule is that all bodily substances need to be treated as having potential for communicable disease," says Tate. "Even if it's your buddy, you shouldn't take the chance." On most regular backpacking trips, two to four pair of gloves is enough. You can also use them as mini biohazard trash bags.   
Gauze
Tate doesn't like Band-Aids because they're limited by size and shape. He prefers bandages and dressing, like gauze. Pack four gauze pads—two small (2×2-inch or 1×1-inch) and two large (4×4-inch) for a weekend trip. 
Bandage
Tate always uses Coban Self-Adherent Wrap as bandages because the stuff stays on and is water resistant and stretchy, so it will fit over a joint or on a finger. He suggests bringing an entire two-inch roll.
Antibiotic Ointment
"When you put ointment on the gauze and you have Coban, you can deal with pretty much every moderate to mild soft-tissue issue," Tate says. Polysporin is his favorite option because it doesn't contain neomycin, a potential allergen.
Trauma Shears
"You are going to have a knife in your pack, so you can improvise, but I really like trauma shears," Tate says."They're designed specifically to deal with emergencies. They have a safety tip so you can't stab your patient; they won't slice you accidentally, because they have to be closed intentionally; and you can cut through clothing, seat belts, or ropes."
Irrigation Syringe
"The surface of your skin can be covered with harmful bacteria, and when that skin is opened, that bacteria has access to the interior of your body, where it can become an infection," Tate says. Instead of just pouring water into a wound, use a syringe, which will do a much better job for that task.