How Did Brenda Martinez Qualify for the Olympics After Getting Tripped in the Trials?
By focusing on the controllables, practicing gratitude, and relying on a foundation of physical and mental training.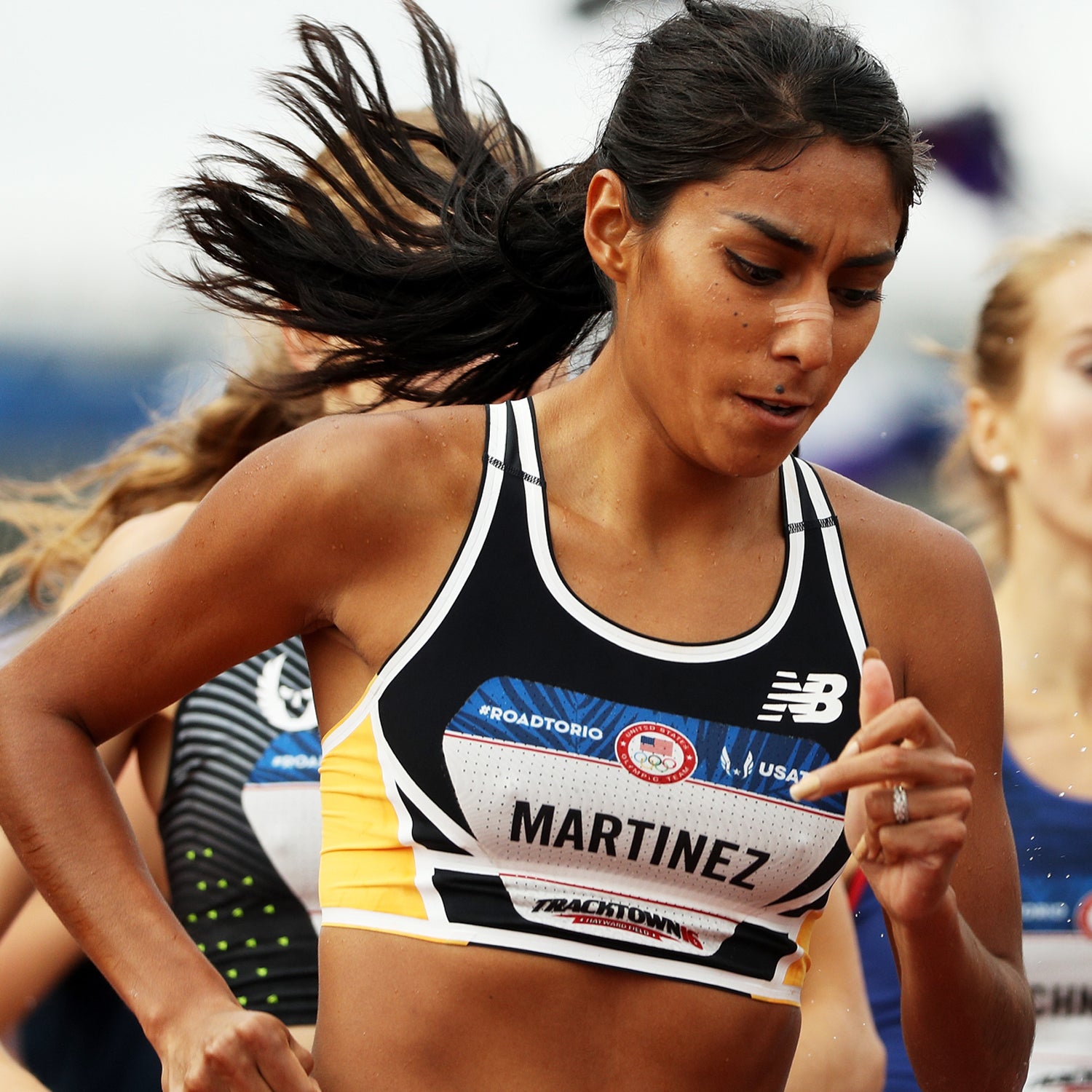 Patrick Smith/Getty Images(Photo)
Heading out the door? Read this article on the new Outside+ app available now on iOS devices for members! Download the app.
"It's not about whether you get knocked down; it's about whether you get back up." Perhaps no one in the world understands this maxim better than Brenda Martinez. Last month, during the 800-meter race at the U.S. Track and Field Olympic Qualifying Trials in Eugene, Oregon, the 28-year-old middle-distance runner was just 100 meters away from securing her first-ever Olympic bid when another runner tripped and fell into Martinez, knocking her off her feet, and off of the Olympic team.  
 
Martinez, though, managed to keep her composure as she prepared for the 1500-meter race, an event that she says, "I might not have even raced had the 800-meter gone well." Not only did Martinez race the 1500-meter, moving swiftly through the two preliminary heats, but she gutted out a third place finish in the final—good enough to punch her ticket to Rio, where she'll represent the United States in that distance. "The trials were the hardest 10 days of my life," she says, "but now I'm more confident than ever."
 
To learn more about her extraordinary mental and physical fitness, I recently caught up with the New Balance-sponsored runner from her home in Big Bear, California.
Bouncing Back from Disappointment
It's OK, and only natural, to feel down. But only for a little while. Feeling sorry for yourself gets you nowhere. After the 800m fiasco, I just wanted to get back into my routine, which is all about nutrition, sleep, and training. Thankfully I didn't get injured in the 800-meter, so it's not like I lost any fitness. I just threw myself back in the process, albeit directed at a slightly longer race.
Journaling 
Every day I spend just a few minutes reflecting on things I am grateful for—family, food, clean water, shelter, mentors. I did this after getting tripped in the 800-meter. It immediately made me feel better. I know it sounds cliché, but this practice really does help put everything in perspective. I highly recommend it.
Developing Toughness
I train really hard. You could say that I have lots of practice "being broken." So when things go south during competition, whether it's a freak accident like what happened at the trials or just a really painful race, I'm prepared to push through it.
Favorite Workout
I love mile repeats. They are really tough, but also a great confidence builder and serve as proof that you are fit. I know I'm fit when I can go 4×1-mile at around 4:45 pace.
Nutrition
I don't adhere to any kind of rigid diet. I try to match my carb intake to my training: when I'm training a lot, I eat a lot of carbs, but when my training volume is lower, I eat less carbs. I'm also a big believer in making what I call little swaps—a sweet potato instead of a regular potato, fish instead of beef, whole-grain crackers instead of chips, etc. Nothing radical, but the small changes add up.
Recovery
I sleep a ton. Eight to ten hours a night and another one to two hours of napping during the day. Sleep is a part of my job; I take it very seriously. Otherwise, the only other recovery modality I use regularly is bodywork. I see a physiotherapist who does something called fascia normalization—it's similar to deep tissue massage, but addresses problems on a more structural level.
A Solitary Life…
My husband and I live on a mountain, so life is very simple: run, eat, sleep, run some more, and take care of our two dogs. I guess you could say it's boring, but you could also say it fosters consistency, which is the key to continual progression in the sport.
…With Some Balance
Still, I can't just be an athlete. I need to be a student of the sport, and perhaps more importantly, a student of life. I try to listen to intellectual podcasts or lectures on the way to and from training. I also read. Just anything to keep me engaged in the world beyond running.
Motivation
I am driven by helping others along the way. I try to give back as much as I can. Lots of little girls look up to me and I need to be a role model for them. I think about this all the time. I thought about this throughout the Trials, especially after getting tripped in the 800-meter. How do I want to react knowing little girls are watching me? How can I inspire them?
Lead Photo: Patrick Smith/Getty Images
Trending on Outside Online