Santa Cruz's Hightower Is the Future of MTBs
29? 27.5+? Doesn't matter. This whip can do both.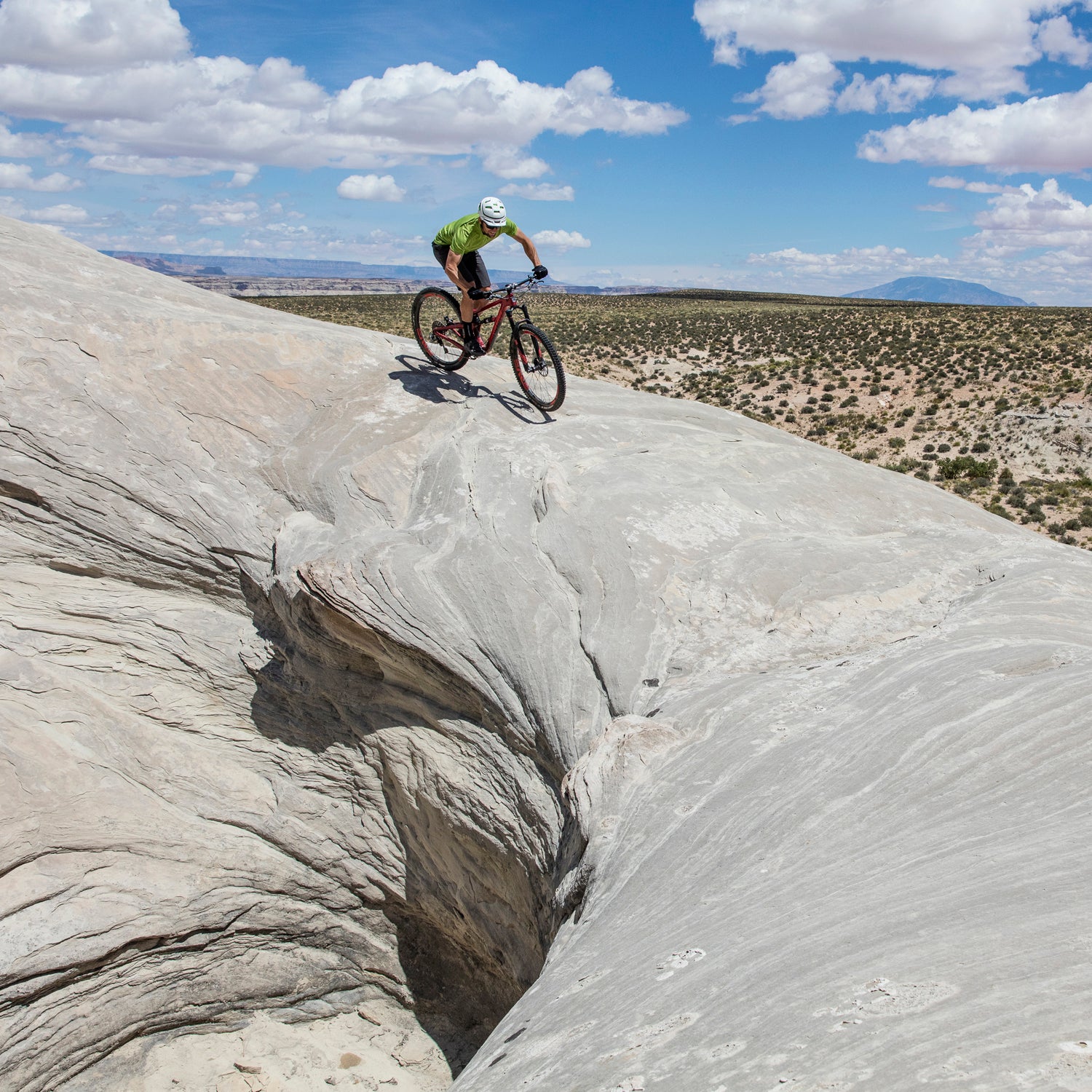 Jen Judge(Photo)
Heading out the door? Read this article on the new Outside+ app available now on iOS devices for members! Download the app.
The newest, hottest thing in mountain bikes in the past year is plus-size wheels. Manufacturers claim the size is more capable, stable, and comfortable than both 27.5 or 29. There's no debating that wider rims with fatter tires make for better traction and a softer ride, but they also add weight and resistance, which could mean harder climbing and slower rolling. So I wondered, is plus-size all it's cracked up to be? The Santa Cruz Hightower, built for both 29 and 27.5+ wheels, seemed like the ideal testing rig to figure it out.
An avalanche of 27.5+ bikes has flooded the market this season, but the Hightower is the first specifically built to accommodate both 27.5+ and 29-inch wheels. Though the two wheel sizes have roughly the same diameter, making it generally possible to interchange them, in practice there's close to an inch difference (tire choice depending), which means that even if the wheels fit, the bike's handling can change dramatically. Santa Cruz has negotiated this issue with a flip chip in the suspension to raise and lower the bottom bracket accordingly, as well as different-size forks to keep the head angle relatively consistent. The numbers aren't identical between the two setups, but this bike does the best, so far, at providing an excellent ride in both wheel-size formats.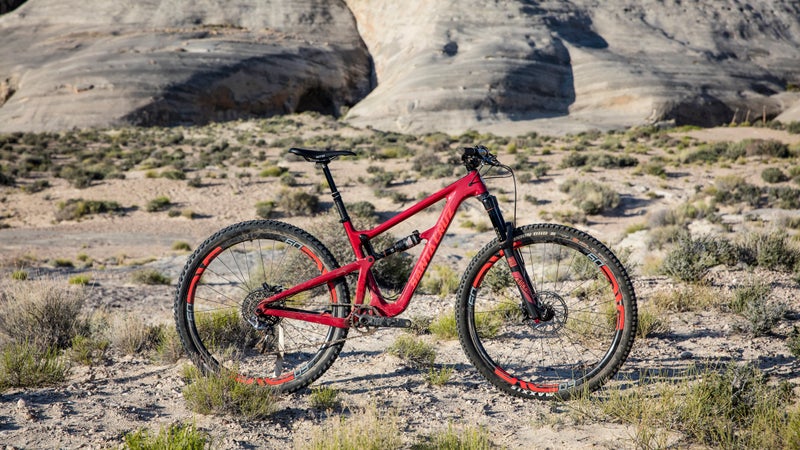 The Takeaway
The Good: Modern geometry makes for a stable, aggressive ride. At 26.7 pounds, the Hightower is incredibly light for such a capable machine. We love the versatility of both 29 and 27.5+.
The Bad: The switch from 29 to 27.5+ is complicated and requires additional parts. The bike is only 1x compatible, which excludes anyone who wants wider gearing (though SRAM Eagle may solve that qualm). The stiff shock tune isn't for everyone, and because there's no aluminum frame option, it's a premium ride only.
The Verdict: This is the first and best iteration of the modern trail bike that we've seen, featuring an adjustable geometry that allows it to be ridden—and ridden well—with both 29er and 27.5+ wheels. It's best suited to skilled riders who push hard and live in areas with challenging terrain. The biggest quandary will be choosing between 27.5+ and 29. Truthfully, there's no easy answer.
---
Specs
Weight: 26.7 pounds
Drivetrain: SRAM XX1
Price: $10,000
---
Two Bikes in One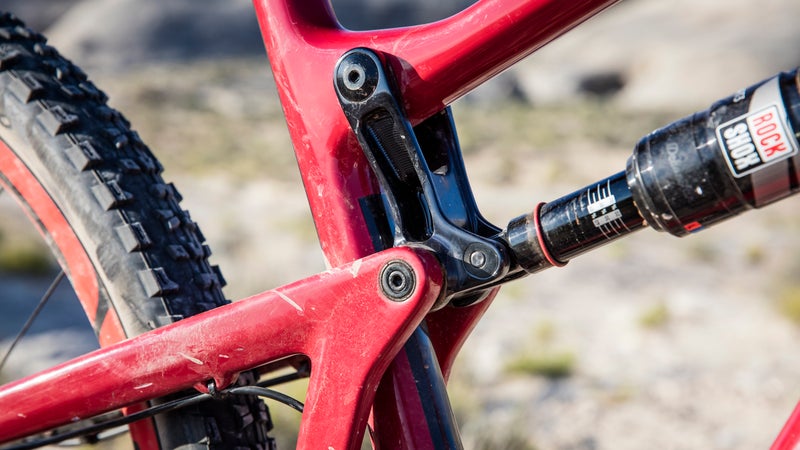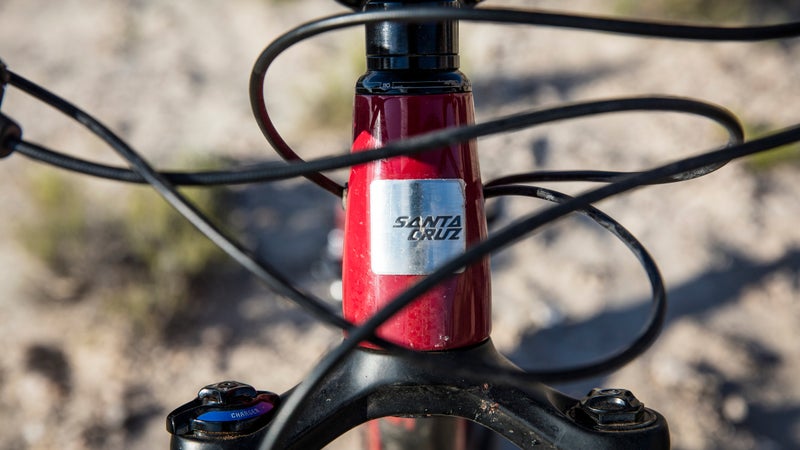 The Hightower is a replacement for the four-year-old Tallboy LT, a bike we loved but that had grown dated relative to current trends. And the Hightower is indeed a different creature. The head angle is nice and slack at 67 degrees (66.8 with plus-size tires), the 435mm chainstays are much tighter than before, and the top tube is longer to compensate for the stubby stems and wide bars that are so popular today. It comes only in carbon fiber, with a heavier grade C model and a lighter, more expensive CC, which we tested. Models range from a $3,600 build with SRAM NX up to the $10,000 superbike we rode, and all are equipped with a RockShox Monarch RT3 shock that sports a more progressive shock tune than previous iterations of the bike. The frame also includes Santa Cruz's new carbon sleeve design inside the down tube that makes internal routing of a rear derailleur cable a snap.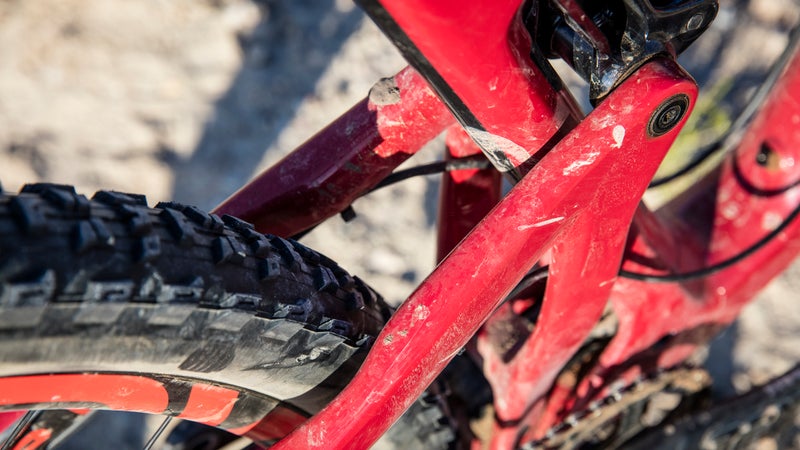 As the top-end model, our tester had all the best parts, including a RockShox Pike RCT3 fork (140mm for 29; 150mm for 27.5+), SRAM XX1 drivetrain (with a 30-tooth ring), SRAM Guide Ultimate brakes, and a 150mm RockShock Reverb Stealth dropper post. One of my favorite bits on the whole bike was the 800mm-wide carbon flat bars and 40mm stem, which made steering and negotiating tricky terrain a snap. This is an expensive build, and for once, I had no issues with any part or component during the entire test.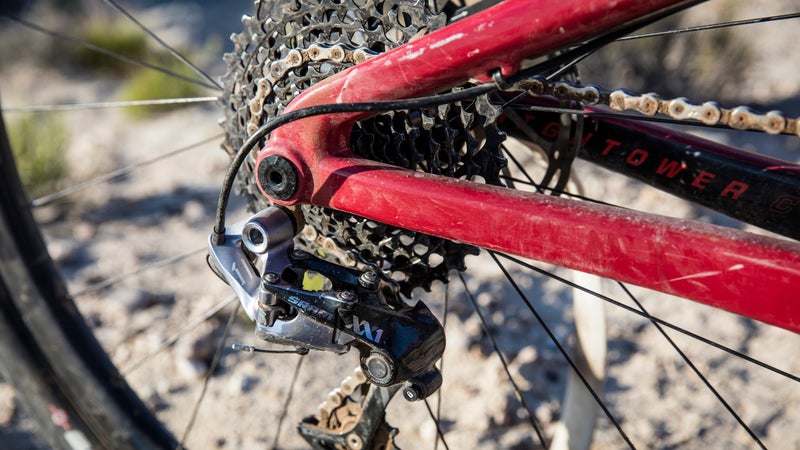 On the wheel front, the 29er setup sported the Enve M60 Forties (a $2,000 upgrade) with a meaty Maxxis Minion tire set. The 27.5+ came with stock aluminum Race Face Arc 40 rims and a combination of Maxxis Rekon+ front and Ikon+ rear. (Santa Cruz now offers the Enve M60 Forty HV set as a plus-size upgrade.) I really liked the alloy wheels. They didn't add much weight, and the material's ability to deflect meant a number of rim shots that might have broken carbon resulted in only dings and dents. And though the 27.5+ tire combo worked well enough, the plus bike will get a pair of Rekon+ tires this season—good news since I felt the Ikon+ was a bit underpowered. Both wheelsets were built around Industry Nine Torch hubs, which were burly and hard wearing but also a bit noisy in the free hub.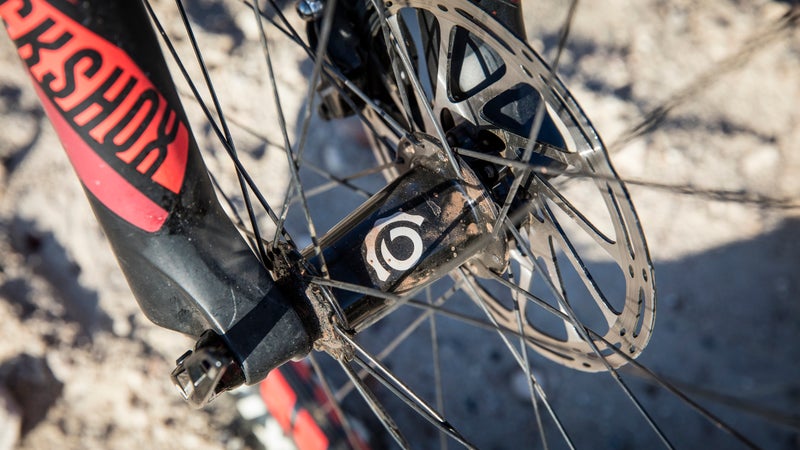 As noted, the Hightower is very close in geometry no matter which wheels it comes with, but there are differences. With 27.5+, the bike is 0.2-degrees slacker at the head tube and 2mm lower in the bottom bracket and has 10mm more travel up front. While I love being able to choose, I wish it were easier to make the switch. Moving between 29 and 27.5+ involves flipping a chip in the rear suspension (simple), as well as subbing not just wheels but also the forks (time consuming). I did, however, find that the 29er wheels rode fine, if not exactly how Santa Cruz intended, when I left on the longer fork and simply flipped the chip. My other criticism is that Santa Cruz doesn't offer a spare fork and wheel option, meaning you have to pick between 29 and 27.5+ when you purchase and make the upgrades yourself if you want both. It might be a small segment of people who would actually purchase a spare wheel/fork combo, but I still feel like Santa Cruz should provide the option.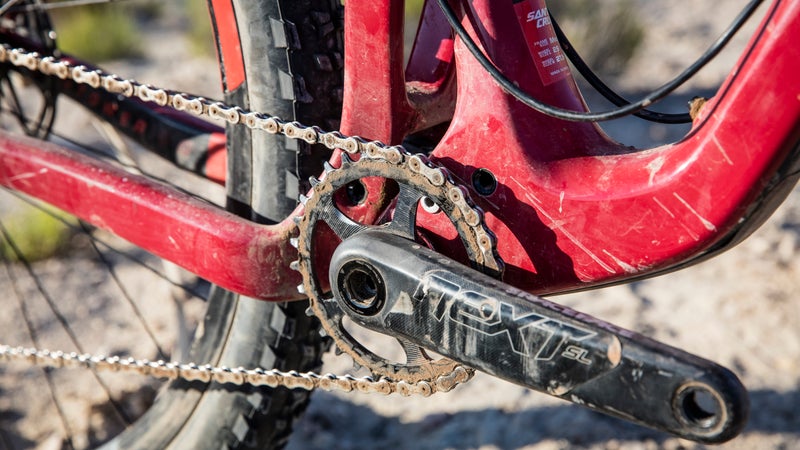 ---
29 vs. 27.5+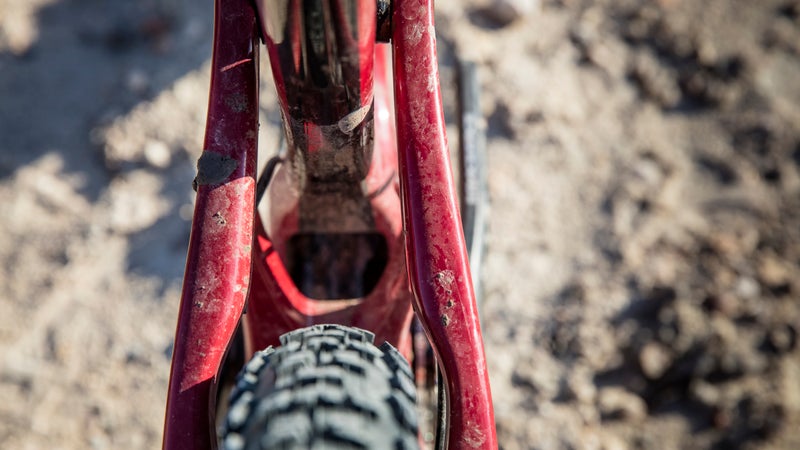 I've been riding a 29er full-time for nearly a decade, and I'm a devotee of the size, so that's how I began the test. Santa Cruz told me that while the Hightower is perfectly capable with either wheel size, the company still thinks of it as a 29er.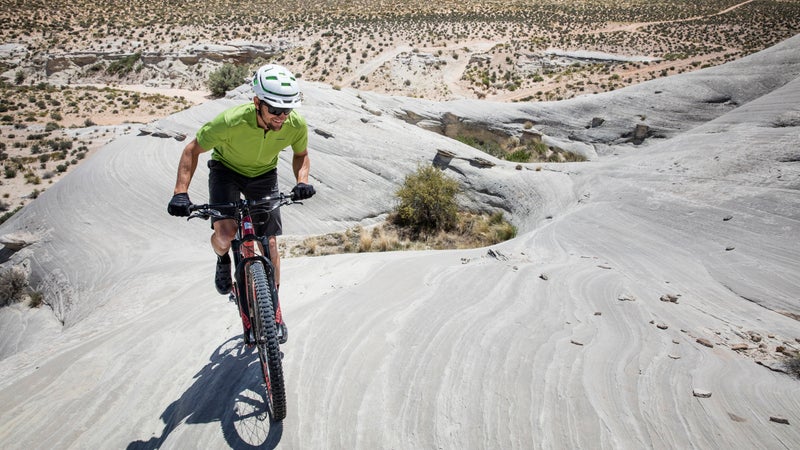 With the big wheels, the Hightower verges on being the best trail 29er on the market. It's not quite as aggressive as the Specialized Enduro, a bigger bike, or even Evil's The Following, which has a weightier, more rooted quality, but it's darn close while still managing to come in lighter than both. It also feels lighter, with excellent pedaling responsiveness and quick, agile handling, those chunky Maxxis tires notwithstanding. The bike definitely feels big and tall in this mode, which some of the smaller riders did not like. But if you are a 29er fan, you will be hard-pressed to find a machine that's more all-around capable than this one.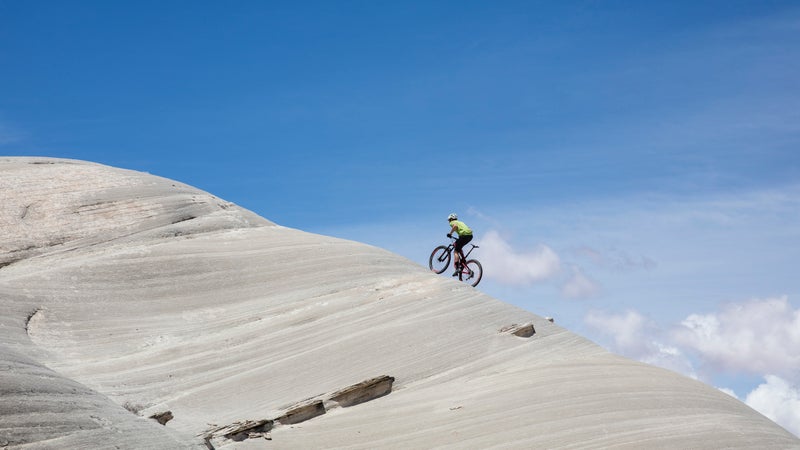 I happily climbed alongside guys on XC rigs up 4,000-foot ascents and never felt like the bike was too heavy or a disadvantage, and then I dropped those wispier bikes when we plunged down big, chunky, rocky descents. I managed big boulder obstacles, up and down, and flung myself over body-size drops. While it all might have been slightly easier on a longer-travel bike like the Enduro, it was no problem on this one either.
Given how well the bike performed with 29ers, I was ambivalent about switching to 27.5+. When I did, however, I was equally as impressed. Perhaps more so. Moving from 29 to 27.5+ in the past, I've noticed the fatter wheels can feel small and get a little hung up in technical terrain. Not so here—I assume because of the geometry adjustments. And whereas many plus-size bikes have pedal-strike issues, thanks to the chip-raised bottom bracket, the Hightower climbed as well with wide tires as it did with the 29ers. Despite all of that rubber, the bike was only marginally heavier—less than a quarter of a pound—and it didn't feel slow or held back.
Meanwhile, the 2.8-inch rubber gripped our Rocky Mountain loose-over-hard terrain with so much ease that it sometimes felt like cheating. I cleared several local rock and root features that often take me numerous attempts on my first try in this mode, going both up and down. And while the 29er felt faster on the descents and blasted through rugged sections a little easier, the 27.5+ mode was chipper and playful, and I felt almost compelled to pop off jumps and take the high lines. I was also able to push through super-steep gullies filled with loose rubble a lot easier with the big tires. In short, though I imagined I'd like the 29er setup better—and I did love it—I found myself spending more time on the 27.5+.
---
To Upgrade or Not to Upgrade?
The Hightower's biggest strength is its versatility. That's also the biggest frustration. I wanted a definitive answer about which wheel size was better but came away with no such clarity. The bike rides as well as, if not better than, both the 27.5+ and 29 competition. Choosing between the wheel sizes basically came down to terrain. For trails with big obstacles and bedded rock, as well as days when I wanted to go fast, the 29 was the best. On our daily trails, which are loose and gravelly and covered with baby heads, the grip and confidence of 27.5+ was unbeatable. If I had to choose one, I'd opt for the plus-size, but that's a reflection of my local terrain.
It would be difficult to say—if not flat-out wrong—that 27.5+ is inherently better. If anything, I learned from switching back and forth that the new girth isn't better or worse, it's just different. In the same way that one person might choose a hardtail if they lived somewhere flat and flowing while another person would opt for an all-mountain machine if their local trails were nothing but rocks and steps, plus-size bikes are simply a new tool that excels in certain situations. They are great for places with loose, rocky riding, and they will add a modicum of control and confidence on steeps and corners. They're good at most everything, too, though 27.5ers will likely feel quicker, and 29ers will roll faster and easier.
It's also worth bearing in mind that the plus-size category is still developing: 2.8- and 3.0-inch tires are here to stay, but manufacturers continue to experiment with 2.5-, 2.6-, and 2.7-inch rubber, so these bikes are likely to exist on a continuum moving forward. Which is to say there's a good chance that in the near future, we won't be talking about plus-size since many bikes will likely be built for additional tire girth.
Plus-size bikes aren't so revolutionary that you immediately need to trade in your 27.5er or 29er. However, when it comes time for an upgrade, depending on your riding style and local terrain, they are definitely worth a look. And if you're after an aggressive trail model that can make short work of pretty much every challenge—be it 27.5+ or 29—the Santa Cruz Hightower is an excellent place to start that search. In fact, I'd argue that the Hightower might be an even bigger motivation for an upgrade than the entire wheel-size debate.
Lead Photo: Jen Judge