The Best Summer Trail Running Shoes of 2017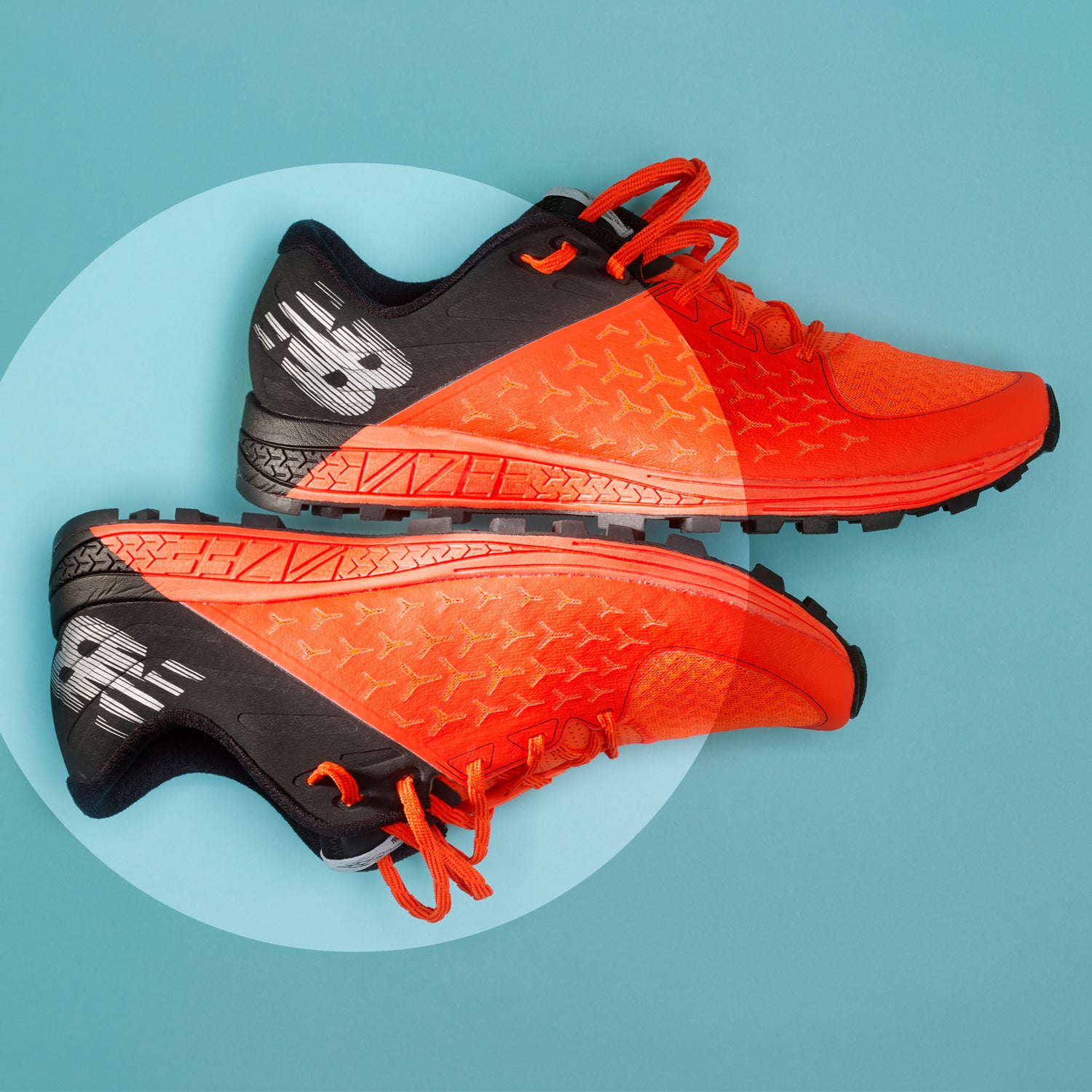 Inga Hendrickson
Heading out the door? Read this article on the new Outside+ app available now on iOS devices for members! Download the app.
Get low, ride high, and stomp everything in between.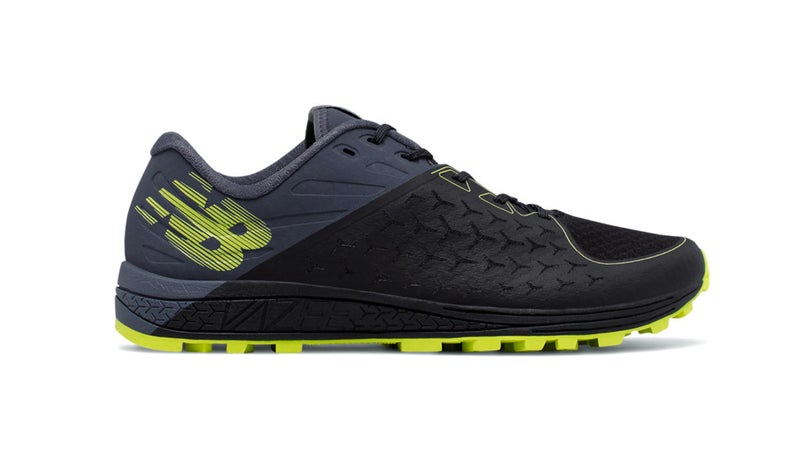 New Balance Vazee Summit V2 ($100)
Gear of the Year
This year we had our Gear of the Year trail runner from mile one. No other shoe came close to keeping up with the Vazee Summit. It's everything a fast, technical trainer should be: snug and supremely confident on fast downhills and slope traverses; responsive and tacky on turns; consistent, springy, and smooth on slow, mellow hardpack. Testers loved the way it balanced a close-to-the-ground feel and precise, low-riding midsole with enough cushion and underfoot protection (thanks to a supple rock plate and lightweight toe guard) to go long distances over rubble. You know you have a top-flight shoe when, amid the raving from the test crew, there were only a couple of gripes about faint lace pressure and the narrowish toe box. "A foot-hugging dream," as one tester put it. We prefer to call it a Zen master of foot-shoe oneness. 9.1 oz (men's) / 8.1 oz (women's); 10 mm drop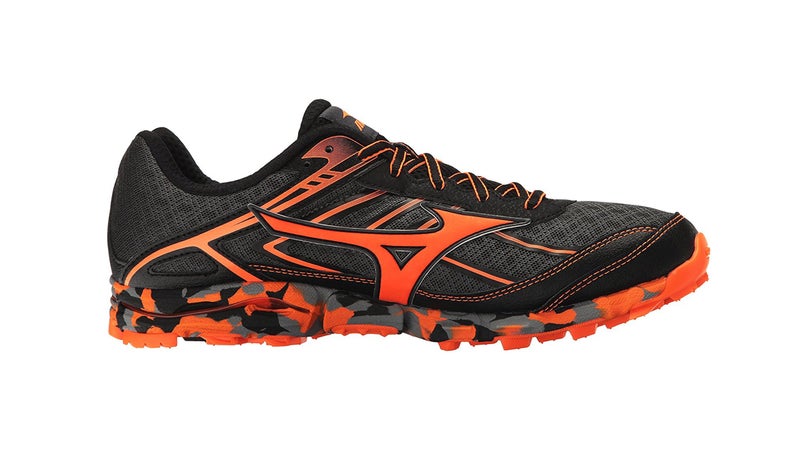 Mizuno Hayate 3 ($120)
Best For: Steep, technical terrain.
The Test: The Hayate 3 doesn't wear kid gloves. It's a firm, fast, highly responsive shoe with an aggressive outsole, and the new version locks down snugly in the midfoot for a confident fit despite the high volume. "It will make you want to bank the turns," said one tester. Even though the Hayate 3 is positioned firmly in the lightweight class, it's meatier and more supportive than the other two here—while staying just as responsive. We did notice a loose feel in the heel on tight corners, and several testers found the midsole too firm. "Not an easy-going ride," one said. "Needs a ton of break-
in time," said another.
The Verdict: Excels at moving quickly over demanding ground where precision is key. 8.8 oz (men's) / 7.6 oz (women's); 9 mm drop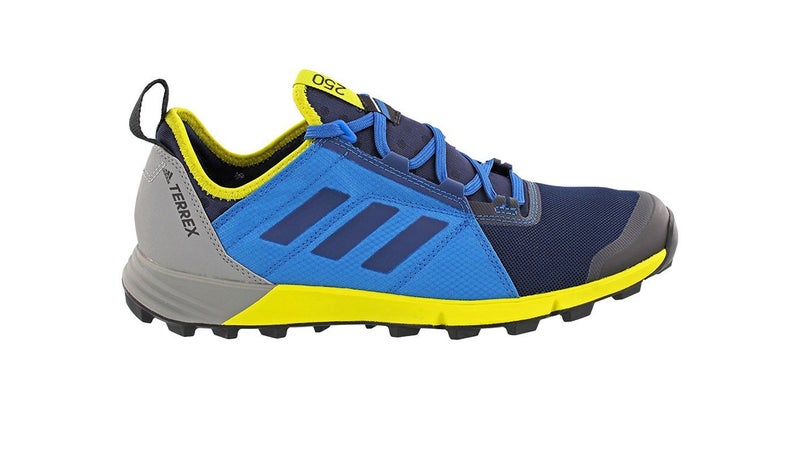 Adidas Terrex Agravic Speed ($120)
Best For: Quick minimalists. 
The Test: There was no getting around our first impression of the Agravic Speed—like the Mizuno, it's no softy. The most bare-bones and race ready of the three shoes on this page, it's a low-riding, spartan speedster—hyper-­responsive, very light on the cushioning, and all about super-precise foot placement. Racers and midfoot runners who tread lightly and crave agility will like it best. "Everything you need in a go-fast trail shoe," one tester said. Mercifully, there is a protective plate in the sole, though even the most efficient runners should be warned about the harsh forefoot. The looser fit had us really hitting the brakes on downhills.
The Verdict: It'll give you wings but not shocks. 9.2 oz (men's) / 8.8 oz (women's); 8 mm drop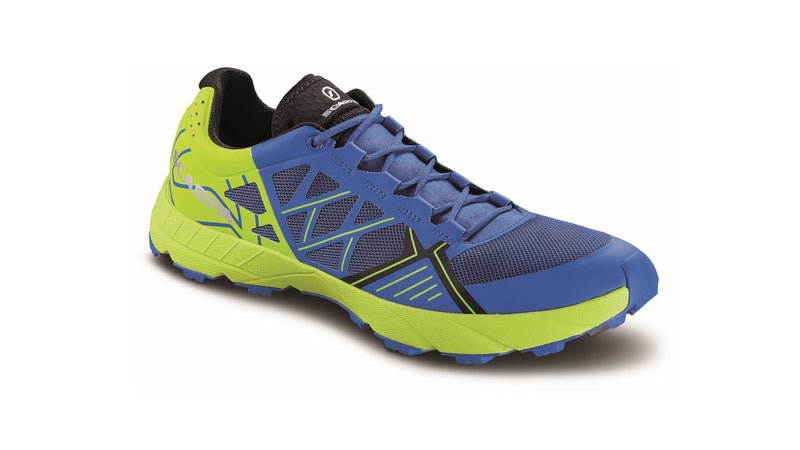 Scarpa Spin ($130)
Best For: Fast mountain running. 
The Test: Lightweight doesn't have to mean skimpy. While the Spin came in as the second-lightest shoe of the test, it's still an aggressive, protective, technical trail runner with a full-length rock plate, moderately low stack height, and tacky Vibram outsole. Fast and nimble, the Spin has a perfectly form­fitting last with a thin, sock-like seamless upper that lends precision to each footfall and eliminates looseness on the descents. "It's like a climbing shoe you can run in," one tester said. Where the Spin suffers is comfort. The midsole is stiff, the laces bite into the foot, and the heel was downright jarring, limiting us to shorter outings.
The Verdict: The best Scarpa trail shoe we've seen. 8.9 oz (men's) / 7.5 oz (women's); 4 mm drop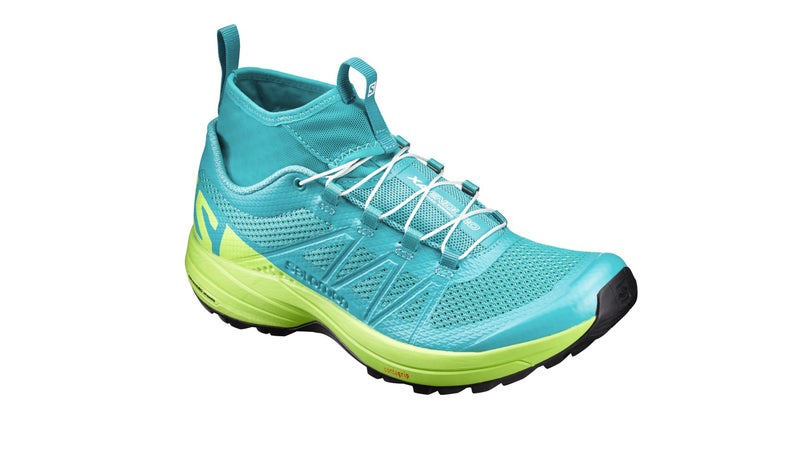 Salomon XA Enduro ($160)
Best For: Getting an A in everything.
The Test: The Enduro is one of those rare shoes that's good at it all. It's light and snappy on flat turf, nimble and precise among rocks, and kamikaze confident on bet-the-farm descents. We expected that, but there were a couple of pleasant surprises as well. While we're not normally huge fans of quick-pull laces (visible on the women's version above), these delivered a secure fit without any futzing or odd pressure. The internal gaiter helped keep grit from sneaking down the collar. Our one complaint was small: the heel felt harsh, which hurt on long stretches of tamped-down trail. The fit is narrow: wide-footed runners should steer clear.
The Verdict: One of the best all-around shoes of the year. 10.6 oz (men's) / 9.1 oz (women's); 9 mm drop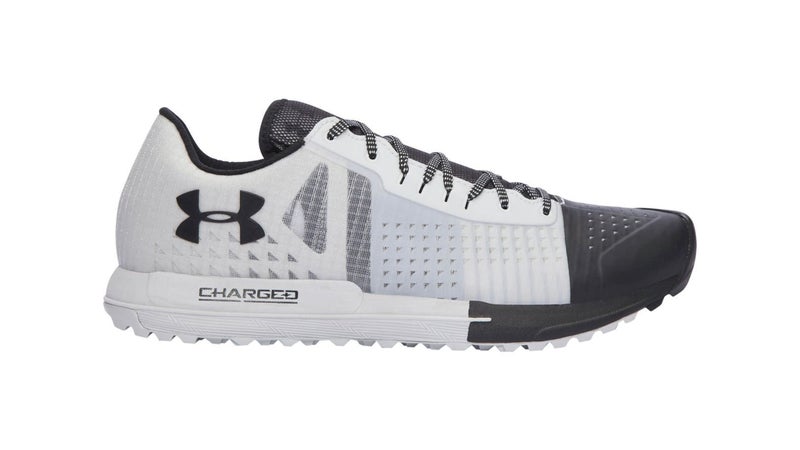 Under Armour Horizon KTV ($130)
Best For: Flat, dry trails.
The Test: Under Armour's first serious trail runner is surprisingly legit. The KTV is a flexy, lightly lugged trainer with a smooth, rolling stride, good speed, and a comfortable and low-to-the-ground ride (with a subtle but protective rock plate for underfoot ­hazards). The subdued lugs felt most at home on dry hardpack, and the thinner midsole lends itself to lighter runners and shorter jaunts. The shoe's main weakness is its sloshy, high-volume fit, which generated a couple reports of hot spots in the heel and a lower confidence on steep slopes. Some testers complained of pressure when trying to snug the laces.
The Verdict: A strong showing best suited to dry, mellow ground. 9.8 oz (men's) / 8.4 oz (women's); 7 mm drop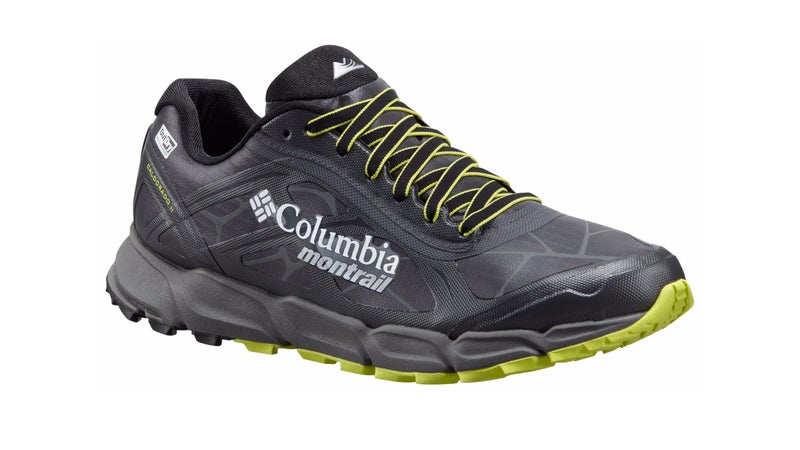 Columbia Montrail Caldorado II Outdry Extreme ($155)
Best For: Wet days on rolling hills.
The Test: The brand may be called ­Columbia Montrail now, but little has changed with the Caldorado II—it's still a low-riding sponge for midfoot strikers, with easygoing comfort and just enough armor on mildly technical terrain. There is one twist: Columbia wrapped this version in its Outdry Extreme waterproof membrane, which is so hardy it doesn't need face fabric to protect it. It's a nice addition, eliminating water weight in wet conditions and reducing mugginess. (Seventeen miles in the rain? No sweat!) Our hang-ups were some numbness caused by buckling in the tongue and the sticky, fussy laces.
The Verdict: An excellent utility shoe with top-of-its-class waterproofing. 11.4 oz (men's) / 10.2 oz (women's); 8 mm drop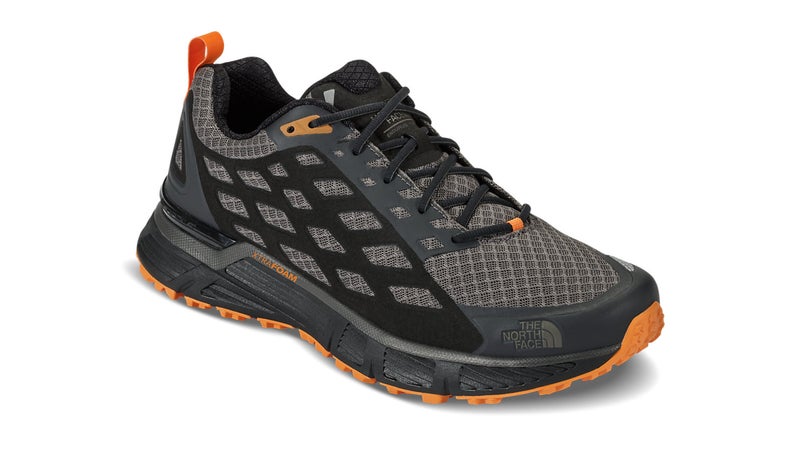 ​The North Face Endurus TR ($130)
Best For: Comfy cruising.
The Test: Pamperingly soft, the Endurus is a chubby Gumby, with 23 millimeters of foam in the heel and so little structure that you can wring it like a rag. Given what a pushover it is, the Endurus is neither peppy nor precise. Its generous fit shied away from high-speed descents—too loosey-goosey to muster much downhill confidence. But oh, is it comfortable, akin to a Hoka without that signature towering stack height. So what if it's a bit spineless for technical terrain? At least the Endurus (women's version shown) is inherently protective: the foam simply swallowed rock hazards and small obstacles.
The Verdict: A little big shoe—great for long and easy efforts—without overdoing the cush. 11.2 oz (men's) / 9.6 oz (women's); 6 mm drop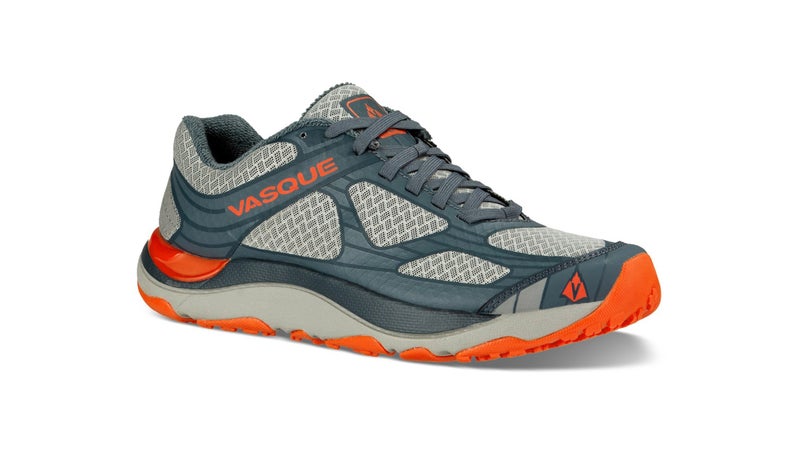 Vasque Trailbender ($130)
Best For: Maximalism with structure.
The Test: The Trailbender is a thick, cruisey softy, best for meandering epics over hill and dale. Though it offered a somewhat clunky ride overall, we were pleasantly surprised by how well this shoe bombed full-speed down deeply rutted trails—not a fun prospect in most high-stack maximalist shoes. That's because despite the slow, plushy feel, the foam is stouter, more structured, and more confident than on lighter-weight fatties—a rare case where a bit of portliness is actually a good thing. That said, the midsole has a ridiculously prominent arch, and an overlay near the big toe can 
dig into the knuckle.
The Verdict: A confident, cushioned shoe that delivers support, not just stack. 11.4 oz (men's) / 9.1 oz (women's); 6 mm drop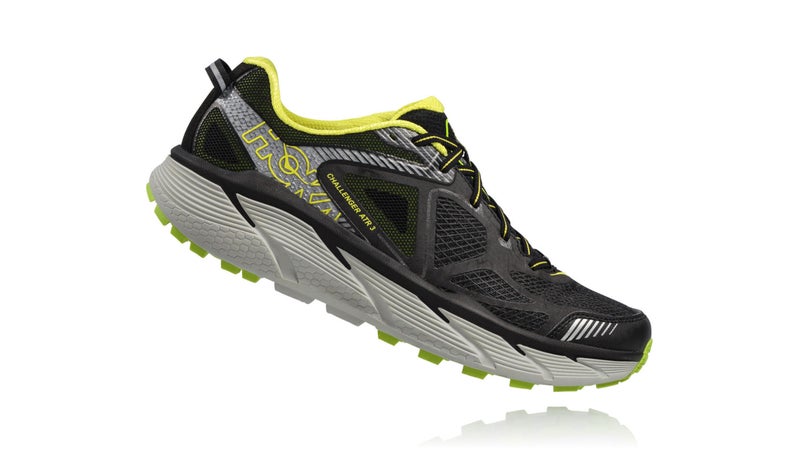 Hoka One One Challenger ATR 3 ($130)
Best For: A fat pillow for long days.
The Test: If big and soft are never quite big and soft enough, the Challenger is your shoe. But what stands out here is how lively, springy, and responsive the shoe feels despite the bottomless well of foam. "This doesn't run—it floats," one tester quipped. We loved the quick turnover and snug, secure fit on off-camber rocks and uphills. Small lugs mean the Challenger is road ready in a pinch, too. Its biggest downside is tipsiness on rocky downhills and off-kilter ground, which doesn't come as a surprise with such a tall shoe. "I felt a little unsafe 
in really technical turf," one tester said. 
The Verdict: Still the reigning champ of supersize—especially in low, dry, flat ­country. 9.5 oz (men's) / 7.9 oz (women's); 5 mm drop