In Stride
It's Time for Max Siegel to Go
His alleged lavish spending is only his most recent misstep. Over the past four years, the USA Track & Field CEO has repeatedly put corporate interests above those of his athletes.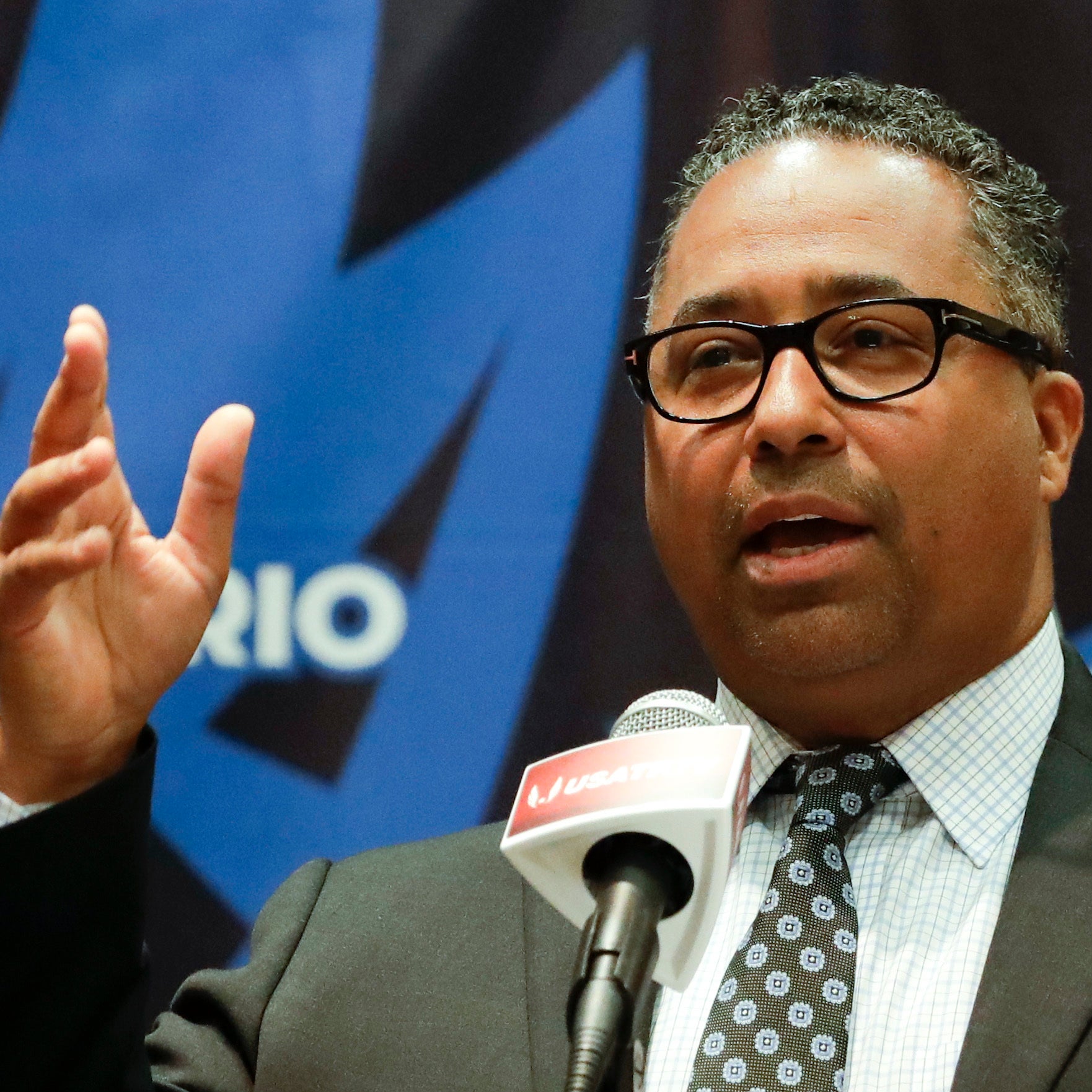 AP/Matt Slocum(Photo)
Heading out the door? Read this article on the new Outside+ app available now on iOS devices for members! Download the app.
In May 2012, USA Track and Field (USATF) appointed relative unknown Max Siegel as its CEO. The owner of NASCAR team Rev Racing and a former sports marketing professional, Siegel became only the fourth CEO since the 1979 establishment of the nonprofit, which is charged with promoting and managing the sport from youth through Olympic and masters levels. But since his assumption of power, Siegel has headed an organization that continually steamrollers its athletes' voices while consolidating its own power.
On October 7, the Washington Post published a detailed report on Siegel's lavish expenditures during his four-year tenure. In it, Siegel was alleged to have spent tens of thousands of dollars on private planes and first-class hotels and prioritized business deals that benefited his friends. His annual salary swelled to $1.7 million while many of the sport's Olympians still live below the poverty line. The the allegations are serious, and they only add to a long list of complaints against Siegel, who critics say has failed to address the sport's growing problems, such as doping, sponsorship, and internal corruption.
Siegel's annual salary swelled to $1.7 million while many of his athletes still live below the poverty line.
Siegel inherited a powder keg, no doubt. USATF fired its previous CEO, Doug Logan, in 2010 due to his "outspoken, slash-and-burn style," according to the Washington Post. Soon after that, middle-distance runner Nick Symmonds started the Facebook group "Im [sic] tired of USATF and IAAF crippling our sport." The group marked the first time athletes publicly voiced their complaints against the organization, and many hoped Siegel would extend an olive branch by listening to their grievances.
But rather than listening, Siegel dictated. In December 2013, he overruled what was reported to be a unanimous decision by a five-person athlete committee to hold the 2016 Olympic Trials Marathon in Houston, and the athlete mutiny began in earnest. The committee had selected Houston for a variety of legitimate reasons—like allowing those who would compete in the world track trials a full six months of recovery time between events. Siegel instead decreed that the marathon trials would be held in Los Angeles because it is "one of the world's biggest media markets." In doing so, he halved the time between the marathon and the trials.
In 2014, during the USA Indoor Track and Field women's 3,000 meters, famed Nike athlete turned coach Alberto Salazar claimed that a rival racer impeded his athlete in the final stretch. In response, he stormed toward the protest table and demanded the disqualification of the other runner. Officials twice denied his request but eventually relented. Many thought that Nike, who was and still is USATF's biggest sponsor, might have had something to do with that decision. 
"I think it was coercion from Nike," said one coach of the disqualified athletes. "It just seemed to me that Alberto sticking his head in there and talking to the committee while they were meeting and the other Nike people hovering around there, I think there was intimidation."
In response, seven athletes walked the track in mute protest. Others called the decision a disgrace on national television. By the end of the process, athletes' trust in USATF as an autonomous and impartial institution was shattered.
Amid all that controversy, athletes were also balking at Rule 40, which prohibited them from wearing any apparel brand except Nike during national team races—even if they were sponsored by brands like New Balance, Brooks, or Saucony. Though they had protested through social media and to major outlets like the New York Times, Siegel announced an unprecedented 23-year deal with Nike as USATF's primary sponsor, effectively ignoring many athletes' concerns. In making the decision, Siegel also failed to consult the Track and Field Athletes Association, an advocacy group created in 2010 by active, competing athletes to weigh in on these types of decisions.
This was not leadership. It was abdication.
In May 2014, USATF appointed former athlete Dennis Mitchell, who tried to excuse his positive test in 1998 for testosterone as the result of five beers and multiple sexual encounters the night before, as the sprint relay coach for the IAAF World Relays in the Bahamas. American athletes—who are generally outspoken in supporting the U.S. Anti-Doping Agency's rigorous testing—were outraged. "It sends a global message that USATF is willing to overlook a cheater's past and give them the highest honor in our sport," wrote Lauren Fleshman, a long-distance runner and one of the organization's most outspoken critics, at the time. "Frankly it's something I'd expect from Turkey or Russia or the USA of the '80s, but not the USATF of the past eight years."
When defending Siegel, USATF and its proponents often laud his medal count and fundraising prowess. But according to the recent Post article, Siegel has failed to attract significant sponsors beyond Nike—and that deal came about despite a clear conflict of interest. As reporters Will Hobson and Steven Rich wrote:
The idea to approach Nike about a long-term extension did not come from Siegel. Instead, Miller said, the idea came from former Nike executives Adam Helfant and Chris Bevilacqua, friends of his, who contacted him not long after Siegel took over as CEO and asked for Miller to introduce them to Siegel. Helfant and Bevilacqua then led negotiations for USA Track and Field on the Nike deal, Miller said.
In other words, Siegel ceded his responsibility for thousands of athletes' wages to those with clear conflicts of interest—former Nike executives negotiating with current ones. This was not leadership. It was abdication.
In the fallout from the Post story, athletes are understandably outraged; Symmonds even called for USATF's outright abolishment. That may be extreme, but the organization could benefit from new leadership. USATF will meet in November at Walt Disney World for its annual meeting.
If the organization wants to restore credibility with athletes and fans, it's time to dismiss Siegel. After four years under his guidance, there is nowhere to go but up.
Lead Photo: AP/Matt Slocum
Trending on Outside Online