Tilikum, SeaWorld's Most Famous Killer Whale, Dies
During his life in marine parks, Tilikum killed three people, and the troubled whale sparked big changes at SeaWorld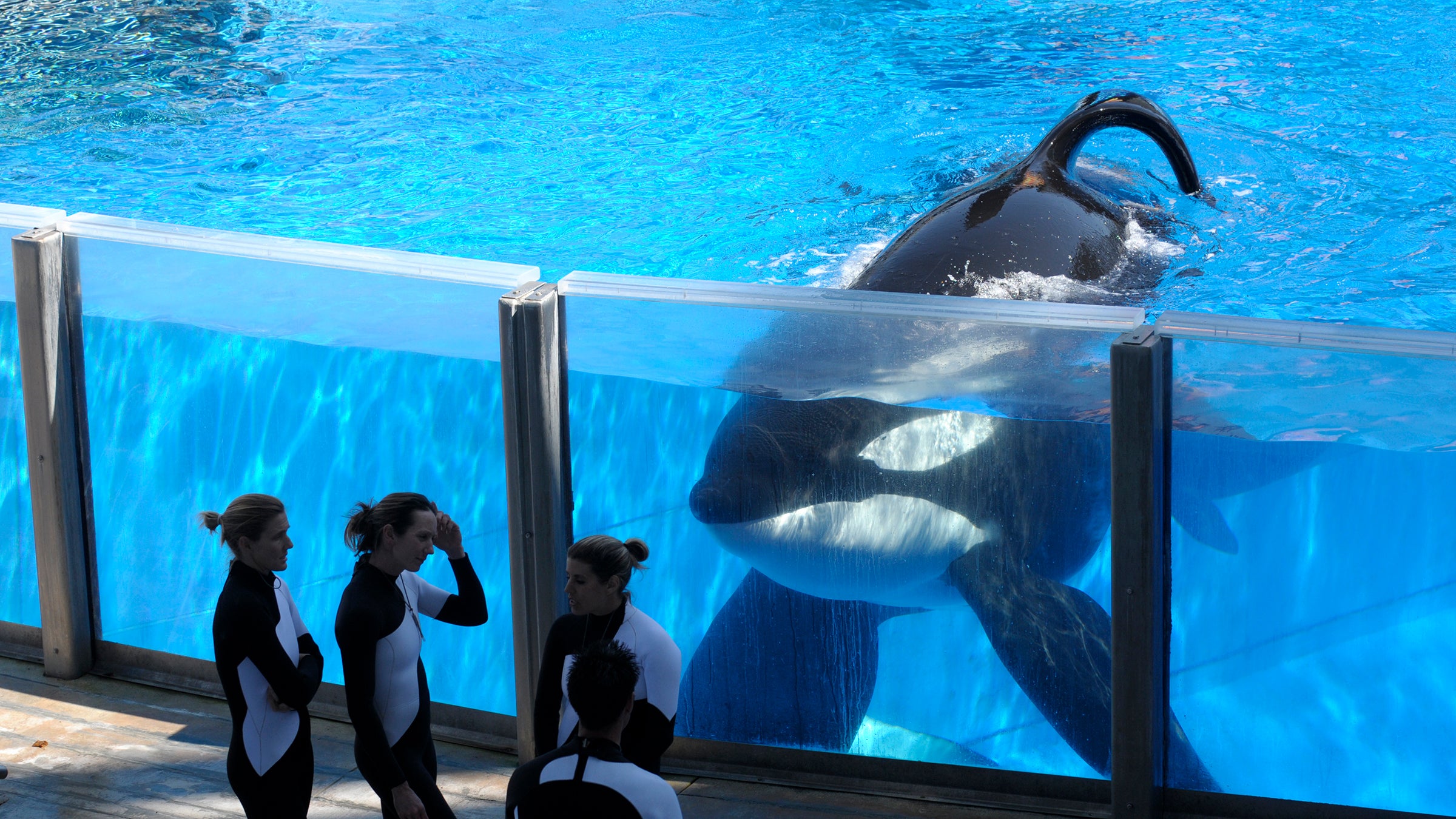 Phelan M. Ebenhack/AP Images(Photo)
Heading out the door? Read this article on the new Outside+ app available now on iOS devices for members! Download the app.
After 33 years of living captive in marine park pools, Tilikum, SeaWorld's best-known killer whale, died this morning, January 6, in Orlando. His death follows SeaWorld's announcement last year that it will stop captive breeding and that the 28 killer whales at its three U.S. parks and at a park in the Canary Islands will be the last generation of killer whales at SeaWorld.
Tilikum's death, probably due to a persistent bacterial lung infection, was not unexpected. He was an estimated 36 years old and had survived longer in captivity than any other male killer whale except one. (Ulises, who has been in captivity for 36 years, is kept at SeaWorld San Diego.) "Tilikum had, and will continue to have, a special place in the hearts of the SeaWorld family, as well as the millions of people all over the world that he inspired," said SeaWorld President and CEO Joel Manby. "My heart goes out to our team who cared for him like family."
Still, it was Tilikum's February 2010 primal scream, when he pulled SeaWorld trainer Dawn Brancheau into his tank and brutally killed her, that forced the world to seriously question the wisdom and ethics of keeping killer whales in captivity. Afterward, on screens and in countless articles, on Facebook pages, and Twitter, Instagram, and Tumblr accounts, the world got to know Tilikum. Despite the violence with which he emerged as a global figure—he was involved in the deaths of two other people during his years in captivity—the tragic details of his life earned him sympathy. He helped inspire former SeaWorld trainers and journalists to take the public backstage at SeaWorld. He helped inspire grassroots activists to campaign for musicians and businesses to cut ties with SeaWorld. He became the public face of opposition to marine parks.
"He was such a game changer," says Colleen Gorman, who co-founded the Orca Project, an activist non-profit followed by tens of thousands. "I cannot think of one other animal that's been held in captivity who has garnered so much worldwide attention. The world is watching this right now, and everybody's heart is breaking over this news."
The details of Tilikum's life were discomfiting to a public that thought of SeaWorld's Shamu shows and its whales as happy, fun-loving performers. In 1983, Tilikum was captured off Iceland as a two-year-old calf, taken from his mother and family pod, and sold into the thriving global killer whale entertainment business. At his first marine park, Sealand of the Pacific in Victoria, British Columbia, Tilikum was bullied by two older female orcas, who raked him with their teeth and battered him to establish dominance. Most nights, he was forced into a cramped holding module with them. In February 1991, he and the two other Sealand killer whales drowned assistant trainer Keltie Byrne after she slipped and fell part way into their pool. Byrne's death led to the closure of Sealand, and Tilikum was purchased by SeaWorld. In 1992, Tilikum was shipped to SeaWorld's Orlando park, where he continued to be picked on by other whales, and as a result spent a lot of time alone. Nevertheless, he became SeaWorld's most prolific breeding male, siring 14 calves, ten of whom are still alive today. (Including grandchildren, 13 of SeaWorld's current 29 killer whales have Tilikum's DNA.)
In 1999, Tilikum killed again, drowning Daniel Dukes, who somehow managed to get in to his SeaWorld Orlando pool after hours. Finally, in February 2010, Tilikum killed Brancheau, holding her underwater and ripping her body apart. The national scrutiny after Brancheau's death forced SeaWorld to put an end to the most famous element of its Shamu shows: trainers performing in the water with killer whales. New protocols also limited close contact with Tilikum, further isolating him. He returned to show duties in 2011, using his massive 12,000-pound body to deliver his signature splash at the end of performances. But age and poor health crept up on him.
Because the details of Tilikum's life were in such stark contrast to the Shamu narrative so carefully crafted by SeaWorld for decades, his story became one that the public cared deeply about. He changed the course of my life, too, and I spent four years writing about Tilikum and SeaWorld—first about Dawn Brancheau's death in "The Killer In The Pool," and then as an associate producer for the documentary Blackfish.
Tilikum changed SeaWorld as well. In 2013, as Blackfish helped Tilikum's story reach millions of viewers, SeaWorld descended into an era of decline in annual visitors, revenue, and stock price. (Before the recent decision to end captive breeding, SeaWorld shares were down more than 55 percent from their pre-Blackfish highs.) Legislators in California, New York, Washington, and congress started promoting bills to put the brakes on killer whale captivity. SeaWorld CEO Joel Manby, who came on board in 2015 to turn the company around, concluded that a business model that had relied on captive killer whales for more than 50 years couldn't succeed in a world where people cared so much about Tilikum and other whales. "As society's understanding of orcas continues to change, SeaWorld is changing with it," Manby said in an op-ed for the Los Angeles Times on March 17, 2016.
SeaWorld is not in the habit of commemorating its dead killer whales, though Tilikum may prove an exception. He will undergo a necropsy to determine the exact cause of death—many would say the proximate cause was captivity—then his remains will be disposed of. (In the past, dead SeaWorld animals were usually taken to a rendering plant.) Many at SeaWorld, including close friends of Brancheau's, will feel his loss.
"There are trainers who definitely love him. There are going to be people who are genuinely upset," says John Hargrove, who was a senior trainer at SeaWorld Texas until 2012. Millions of "Tili" fans around the world will mourn his passing, too.
Tilikum's real orca family in the North Atlantic will never know what happened to him. But their loss and his troubled life ultimately brought an end to killer whale captivity at SeaWorld, and may help bring an end to it worldwide. Perhaps that's a fitting epitaph—Tilikum (1983-2017): he did not choose the world he lived in, but he survived long enough to change it.
Lead Photo: Phelan M. Ebenhack/AP Images