Climbing Is All About Failing Upwards
Evolving as an athlete means leaving old passions behind and focusing on factors within your control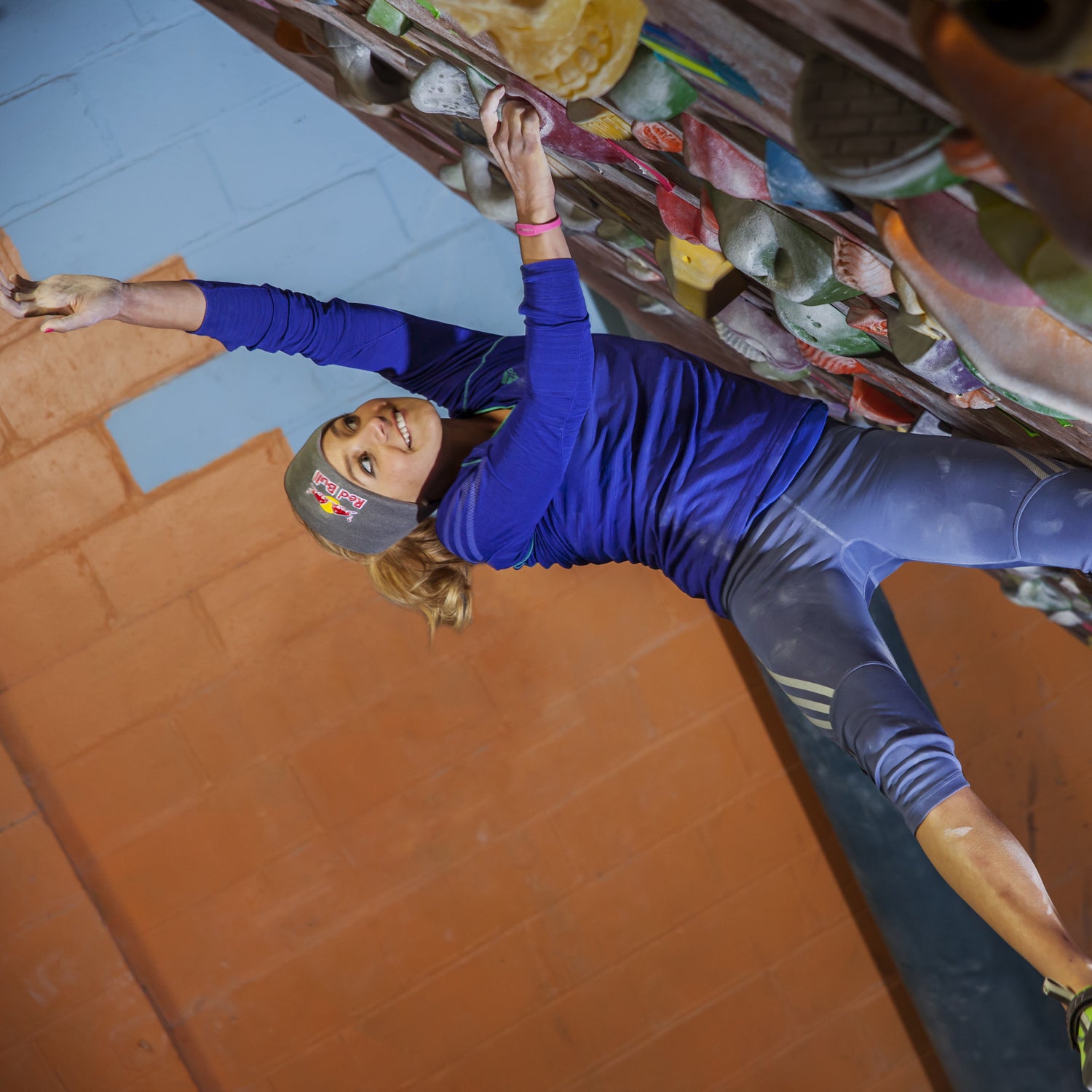 Marv Watson/Red Bull Content Poo(Photo)
Heading out the door? Read this article on the new Outside+ app available now on iOS devices for members! Download the app.
On March 30, 2015, the weekend of the U.S. Nationals climbing competition, I walked in to the isolation zone and picked up my bib number and running order. It was my first competition since I'd decided the year before to focus on school (I was a junior at Columbia University at the time) and outdoor climbing projects rather than indoor competitions, which had been my main objective since I was a teenager.
All of the competitors were in isolation, warming up before walking out into the crowd and starting the climb. Normally, this motivates me and makes the competition feel on. But instead of feeling a flood of anticipation and readiness as I had before, I felt doubt and nervousness: What if I'm not ready? What if I slip? What if I don't win and people think my career is going downhill? I suddenly felt like I needed to prove something to people who had high expectations of me. Being there in the competition arena, my motivations for doing well didn't feel genuine. I was just thinking about my competitors and who I needed to beat, not focusing on my own performance. 
"Find a way through failure, not around it. Face it, and use it to grow."
In finals, I fumbled a sequence and slipped. Time froze. I felt my body leaving the wall and my heart jumping into my throat. It was heavy. I knew in that moment that I had not done my best. I felt embarrassed and vulnerable, and I suddenly didn't want to be there, where everyone could see me defeated. I was lowered to the ground—when you fall, your turn is over. I placed near the bottom of the pack of finalists.
That night and the next day, I felt stuck in this dark space of regret. I had this sentiment that I had let down my coach, my mom, and my fans. I needed to change my approach, otherwise this failure would hurt my appreciation for climbing. I would continue to only think about what could go wrong instead of appreciate the presence and challenge myself, regardless of who was watching. I believe that you should never enter a competition if you're not trying to win. But competing, like outdoor climbing, is a personal pursuit: you have to compete for yourself, not someone else. By focusing on proving to others that I could win, I wasn't setting myself up to give the performance I'd need to do. 
I returned to New York City and went to class. Then I went to the gym. I sat down with my trainer, KP (Kevin Paretti), and we talked about the weekend. I had never entered a competition and let the weight of expectations affect me so heavily. I had to face the fact that I hadn't given my all and that I wasn't as prepared as I could have been. But KP reassured me that without failing, I would have been able to continue the illusion that I didn't need to change. 
"This failure just opened a door for you," KP told me. "Do you want to hide behind it because you may not like what's on the other side, or walk through it and see what else is there to explore? Find a way through failure, not around it. Face it, and use it to grow."
That week I wrote down what climbing meant to me and what I want to get out of it. I wrote down what makes me feel confident while I climb and why I want to train: for the weightless flow of when I feel like I'm one with the rock; for the moments in which time freezes and the only thing on my mind is the next move; and for the unparalleled sense of satisfaction that comes with arriving at the anchors of a climb that I have finally realized is possible. These are all factors I can control. And then, I put the past mistake and sense of regret behind me, and I started grinding towards my new goals.
U.S. Nationals are taking place a month from now. I considered competing again. I've been training in Spain and I asked my trainer there, Patxi Usobiaga, about my conundrum. Here's what he told me: "You compete to win, and to win, you need to make competitions the central focus of your year. What does your heart tell you? Are you confident in this moment?"
Right now, my heart is set on the outdoors. My confidence on plastic is not where I want it to be for entering the circuit.
I have a hard 5.14 climb that I want to accomplish in Spain in March. And I have my eye on a first ascent in Iceland and a big wall climb in Madagascar. I believe in the power of instinct and I want to follow my genuine motivation. I will not try to prove anything to anyone.
Climbing is a personal pursuit and we each need to cultivate our own dreams. I am a firm believer that having fun is the key to success. If your heart is not in it, then that is your instinct telling you to adjust. I do not know where my trail will end, but I am open to falling down many times in order to continue to create my own path.
Lead Photo: Marv Watson/Red Bull Content Poo
Trending on Outside Online