Indefinitely Wild
Need Two-Wheeled, All-Terrain Transportation? Get an E-Fat Bike.
When it comes to moving confidently and quickly over backcountry terrain, electric fat bikes like the Bulls Monster E FS are the best tool for the job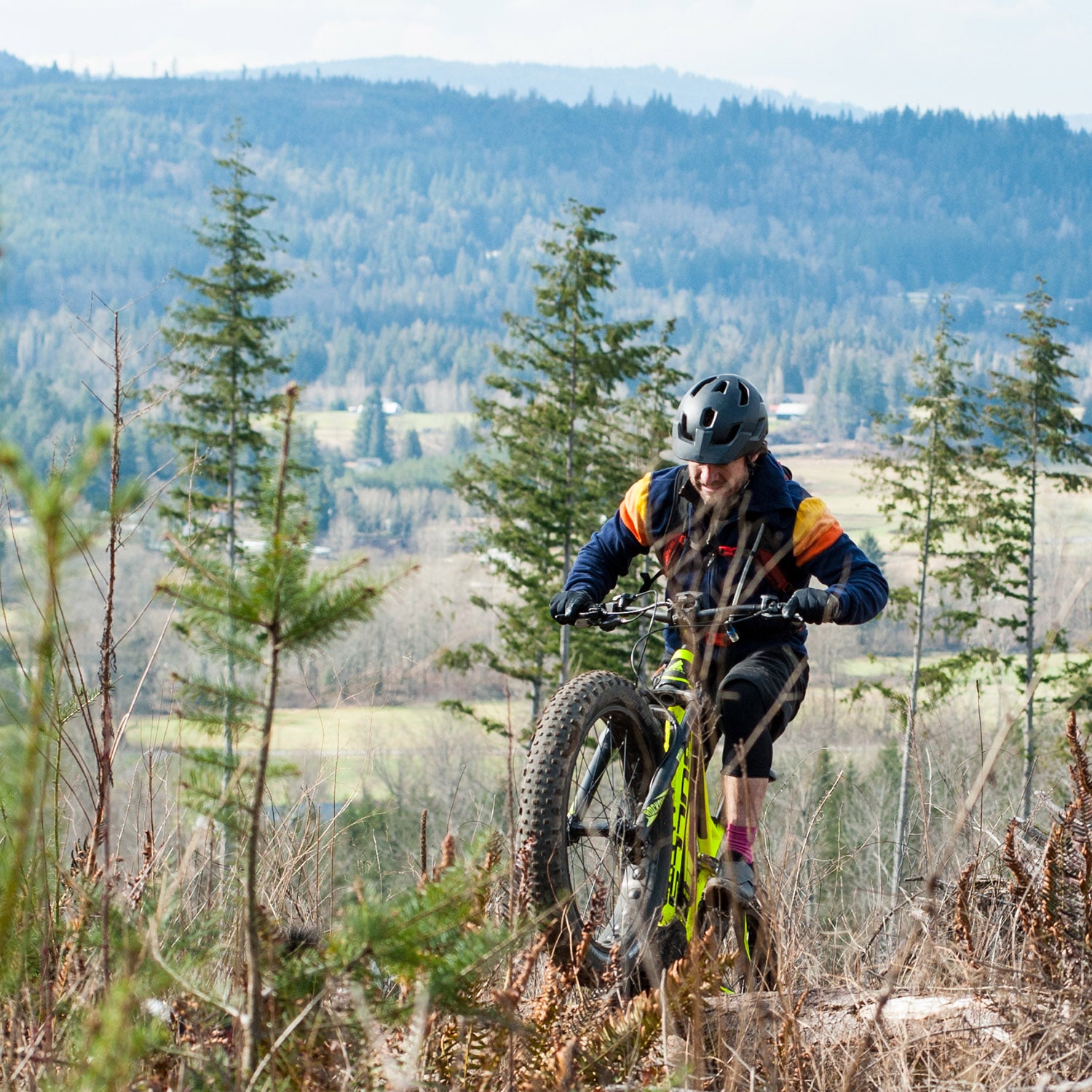 Heading out the door? Read this article on the new Outside+ app available now on iOS devices for members! Download the app.
Fat bikes are already the all-terrain vehicles of the mountain bike world. Their wide tires mean you can pedal them over the kind of surfaces (think soft sand or snow) that would stop anything narrower dead in its tracks. But the increased size, friction, and weight also make them harder to pedal.
Then there are e-MTBs. By adding some torque to your pedal stroke, they make even neophyte riders feel like Lance on a climb, but adding the weight of electrification makes supposedly trail-oriented bikes suffer once pointed downhill. Something that weighs 50 pounds is just never going to be as maneuverable as something that weighs 20.
That disparity was evident when we tested the Specialized Turbo Levo. Similar to the Outside Gear of The Year winning Stumpjumper 6Fattie, it predictably makes climbs easier, but just can't keep up with the lighter, non-electrified alternative once those climbs end. But what if you put an electric motor in a fat bike? Does the more utility-focused ride prove a better application for the technology?
We've been riding the German-based Bulls' Monster E FS to find out.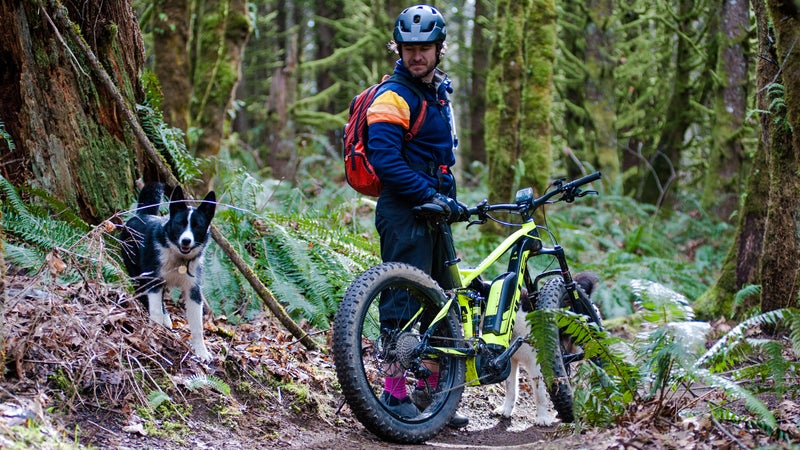 Bulls has been successfully selling electric mountain bikes in Europe since 2010. The brand has made limited forays into the U.S. market, but previously only with direct-to-consumer web sales. Now, it's populating the showrooms of bike shops across the country. You can throw a leg over a Monster E FS by visiting one of them.
You'll be familiar with Bosch's 500wH battery and 350 watt motor from other e-MTBs. (The same package is sold to Haibike, and Trek.) It's torquier than Specialized's Brose motor, but that brand integrates its proprietary battery more seamlessly into the downtube and achieves a more deft level of power integration with your pedal stroke. When Outside tested trail bikes equipped with the same Bosch package as this Bulls, we found that it could "surge and feel like it gets away from you a little" when pedaling.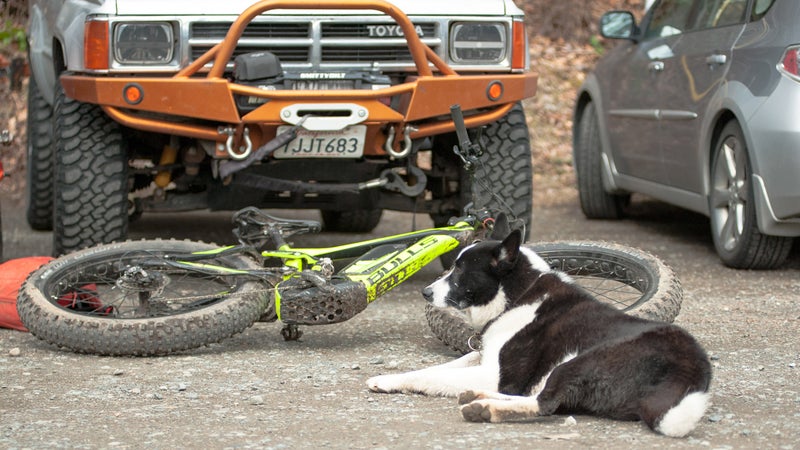 That's not the case with the new Bulls. Equipped with four-inch-wide tires, we found the fattie was better able to make full use of that torque on a wider variety of terrain. It can still get away from you on wet roots or an icy bridge, but you quickly learn to moderate your pedaling over those obstacles.
Compared to the more trail-oriented e-Specialized, this fat bike is much more confident plowing through rock gardens or climbing over fallen logs. But it's much less fun on descents, where its size really gets in the way. If the Specialized is a Toyota 4Runner, the Bulls is a lifted Jeep on 40-inch mud terrains. There's nothing the Bulls can't get up and over, but the Specialized is way more nimble and fun to ride on twisty singletrack.
At 54 pounds, the Bulls is a big bike, and that means a lot of braking is needed to slow this sucker down. The Magura discs are barely up to the task, meaning a conservative approach is needed on downhills, braking well in advance of turns, and keeping your outright speed much lower than you would on something lighter.
Jumping this Bulls is also essentially out of the question. Obviously with enough trying you can get it off the ground, but the rotational inertia of the large tires, combined with the weight of the battery and motor, make it impossible to correct in the air. Drops were a little more manageable. The 120mm of travel and 26×4-inch Schwalbe Jumbo Jims were just enough to soak up small ledges.
Transporting the thing is the final challenge. A roof rack is out of the question and smaller riders will even struggle to load the bike onto a hitch rack. It's also a pain to move around the garage: I found my bike stand had trouble holding the bike in position for simple cleaning and maintenance.
Most serious recreational riders won't get much benefit from owning a bike like this. What you gain in climbing speed and efficiency you trade for no-fun descents, complicated operation, and difficulty in transporting it.
But here's the thing: you can't argue with this bike's ability to make crossing any terrain easy. And therein lies the electric fat bike's unique appeal.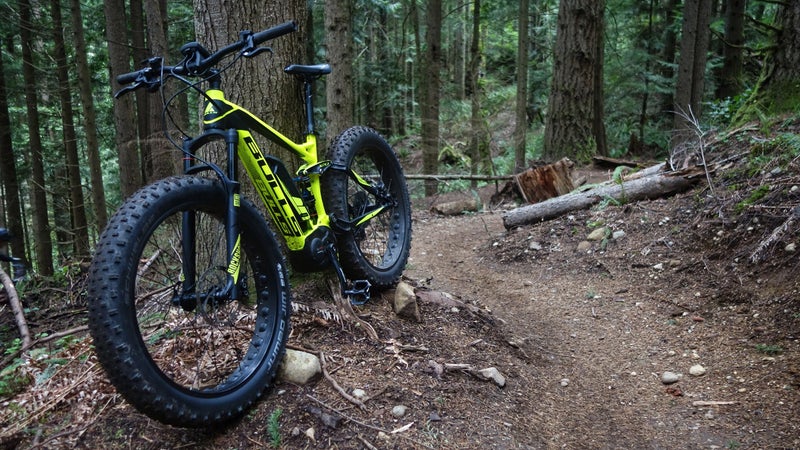 It would be near perfect for a resort trail builder or bike ranger or hunter. A rider who's paid to maintain trails would benefit tremendously from the assist provided by the Bosch motor. Riding your bike is only a method to an end, and that end is to get to a trail, with tools, and have the energy to build a final product. The assist helps reserve energy for the task and gets the rider there quicker. With the fat tires and assist, a ranger can buzz up to an injured rider or trail mishap at speed. It's a great tool to get far into the backcountry, while hauling in camping gear or hauling out meat.
The Bulls would also make an excellent complement to your adventure van or truck. Overland adventures often put you in places far off the beaten path. A single mechanical problem or misjudged fuel range can leave you very far from help, and in terrain that isn't always friendly for a typical bike. Coupling the extended range (up to 130 miles), speed, and carrying capacity of electric assist with a fat bike platform gives you all the security you need.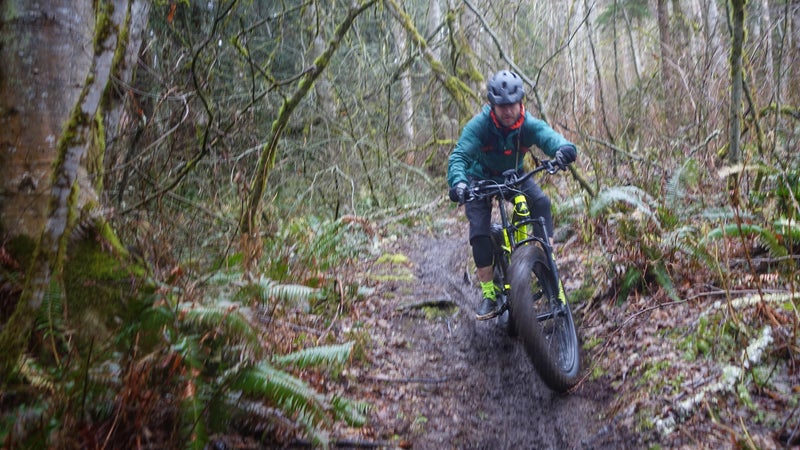 In that same role, an electric fat bike gives you better access to remote campsites. Using one, you could keep going when the two-track ends and the singletrack begins, hauling your camping gear with you out onto a remote beach or similar. If your truck or van is equipped with solar panels or an upgraded electrical system, you could even charge an electric bike on the go.
Those are admittedly some pretty specific use cases. Especially when you consider that this Bulls costs $5,299, and that trail access in the United States for e-MTBs is a still-developing patchwork of confusing regulations. But in those applications, this is probably the best bike for the job. And that's a first.
If you're simply looking for two-wheeled, all-terrain transportation, an electric fat bike may actually be the best bike for the job. Period.