Perfect Your Campfire Cooking Technique in 6 Easy Steps
Take it from this chef: you don't need no stinking gas stove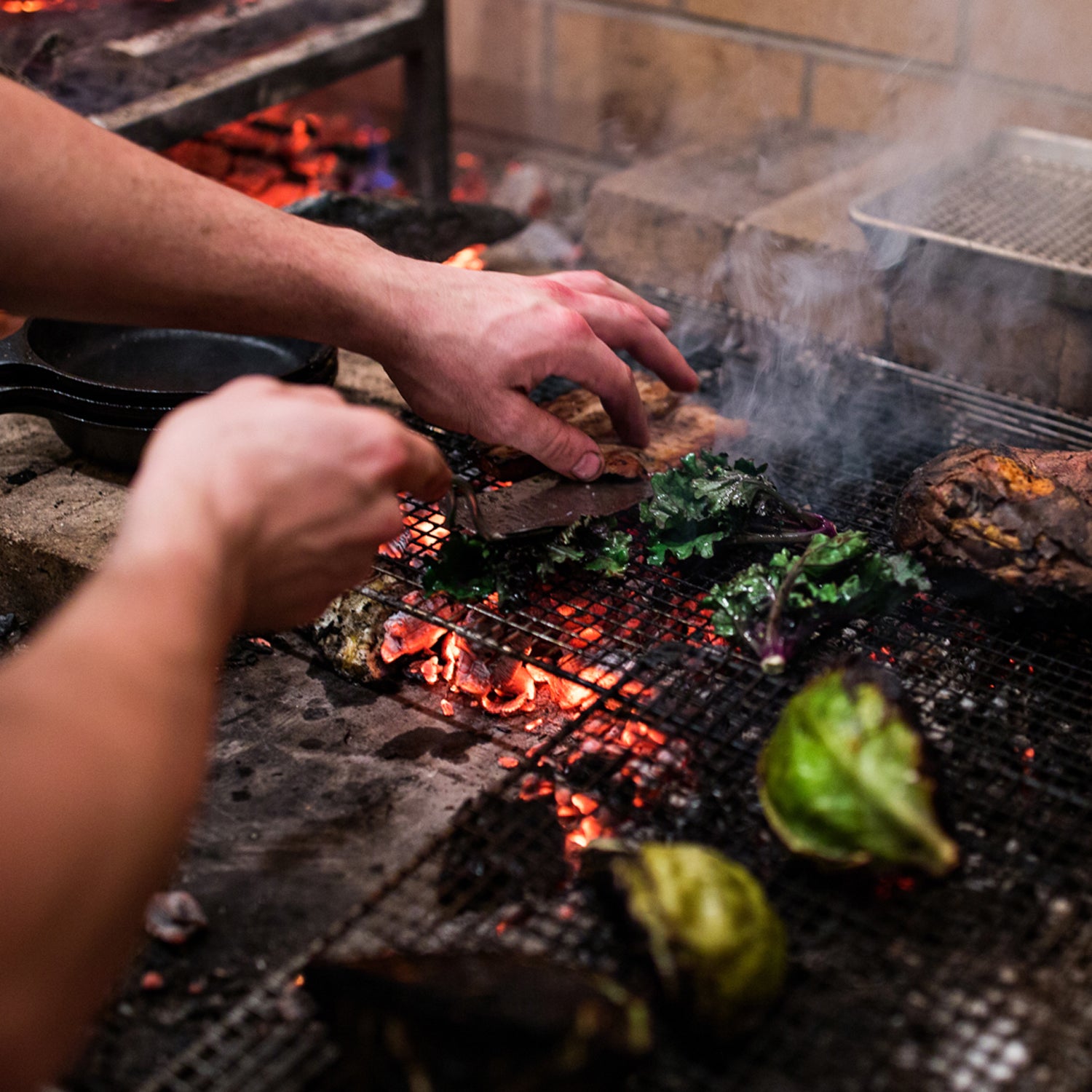 Heading out the door? Read this article on the new Outside+ app available now on iOS devices for members! Download the app.
When Jeremiah Langhorne was a kid growing up in Virginia's Blue Ridge Mountains, summer evenings were spent exploring the woods with his brothers, catching fish or small game and cooking their spoils over an open flame.
Years later, Langhorne's cooking life was almost the exact opposite. He was positioned over a gas stove every night, pumping out fine Southern cuisine at Charleston's celebrated McCrady's Tavern. It was a great job, and Langhorne was learning from one of the country's best restaurateurs and chefs, Sean Brock. But on nights off, Langhorne craved food that tasted like the dishes he cooked in the woods: smoky and salty and satisfying. He wanted barbecue.
A quest to find the best smoked pig in the country—or at least in South Carolina—led him to Rodney Scott's Whole Hog BBQ. "He had this amazing setup. He was using these huge steel drums and running pieces of rebar between them. As a fire burned, he was picking the perfect embers and using them to cook the whole hog," remembers Langhorne. "It was absolutely amazing. It was the best whole-hog barbecue I'd ever eaten."
When Langhorne finally decided to venture out on his own, he launched the Dabney in Washington, D.C. The restaurant doesn't have a single gas burner. Everything, from the cornbread and the roasted carrots to the local beef cheeks, is cooked over embers or flames.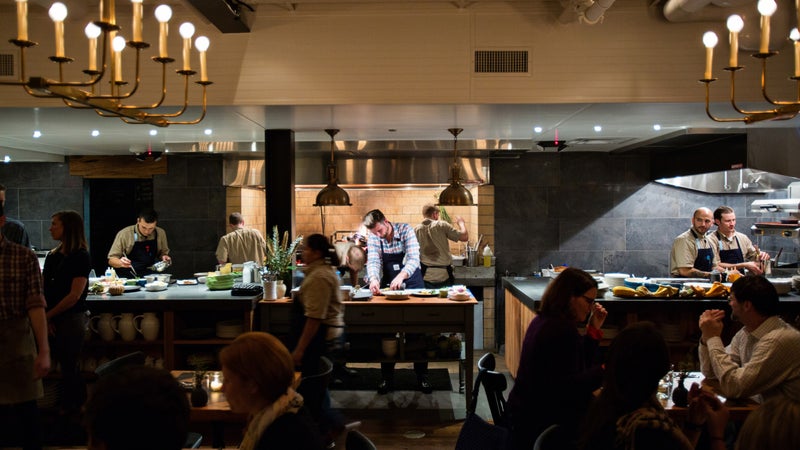 "Ninety-nine percent of people thought it was a bad idea," Langhorne says about pitching his concept to investors, friends, and relatives. But the Dabney has been a huge success, receiving praise from many of D.C.'s top dining critics.
Langhorne gave us his best tips for using fire like a chef. Master them and you'll be the one friend everyone wants to have along on a camping trip.
---
Start Your Fire Early
You don't want to cook over flames—you actually want to cook with embers, says Langhorne. Plan on not being able to start cooking for something like an hour. "When you get to a campsite, the first thing you want to do is get your campfire going so it starts producing those embers." Let it burn down from its initial rage stage to a slower simmer. When the flames are only an inch or two tall and your logs are glowing red, you're ready to cook.
Smaller Is Better
"Don't build some gigantic fire with no real purpose. Build a thoughtful fire," says Langhorne, adding that one to two feet in diameter is more than enough room for cooking. A big fire will just take longer to coax down to a level that's safe for grilling. (Plus, you're burning tons of extra wood and releasing extra carbon dioxide in the process.)
Begin with Veggies
Most of us think of smoke and fire as transforming meat, but Langhorne says he also loves what they do to vegetables. "Sometimes we get these real meat-eater types in the restaurant, and at first they're almost upset by how many vegetables are on the menu," he says. The servers often have to coax them into ordering a side of roasted carrots or asparagus. "We roast them in these metal baskets, and the flavor is just unprecedented for a veggie. The natural sugars come out," he says. Even the most carnivorous guest leaves as a convert.
Once your campfire has produced some embers, place sweet potatoes, winter squash, or any other thick-skin veggies directly on the embers around the outside of the fire. Let these slowly roast while you wait for your main flame to burn down. Turn them occasionally to make sure they roast evenly.
Carrots, Brussels sprouts, green beans, or other smaller veggies are best roasted in metal baskets over hot embers. Langhorne says the "shaker baskets" sold in the grilling section of your local hardware store are perfect for this task. Pick up two: one for cooking vegetables and one for charring fresh berries for dessert.
Build Yourself a Hot Ember Cooktop
If you're in the woods, use rocks to build a three-sided structure that will support a small metal grate. (Langhorne says to steal the metal rack out of your toaster.) The grate needs to be only a few inches off the ground, so don't go nuts. Once your fire is mostly embers, carefully shovel the embers into the cook space you've created.
You can also set the grate directly atop your fire, but you'll need to wait until the fire has burned itself out—flames more than an inch high are too big to work with. You'll also lose a bit of adjustability with this method; if you cook over a separate spot, you can keep your fire going and add more hot embers as needed.
Chill Out
If you're grilling meat, the order should go like this: place the grate over the embers, wait until the grate is hot, place your protein, then walk away. "The most precious time is the moment after you first place the meat. Leave it alone, let it be," says Langhorne. "Being impatient is the number one thing people mess up when cooking with fire."
For things that require a quick sear, like a lean steak or a piece of trout, use more embers or cook directly over the fire. Use fewer embers for larger roasts, which do better with low-and-slow grilling.
Finish with Something Besides S'mores
You can easily bake on an ember-fed hearth, and hearth-baked pies regularly show up on the Dabney dessert menu. If making a pie in the backcountry seems daunting, opt for charred berries, which you can cook in a metal basket. They'll cook fast, so watch them closely, says Langhorne. Mix them with a small amount of vinegar, honey, and fresh mint. Toss everything together, then settle in to watch the last flames of your fire slowly burn themselves out.